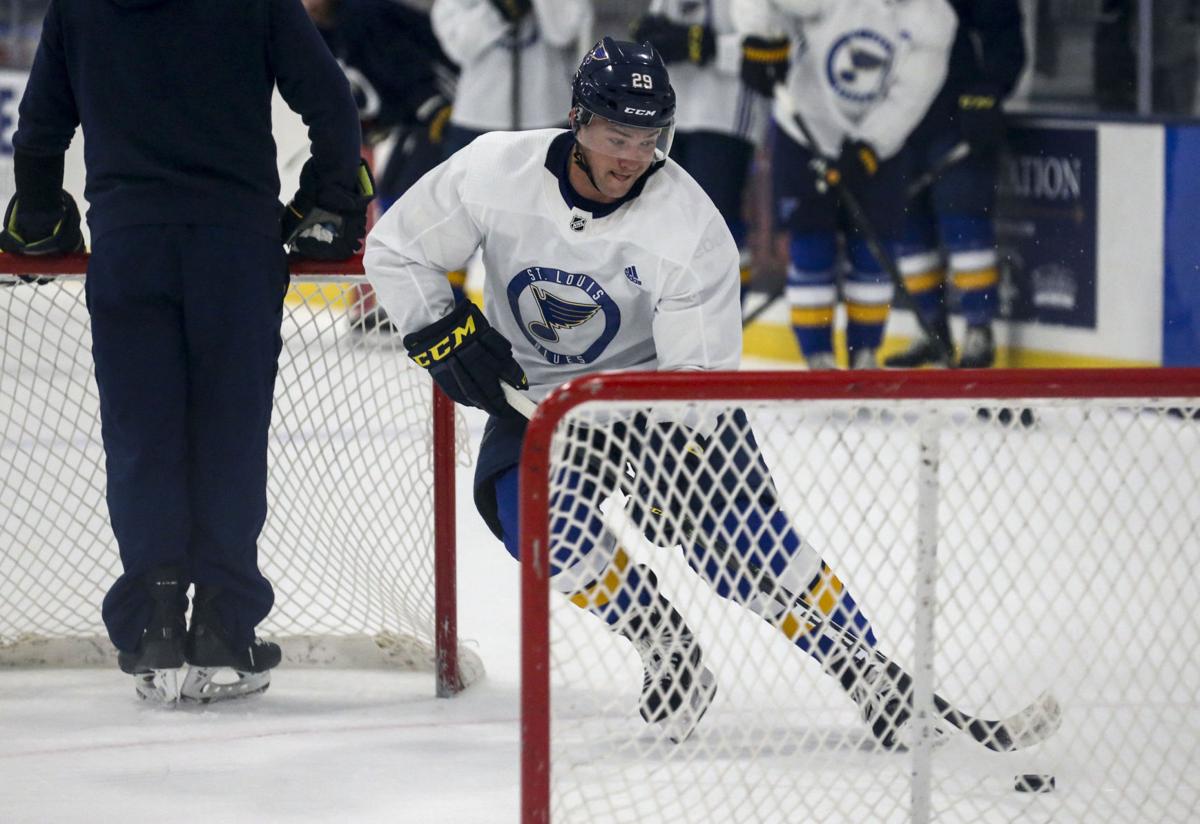 Blues defenseman Vince Dunn missed 10 days in training camp for unspecified reasons, but it doesn't appear he's any worse for wear.
Even though he had only a few days of practice to get ready, he was on the ice for all three of the team's round-robin playoff seeding games and has looked at least as good as his teammates.
Dunn declined to comment on his absence when he spoke to reporters on Monday for the first time since hockey resumed in mid-July. His absence, four days into training camp, came just after several reported cases of positive COVID-19 tests within the team. And he was sidelined for the minimum amount of time a player would have to be out if he had a positive test. Per direction from the league, teams are not announcing any details on why players are missing games or practices, though players are free to discuss their own situations.
"I'm not going to speak about what it was," Dunn said from Edmonton, Alberta. "But it obviously was tough, especially jumping right in. Taking that extra time off for myself was definitely a little bit harder, but I think I did what I had to do to get ready for these next games and I'm just looking forward to the playoffs getting started. I feel like I'm 100%. The first game was a little bit hard to adjust to but now with some extra practice I think I'm up to speed."
It looked as if Dunn had scored a goal on Sunday, against Dallas, but it was wiped out on a challenge because Jaden Schwartz was offside on the play. Dunn did have an assist on Robert Thomas' goal.
"The offense will come for me," said Dunn, who had nine goals in the long-ago regular season, third among Blues defensemen — behind Alex Pietrangelo (16) and Colton Parayko (10). "I can't really say it was nice to score because it didn't happen, but at the time, it was nice. Overall, I think the way that we worked and the way we played that game was a little better going into this first (playoff) game. I know that we're not quite where we want to be, but I think we still have some time right now to make sure we give ourselves the best chance going into the first round."
The Blues face Vancouver, beginning Wednesday night.
"I think Dunner's been fine," Blues coach Craig Berube said. "He feels good. He doesn't feel like he's lost anything with his conditioning, so that's a good thing. I think in the round-robin games, he was like the rest of our team, he was just OK."
Blais in doubt
Forward Sammy Blais left the Blues' game Sunday in the second period with what looked like a leg injury. He took the ice in the third period for about 30 seconds, and that was it for him.
Berube said Blais didn't take the ice for Monday's optional skate and was in doubt for Game 1 of the series with Vancouver.
"He's out right now," Berube said. "I don't know. He's going to try to skate (Tuesday). . . . We'll see how he does. . . . But there's a possibility he could be missing for a bit."
Blais checked Dallas' Andrej Sekera into the boards in the second period and then fell. Blais initially was given a five-minute boarding penalty, but after a review by the officials it was changed to a two-minute penalty.
Barbashev will be out
Forward Ivan Barbashev, who returned home to St. Louis to be with his wife for the birth of their first child, is not yet back with the team. Because he'll have to go through a four-day quarantine when he returns, he will miss at least Games 1 and 2 of the Vancouver series.
"I was hoping to hear something today but I haven't yet," Berube said late Monday afternoon.
Who was best?
Vancouver center Elias Pettersson beat out Blues goalie Jordan Binnington for the Calder Trophy as the NHL's rookie of the year last season and it wasn't particularly close, with Pettersson getting 151 first-place votes to Binnington's 18.
Binnington, never one to keep his feelings to himself, said in November after a 2-1 overtime win over the Canucks in which he stopped 33 shots: "There's a little bit of that bad taste in my mouth about the outcome last year. But he's a talented player, so it's good going up against some of the best."
Pettersson was asked about that on Monday.
"Binnington had a great season and played really good in net," he said. "He won the Stanley Cup. . . . I don't want to go into the Calder debate or anything. It's not up to us who wins that. He played phenomenal during the regular season and I'm happy with my season too."
On the air
Fox Sports Midwest will carry Games 1 through 4, and almost certainly Game 5, if necessary, because that game doesn't fall in an NBC national window. The games also will air on NBCSN or NHL Network, and those will not be blacked out in the St. Louis area. Start times for Games 5, 6 and 7 won't be known until it's clear how many games are being played on those days.
This is the last round of games for Fox Sports Midwest. Starting with the second round, all games air exclusively on NBC or one of its networks.
The latest STL Blues hockey news, NHL headlines, scores, standings and rosters.