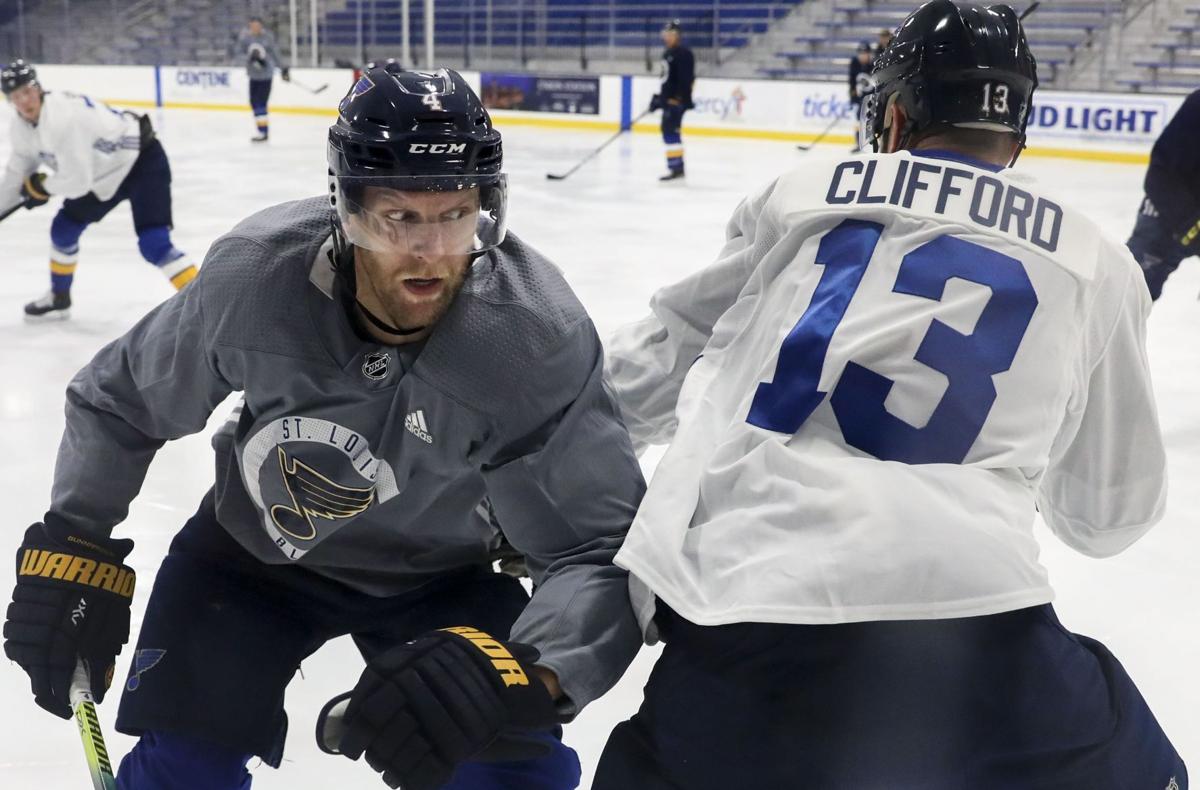 It took all of two games for the Blues to have to put their depth on defense to work.
The Blues came into the season with seven experienced defensemen and two youngsters, Niko Mikkola and Jake Walman, who look NHL ready. Early in the team's second game against Colorado, Robert Bortuzzo suffered what appears to be a concussion, which on Sunday landed him on injured reserve and will keep him out for at least a week. And up steps Carl Gunnarsson.
With the departures of Jay Bouwmeester and Alex Pietrangelo, Gunnarsson suddenly is the senior member of the Blues' defensive corps, having arrived for the 2014-15 season — before anyone else currently in the group. From the start of camp, he was the extra man on defense, though he was bound to get in at some point. Coach Craig Berube didn't say that Gunnarsson is in — "he's available," he said — but it was Gunnarsson who skated in Bortuzzo's spot alongside Vince Dunn on Sunday at practice.
"We've had good depth on our blueline for a while now," Gunnarsson said. "It's tough being on the sides, but coming down the stretch there's going to be injuries, going to be rotations, guys are going to be fatigued and tired, especially now we've got so many games. It's going to be tight schedule, so it's nice to have that depth. It's tough to be on the outside; now I'm happy to be back."
With the team having four lefthanded defensemen this season, Gunnarsson has become the extra defender, at least at the start. If he is paired with the lefthanded Dunn, it will be Gunnarsson who plays on the right side, his off side.
"In training camp here and the following days, I've been way more on my right side than before," he said. "I've been getting used to it. It's a little bit different, but we're working through that."
Gunnarsson in recent seasons also has acquired what has been one of Bortuzzo's strengths: the ability to jump into action after a lot of time off.
"They're good pros," Berube said. "That's their job, the positions they've been in the last few years. They keep themselves ready and keep themselves in good shape and they're great team guys."
Bortuzzo's injury
Bortuzzo is out because of a hit by Valeri Nichushkin on Friday that knocked him out of the game. The Blues are terming it an upper body injury, but with Nichushkin catching him in the head with his shoulder, it has all the signs of being a concussion.
Being on injured reserve means Bortuzzo will be sidelined for at least seven days. Assuming the Blues backdated the placement to Saturday, Bortuzzo will miss at least two games but could be back for games next weekend. He didn't take part in practice on Sunday.
Not only was Nichushkin's hit not called on the ice, it didn't get any supplemental punishment from the league's Department of Player Safety.
"I did not like the hit at all," Berube said. "I think it's a tough play. That way it is. . . . It's a bad loss. He's a good player for us, a real good leader."
The injury set in motion a string of moves for the Blues on Sunday. Mikkola was called up from the taxi squad to the main roster and Jake Walman was called up from Utica — minor-league camp hasn't opened yet — along with Jake Neighbours, the team's first pick in the last draft. Mikkola and Walman skated with the main squad in practice on Sunday.
The team's taxi squad now has five players: Walman, Neighbours, Jacob de la Rose, Austin Poganski and Joel Hofer.
Notes
Goalie Ville Husso's appearance Friday was his first, and meant six Blues from the 2014 draft — Robby Fabbri, Ivan Barbashev, Walman, Husso, Poganski and Sammy Blais — have made it to the NHL.
Husso had the distinction of being the player who had been in the Blues organization the longest without getting in a game. That distinction now falls to goalie Evan Fitzpatrick, a second-round pick in 2016, who will start the season in Utica. Behind him in waiting is forward Tanner Kaspick.
• This weekend was the only one all season in which the Blues don't play on either Saturday or Sunday.