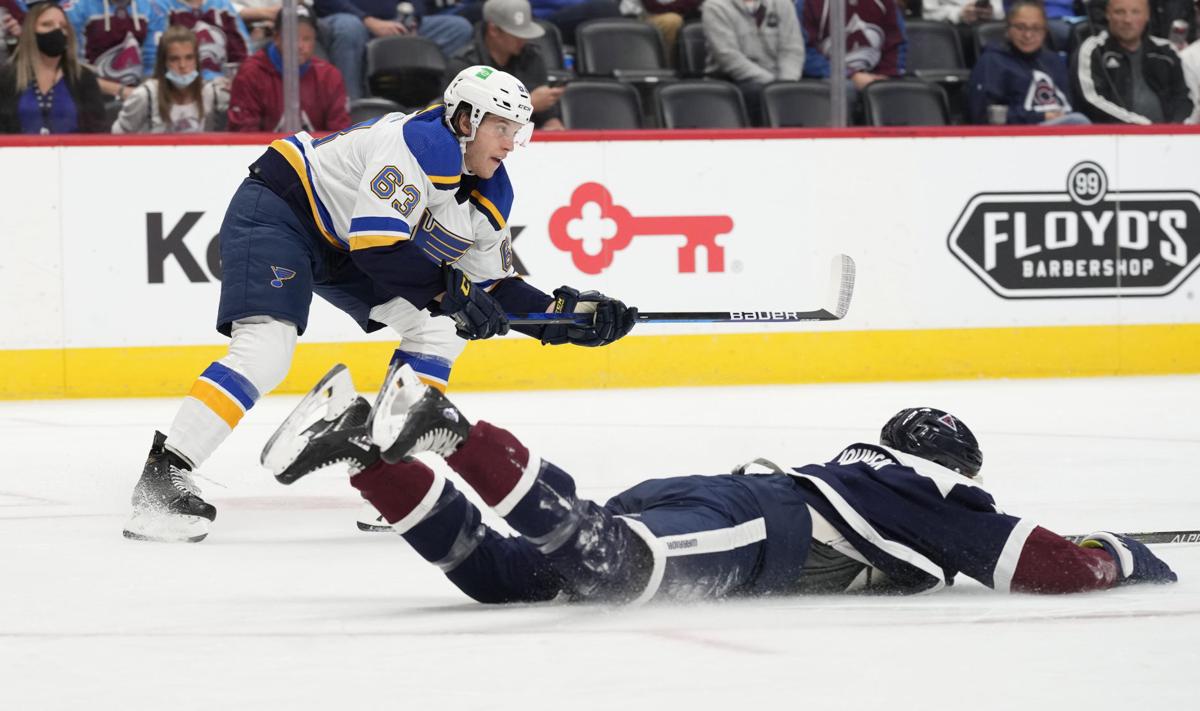 DENVER — Jake Neighbours said his parents were a little shocked a week ago when he told them he had made the Blues' opening-day roster.
They were at Saturday's season opener against the Colorado Avalanche at Ball Arena for his first NHL game. Their reaction undoubtedly has transcended shock to something like pride, delight, joy.
Neighbours, a first-round pick in the 2020 draft, defied the odds in making what is a largely veteran roster. At age 19, he is one of only 11 teenagers throughout the NHL to make an opening-day roster.
"It makes you think of yourself back when you were that age and how much you were just a sponge," Blues captain Ryan O'Reilly said. "For us, us veteran guys here, we want to help him out as much as we can. And make him comfortable and help him grow himself and his game.
"You can just see how excited he is to be around and the energy that he has. It's nice for us old guys. It gives us a little spark as well."
Neighbours opened on the Blues' fourth line Saturday, playing left wing, with Tyler Bozak at center and Ivan Barbashev at right wing.
Coach Craig Berube isn't one for charity when it comes to playing time. But it's clear Neighbours has earned what he's gotten so far.
"Jake's impressed us all obviously through camp," Berube said. "That's why he's here. He's a real good player. It's always exciting for a 19-year old kid to play his first game in the NHL."
Berube was asked what he remembered about his first NHL game.
"I think I took a lot of penalties and things like that," he said. "I think it was against Pittsburgh. I went out and did what I'm good at, and it obviously worked out."
Berube has a pretty good memory. His first NHL game, as a member of the Philadelphia Flyers, came on March 22, 1987, against the Pittsburgh Penguins. He had 26 minutes of penalties in the game, and fought Philly's Dan Frawley — twice.
As is tradition for someone playing in his first NHL game, Neighbours skated out first for the Blues in pregame warmups and took a lap before the rest of the team came out.
And as is tradition, Neighbours skated out without a helmet. He "couldn't find it." When asked after the morning skate which veteran would hide Neighbours' helmet before pregame, O'Reilly laughed and said: "I don't know, we'll see. Probably Schenner (Brayden Schenn)."
Perron plays
After about a day and a half of mystery regarding his status, veteran David Perron was in the lineup Saturday for the Blues and in the starting lineup on the O'Reilly line. Brandon Saad played left wing, with Perron on right.
Perron didn't practice Friday morning in Vail, before the team left for Denver, with Berube saying Perron was taking a maintenance day but his status was uncertain for Saturday.
Perron took part in Saturday's morning skate, but Berube said Perron looked just "OK" and would be a game-time decision.
Both Perron and likely replacement Klim Kostin were on the ice for pregame warmups Saturday but Perron took all the line rushes. And then played.
Kostin, Kyle Clifford and Niko Mikkola were the Blues' scratches.
Letter sweaters
Vladimir Tarasenko and Colton Parayko wore an "A" on their jerseys as alternate captains Saturday. O'Reilly began his second season wearing the "C" as Blues captain.
Blue notes
With an eighth team coming to the Central Division this year — the Arizona Coyotes — the Blues are playing Colorado only three times this year instead of the usual four or five. Two of the three games are at Ball Arena.
The Avalanche honored longtime general manager Pierre Lacroix in a pregame ceremony that included a banner-raising of his name. Lacroix passed away last December.
The Blues continue a three-game season-opening road trip with games at Arizona on Monday and at Vegas on Wednesday.