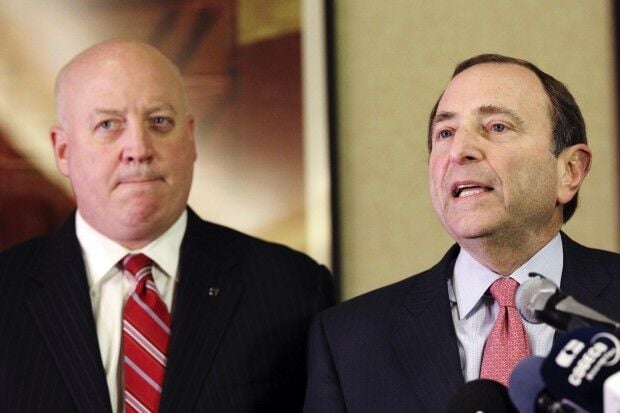 ANAHEIM, Calif. — To any Blues fans hoping for emergency salary cap relief from the NHL — don't hold your breath.
NHL deputy commissioner Bill Daly told the Post-Dispatch on Saturday that none was forthcoming.
"There is not currently an intention to provide cap relief for Covid-related reasons," Daly said via e-mail. "No different than having to deal with multiple short-term injuries. St. Louis is not at all unique in having to navigate these waters."
On Friday, defensemen Torey Krug and Nikko Mikkola became the fifth and sixth Blues players to land on the NHL's COVID list. Of that group, Brandon Saad has returned to game action. Ryan O'Reilly practiced with the team on Saturday and is expected to make his return Sunday against the Anaheim Ducks.
Besides Krug and Mikkola, backup goalie Ville Husso and veteran forward Kyle Clifford remain on the COVID list. Even with the return of O'Reilly, the Blues have only 20 available players — 12 forwards, six defensemen and two goalies. They are down to no spare parts, and are out of cap room according to general manager Doug Armstrong.
For his part, coach Craig Berube wouldn't mind some cap relief.
"It's important, I think," Berube said. "Because what we got going on here, there's nothing we can do about it. It's running through the league and that's the way it is. So I believe something should be done."
The Blues are a fully-vaccinated team, and according to Berube, Armstrong and several Blues players, they have followed the COVID protocols set forth for this season — protocols that admittedly are much more relaxed than last season.
When the NHL announced its COVID protocols for this season, Nov. 1 was announced as a date in which the league would revisit those protocols and decide if any changes were needed. Such an evaluation took place, and the league sent out a memo Friday to its 32 teams outlining those updates.
"Some tweaks, but no significant changes of note to original protocol," Daly said.
Armstrong declined to comment Saturday, other than to say: "Hopefully, this will all be behind us soon."
In the meantime, Berube is keeping his fingers crossed every day that there's not another Blues player testing positive.
"Oh definitely," Berube said. "For sure. You're getting on a flight and you get a call — I mean, it's just tough."
Lineup challenge
Putting together lines has been a challenge what with the steady stream of COVID positives. In just nine games this season, the Blues have used 23 different forward line combinations — a total that doesn't include any in-game changes. Last year through nine games, they had gone through just 11 such combinations.
"Doug has done a great job of putting a team together with a lot of depth, whether it's the group of people we have here or the minors," Berube said. "We got guys that we know are capable of coming up and filling in and playing.
"That's definitely an important part. It's part of the job. Part of coaching is adjusting and putting new combinations together. People are put in different roles and asked to do different things."
Because Sunday's game starts at 5 p.m. Pacific time, the Blues are not holding a morning skate. But here are the lines and pairings Berube used in practice Saturday:
• Saad-O'Reilly-David Perron
• Jordan Kyrou-Robert Thomas-Vladimir Tarasenko
• Klim Kostin-Ivan Barbashev-Pavel Buchnevich
• Jake Neighbours-Tyler Bozak-James Neal
• Jake Walman-Colton Parayko
• Marco Scandella-Justin Faulk
• Calle Rosen-Robert Bortuzzo
Rosen was called up Friday from the Blues' American Hockey League affiliate, the Springfield (Mass.) Thunderbirds, after Krug landed on the COVID list.
"He's been playing unbelievable for us," Paryako said of Krug. "It's been fun to watch; tough to lose him right now, but looking forward to getting him back soon."
Entering Saturday's NHL games, the Blues had the NHL's second-ranked power play. Without Krug running the point on the first unit, here's how the Blues' power play lined up Saturday in practice:
First unit: Faulk-Perron-Tarasenko-O'Reilly-Buchnevich
Second unit: Parayko-Thomas-Kyrou-Saad-Neal
After missing four games with COVID, O'Reilly was back at practice Saturday.