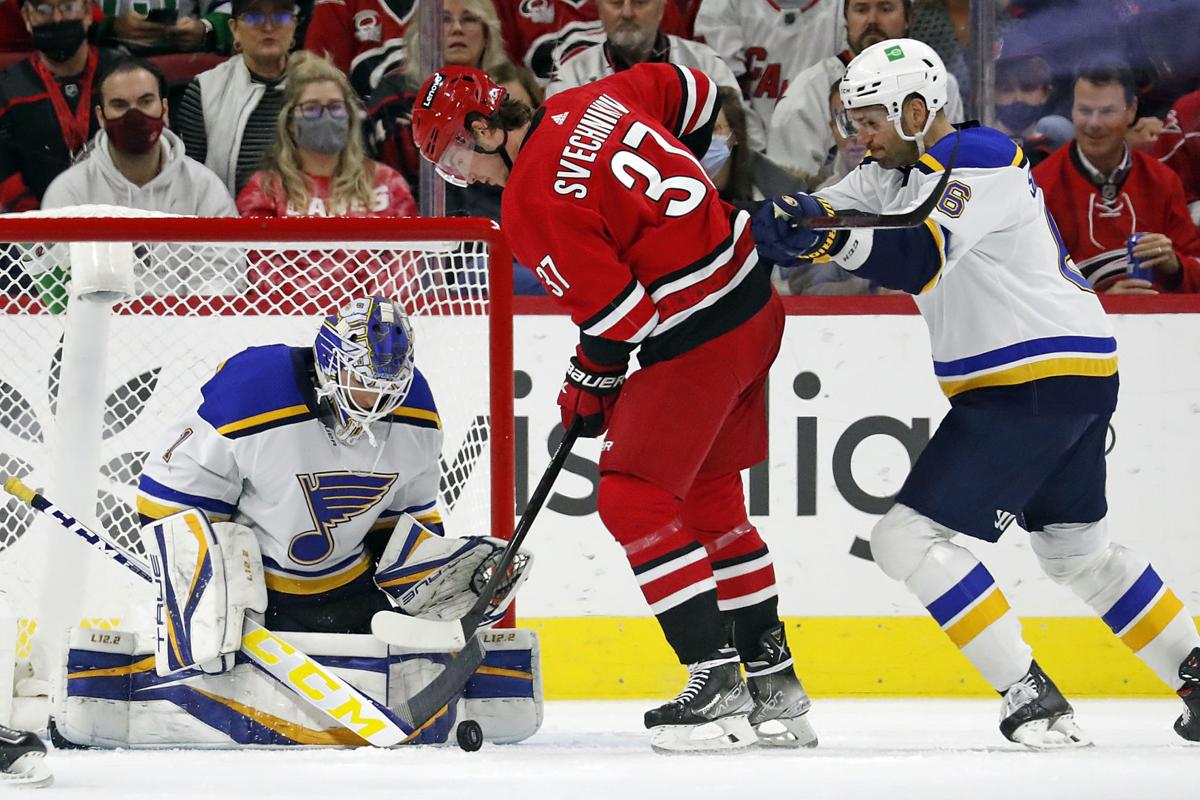 It's not unusual for professional athletes to avoid the media when things aren't going well. But there was Marco Scandella, front and center on a media Zoom call Friday, one day after he had been demoted to the Blues' third defensive pairing.
As for his recent struggles ...
"Listen, it's a team game," Scandella said. "I'm going to do what the team needs me to do. Right now, I'm playing on the third pair. I'm just embracing that role right now, playing a hard game.
"I thought I had a good game last game (against San Jose). Games before that, personally, I feel like everyone struggled. That's just the game of hockey. You approach every day like it's a new day, try to get better. And that's what I'm doing. If you're not getting better, you're getting worse."
Since coming to the Blues in a February 2020 trade with Montreal, Scandella has played almost exclusively in the team's top four on defense — in other words, on one of the top two pairings.
He did play three games on the third pairing last season after returning from an upper-body injury that sidelined him for six games. Two of those three instances were with Carl Gunnarsson; one was with Niko Mikkola.
But that's been about it until now. Scandella started the season playing well, particularly in a 3-1 victory at Vegas on Oct. 20.
"Scandella had a great game," goalie Jordan Binnington said after that contest. "Some key plays, key moments, where he came up big and shut 'em down. Blocking shots, physical, communicating."
But over a four-game stretch from the Winnipeg game through the Edmonton contest, Scandella was minus-6, while defenseman partner Colton Parayko was minus-8.
Both players had trouble at times with zone exits and positioning. In any event, coach Craig Berube split up the pair following Tuesday's 3-2 loss to Arizona. Scandella was paired with Robert Bortuzzo in Thursday's 4-1 victory over the Sharks.
Parayko was paired with Torey Krug, with Krug playing just his second game since returning from the COVID list. The other D-pairing against San Jose consisted of rookie Scott Perunovich and Justin Faulk.
The defense played well in that contest, as did the entire team, so Berube isn't likely to change the pairings Saturday in Dallas. The pairings were unchanged during line rushes Friday morning at Centene Community Ice Center before the team left for Texas.
Scandella, who had been averaging over 20 minutes a game, had 15:17 of ice time and was even in terms of plus-minus, with one hit and one blocked shot against the Sharks.
"We definitely had a lot of jam (against San Jose)," Scandella said. "I feel like every line was setting up the other line. We were going out there getting good changes and just working together and we did it for 60 minutes. That's why we got the result we did."
When asked to define "jam," Scandella said, in part: "I just felt like the second efforts were there and not putting ourselves in a bad spot. We weren't wasting a lot of energy on turnovers and having to back-check unnecessarily."
Schenn's status
For the first time since exiting the lineup with an upper-body injury, alternate captain Brayden Schenn was on the ice with the full team for Friday's practice. That's a step forward, but even so, Schenn's work with the entire team was very limited.
He was either a spectator during battle drills and 5-on-5 work, or spent time on the other end of the rink working on his own. Schenn has missed seven games with what's believed to be a hand/wrist injury. He took a fair amount of shots, but they didn't seem to be at full velocity.
Schenn's return is drawing closer, and when that happens Berube will have some tough decisions on where to slot Schenn in the lineup and who comes out.