St. Louis Blues defenseman Tyler Tucker picked up his first NHL point on Thursday night, assisting on Brandon Saad's second-period goal that put the home team on top to stay in a 5-2 victory over the visiting Nashville Predators.
"Saader made a great play there, driving the wing and slipping it five-hole," said Tucker, 22, who has played solidly in his third stint this season with the Blues. His play has been crucial for a team battling to get back into the playoff contention while key defensemen such as Torey Krug, Nick Leddy and Robert Bortuzzo have missed time due to injury.
Tucker played in four games — all wins — in late November when Bortuzzo was injured. He returned but did not see any action in another stint with the Blues early this year before being returned to Springfield of the AHL. But after one game, he was recalled and has been a lineup regular ever since.
"The guys here do a great job of including everybody," said Tucker, who also had his second NHL fight, against Nashville's Cole Smith, in the third period Thursday. "Even when I wasn't in the lineup, I still felt like a big part of the team. Now that I'm in the lineup every night, it's been pretty special. I'm just trying to be myself and keep it simple.
"Every night you lace them up here you feel more comfortable. It's obviously faster and better hockey, but I feel like I've made a pretty good adjustment."
Blues coach Craig Berube agrees.
"He's a character guy, for sure," the coach said. "He went down to the minors and worked on his game. I think his composure out there is excellent; he sees the ice fairly well, he's physical, tough and he defends well."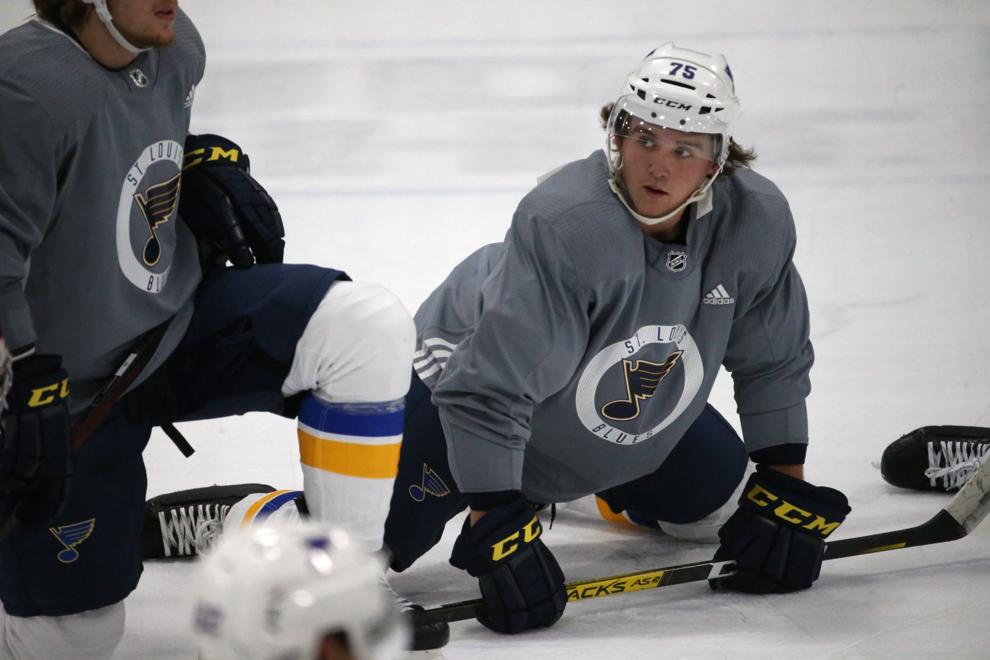 Tucker was the team's seventh-round selection, No. 200 overall, in the 2018 NHL Draft. He caught Berube's eye while competing in a team camp.
"We put him up front, and he scored a couple of goals," the coach recalled. "He's just an old-school hockey player."
As injured players work their way back, Tucker's focus remains on doing the job.
"While I'm here, I'll do my best," he said. "I'm trying to earn a job, and the end goal is to stay here. But this is a business and things happen. All I can do is focus on playing my game."
Noel Acciari battles After getting banged around a bit Thursday, Blues forward Noel Acciari earned a maintenance day Friday but returned for the team's morning skate Saturday.
In 46 games this season, Acciari has 10 goals and eight assists.
"He's been a good all-around player," Berube said. "We've used him a lot, not in different roles so much but with different linemates. He's been solid all-around, really consistent for me at both ends of the ice. He gives 100 percent effort on every shift, and he's one of the hardest players I've ever coached. ... He plays hard every shift and doesn't take a shift off. He's physical, he's on top of things, plays the right way at both ends of the ice, and he's scored some goals for us."
The coach added: "He's involved in every shift. He's getting hit or he's hitting somebody."
Springfield Thunderbirds rally after skidAfter being pulled in the team's previous start, top goaltending prospect Joel Hofer stood out earlier this week at the Springfield (Mass.) Thunderbirds won 2-1 at Milwaukee in American Hockey League action.
The win snapped a four-game losing streak for the T-Birds (17-17-1-4), who also won 7-2 on Friday at Rockford.
Martin Frk and Hugh McGing scored for Springfield in Milwaukee. Ex-Blue Zach Sanford assisted on the Admirals' goal.
Hofer improved to 12-10-4 with the win in Milwaukee. His goals-against is 2.63, and his save percentage is .915. Vadim Zherenko (5-7-1, 2.89, .921) picked up the win at Rockford.
In Friday's victory, Jacob Hayhurst led the way with a pair of goals while McGing (1G, 1A), Matthew Highmore (1G, 1A), Frk (2A), Matthew Kessel (2A) and Drew Callin (2A) had multi-point games.
The top scorers through Friday's game for the T-Birds this season are Highmore (9 goals, 27 assists), Frk (12G, 22A), Will Bitten (12G, 9A) and McGing (9G, 10A). Bitten had an assist in four games with the Blues in December.
Zachary Bolduc, Jimmy Snuggerud news+ Zachary Bolduc, 19, continues to dominate in the Quebec Major Junior Hockey League, where he plays for the Quebec Remparts (33-6-3). The 6-foot-1, 176-pound centerman has nine goals and 10 assists over his last 10 games and is third among the league's scoring leaders with 29 goals and 42 assists in just 37 games this season. Bolduc was the Blues' top pick (No. 17 overall) in the 2021 NHL Draft.
+ Jimmy Snuggerud, the Blues' No. 1 pick (No. 23 overall) last year, opened the scoring and later added an assist to help No. 2-ranked Minnesota get by No. 7 Michigan 4-3 in overtime Friday in Minnesota.
Snuggerud, 18, is a 6-foot-1, 185-pound freshman who leads the Golden Gophers in scoring with 13 goals and 18 assists in 25 games. Earning a bronze medal for the U.S. at the recent World Juniors, Snuggerud had five goals and eight assists in seven games.