ST. PAUL, Minn. — Brayden Schenn is ahead of schedule — way ahead of schedule — compared to last season with the Blues. It wasn't until Game 52 of last season, a 1-0 overtime win in Tampa Bay on Feb. 7, that Schenn notched his 10th goal.
That was the fourth game of the Blues' franchise-record 11-game wining streak that pulled them up from the bottom of the standings and into the playoffs en route to the Stanley Cup.
Asked to explain his torrid start, Schenn said simply: "It's nice to score. Hopefully the bounces keep coming."
Schenn was Mr. October for the Blues, with nine goals in 13 games. That total was the seventh-highest for the month of October in franchise history.
He got November off to a good start on Friday, with his 10th goal of the season to spark a comeback 4-3 overtime victory over the Columbus Blue Jackets at Enterprise Center. He thus became only the fourth player in franchise history to score his 10th goal of a season in 14 games or less. The others:
• Scott Young, nine games in 2000-01.
• Alexander Steen, nine games in 2013-14.
• Keith Tkachuk, 14 games in 2005-06.
The Blues had fallen behind 3-1 to the Blue Jackets when Schenn scored on the power play to change the game's momentum.
"We weren't very good to start the second period there," he said. "When you get put on the power play, you gotta find ways to score goals. (David) Perron made a good play to me, and I was able to put it in."
It was Schenn's fourth power play goal of the season, which was tied for sixth in the league through Friday's games.
MR. OVERTIME
Perron's assist on the Schenn goal was No. 300 of his career. But he was just getting warmed up, later scoring the game-winner on a play in which he took his time before unleashing his potent wrist shot to beat Columbus goalie Elvis Merzlikins. What was he thinking on the play?
"I don't think too much, I just react out there," Perron said. "Trying to set up with that shot obviously. When I pull it in I'm just trying to set up the 'D' how I want to. Hopefully screen the goalie a little bit off that shot and kind of shoot it off his side just a little bit so that the goalie doesn't have much time to react and it worked out again."
"Again" is the operative word because it was Perron's fourth game-winner of the season and his second overtime goal in three games. If this keeps up, they'll start calling him Mr. Overtime.
"I'd rather do 'Mr. Overtime for the Playoffs' or something like that," Perron said. "So I'm not there yet."
He's only the second player in Blues history to score two OT goals over a three-game span. Joe Mullen did it previously, on Nov. 12 and Nov. 16 of 1985.
Through Friday's games, Perron's four game-winners this season was tied for first in the league.
MEANWHILE, IN SAN ANTONIO
Jordan Kyrou made his long awaited season debut Saturday night for San Antonio against the Texas Stars. He had not played since late last season following surgery for a kneecap injury. He was on the Rampage's top line with Jordan Nolan and Ryan Olsen.
The Blues still haven't made a callup from San Antonio to replace Vladimir Tarasenko (left shoulder surgery) on the roster. It's possible the Blues will wait until Sunday before doing so, as the team's four-game road swing heads to western Canada for three games beginning Tuesday in Vancouver.
BLUENOTES
St. Louisan Luke Kunin had one goal and two assists in 13 games for Minnesota entering Saturday's contest, but was minus-8. He had a season-high four hits Wednesday against the Blues. He was the No. 15 overall pick in the 2016 NHL draft by the Wild. He centered the Wild's fourth line Saturday.
• Saturday's game was a homecoming for Blues defenseman Justin Faulk, who grew up in South St. Paul.
• Blues scratches were forward Robby Fabbri and defenseman Robert Bortuzzo.
O'Reilly scores overtime winner, Blues beat Wild 4-3
O'Reilly scores overtime winner, Blues beat Wild 4-3
O'Reilly scores overtime winner, Blues beat Wild 4-3
O'Reilly scores overtime winner, Blues beat Wild 4-3
O'Reilly scores overtime winner, Blues beat Wild 4-3
Blues Wild Hockey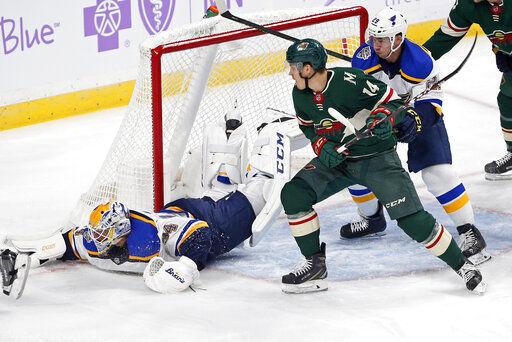 Blues Wild Hockey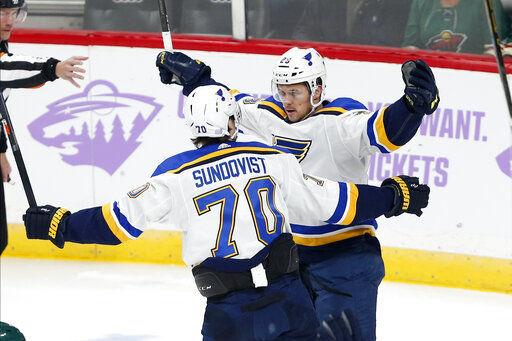 Blues Wild Hockey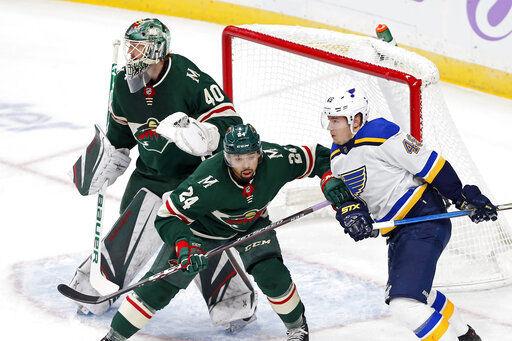 Blues Wild Hockey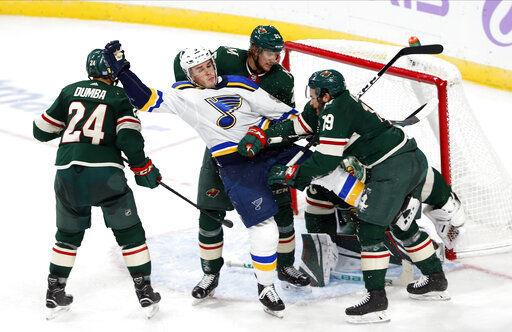 NO headline in galleries