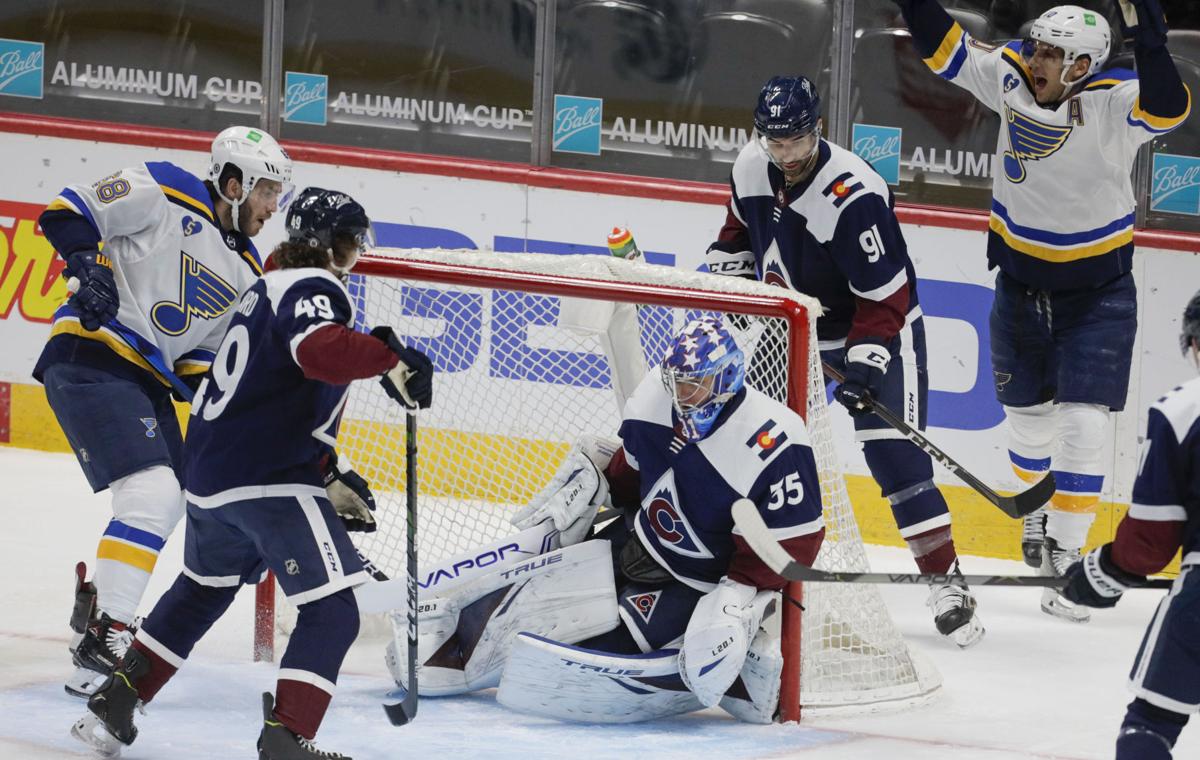 For the second time in five games, forward Mike Hoffman was a healthy scratch Wednesday for the Blues.
That would be noteworthy in itself given that Hoffman has scored between 22 and 36 goals in each of his six full NHL seasons prior to this year. Adding another layer of intrigue is the fact that the NHL trade deadline is just five days away — coming Monday afternoon.
It is routine for players that are being shopped to be held out of the lineup as the trade deadlines nears, to avoid risking injury.
The Blues play two additional games prior to the trade deadline, against Minnesota at home on Friday and Saturday. (They play the Wild again — at Minnesota — Monday night, but after the 2 p.m. deadline).
"I mean, it's just I made a decision to put Sammy Blais in and I made a decision to take Hoffman out," coach Craig Berube said. "That's it."
Hoffman was a healthy scratch for the Blues' March 28 contest against Anaheim, with Berube saying he wanted to see more from the 31-year-old forward — more effort and more production.
Hoffman responded with a goal in the Blues' next game, last Friday at Colorado, and nearly scored two other times in the opening period. But he went pointless in the next two games and was minus-3 overall.
Sammy Blais replaced Hoffman in the lineup Wednesday against the Vegas Golden Knights, marking his first game action since that March 28 contest in Anaheim. All told, Blais had been a healthy scratch in five of the past seven games, with Berube saying he wanted to see more emotion — more passion — in Blais' game.
Blais went from out of the lineup to prime real estate, opening on a line with Ryan O'Reilly and David Perron and scoring a goal 7 minutes, 21 seconds into the contest to put the Blues up 2-0. Perron had an assist. It marked only the second time that trio had opened together, the previous being a 2-1 loss to the Los Angeles Kings on Feb. 24.
There were changes up and down the lineup as Berube desperately looked for something to click.
The Jaden Schwartz-Brayden Schenn-Vladimir Tarasenko line was reunited.
Jordan Kyrou, whose playing time has been plummeting and has no goals or assists in his last seven games, opened on the fourth line Wednesday with Kyle Clifford and Ivan Barbashev. That's the first time that trio had opened together.
Ditto for the third line of Zach Sanford-Tyler Bozak-Robert Thomas.
No Bortuzzo
After 26 consecutive games played since returning from injured reserve (concussion, facial injuries) on Feb. 8 against Arizona, veteran defenseman Robert Bortuzzo also was a healthy scratch Wednesday. His performance in Monday's 6-1 loss to Vegas wasn't one for the scrapbook — he was minus-3 in 15:32 of ice time although he had a team-best six hits.
But Bortuzzo certainly wasn't the only Blue to have an off-night.
Jake Walman drew in for Bortuzzo after sitting out Monday's game as a healthy scratch. Prior to that, Walman had played eight of the previous nine games.
Walman was paired with Colton Parayko, playing in only his second game since missing 21 games with a back injury.
Live from Centene
Veteran media observers couldn't remember the last time the Blues held a game day skate at the team practice facility.
But that was the case Wednesday, with the morning skate held at Centene Community Ice Center instead of Enterprise Center.
"Just change it up a little bit. Just change it up, that's all," Berube said. "We like Centene a lot. Our practice rink has everything here. We're pretty comfortable here. I know we've been using Enterprise for morning skate for a few years now, but we just decided to make a change."
When you're struggling, apparently you'll try anything to change the vibe.
Blue notes
Klim Kostin has stayed hot in the Eastern Conference Final of the Kontinental Hockey League playoffs.
He scored the only goal for Avangard Omsk in Wednesday's 2-1 loss to Ak Bars Kazan. Avangard leads the series 2 games to 1, and Kostin has scored a goal in all three games.