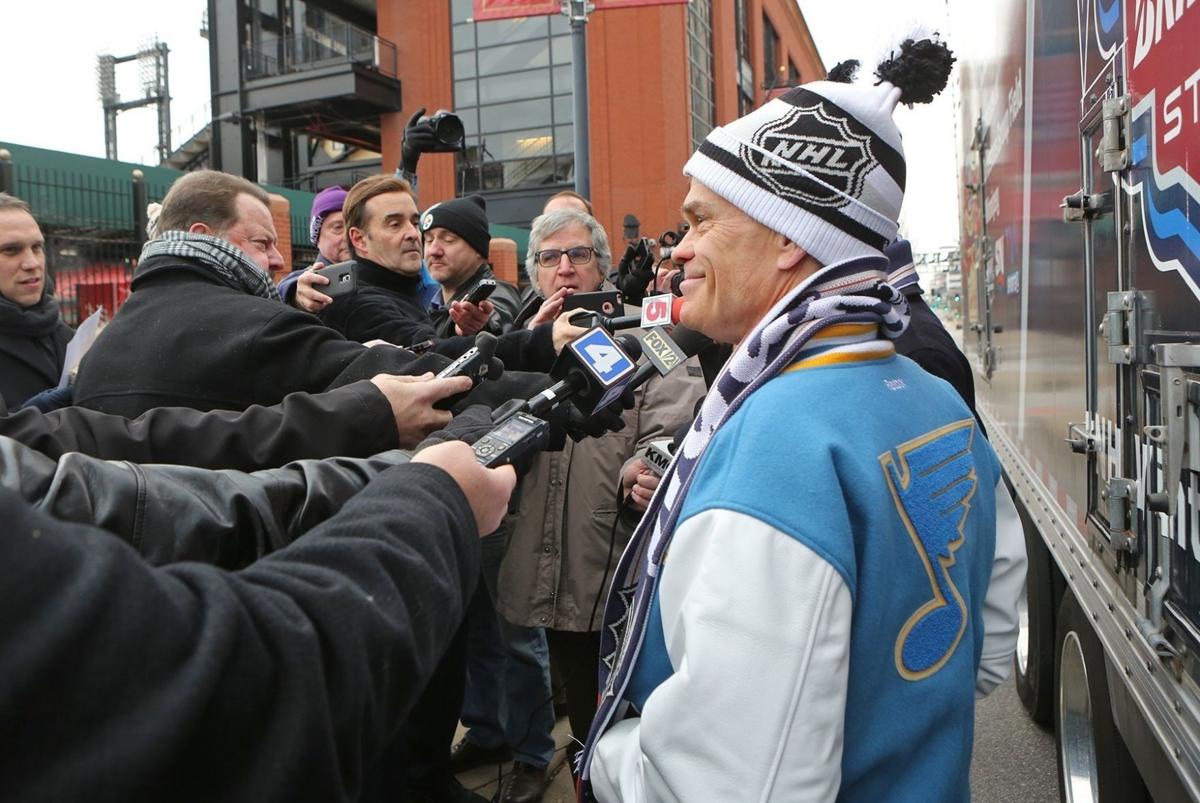 Never once, not when the Blues came out of last summer somewhat empty-handed or when this season started to slide, did owner Tom Stillman second-guess the direction of general manager Doug Armstrong.
"No," Stillman said. "You need to keep a longer view on things like that. You don't evaluate the performance of a top-level manager based on the latest current losing streak or a rough patch. I felt confident that Doug was making the right decisions and looking at the long-term, and that's our focus, being competitive not just this year but next year and the following year. In fact, I think Doug is unusual in that he was so focused on the long-term.
"A lot of GMs, I think, are inclined to be focused on what's going to keep my job next year and the year after. Some would perceive it as taking a risk to be looking farther down the road even though it might not lead to as many wins in the current year. That's an important quality, looking long-term for the organization and not looking at your short-term survival. I think Doug knows that I am in tune with looking at things in that longer-term way."
So if any Blues fans were wondering at all about the status of Armstrong, who has one more year remaining on his contract, wonder no longer. Stillman said that the organization does not discuss potential extensions, but when asked if he believes that Armstrong is the right person for the job, he responded: "Yes I do."
That was among several topics Stillman discussed in a sit-down interview with the Post-Dispatch last week, a conversation that included the firing of Ken Hitchcock and promotion of Mike Yeo, transitioning a young roster into the future and maintaining a payroll near the salary-cap ceiling.
The Blues' brass remained at Scottrade Center into the wee hours of the night following a 5-3 loss to Winnipeg on Jan. 31, informing Hitchcock that after five straight trips to the postseason he was being replaced by Yeo.
"Those are tough decisions (but) Doug and the organization focused firmly on the success of the club in the long-term," Stillman said. "'Hitch' will be a Hall of Fame coach, he's just a tremendous person who put his heart and soul into this organization and brought us a tremendous amount of success in his years here. Those are painful decisions, especially when you have a person of Hitch's caliber. But you get through them, and I think we came out the other end very well.
"That wasn't the intention to make the change midseason, but just as an overall concept, the idea of having a succession plan in place I thought was very positive. Every major company in America wants to have a succession plan for their leadership and be grooming somebody to take over. It was interesting to me that it got criticized so much ... I thought it was good to be transitioning somebody and have him ready when the time comes. The idea was next season. (But) I think it did probably facilitate the transition and the quick start (Yeo) had."
The Blues won six of Yeo's first seven games and, despite trading All-Star defenseman Kevin Shattenkirk shortly after, continued to roll. That surprised some, but not Stillman.
"I don't know that it surprised me because when you're in that situation you know it could go any number of ways, but I will say that it impressed me," Stillman said. "It impressed me the way the coaching staff performed ... the way the players dug in. They were in a tough position and then we made it a little tougher on them by trading a top player and yet everybody dug in. They played for each other, played for the team and carved out a playoff position and played two rounds in the playoffs."
The Blues dispatched higher-seeded Minnesota in the first round before falling to Nashville in the Western Conference semifinals. Though that was short of the Stanley Cup that Stillman said the organization wakes up thinking about every day, the season-ending results weren't anything to sneeze at.
"When you consider everything that was done and the decisions that were made, that's a pretty darn good performance," Stillman said. "Like Doug said at the time, maybe we're going to take a half step back to take some big strides forward in the future. But then as it turned out, we made it to the second round ... I don't want people to think we're satisfied with the second round; that's not our goal. But when you look at the circumstances, it's good progress for the organization."
It reassured the Blues that they had made the correct choice with Yeo.
"It confirmed what we thought about Mike and what Doug felt about him in making the decision to bring him in," Stillman said. "That was consistent with what we thought of him, but it's always good then to see that. He's just a very direct and forthright person. If you're around him, you do get a feeling of confidence because there's no subterfuge. It's 'This is how it is,' and you know because he has an appealing way, he's a regular guy, and players are going to believe in him and play for him."
It also showed that some of the Blues' younger players could well live up to their promise.
"I think at the beginning of the season maybe people would have thought, 'Well, what's the deal with the Blues' prospects?'" Stillman said. "And by the end of the season, people saw, 'Oh my gosh, we have a lot of good young players.' We saw tremendous performances by (Colton) Parayko and (Joel) Edmundson, becoming a really solid pair. And then (Ivan) Barbashev and (Zach) Sanford played very well for young players. There was others that came up for short stays and others that had really strong performances in the American League and junior and college. The season really did bring to light the quality of the young players we have and the prospects we have in the system."
And now the Blues will head into the offseason looking to build on their momentum. Once again, they're expected to be at or near the league's salary cap, which could be as much as $76 million in 2017-18.
"Our ownership group continues to be committed to investing in putting a competitive and ultimately a championship team on the ice, and I don't see that changing," Stillman said. "I think in the first few years we've stabilized the patient here. We are more financially stable than we were under the previous (ownership) group. But as a medium-sized market team competing against New York, Philadelphia, Toronto, Montreal, Vancouver, we're always going to be in a position where we're going to have to work pretty hard to make ends meet and still put a competitive team on (the ice) because the salary cap will continue to rise.
"So we have to continue doing things on the business side to continue growing support, growing revenue, making sure we have the community engaged so that we can continue to be competitive on the ice. I think we've made a tremendous amount of progress. Credit goes there to Doug Armstrong on the hockey side and Chris Zimmerman leading the business side and over 100 people work under them — a lot of work and effort and thought has gone into making that progress. We are in a better place than we were a few years ago, but we also have a lot that we still want to accomplish."
The latest STL Blues hockey news, NHL headlines, scores, standings and rosters.