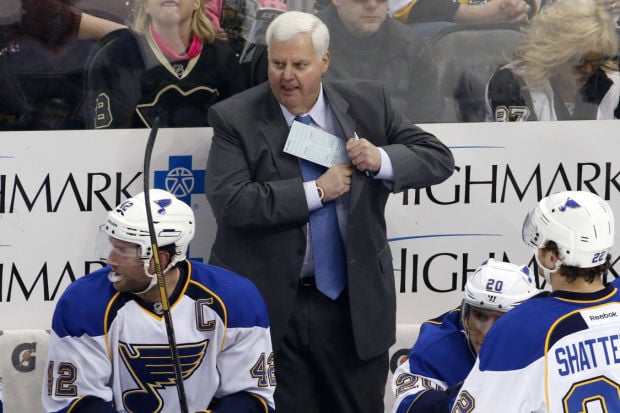 A week after Blues general manager Doug Armstrong said "now is not the time to isolate a person" following a first-round playoff loss to Chicago, the club made a few announcements regarding the coaching staff Wednesday.
The Blues and coach Ken Hitchcock had a mutual option for the 2014-15 season, and as expected, the two sides agreed to tender the option.
"We've made a home here," Hitchcock said last week. "We've made significant progress here. I know it doesn't feel like progress to people right now, but it is."
In three seasons, Hitchcock has led the Blues to a regular-season record of 124-55-20, highlighted by a franchise-record 52 wins this season. The club has made three consecutive playoff appearances under Hitchcock but twice lost in the first round.
"Ken has done a solid, strong job in his three years here," Armstrong said last week.
But Hitchcock won't have his entire staff back for the 2014-15 season.
Associate head coach Brad Shaw and assistant Ray Bennett, who have each spent eight years with the Blues, will be returning. However, the club will not be retaining assistants Corey Hirsch and Gary Agnew.
"I would like to thank Gary and Corey for their diligence and dedication as members of our organization, and wish them nothing but success in their future endeavors," Armstrong said in a statement Wednesday.
Hirsch, the goaltending coach, had been with the Blues for four seasons. He was involved in the success of the tandem of Jaroslav Halak and Brian Elliott, who won the Jennings Trophy in 2011-12, and has also been responsible for the grooming of prospect Jake Allen. But more recently, the Blues' goaltending came into question with Ryan Miller posting a 2.70 goals-against average and an .897 save percentage in the playoffs.
Among the list of replacements for Hirsch could be longtime Buffalo goalie coach Jim Corsi. Corsi was Miller's coach for all 11 of his seasons in Buffalo and could be a sensible fit if Miller, who will be an unrestricted free agent this summer, is re-signed.
Former Blues netminder Ty Conklin could also be under consideration. Conklin played two seasons with the club from 2009-2011 and has been the organization's goalie development coach since 2013.
Meanwhile, the Blues are also parting ways with Agnew, who had recently completed his second season with the team. Among other duties, Agnew was partly responsible for the power play, which went two for 29 against Chicago.
Possible replacements for Agnew's position are Kevin Dineen, the former head coach of the Florida Panthers; Kirk Muller, fired earlier this week as the head coach of the Carolina Hurricanes; and perhaps Adam Oates, another recent head coach who was fired in Washington.