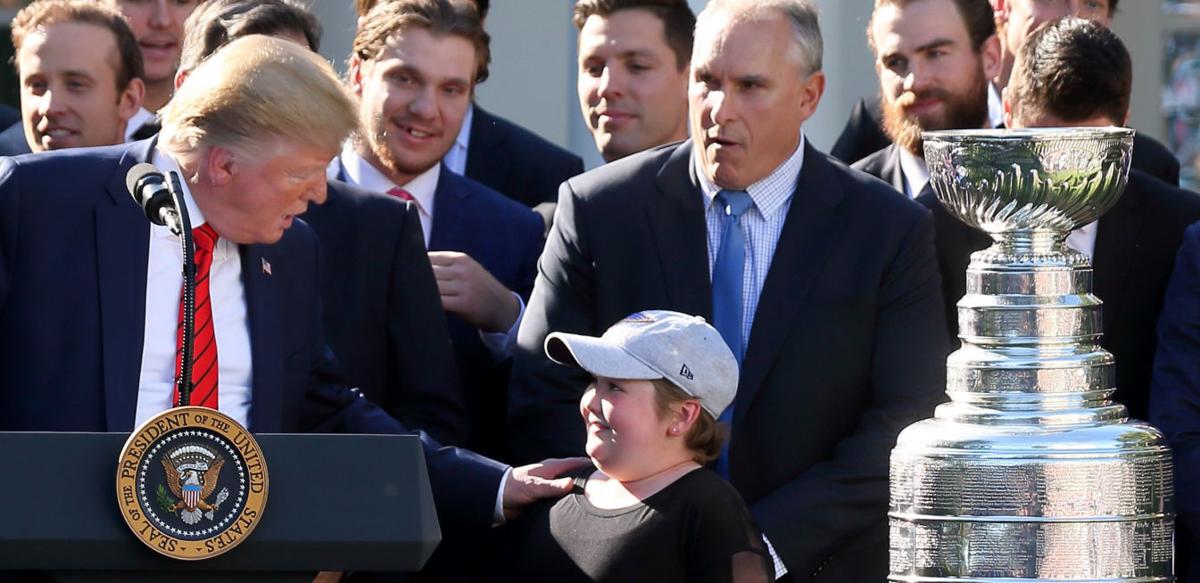 WASHINGTON — Probably the last thing Jaden Schwartz expected in the Rose Garden was to be called to the podium by President Donald J. Trump.
But there he was, with dozens of media members watching, all kinds of politicians on hand. The normally media-shy Blues forward was summoned. In going through the highlights of the Blues' Stanley Cup championship run, Trump had mentioned Schwartz's game-winner in the playoffs against Winnipeg and his overall stellar play in the postseason. (He initially referred to him as "Jason" Schwartz.)
"Oh, Jaden," Trump said. "Come here. Say a few words."
Schwartz popped out from the cluster of Blues standing behind the president, and the kid from Saskatchewan had the floor.
"I wouldn't be able to score if it wasn't for my partner passing me the puck," Schwartz said. "Where are you, Tyler (Bozak)? Golf partner, too. Undefeated."
Typical hockey humility, right? Then came the surprise zinger from Schwartz. He gave the president a hearty handshake, looked him in the eye and said: "If you want to take us on sometime (in golf), let us know."
(Later, Schwartz confessed: "I was nervous. I kind of blacked out. I don't really remember what I said.")
In any event, that was the tone of the afternoon. After a few political comments, a quick jab or two at the media and House Speaker Nancy Pelosi, Trump stuck to hockey and the Blues. He kept it light, and the Blues played right along.
If the Trump-Schwartz exchange wasn't the highlight, perhaps it was the Trump-Alexander Steen moment.
"Look at that guy," Trump said in the middle of his remarks. "Look at that mouth on the guy. Come here a minute."
He was looking at the chip-toothed Steen. As Blues fans know, Steen has the rugged look of someone who's taken a few pucks and sticks to the face over a long career, and the president took notice.
"Do you think he's taken a few hits?" Trump asked to a smiling and somewhat flabbergasted Steen. "Do you think he's tough? Do you think I could take him in a fight? I don't know. I don't know."
Trump kidded goalie Jordan Binnington about giving up a goal in Game 7 of the Stanley Cup Final against Boston. A shutout would've made it easier for the Blues.
"You know that's my bad, I guess," Binnington replied.
And so it went. Trump asked Ryan O'Reilly if he was Irish. Yes, O'Reilly replied.
He noted that Blues chairman Tom Stillman once worked in government (the Department of Commerce).
"If you ever get tired of doing this, maybe we can get you back over there (in government)," Trump said.
"I'm sticking with hockey," Stillman replied.
And Trump asked coach Craig Berube if the pressure was off this season now that the Blues had won the Cup.
"Well, I don't know about that," Berube replied.
Near the end of the ceremony, which lasted about 40 minutes, Stillman presented the president with a Blues jersey with "Trump" and jersey number 45 on the back.
"It was a very lighthearted, fun kind of celebration," Stillman said afterward. "You don't expect it to be lots of laughs and comfortable — jokes. It was a lot of fun."
With a Marine Corps band playing — what else? — "Gloria," the Blues came marching out to the Rose Garden at about 3:20 p.m. local time, with defenseman Colton Parayko first in line and general manager Doug Armstrong bringing up the rear.
All the players were on hand except for new defenseman Justin Faulk, who was not with the Blues last season. He has not attended any of the team's Cup-related events, by his choice.
"I think this team acts as a team in everything they do," Stillman said. "They stick together, and I think by and large I like to keep politics and sports separate. This is a matter of a traditional honor by the presidency, and it's something you do. And I'm really proud of our group for all coming together — and had a good time with it as well."
The afternoon included a tour of the White House, including the East, Blue, Green and State rooms and Library. The team also spent some time in the Oval Office with the President, but there was no meal.
Binnington noted that he had previously visited the Vatican.
"Really didn't like it," he said. "This tour. A thousand times better. Smooth. I understood everything. It was just really cool to see what it's like over here, have an idea where they live in the White House."
During the actual ceremony, Binnington said he had an idea he might be called upon when he saw his name among several listed in a binder brought by Trump to the podium.
"So I had a second to get myself together," he said. "I was going to make a shout out to the media, to tell them to take it easy on (Trump). He's just a human.
"It was really cool. Being part of that whole process and actually (Trump) talking politics up there. . . . He was talking about the stuff that was going on. It was cool to be up there to experience what it's like for him.
"He was pretty smooth. And he's funny. He did a great job. And he's a really nice guy so it was a great visit."
Steen said the time spent in the Oval Office "was a little surreal. It was very, very cool. Just the fact of meeting him and getting a picture with him, it's a very special day for sure. It's crazy."
By 4 p.m. local time, or about 45 minutes after the start of the ceremony, the Blues were back on the team bus and headed to an airport for the flight to St. Louis, their four-game, 10-day trip over.
St. Louis Blues visit President Trump at White House with Stanley Cup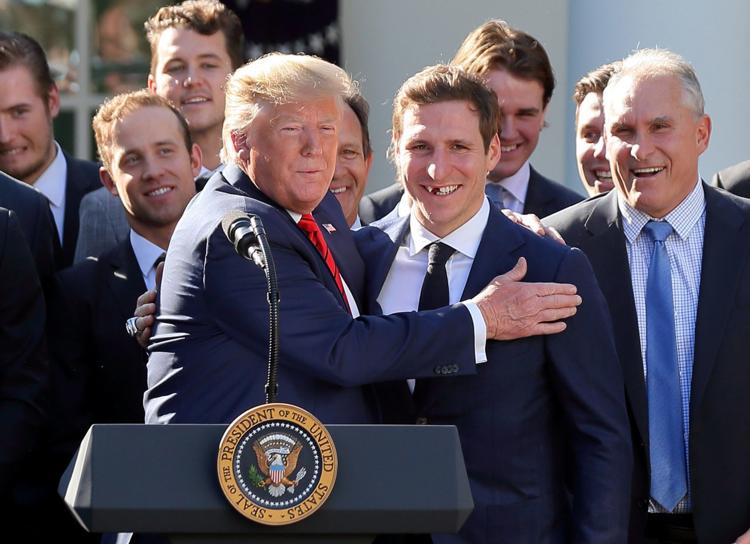 St. Louis Blues visit President Trump at White House with Stanley Cup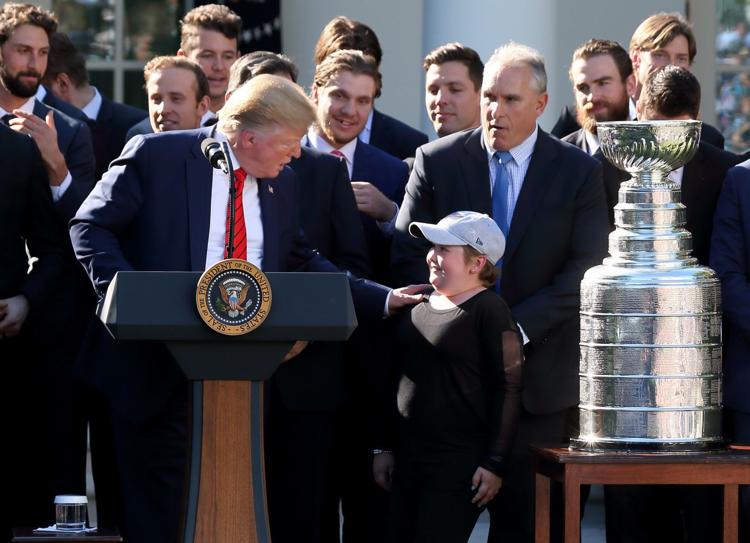 Blues visit the White House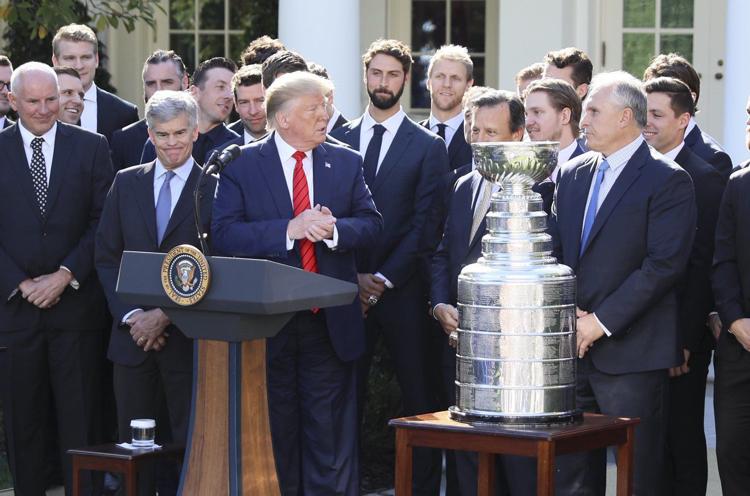 St. Louis Blues visit President Trump at White House with Stanley Cup
Stanley Cup champion St. Louis Blues visit the White House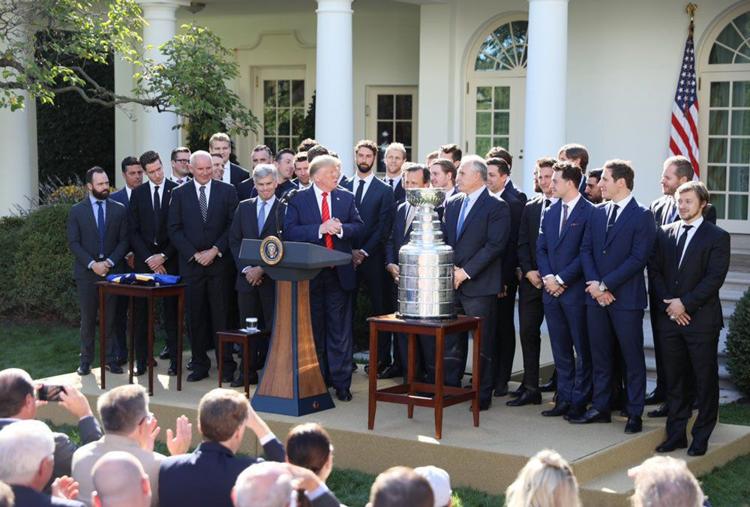 In the Oval Office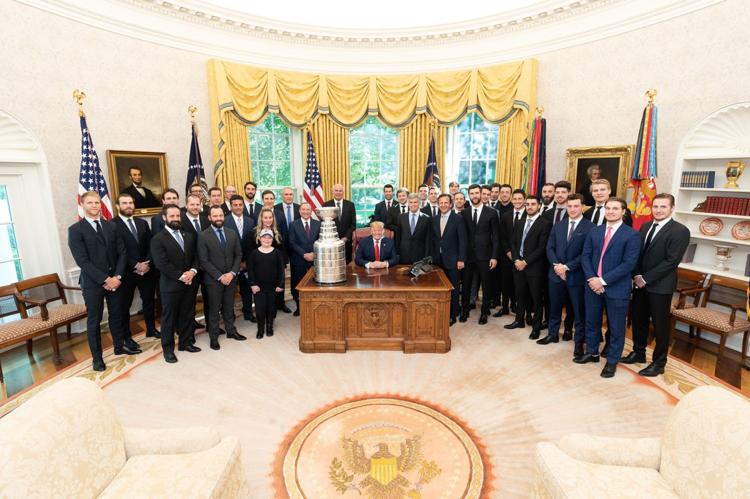 Stanley Cup Champion St. Louis Blues visit the White House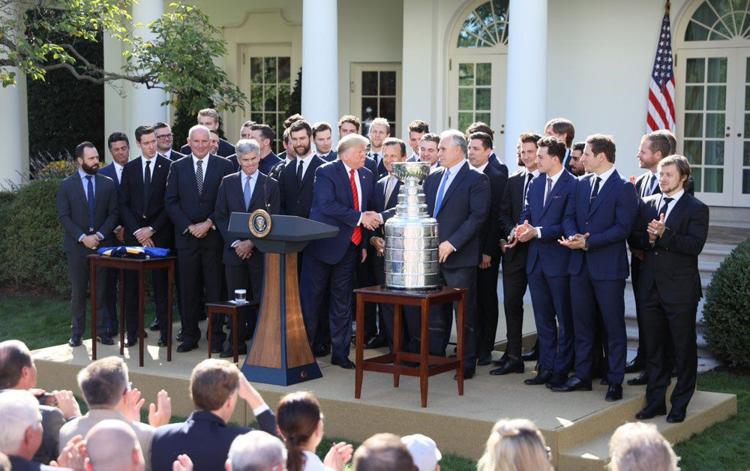 Stanley Cup Champion St. Louis Blues at White House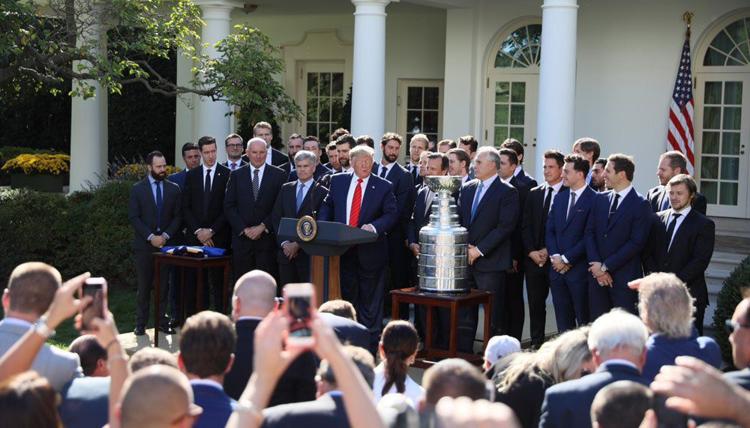 Blues visit the White House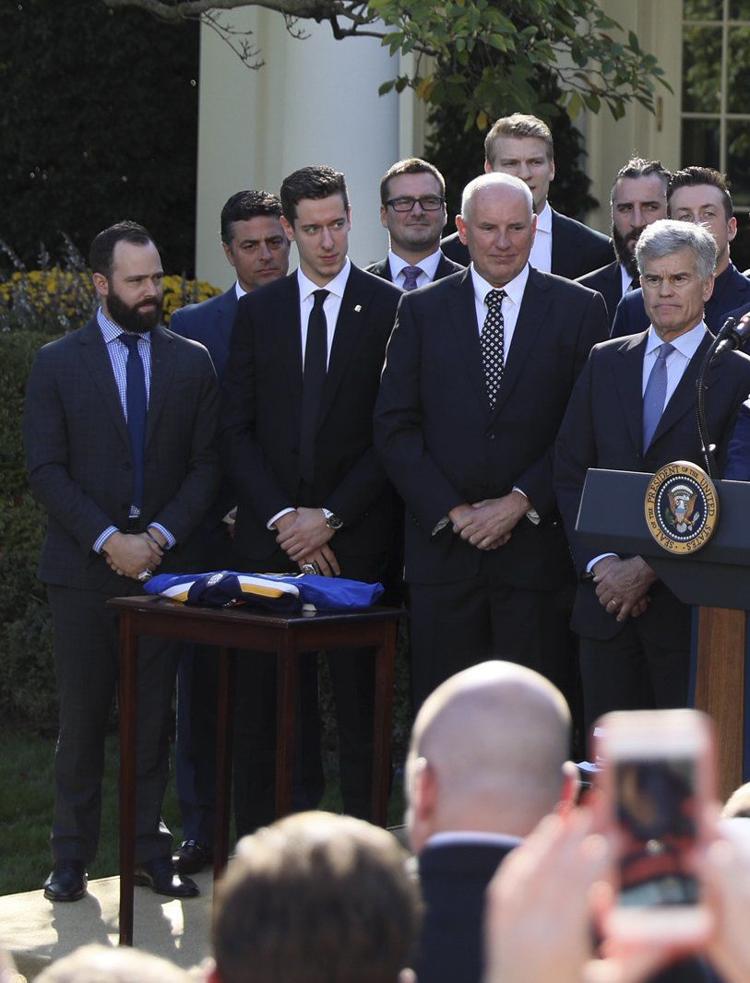 St. Louis Blues visit President Trump at White House with Stanley Cup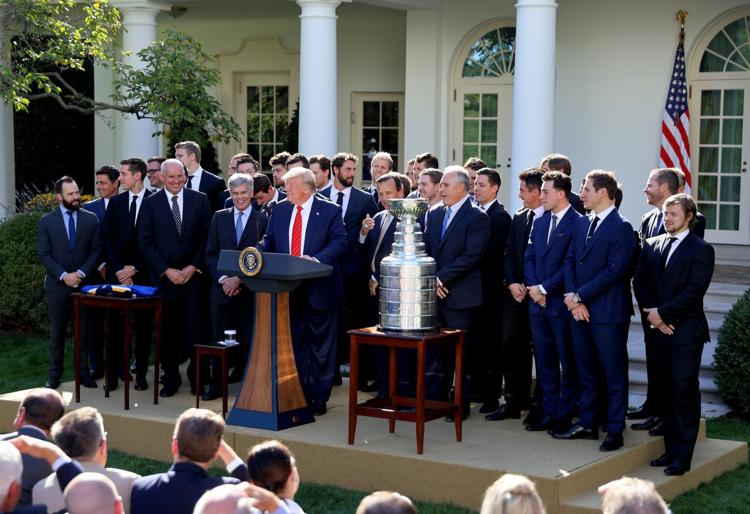 St. Louis Blues visit President Trump at White House with Stanley Cup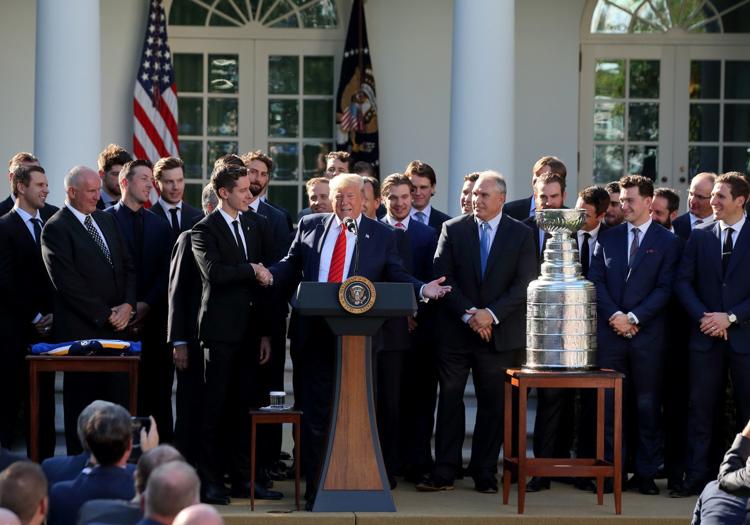 St. Louis Blues visit President Trump at White House with Stanley Cup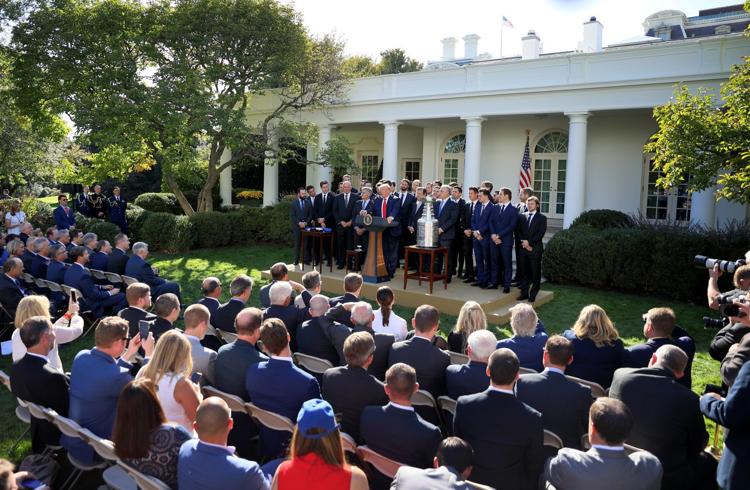 St. Louis Blues visit President Trump at White House with Stanley Cup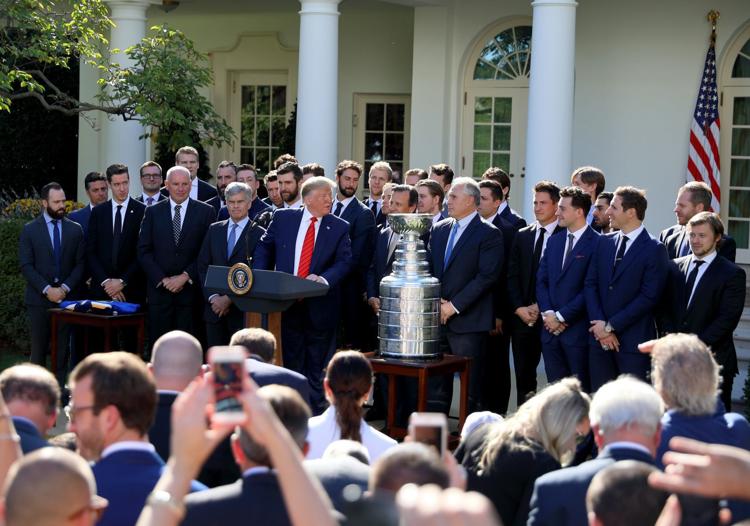 St. Louis Blues visit President Trump at White House with Stanley Cup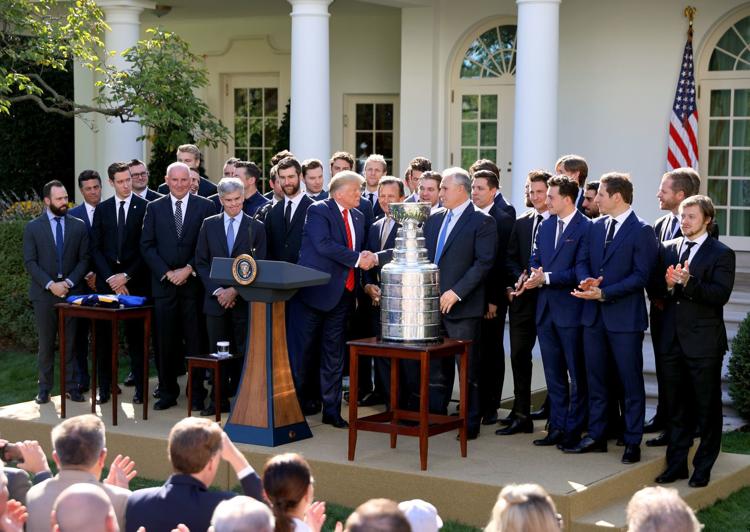 St. Louis Blues visit President Trump at White House with Stanley Cup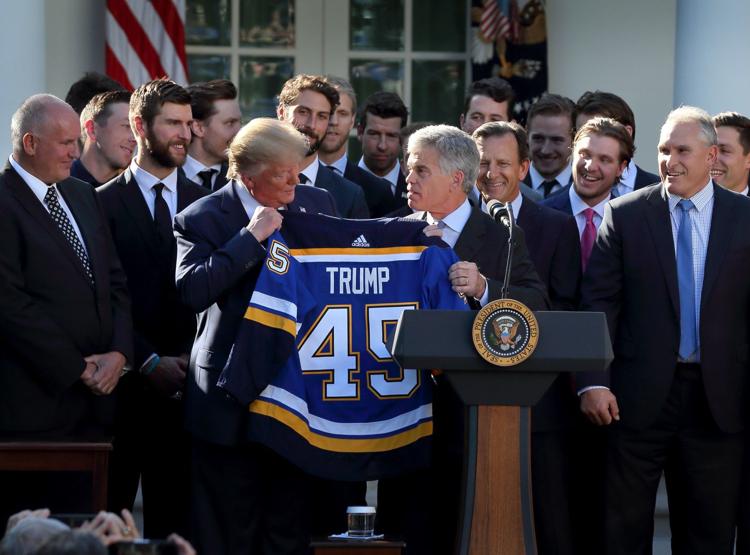 St. Louis Blues visit President Trump at White House with Stanley Cup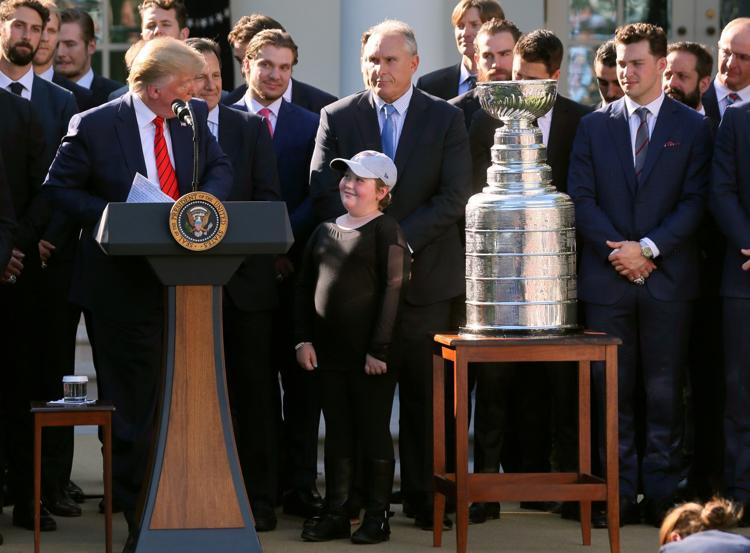 St. Louis Blues visit President Trump at White House with Stanley Cup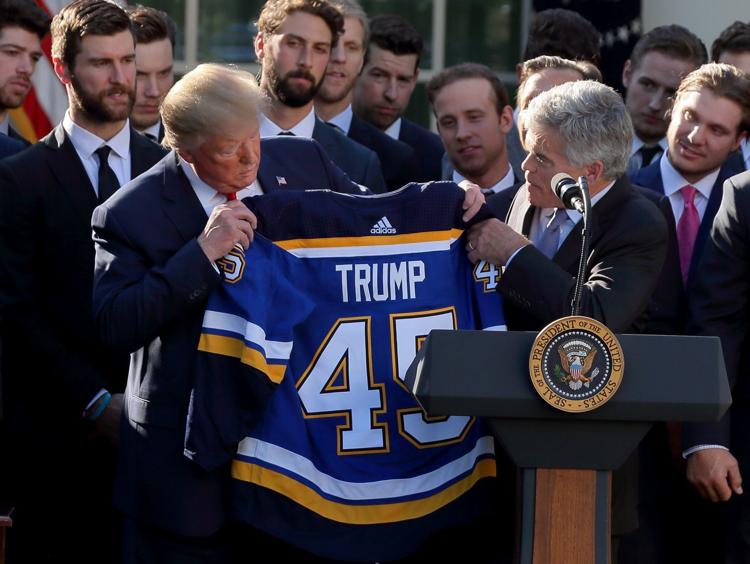 St. Louis Blues visit President Trump at White House with Stanley Cup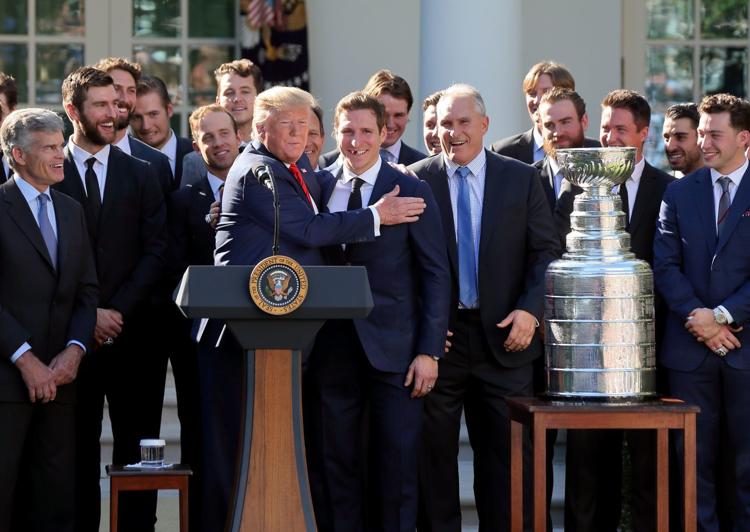 St. Louis Blues visit President Trump at White House with Stanley Cup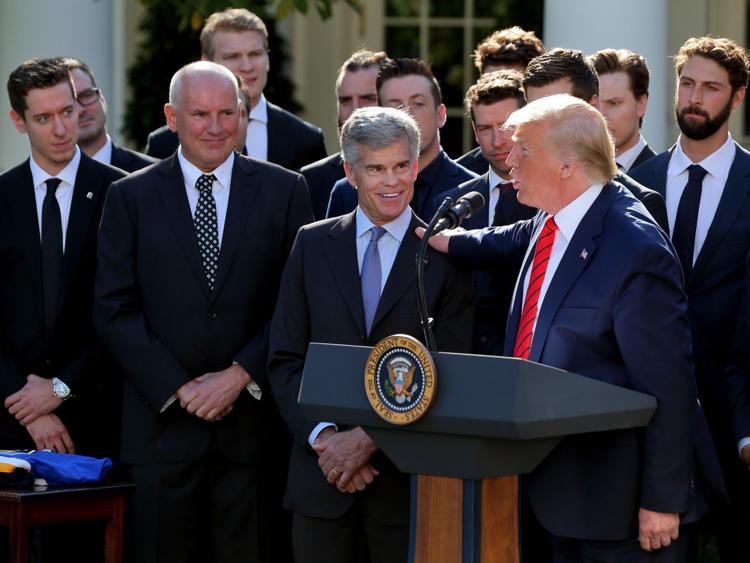 St. Louis Blues visit President Trump at White House with Stanley Cup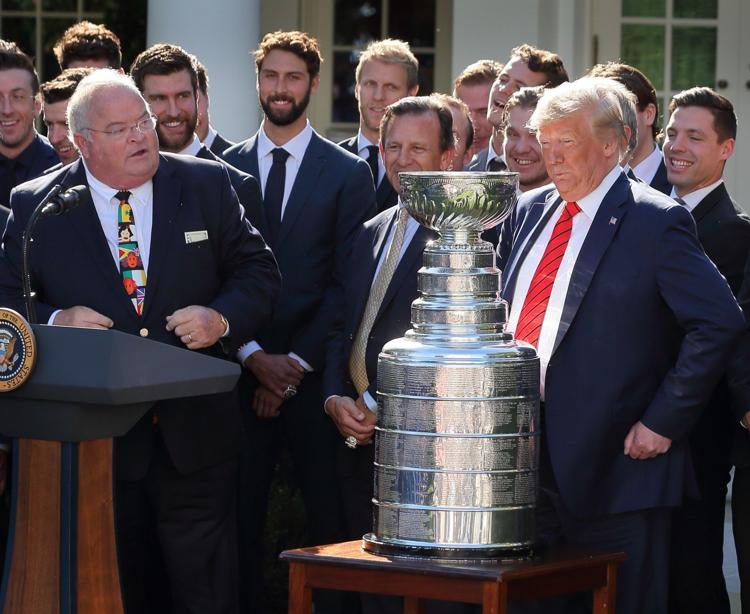 St. Louis Blues visit President Trump at White House with Stanley Cup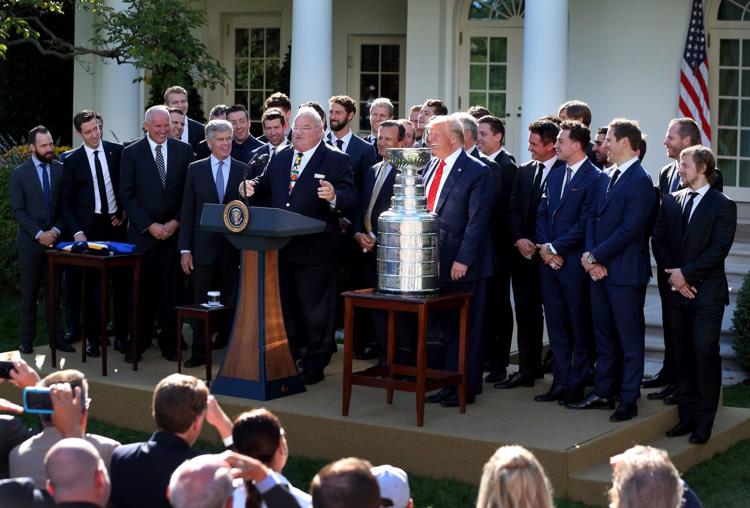 St. Louis Blues visit President Trump at White House with Stanley Cup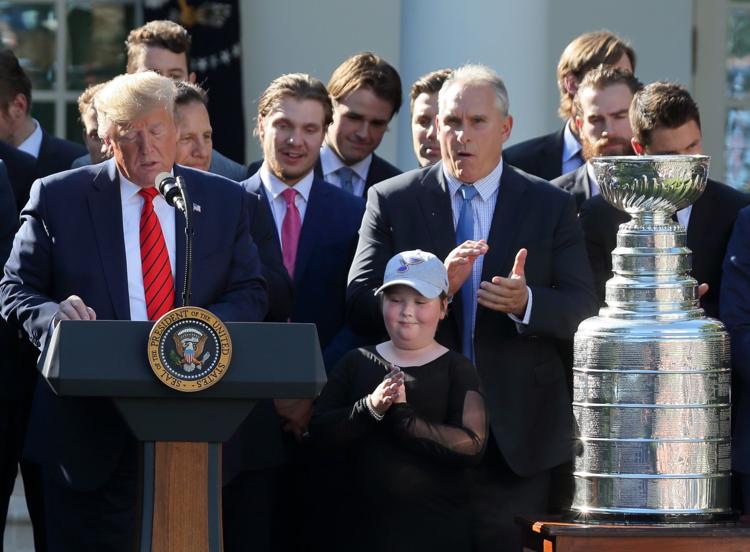 St. Louis Blues visit President Trump at White House with Stanley Cup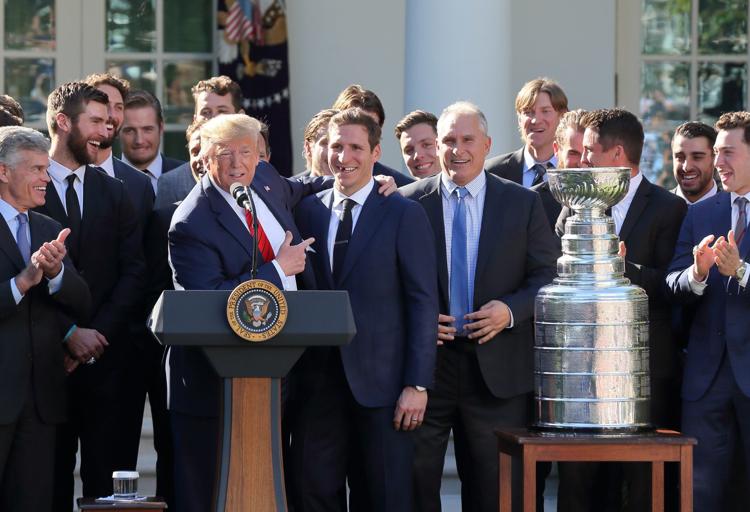 St. Louis Blues visit President Trump at White House with Stanley Cup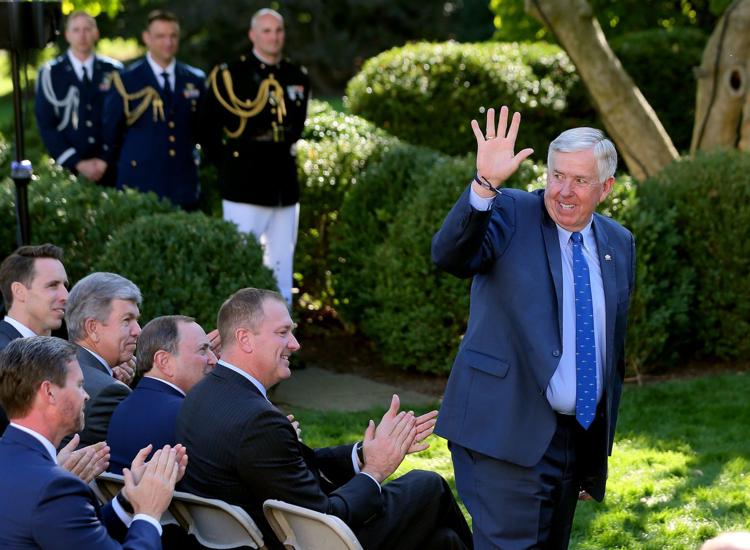 St. Louis Blues visit President Trump at White House with Stanley Cup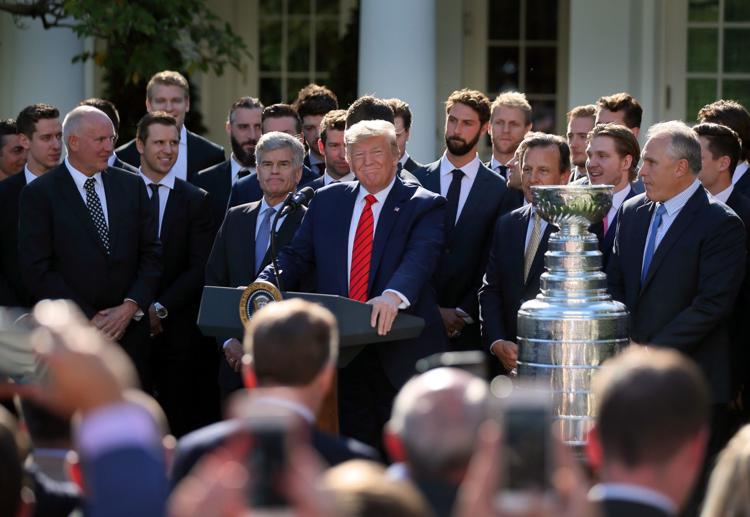 St. Louis Blues visit President Trump at White House with Stanley Cup