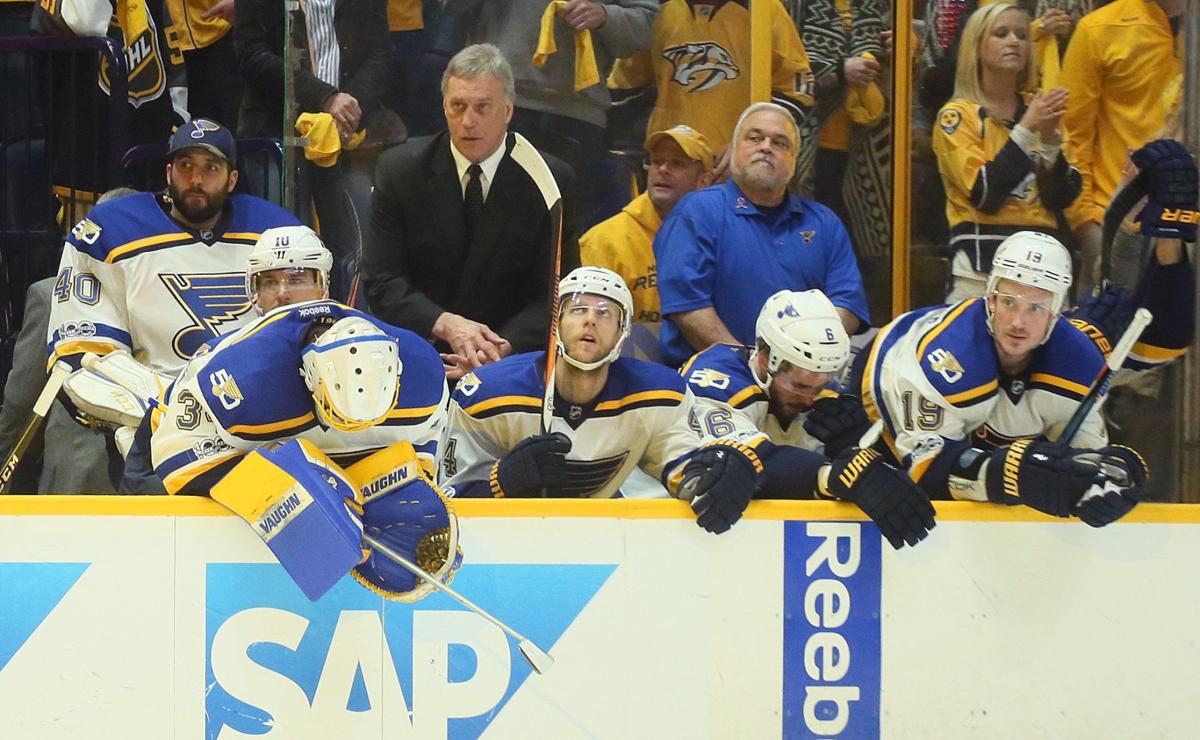 NASHVILLE, TENN. • The demise of the Blues' season came in a predictable, and almost fitting way: The team could not score enough goals.
It wasn't that the Nashville Predators unleashed an offensive barrage on them that was too high a hill to climb: the Edmonton Oilers scored more goals Sunday night than the Predators did in Games 4, 5 and 6 combined. The Predators scored just 15 goals in the series' six games, and had more three only once. But the Blues' numbers were even smaller, as they managed just 11 goals. In each of the three games in Nashville, the Blues scored just one goal, which, as business plans go, seldom produces black ink.
The season finale was a 3-1 loss Sunday at Bridgestone Arena, a result that gave the Central Division's fourth-place team its first trip to the conference finals in franchise history and gave the Blues the latest in their run of crummy flights home.
"We couldn't find a way to get a couple past them," said center Kyle Brodziak. "It's unfortunate and frustrating. We had opportunities but not enough as we would probably like."
When the Blues did what they wanted to do — get shots on the net and pounce on rebounds — it worked great. Their three goals in Games 5 and 6 all came on second chances. But there weren't anywhere near enough of those chances for the Blues to thrive.
"When we got there, we did some good things," Blues coach Mike Yeo said. "There were some times when we got around the net and some pucks just kind of squirted by. Not enough secondary opportunities, not nearly enough. The first goal was an indication of the way the series was going to play out and we saw that last game as well. We needed, No. 1, to create more of those situations, get around the net and win more of those battles."
The likely No. 2 on the list was that the Blues needed something from their pulseless power play. The Blues had only one power play in Game 6 and failed to score; that put their percentage in the postseason at 6.7 percent, the fifth-lowest number in the NHL since 1986-87 for teams that have played more than 10 playoff games and, fittingly, none of those teams got past the second round. The Blues scored on just one of 15 power-play chances against Minnesota in the first round and posted the same numbers against Nashville.
The Blues went 0 for their last 12 power plays. Their lone power-play goal against Nashville came in a five-minute power play after Vernon Fiddler was kicked out of Game 2 for kneeing Colton Parayko.
"First off, you're on the road and you want your power play to be more of a factor," Yeo said. "We didn't factor in at all. No power-play goals, we drew one power play tonight, so that's not enough as well. So these are the things that we have to look at and obviously areas that we have to grow."
"I think our power play didn't step up when we had chances," center Paul Stastny said, "whether it was a two-minute five-on-three or something else. We didn't have that many chances today, but other games we had a lot of chances. When it's that tight, I think special teams always make a difference. For them, it maybe won them one or two games and for us it only won us the one game."
Nashville's power play finished at 20 percent, scoring five goals.
The Blues' offense peaked early, with six goals in Games 1 and 2 and just five in the final four games.
"You got to give them credit," Brodziak said. "They're a tough team to play against. They're aggressive. They force you to make plays with the puck you don't want to make."
"I think early on the first couple games," Stastny said, "we started out well but every time we got scored on, to take a boxing analogy, we took a punch and then we kind of took too long to feel our way out, instead of getting right back out and being aggressive again. It wasn't until Game 4 we started trying to dictate play and then know we could weather storms and it was too little, too late."
"We did a pretty good job of disturbing," Predators defenseman P.K. Subban said. "Not shutting them down, but trying to make sure that if they did take a shot, they're off balance or they don't get a full look at the net ..."
The Blues, who finished 12th in the league in regular-season scoring, were hurt by the in-season loss of Robby Fabbri, along with Patrik Berglund and David Perron combining for zero postseason goals. The team's top five regular-season goal-scorers – Vladimir Tarasenko, Berglund, Jaden Schwartz, Perron and Stastny – combined for nine goals in the postseason.
"It was always a play here or there that makes it a 2-1 game or a 3-1 game," Stastny said. "A couple inches one way or the other. That's just how the whole series was."