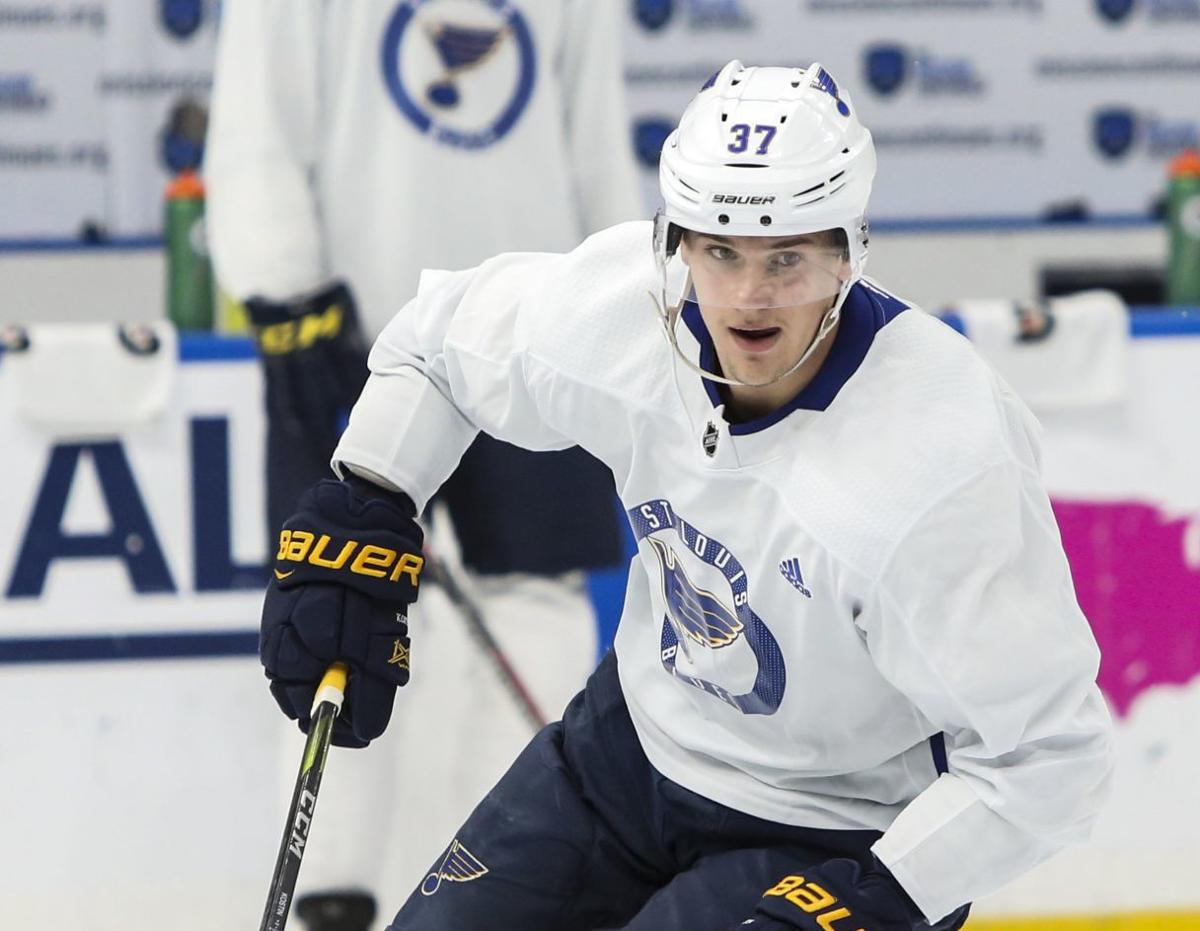 Klim Kostin, one of the Blues' first-round picks in the 2017 draft, stepped into a small room just off the ice at Enterprise Center on Friday morning and did something he hadn't done before: Talked to a group of St. Louis reporters in English.
Kostin is reserved in any language, but even more so when he has to divert from his native Russian. In the past, he has preferred to speak through an interpreter or, even better, not to speak at all. On this occasion, he brought another Blues prospect, Alexey Toropchenko, as a combination interpreter/security blanket.
But Toropchenko, a Russian who has been playing junior hockey the past two seasons in Canada and probably will be a teammate of Kostin's in San Antonio next season, wasn't needed, other than to smile as his comrade in tongues went on.
As the only Russian with the San Antonio Rampage, the Blues' AHL affiliate, last season, Kostin has no choice but to learn English.He's making progress as he goes bilingual.
"I think so," he said. "I try to watch some movies in English. And try to learn."
He also is making progress with his game. It's not yet at the point that he's NHL ready, but he's getting there. And, as he sees it, the two go hand in hand. If he's to play in the NHL, he needs to learn English and he needs to learn the North American game.
"I gotta learn the language," he said when asked what he needed to improve on to make the jump to the NHL. "And just listening to coach and doing what he want of me. . . . just try and change my game . . . from Russia style to American style. I think it's successful."
Kostin, who scored twice in Friday's prospects camp-ending shootout, was one of two players the Blues chose in the first round of the 2017 draft. First up was Robert Thomas, the 20th pick, who played in the NHL this season as a teenager and played a role in the Blues' run to the Stanley Cup. Kostin was taken with the 31st pick in the first round with a choice the Blues got for trading Ryan Reaves to Pittsburgh. (The Blues also got Oskar Sundqvist in that draft-day deal.)
Kostin is two months older than Thomas, but his impact still remains in the future. Kostin scored 10 goals and assisted on 14 in 66 games this season for San Antonio, numbers not far off his first season in North America in which he had six goals and 22 assists. But the Blues look at Kostin as a player who is going to need time to adjust to the game but who is going to get there.
"For him at that age to come over here and do what he's done . . .," said Tim Taylor, the Blues' director of player development. "You talk to our San Antonio coaching staff, they thought his growth and development took a huge step, especially the last year. The second half of last year, his points weren't maybe what people expected. But at the end of the day, it wasn't about the points. It was about playing North American hockey, playing the right way, playing under a team concept, and then his skill level will take over. . . . We love where he's come. He took a big step last year for us."
Of the 32 players in town for the Blues' prospect camp, which ended on Friday night, Kostin was the only professional. While the rest are either college, European or junior players, Kostin already has two years in the AHL under his belt.
He's still a youngster, having turned 20 less than two months ago. He's only 16 months older than Nikita Alexandrov, who the Blues took with their first pick in the 2019 draft. Kostin's age is one of the reasons he was here this week.
"It's hard," Taylor said, "because we've put him in an environment at 18 and 19 where he's playing against men and we're expecting him to hang around men who are 25, 28, that have kids, families. We've taken him out of his own environment and his own atmosphere where he can just be a kid.
"So sometimes you take the confidence out of them at that young age and expectations are high so I wanted to put him back in an environment where he's around kids his own age and they can talk about the same things, have the same interests, and at the same time hopefully instill a lot more confidence in him. Not to say he doesn't have confidence, but now, he can see on the ice, he can understand, this is where I'm at. I am real good, I am real strong. I thought it was a real good week for him."
Kostin was briefly with the Blues during their Stanley Cup run, skating with the group of minor-leaguers called up in case of an emergency. When it became apparent he wouldn't be needed, the Blues let him go home. He'll be making a stop in Russia this summer before coming back to start getting ready for training camp.
Making the Blues' roster next season will be hard. The team figures to return all of its forwards, with the possible exception of free agent Pat Maroon, and there are plenty of young forwards populating the bottom of the roster: Robby Fabbri, Sammy Blais, Zach Sanford, Mackenzie MacEachern, Jordan Kyrou. Another season in the AHL wouldn't be the worst thing for Kostin.
"I think everybody has a chance to make the team," he said. "I just should keep working hard. And just show St. Louis what I can do. And be ready for next season for NHL."
The Blues have a plan in place.
"We don't want to put Klim Kostin in the NHL, send him down, bring him up, send him down," Taylor said. "He's taking steps. He's almost at the highest part of the mountain. He's getting there. He's getting closer. When he comes up, he's going to be a Blue for a long time."