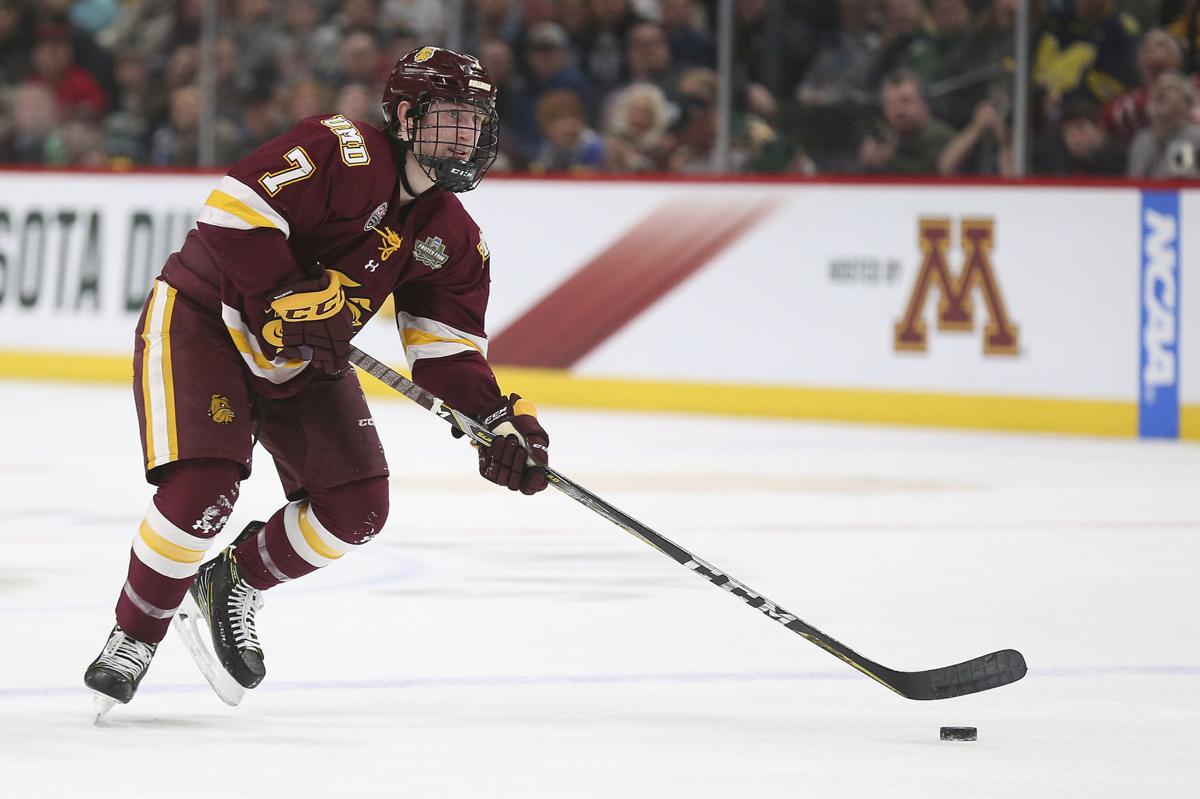 Blues prospect Scott Perunovich is the 2020 winner of the Hobey Baker Award as college hockey's player of the year.
Perunovich, a junior defenseman from Minnesota-Duluth, finished with 40 points in 34 games this season on six goals and 34 assists. His assist total ranked second in the nation.
Perunovich was a three-time all-American and three-time first-team all-conference selection for the Bulldogs, who were seeking their third consecutive NCAA Division I championship before the coronavirus pandemic resulted in the cancellation of the 2019-20 season.
"I think he's got a great feel for the game," Minnesota-Duluth coach Scott Sandelin told the Post-Dispatch earlier this month. "For me, he's been like a fourth forward out there. We've allowed him to do that. He's certainly matured. He's had three really good years here.
"He's a fun player to watch. He's got vision, can make plays you don't see other guys make. If I had one complaint with him he doesn't shoot enough. He's more of a pass-first guy."
A second-round draft pick by the Blues in 2018, Perunovich turned pro after this season and agreed to a two-year contract with St. Louis two weeks ago. Actually he agreed to a pair of two-year, entry-level contracts in a unique arrangement:
• One begins this year if the NHL resumes the 2019-20 season after suspending play March 12 due to the coronavirus pandemic.
• One begins with the 2020-21 season if the NHL ends up cancelling this season.
"He's a puck-moving player," general manager Doug Armstrong said after Perunovich agreed to terms. "He plays with his head. He's a 'plus' skater with great vision and patience. He can dictate the pace of the game with his head and his feet.
"I don't like to put too much pressure on the players as they come in _ it's definitely a different league. But we've seen what college players of his stature have done recently. We have him in that grouping. Not only do we have him in that grouping, everyone has him in that grouping."
The Hobey Baker winner was announced Saturday night on ESPN. Besides Perunovich, the other finalists were junior goaltender Jeremy Swayman of Maine and junior forward Jordan Kawaguchi of North Dakota.
"I'm extremely honored and humbled to be this year's Hobey Baker Award recipient," Perunovich said on ESPN. "Five other Bulldogs have won this coveted award before me so it's just a privilege to join them."
Since the college hockey season was cancelled due to the coronavirus, Perunovich has spent a lot of time at the family cabin near his hometown of Hibbing, Minn.
"It's tough with everything going on right now," Perunovich said. "Obviously it's not the end to the season we wanted, but there's a much bigger picture with this whole Covid-19 crisis, so I'm just looking to get past this.
"And I just want to acknowledge all the hard-working men and women on the front lines of this battle."
Another Blues prospect, forward Hugh McGing of Western Michigan, was named to the West all-American team _ joining Perunovich. The all-Americans were announced just before the Hobey Baker winner on Saturday night.
McGing also was part of that Blues' 2018 draft class, and signed an entry-level deal with the team earlier this spring.