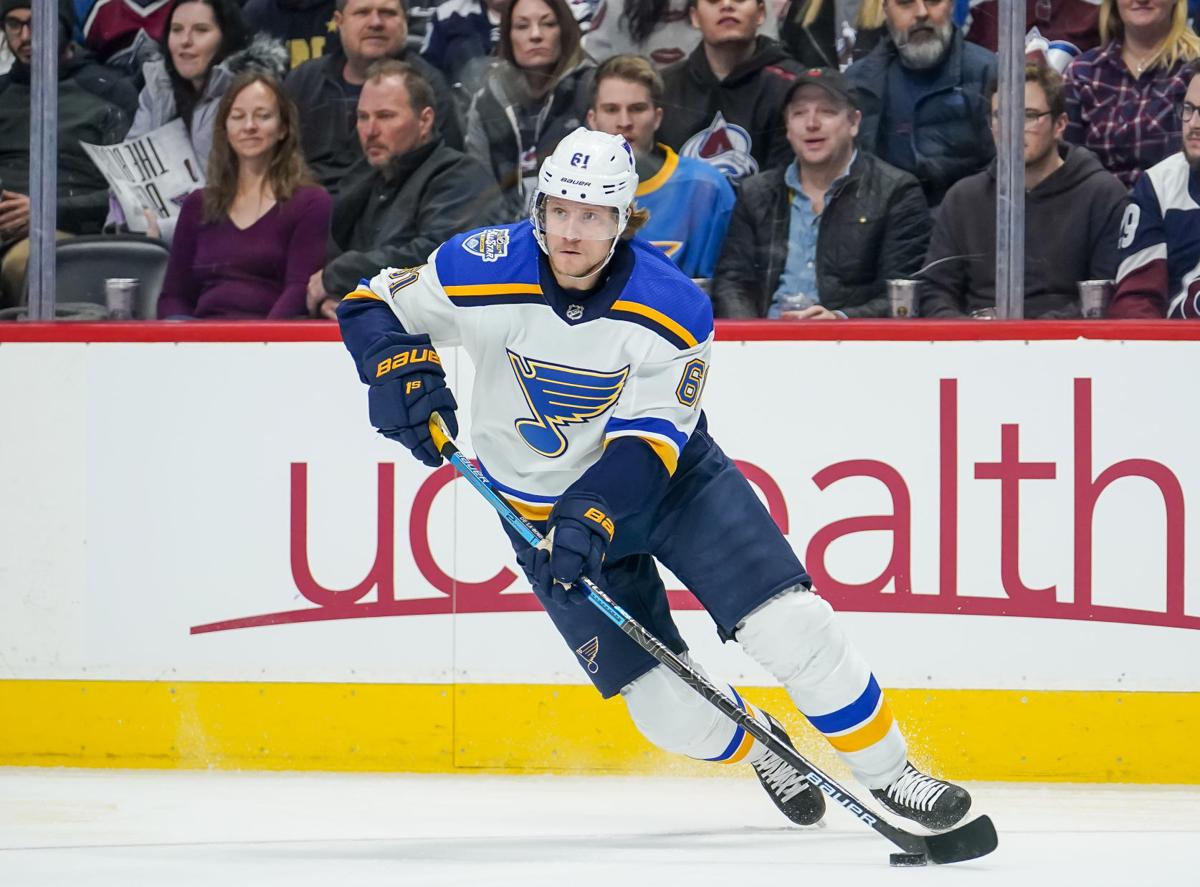 Forward Jacob de la Rose, who the Blues acquired in exchange for Robby Fabbri and who played on the fourth line, when he played, signed a one-year, one-way contract that will pay him $700,000.
De la Rose's previous contract had been a two-year deal with an average annual value of $900,000.
The signing leaves the Blues with $5,153,096 of space under the salary cap for next season, according to capfriendly.com, with 15 forwards, one more than they will carry, under contract and two defensemen still to sign.
Alex Pietrangelo is an unrestricted free agent and Vince Dunn is a restricted free agent. Free agency is expected to open on Oct. 9.
De la Rose, 25, played in 34 games for the Blues in the regular season — he was a healthy scratch 20 times — with one goal and four assists. (He had one goal and three assists in 16 games with the Red Wings before the Nov. 6 trade.)
Because of injuries and other absences, de la Rose played in five of the Blues' six games against the Canucks in the playoffs, more games than he had played over the final month of the regular season.
Fabbri, who almost doubled his ice time after joining lowly Detroit, had 14 goals, his most since his rookie season, and 17 assists in 52 games with the Red Wings and recently signed a two-year contract with the Red Wings paying him $2.95 million per year.
O'Reilly third in Selke voting
Blues center Ryan O'Reilly, who won the Selke Trophy as the league's top defensive forward in 2018-19, came in third in voting for the award for the 2019-20 season. Sean Couturier of Philadelphia easily took the honors, with Patrice Bergeron of Boston coming in second.
It's the first Selke for Couturier, who was named on 163 of the 170 ballots and had 117 first-place votes, finishing with 1,424 points.
Bergeron, who has won the Selke a record-tying four times and has finished in the top three nine times, had 21 first-place votes and 884 points and O'Reilly had 11 first-place votes and 816 points.
O'Reilly has a chance at another award on Friday, when the winner of the Lady Byng Trophy for gentlemanly play is announced.
O'Reilly finished second last season. The other top vote-getters are Nathan MacKinnon of Colorado and Auston Matthews of Toronto.
That's the only award a Blue remains a candidate for. Craig Berube came in fourth in voting for the Jack Adams Award as coach of the year that was announced on Wednesday.
The latest STL Blues hockey news, NHL headlines, scores, standings and rosters.