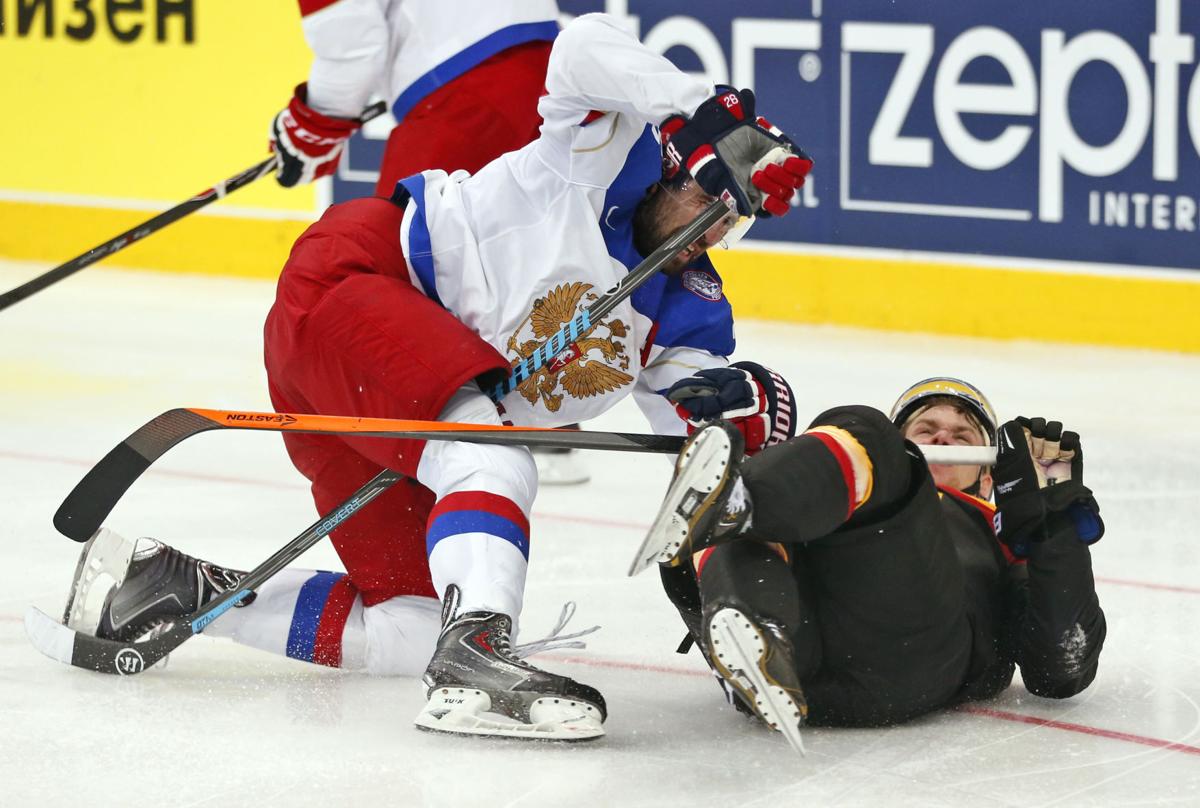 According to the Russian media site, Championat.com, the Blues have offered a contract to veteran Kontinental Hockey League forward Danis Zaripov.
The Blues declined to comment Wednesday. Zaripov's agent, Detroit-based agent Daniel Milstein, tip-toed around the topic of whether the Blues had expressed interest in his client.
Milstein said he recently sent out a list of seven Russian hockey players who are available to play in the National Hockey League to every NHL team.
He said it is part of the normal run of business for NHL teams to then check on those players.
"But you can quote me on this," Milstein told the Post-Dispatch Wednesday. "I do not have a contract in my hands (from the Blues)."
Milstein represents several Russians in the NHL or in NHL organizations, including Blues prospect Klim Kostin, currently with San Antonio of the American Hockey League.
Zaripov is a six-time KHL all-star and was a member of Russia's 2010 Olympic team. He has played on four Gagarin Cup championship teams, the KHL's version of the Stanley Cup. Including playoffs, Zaripov has scored 254 goals with 311 assists in 603 games over nine KHL seasons.
Earlier this year, Zaripov was banned from the KHL and the International Ice Hockey Federation for two years for doping. However, the NHL subsequently approved his eligibility for its league in late August because the substance that led to his suspension was not on the NHL's list of banned substances, and also because Zaripov was not allowed to testify at his hearing for the initial suspension.
At age 36, it's debatable how much prime hockey Zaripov has left in him, and there's always the adjustment to the NHL game by Russian imports. But if the Blues feel like they are close to making a run at the Cup and need more scoring on their third line, perhaps there's some logic to the reported interest in Zaripov.
COYOTE UGLY
After an optional skate Wednesday with 12 players participating, the Blues return to action Thursday at Scottrade Center against Arizona. The Coyotes are dead last in the NHL with a 2-13-2 record.
With that record in mind, coach Mike Yeo was asked if the Blues had to guard against taking Arizona lightly.
"I think that would be a silly insult to them," Yeo said. "It's an NHL team. I know (Tuesday) they lost, but you look at what they did two nights ago in Washington and Washington barely scraped by in that game."
The Coyotes lost 3-1 Tuesday in Pittsburgh and lost 3-2 in overtime at Washington on Monday.
"I've said this before: Our greatest strength up to this point has been our detail, our work ethic, and our willingness to stay with it for 60 minutes," Yeo said. "So if we think that we can't bring those three ingredients into the game and come away with a win, we're going to be mistaken.
"Not much separates us from the team that's across from us on a nightly basis. It doesn't matter who we're playing, where we're playing, we have to be ready to play our game."
CHANGING PLACES
Yeo has done very little tinkering with his defensive pairings this season, occasionally moving rookie Vince Dunn around in situations where the Blues are trailing. Such was the case Tuesday when the Blues fell behind 1-0 in the first period to New Jersey and were struggling to generate offense.
He switched out Dunn and Carl Gunnarsson from their usual pairings, matching Dunn with Alex Pietrangelo and pairing Gunnarsson with Robert Bortuzzo.
"Obviously in a game like that...we're trailing, we need to find a way to help us get to our game to create a little bit more offense," Yeo said. "And with (Dunn's) capabilities, he was a nice fit up there."