It's never an easy thing to fight a man in hockey, but given Tom Wilson's track record with the Blues — most notably regarding Oskar Sundqvist — you knew it was going to happen at some point Thursday night at Enterprise Center.
And there it was, a little over two minutes into the second period, Blues defenseman Robert Bortuzzo going at it with the rough, tough Wilson.
"It was something we knew happened last game," Bortuzzo said. "This was a big hockey game for us. We didn't go into the game thinking, 'Let's get vengeance' or what-not.
"It was an emotional game. I think both teams played hard. It happened. Happy to defend teammates or what-not, but at the end of the day, it was just about winning this game."
Even though the Capitals scored a go-ahead goal, just 43 seconds after the fight, the scrap definitely gave the Blues a lift. They went on to score the game's final four goals, outshooting the Capitals 33-12 over the final two periods to post a 5-2 victory before 17,200.
There's never a good time to play the defending Stanley Cup champions, particularly without your marquee player. Forward Vladimir Tarasenko was out sick, missing only his fifth game in the past three-plus seasons. But his Blues teammates didn't need him on this night.
They came to play in a spirited contest that once again showed what the Blues can do against the league's best when they're on their game. Washington, now 24-12-3, came to town having won nine of its last 11 and sporting one of the NHL's best road records (12-5-1).
The five goals were the most scored by the Blues since Nov. 23 — the day after Thanksgiving—_ when they defeated Nashville 6-2 in Craig Berube's second game as interim head coach.
Fittingly, it was Sundqvist who scored the game-winner — his first with the Blues. (He had one game-winner as a rookie with the Pittsburgh Penguins in 2016.)
After Colton Parayko tied the game with a power-play goal at the 12:23 mark of the second period, Sundqvist scored his seventh goal of the season to give the Blues a 3-2 lead four minutes later.
"Sunny's been playing pretty well," Berube said. "That line, well it was different tonight, but him and (Ivan Barbashev) have been together for a while and they do a real good job most games for us. Give us good minutes."
The Blues decided to go with only 11 forwards Thursday, and with Carl Gunnarsson returning after missing 20 games with a hand injury, they went with seven defensemen — one more than usual. As a result, Jaden Schwartz and Tyler Bozak filled out the fourth line with Sundqvist and Barbashev.
The sequence leading up to Sundqvist's goal began with a slapshot by Alex Pietrangelo that deflected off Barbashev and over to Sundqvist, who then sent a diving backhand past Capitals goalie Braden Holtby.
"I saw the puck laying loose, and the diving shot was more to be sure I was going to be first to the puck," Sundqvist said.
Holtby, by the way, had been 7-0-0 with a 1.99 goals-against average against the Blues prior to Thursday.
Although they're beginning to fade, Sundqvist still has facial scars from his run-in with Wilson in the Blues' preseason finale against the Capitals on Sept. 30. Wilson's blindside hit knocked Sundqvist to the ice. Besides the cuts on his face, he suffered a concussion and a shoulder injury and was sidelined for the first eight games of the season.
Wilson was suspended 20 games, although an arbitrator later reduced it to 14 games. The Capitals' forward had previously been suspended for illegal hits on Robert Thomas and Sammy Blais of the Blues during the 2017 preseason.
So after a relatively calm first period, Bortuzzo decided to got after Wilson.
"It was 1-1 and I don't know whether he expected it or not," Bortuzzo said. "I think he would have done the same thing on his side. I'm sure a lot of guys would have stepped up in this locker room. I just happened to be the guy. It is what it is, we're happy to get the win."
It was Bortuzzo's first fight since, well, taking on teammate Zach Sanford in practice. Both combatants Thursday got in solid blows. Bortuzzo knocked Wilson's helmet off; Wilson eventually got Bortuzzo down on the ice. Call it a draw.
Giving his teammate a shin-tap afterwards, Sundqvist was highly appreciative of Bortuzzo.
So was Berube, who knows a thing or two about scrapes having been involved in 250 fights during his NHL playing career.
"That goes a long way," Berube said. "I thought the timing of it was really good. Bortz is a team guy and that's not an easy thing to do. From what happened in exhibition (play) with the hit (on Sundqvist), it was good team stuff."
Even after Washington's quick post-fight goal, Berube said: "I liked the way the guys were on the bench. Talking and stuff. That was really good. Ryan O'Reilly coming by the bench and talking, chatting it up. Guys felt good still."
Good enough to score the game's final four goals. The Blues (16-18-4) did anything but sit back after taking that 3-2 lead, outshooting the Capitals 14-2 in the third period and adding goals by Pietrangelo (his fifth) and Bozak (sixth).
Jake Allen stopped 23 of 25 shots, including a pair of Wilson breakaways in the second period.
"When you give up (25) shots against that team, you're doing something right defensively," Pietrangelo said. "I thought we did a real good job keeping them out of our end."
Bortuzzo got the "Bobby Plager gloves" after the game, which goes to the team's player of the game. Given the night's events, he should've gotten boxing gloves.
---
Photos: Blues beat the defending champs
Photos: Blues beat Capitals 5-2
St. Louis Blues vs. Washington Capitals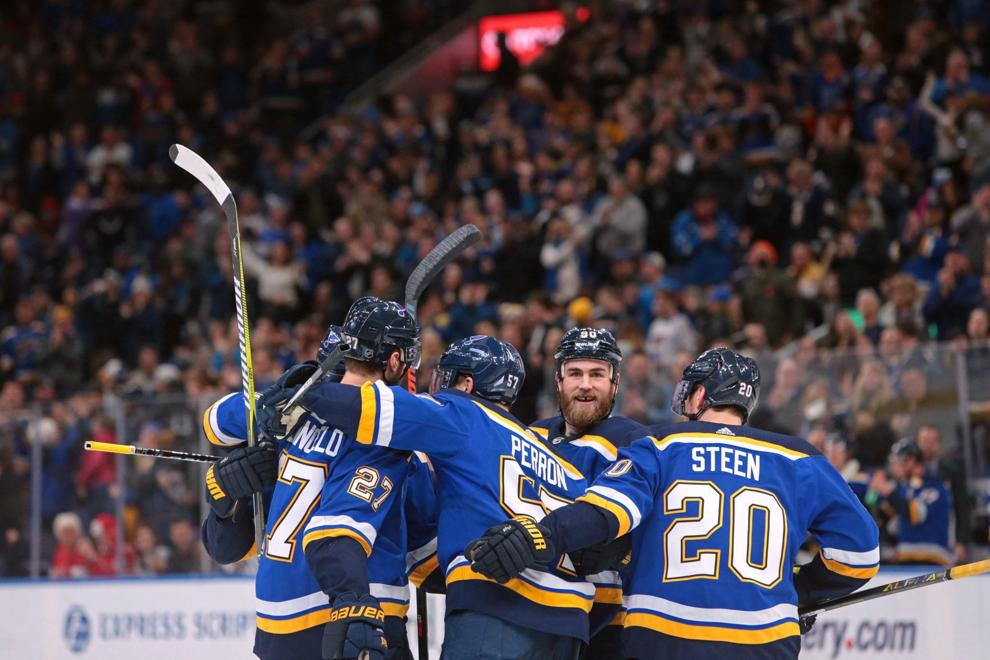 Blues vs. Capitals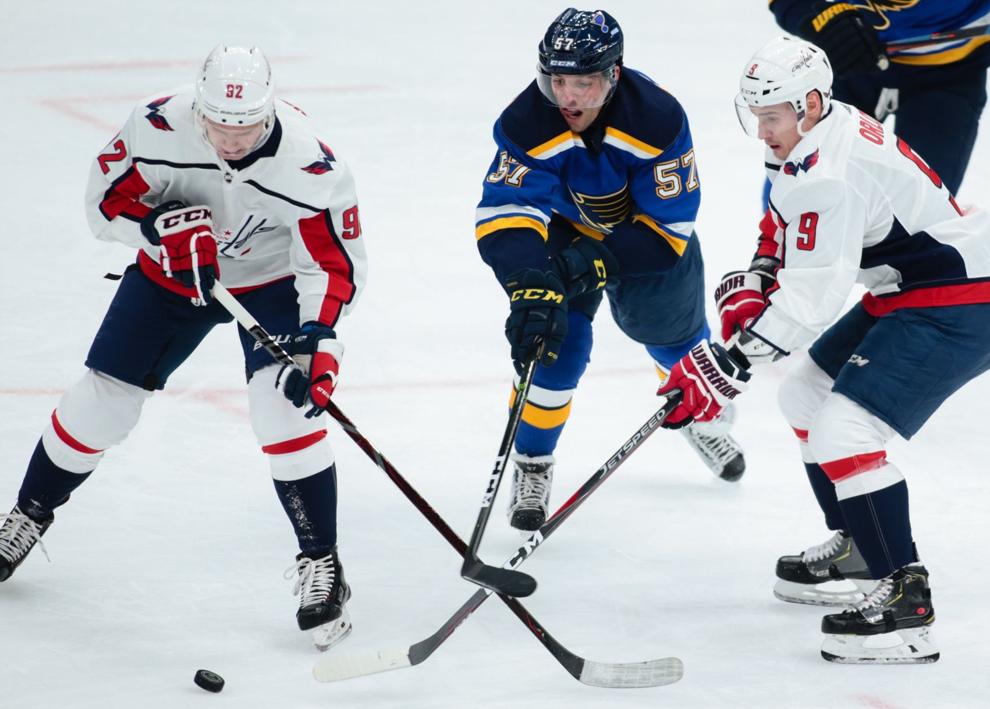 Blues vs. Capitals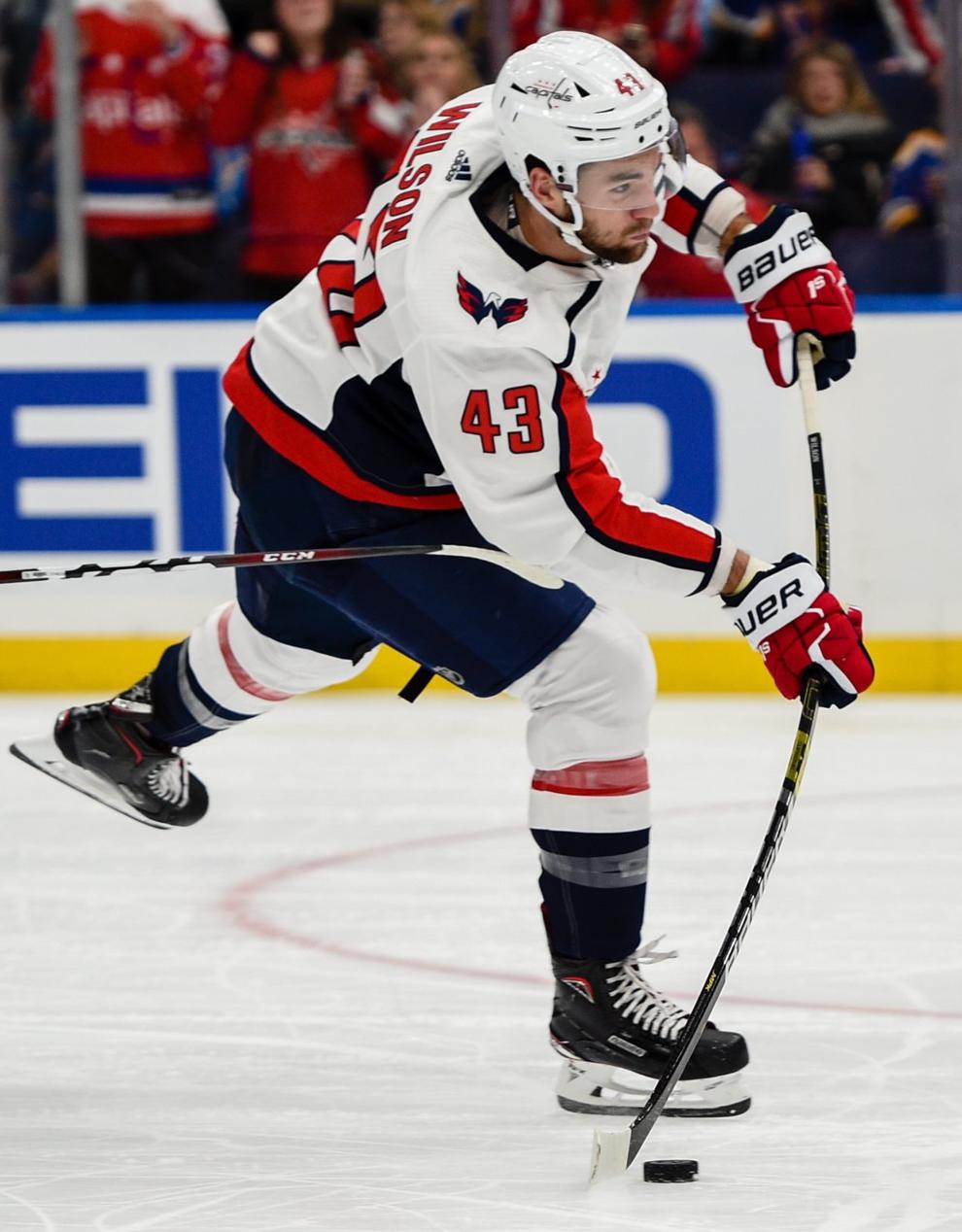 Blues vs. Capitals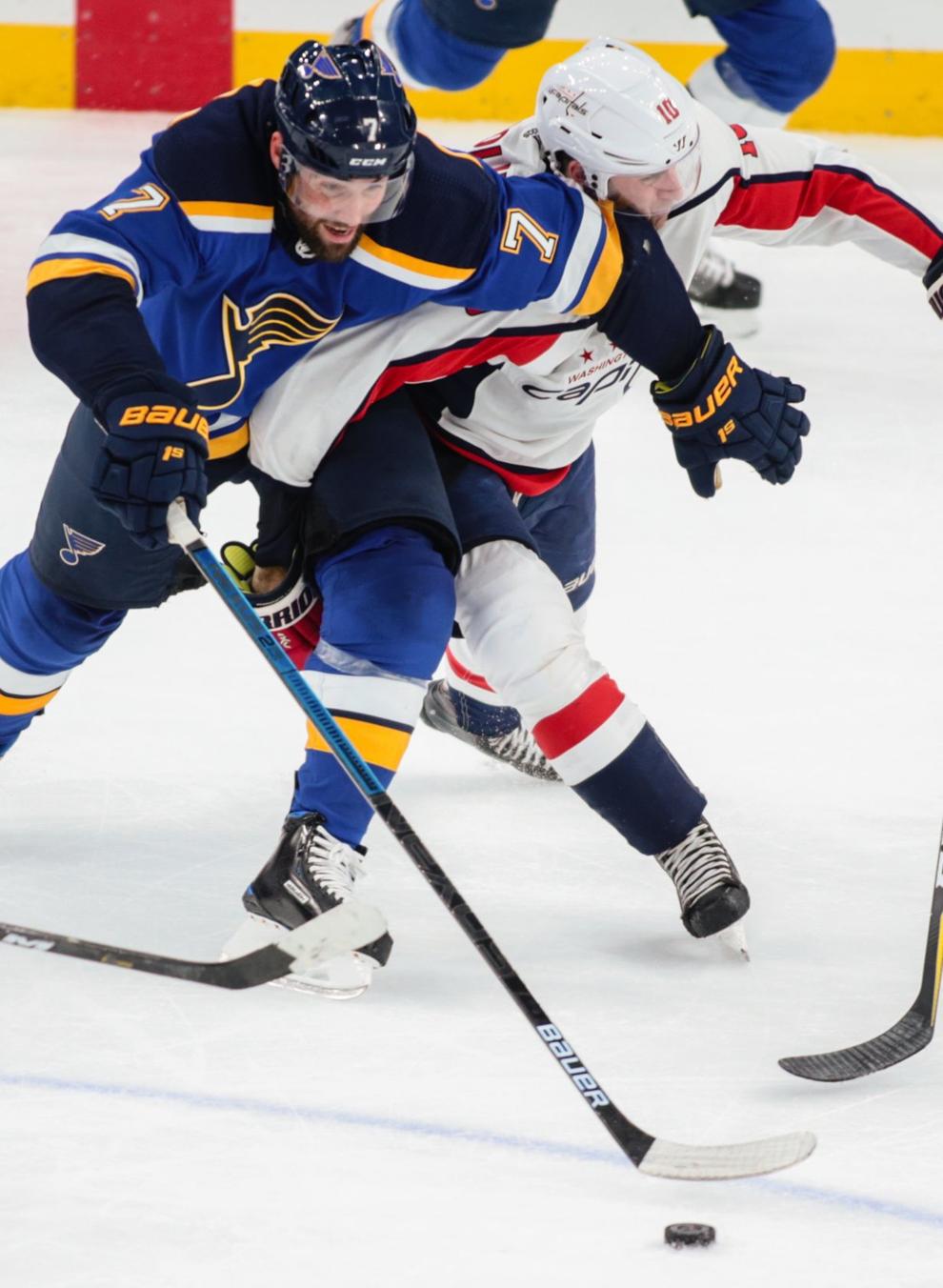 Blues vs. Capitals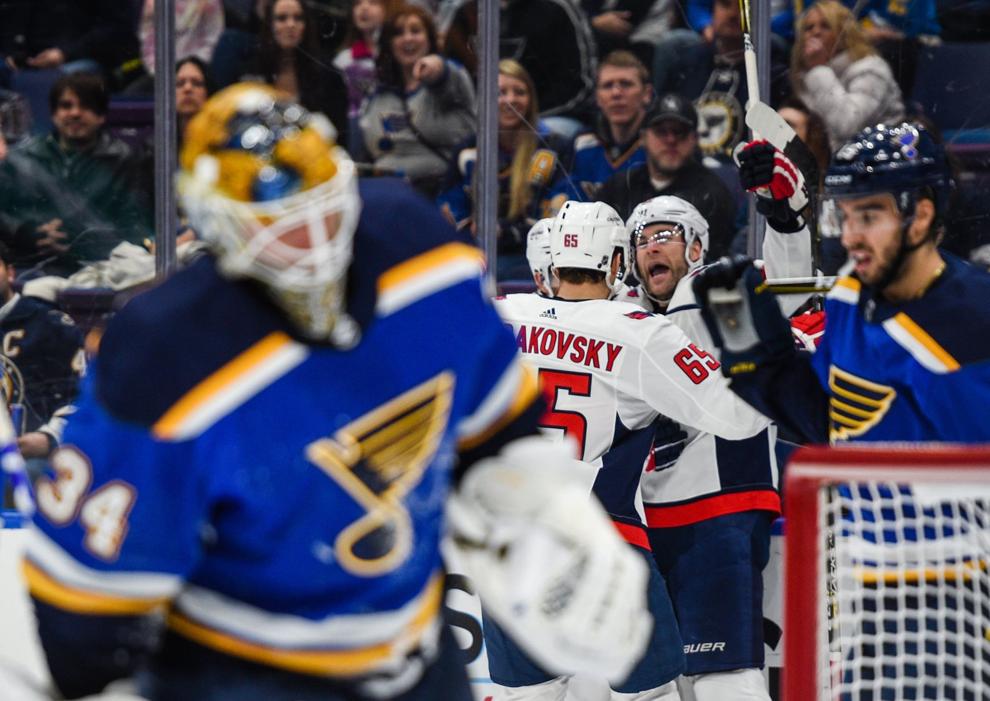 Blues vs. Capitals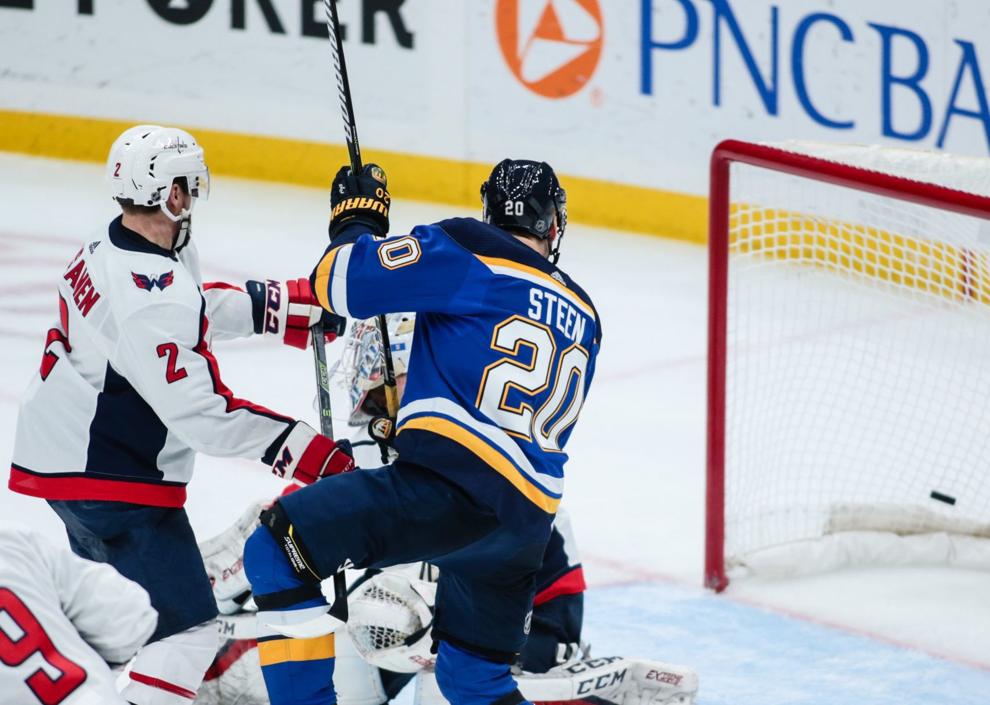 Blues vs. Capitals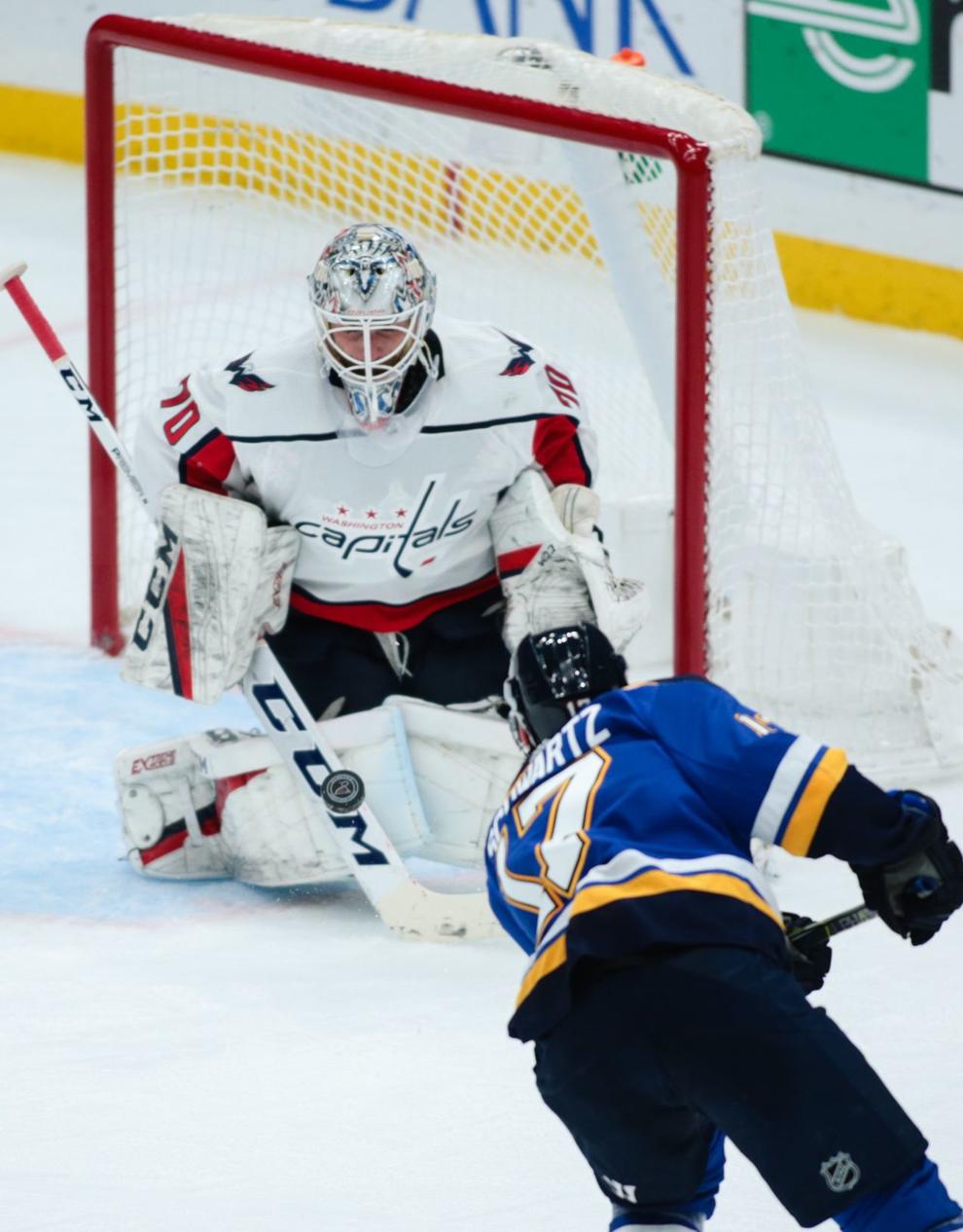 Blues vs. Capitals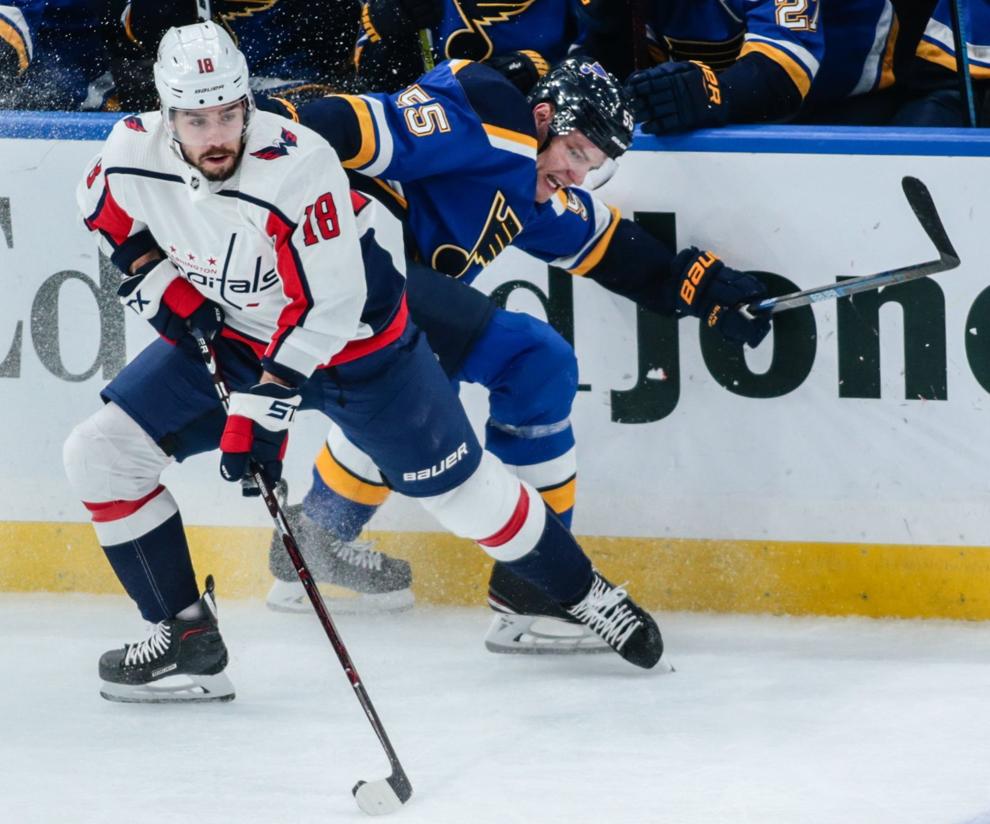 Blues vs. Capitals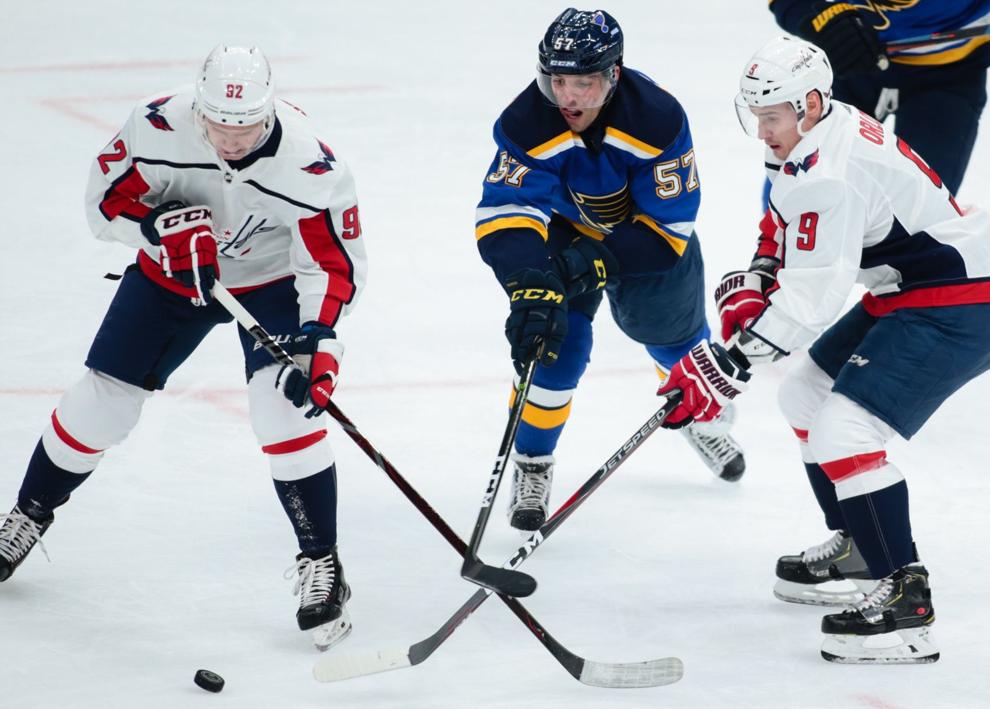 Blues vs. Capitals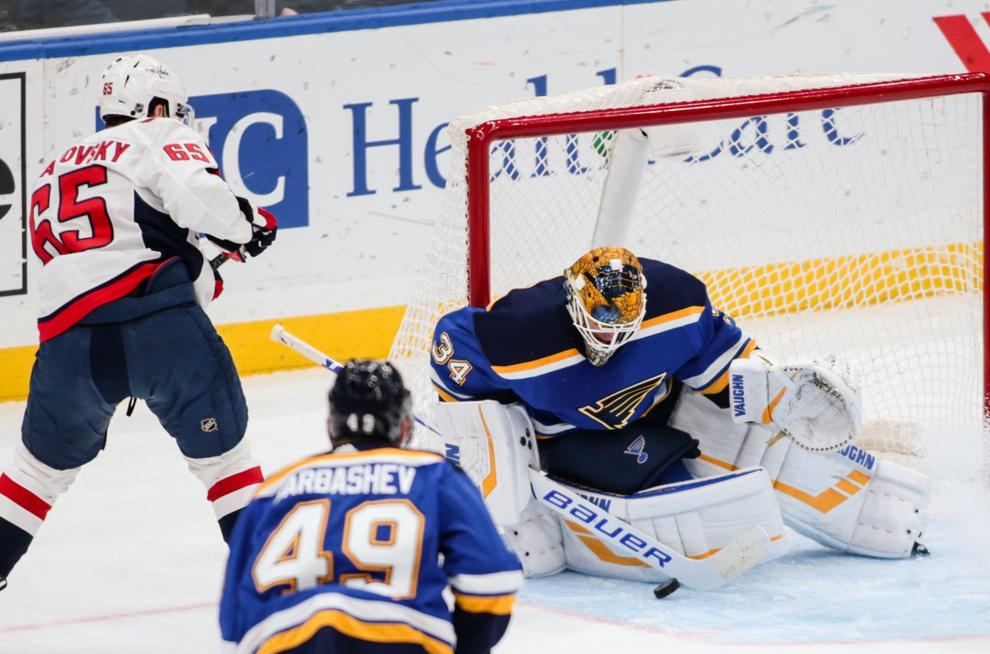 Blues vs. Capitals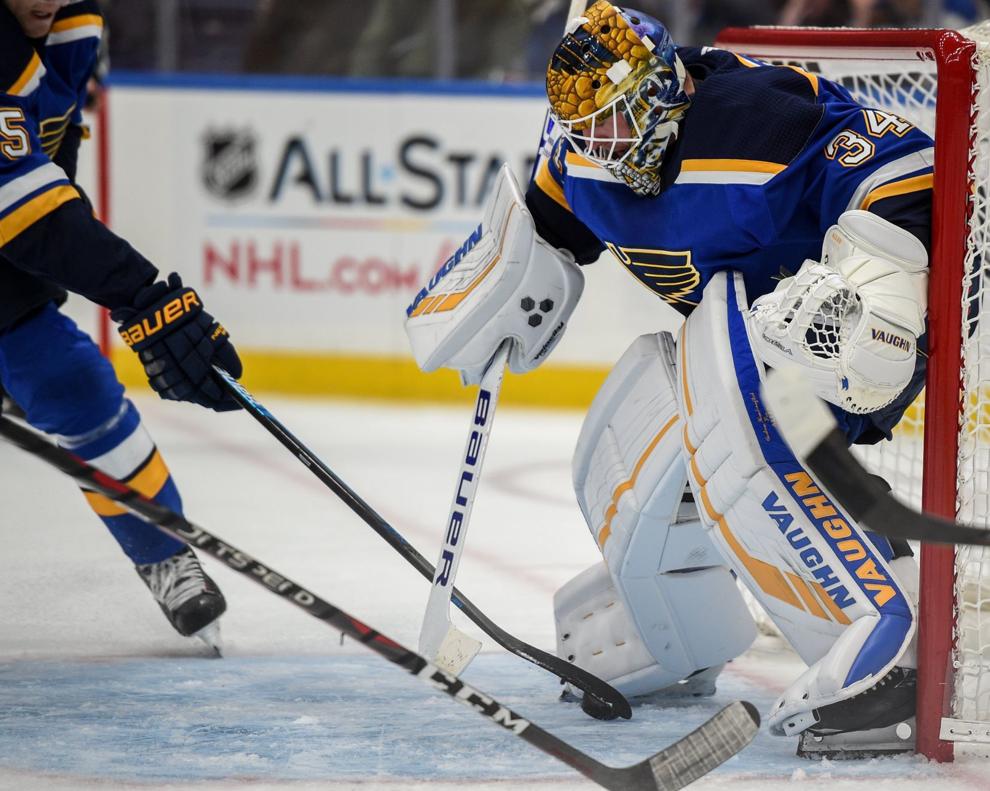 Blues vs. Capitals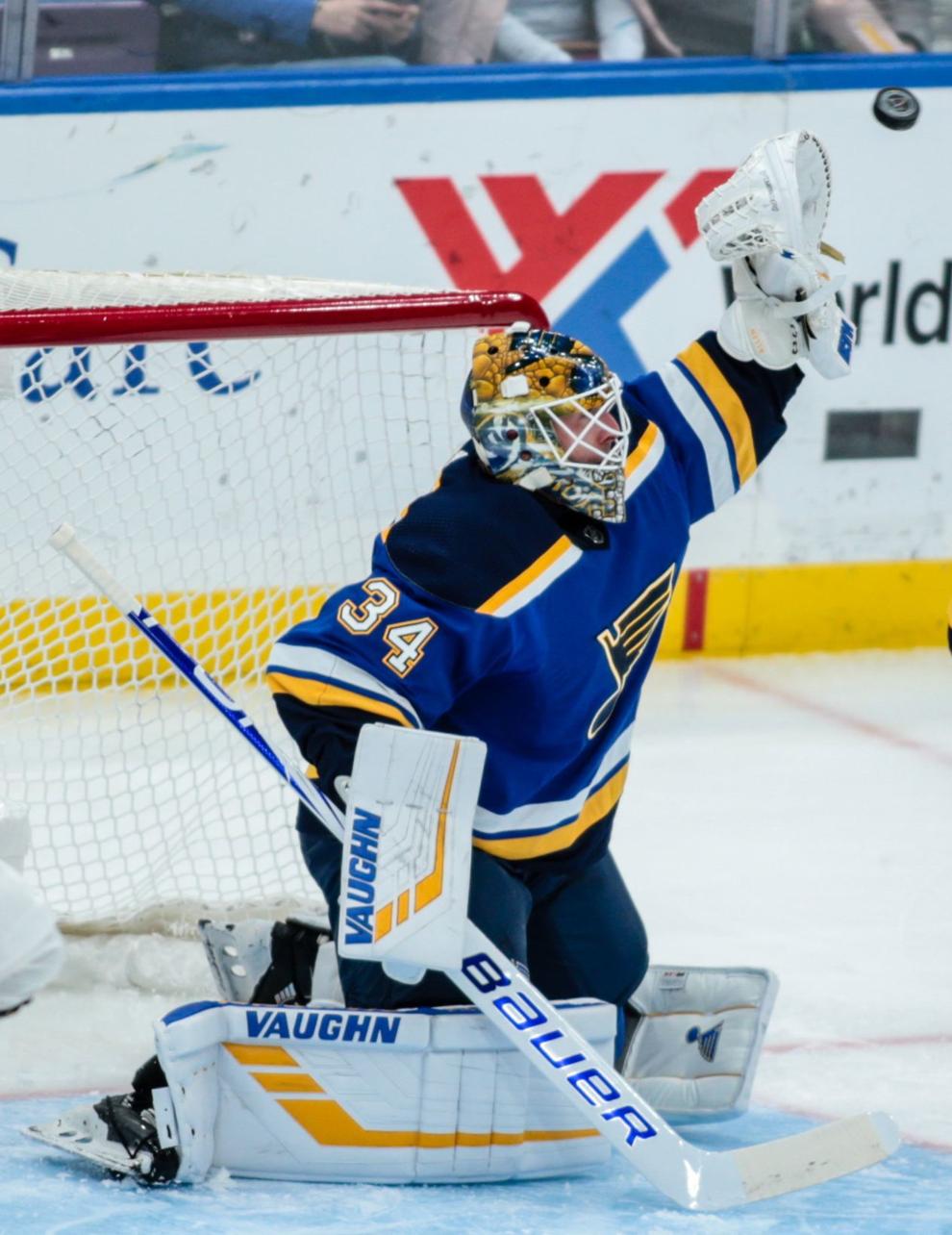 Blues vs. Capitals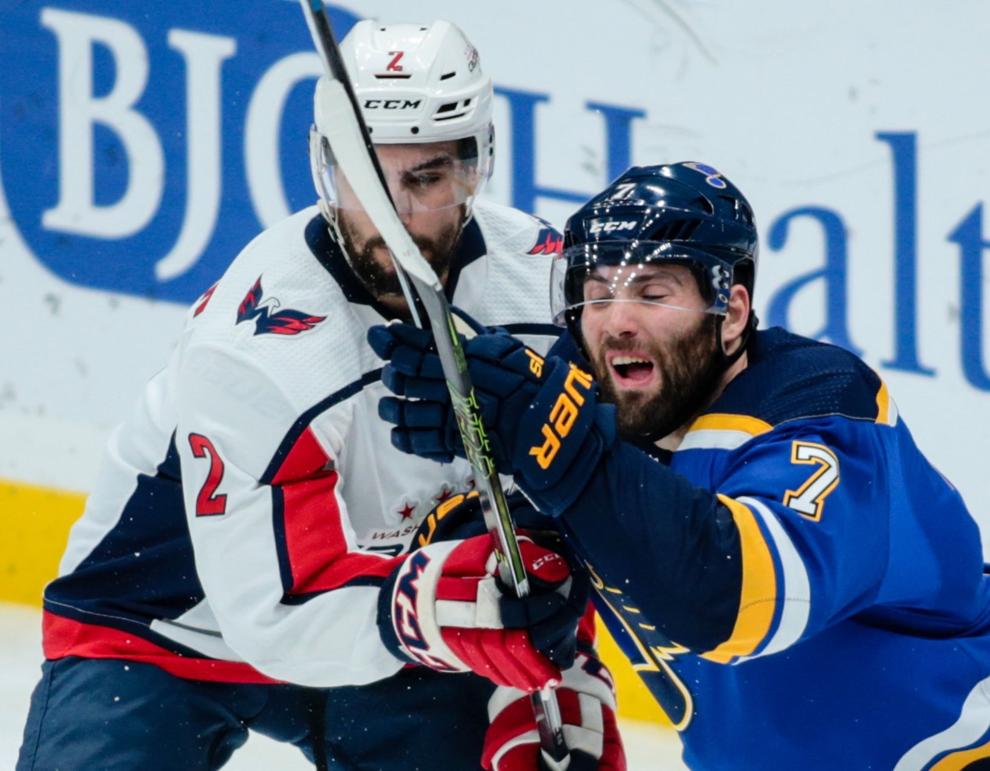 St. Louis Blues vs. Washington Capitals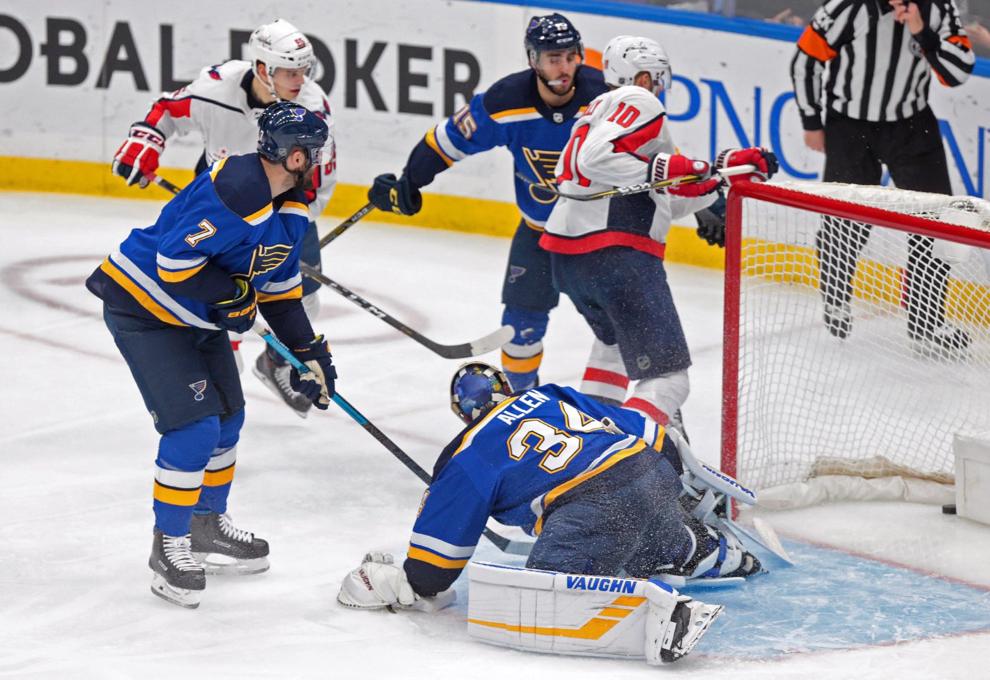 St. Louis Blues vs. Washington Capitals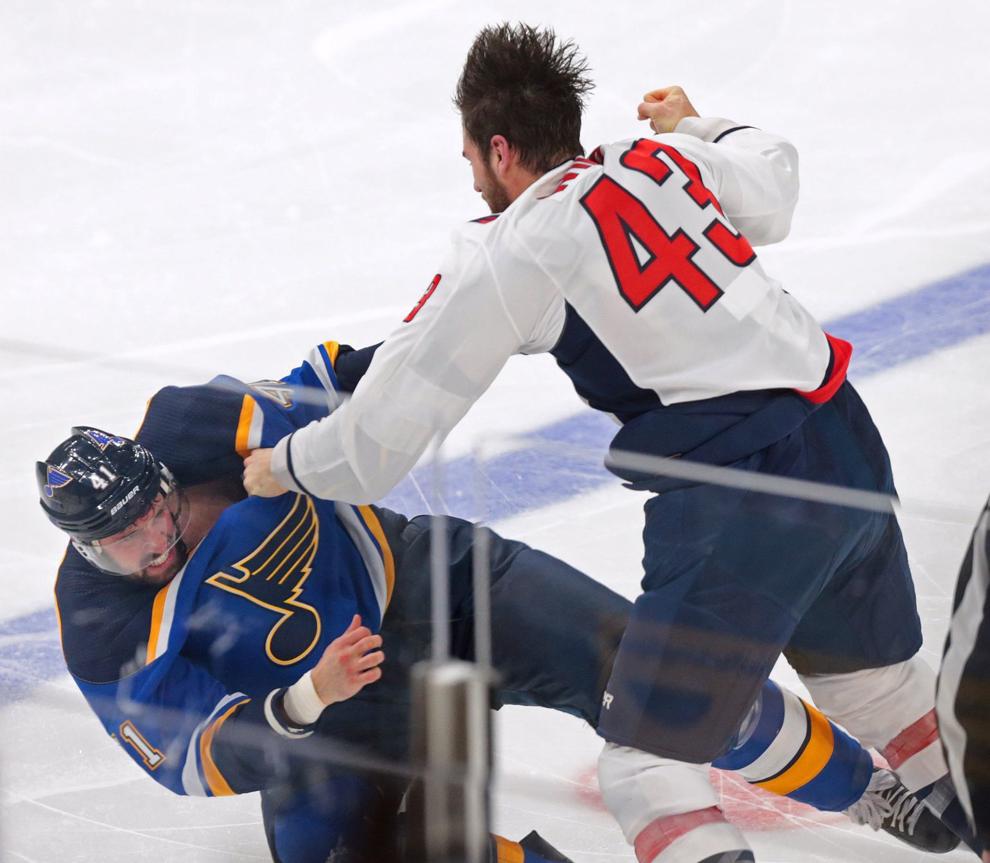 St. Louis Blues vs. Washington Capitals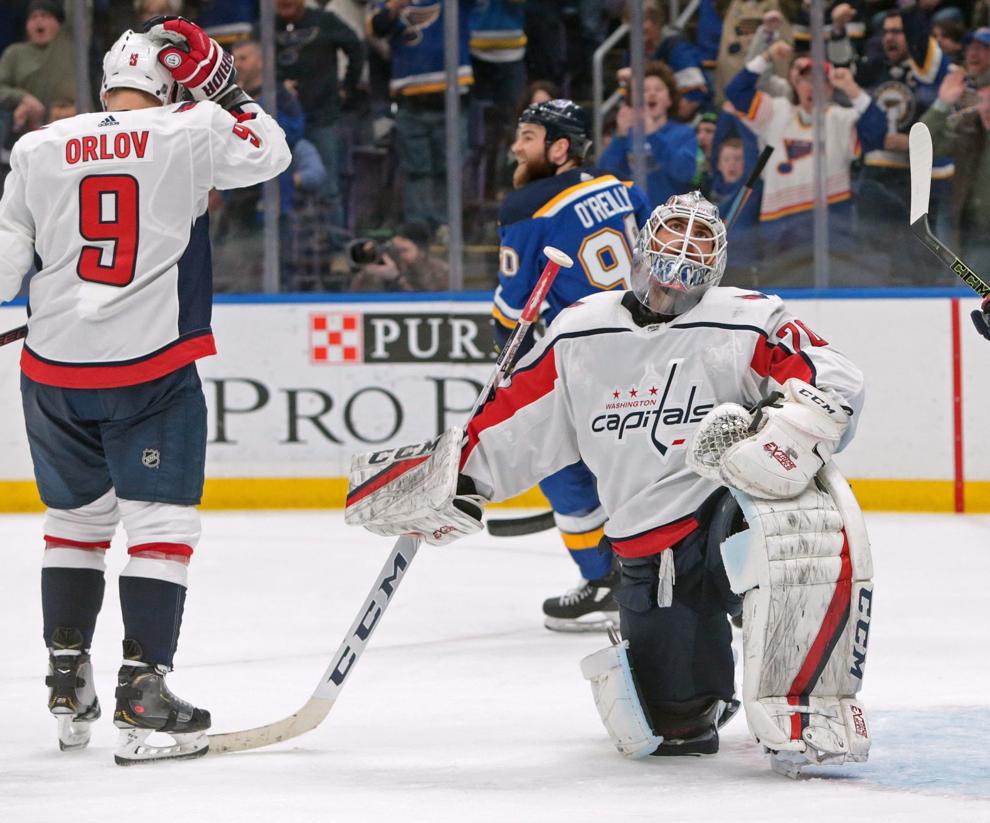 St. Louis Blues vs. Washington Capitals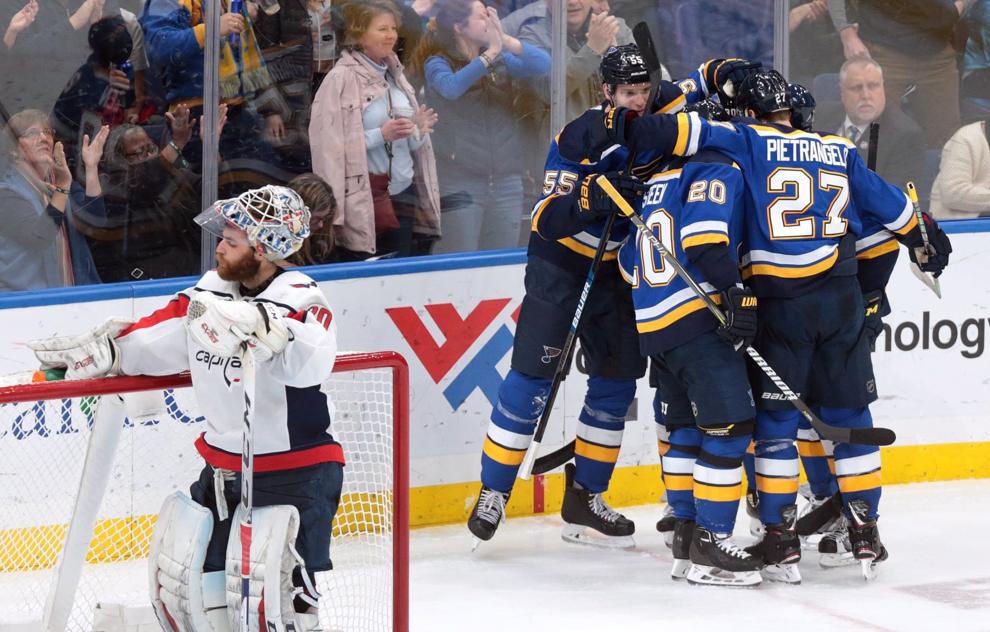 St. Louis Blues vs. Washington Capitals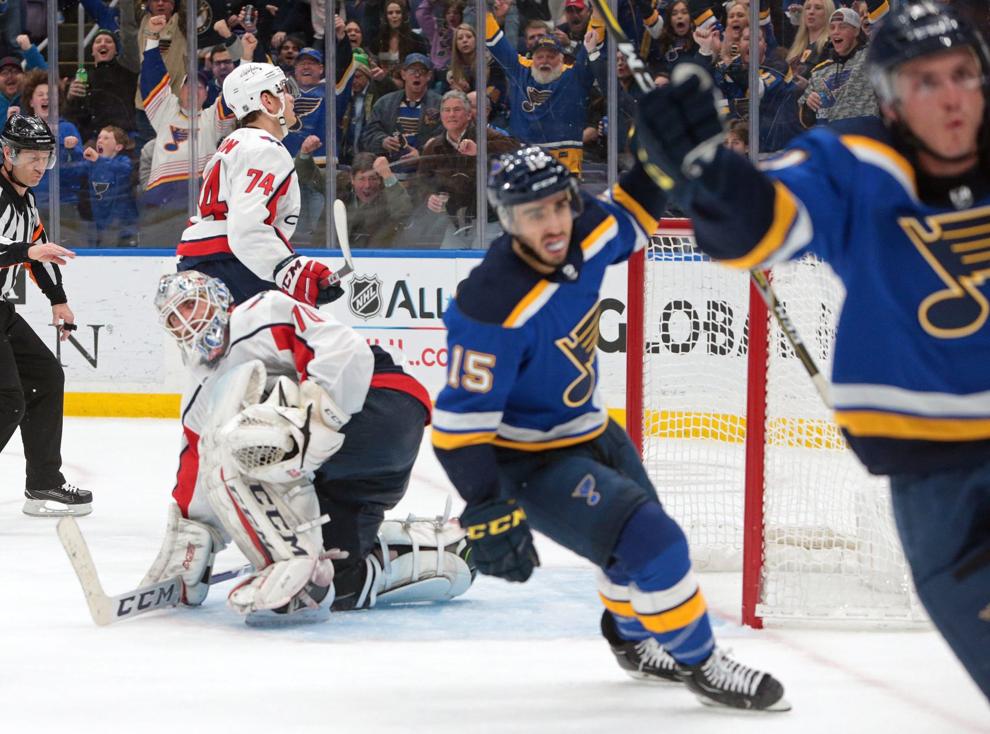 St. Louis Blues vs. Washington Capitals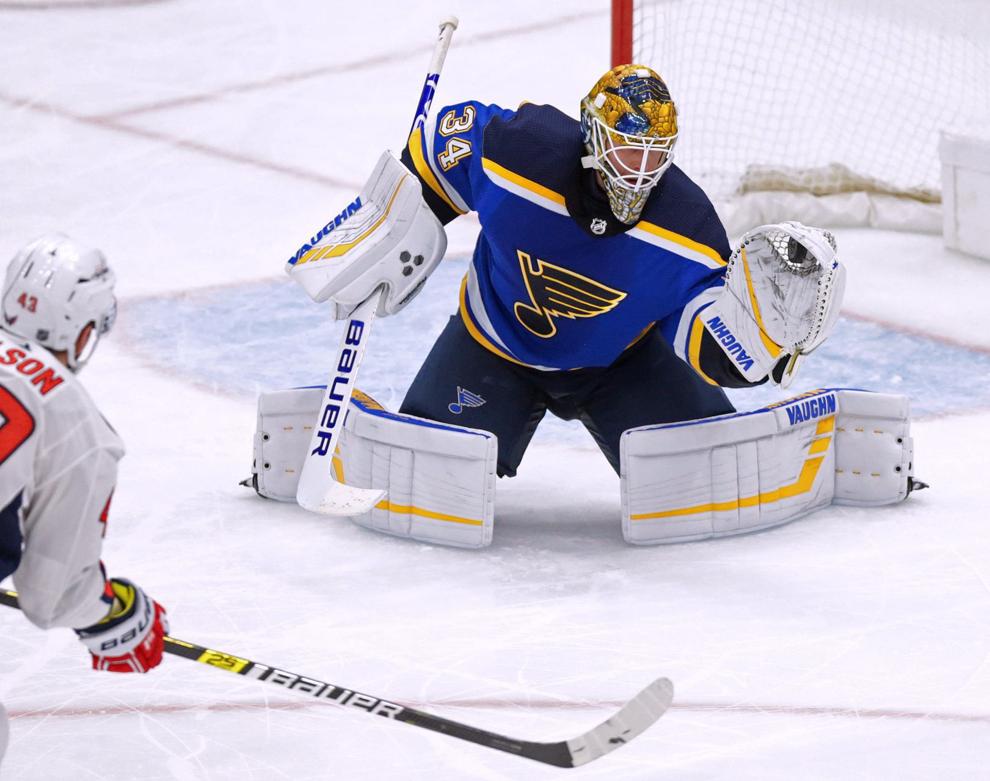 St. Louis Blues vs. Washington Capitals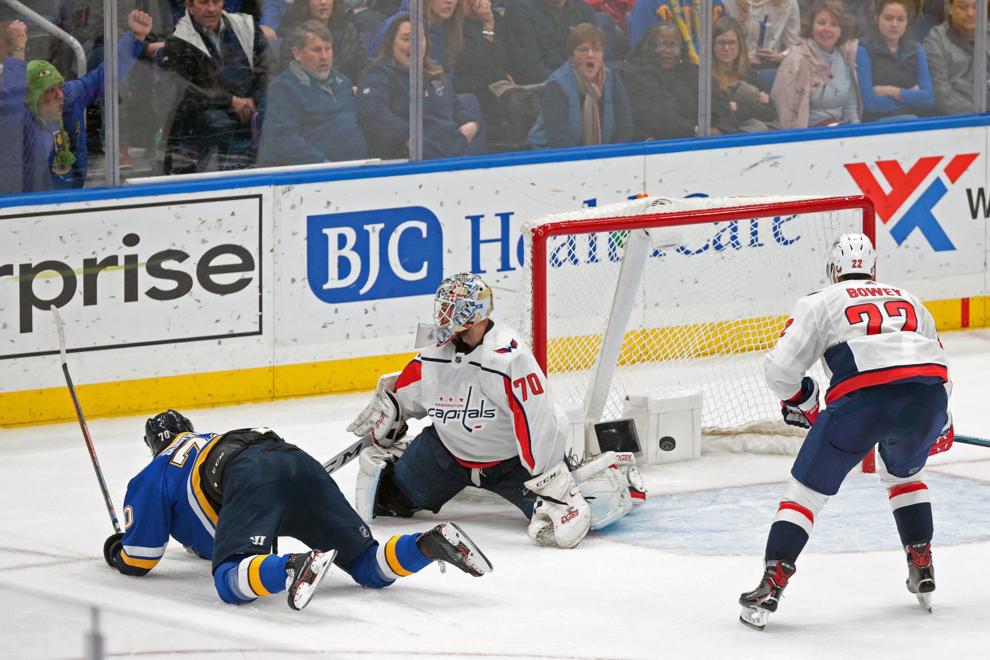 St. Louis Blues vs. Washington Capitals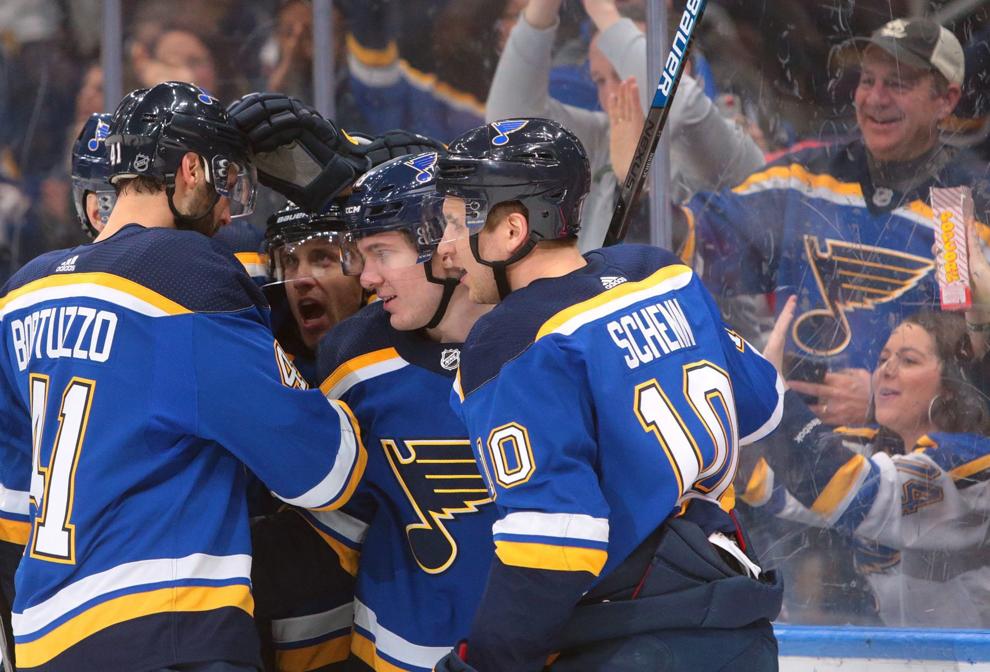 St. Louis Blues vs. Washington Capitals