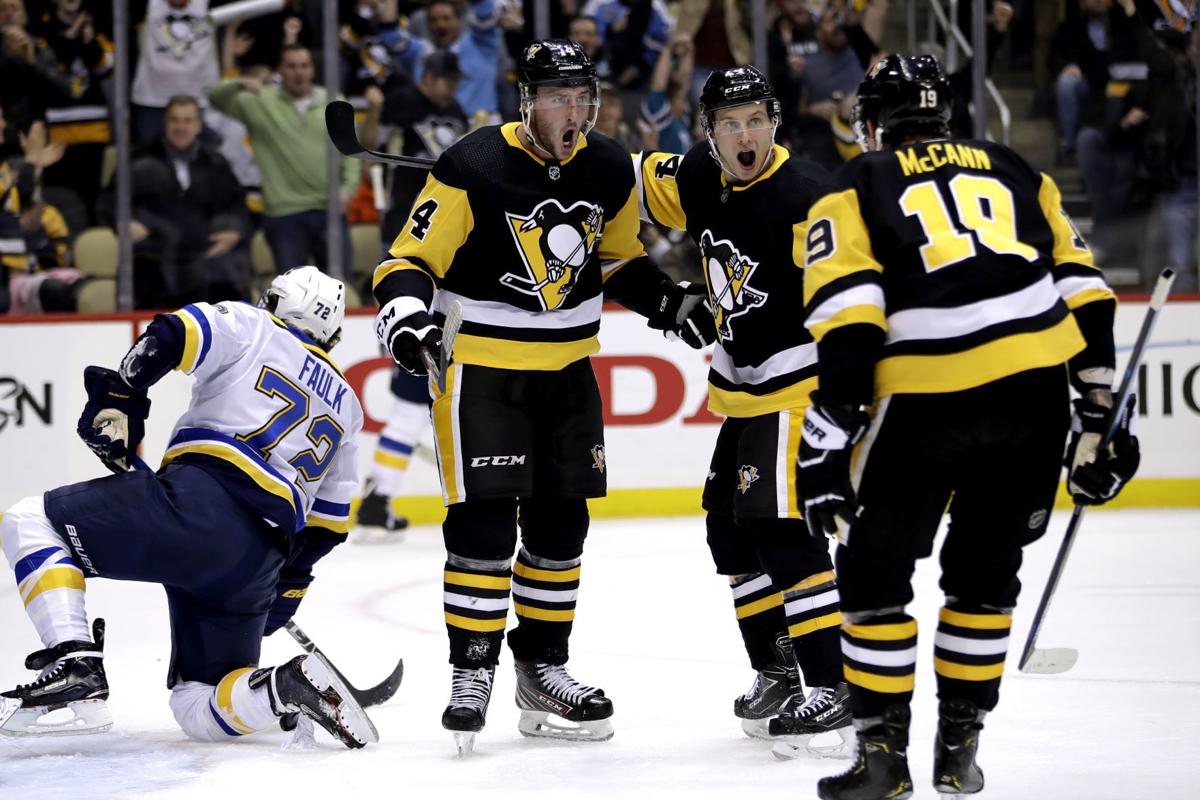 PITTSBURGH — Five wins in a row. An 11-game point streak on the road. And a season sweep of the Pittsburgh Penguins.
Those were the targets for the Blues on Wednesday night at PPG Paints Arena. All of which seemed reasonable in light of the Blues' 5-2 victory over these same Penguins on Saturday at Enterprise Center.
But the Penguins are tough birds on home ice, and that proved to be the case in a 3-0 Blues loss before the 590th consecutive sellout crowd at PPG Paints.
While the Blues (18-6-6) saw their road streak end at 10 consecutive games with at least one point, the Penguins (15-9-4) kept a streak of their own going. They have now gone nine consecutive home games without suffering a regulation loss (7-0-2).
"We didn't come out with enough urgency in the game and they made us pay for it," coach Craig Berube said. "That's basically what it boils down to."
The Penguins did so with a roster littered with at least as many injuries as the Blues, including forwards Sidney Crosby, Patric Hornqvist and Bryan Rust. And with their backup goalie, Tristan Jarry, playing his first career game against St. Louis — he was very good stopping all 28 shots he faced, including several prime chances.
"He made some big saves tonight," Berube said. "So did ours. We gave up too many chances, and we had chances but their goalie was good. And we didn't deserve to win the game. ... This is not us. We all know that."
Even so, the Blues return home after a two-game mini-trip with 42 points and on top of both the Western Conference and the Central Division. But that was no consolation Wednesday night.
"We're all right," goalie Jordan Binnington said. "We're doing well, and we're having a good time on the road. But we don't like (losing). This can't happen. It's better to eliminate this early. Every game's huge, every point's huge. The standings are tight. We understand that and we gotta get back to work."
Binnington stopped 30 of 33 shots and several of those 30 saves were of the highlight reel variety. None of the three goals that got by him were soft goals, but again — no consolation.
"You always have a chance to stop the puck," Binnington said. "I hate losing and hate this feeling. Just gotta get back to work and work even harder to get that next one."
It became evident early — very early — that there would be no Blues shutout on this night, unlike Monday's 4-0 victory in Chicago. Pittsburgh's Teddy Blueger made sure of that just 39 seconds into the game when, parked in front of the net, he deflected in a Marcus Pettersson shot from the left point past Binnington.
"I made a mistake on the first goal, not boxing the guy out," Brayden Schenn said. "We just kinda couldn't get one after that. No excuse, I just don't think we were hungry enough to score goals tonight."
It was the first time the opposing team had scored first in the Blues' last four games. And it marked the second-quickest goal against them this season. Nashville's Filip Forsberg scored just 20 seconds in on Nov. 23 in St. Louis in what became a 4-2 Predators victory.
The Blues entered the game with the NHL's fifth-ranked power play (24.7 percent), but took the collar, going 0-for-4 with the man advantage.
Over the course of the game, David Perron, Robert Thomas and Zach Sanford all had prime scoring chances. So did Schenn. Schenn actually put one in the net past Jarry with 5 minutes 43 seconds to play in the game, but it was waived off for goaltender interference on Jaden Schwartz.
It was a dubious call since Schwartz was pushed twice towards Jarry by a Pittsburgh defender on the play.
"I know," Berube said. "I would challenge it every time."
He was clearly puzzled by the ruling, and that's putting it mildly.
"I don't really know any more (what constitutes goaltender interference) to be honest with you. I mean, I thought it was a goal."
Berube challenged the call and lost, meaning the Blues were penalized two minutes. Down 3-0 at the time, even if the Schenn goal had counted, it would have taken a near-miraculous rally to leave western Pennsylvania with even one point.
The Penguins' second goal came with just 40 seconds to go in the second period — always a no-no in hockey.
Stefan Noesen, unattended on the backside, tapped in a rebound of a Jared McCann shot into an open net before Binnington could get over. It was the first goal of the season for Noesen, called up earlier this week as an injury replacement from the Penguins' American Hockey League affiliate in Wilkes-Barre/Scranton.
"I think end of the period's probably the most frustrating (goal)," Binnington said. "It changes the game kind of. I know I gotta do a better job to seal the door, seal the net there, and not letting any in there."
In the third period, not long after the Blues' third unsuccessful power play of the night, Alex Galchenyuk applied the dagger, speeding away on a breakaway following a Tyler Bozak turnover in the St. Louis zone, and getting one through Binnington stickside for the 3-0 Pittsburgh lead.
In an effort to get some offense, Berube brought out the line-blender, moving Ivan Barbashev up to the Schenn line, dropping Nathan Walker to the Ryan O'Reilly line, and moving Sanford down to the third line. But nothing worked on this night.
"I think they wanted it more than us," Schenn said. "They wanted the win more than us. It wasn't our best effort out there on the ice tonight. We have to regroup and get ready for a good Leafs team coming to us (on Saturday)."