Training camp usually is a time of optimism for hockey players, a time when anything is possible. For Blues forward Zach Sanford, it's hard to find a worse time of the year.
Two years ago, he went into his first training camp with the Blues after being acquired in the Kevin Shattenkirk trade and, about 15 minutes into the first practice, was hit into the boards by teammate Dmitrij Jaskin. He suffered a dislocated shoulder and his season was limited to 17 AHL games.
Last year during camp, while Sanford was battling for a roster spot, his father, Michael, died (on Sept. 20). In addition to dealing with the grief from that, he missed enough of camp that he started the season in the minors.
"I've had a pretty crazy last two training camps," Sanford said. "Hopefully there's no bumps in the road this year and I come out healthy and positive on the other side."
By his own admission, this is a big season for Sanford. He was in and out of the lineup last season, playing 60 games in the regular season — twice during the season he was briefly sent down to the AHL — but played in only eight of the team's 26 playoff games. He was dropped from the lineup after the third game of the first-round series, with Winnipeg, and didn't get back in until Oskar Sundqvist's suspension created a spot in Game 3 of the Stanley Cup Final.
Sanford played well enough to stay in, including scoring a goal in Game 7 against his hometown team, the Bruins, as the Blues won the Cup. Think they've moved on in Boston? When Sanford took part in a charity game in the area this summer, he got booed.
"It's a good reason to get booed for, I guess," he said.
Sanford got a two-year contract from the Blues in the offseason and a raise. The next step is to raise his game — and most importantly, the consistency of a game — to a point at which he's in the lineup every day. He'll certainly be getting every opportunity, starting camp where he was at the end of last season, on a line with Ryan O'Reilly and David Perron, which is one of the most attractive pieces of real estate the team has to offer.
"For me and 'O'Ry,'" Perron said, "we want to help him out as much as we can, but I also think he's helping us out a lot, too. He's going to the front of the net, doing a lot of work in the corner and he can get us the puck with his work ethic. I think we're excited to play with him."
To improve his consistency, Sanford worked on adding weight over the summer — he said he's been between 205 and 212 lately — and did lot of weight lifting so he can be stronger on the puck and win more puck battles. Ideally, he wants to land somewhere between 210 and 215 pounds.
"I just worked on a lot of the things that were making me successful at that time," Sanford said. "Playing hard, playing physical and being able to hang on to pucks. For me, that all starts with my size and my strength, so a big focus for me was, with the short summer, being able to stay strong and put on some weight. I think that went pretty well. I've been feeling pretty confident and comfortable coming back into this year."
The challenge will be bringing that every day. Last season he would play well, then over time his game would weaken until he was a scratch. Then he'd get back in the lineup, do well, and repeat the process. It's what happened at the start of the playoffs. In Game 3 against Winnipeg, he played just 5:09 and then wound up in the press box watching for six weeks. But when he got back in the Stanley Cup Final, he was hot again.
"I thought that early on in the playoffs he looked a little overwhelmed, maybe," Blues coach Craig Berube said. "Later on, I thought he was strong, competed hard, big body guy, He's got good hands, can make plays.
"(Consistency) is a big part of it. The other part is, with these younger guys, it's just becoming real good pros. Day in and day out putting the work in in practice and putting the work in in games and understanding you've got to make sure you stay on top of things. If you don't there's other guys that want to take your job."
"I think getting to watch some games," Sanford said, "it was easy for me to see what made guys successful and for a guy like me, playing physical and playing hard, not giving up on plays or giving up on loose pucks and being able to recover those and stay on it (is important). That all starts in my strength and my size, and heading into this year, that's a big focus for me personally and I feel confident and I plan on bringing that physicality and that heavy game."
"When he went back in," Berube said, "he obviously figured it out."
On Sanford's day with the Stanley Cup, he had planned on eating lobster out of it, but they ran out of time for that so his family and friends opted for Jello shots, which may be a step or two down on the elegance chart. ("We skipped a couple of steps," he said.)
But the best part of the day was bringing the Cup to his father's grave.
"It was pretty cool," he said. "I brought some of my pretty close friends and my family. Especially with my sister, to have that moment and bring it back and be able to share it with my dad. My grandparents are buried right there, too, so that was a pretty special moment for my family and me. I definitely won't forget that."
---
Questions as the Blues open camp
1. PARTY'S OVER. WHO'S HUNG OVER?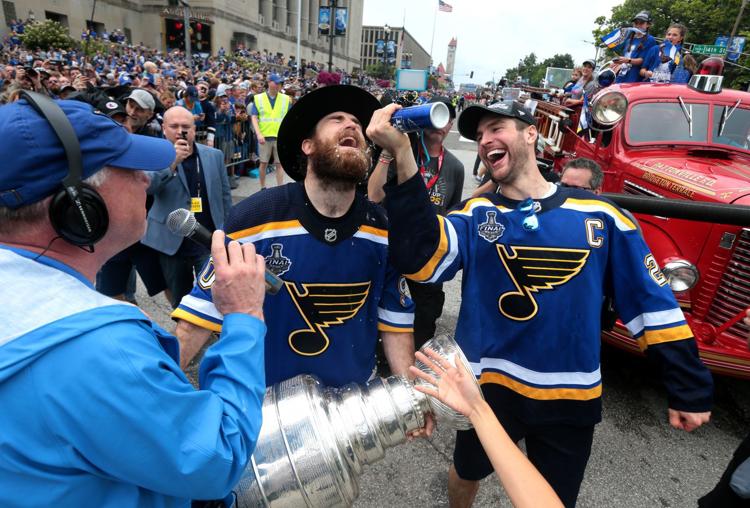 Over the past 20 years, only one NHL team has pulled off a repeat as Stanley Cup champions. That would be the Pittsburgh Penguins, who went back-to-back in 2015-16 and 2016-17. Over that same period, only two teams have failed to make the playoffs after winning the Cup the previous season: the Carolina Hurricanes stayed home after the 2006-07 campaign and the Los Angeles Kings did so after the 2014-15 season.
So where will the Blues fall along that spectrum? As mentioned, they won Game 7 of the Cup Final against Boston on June 12; they're back in camp on Sept. 13. That's barely three months of down time to recharge batteries, recover from the wear and tear of a season (and in a few cases surgery), and get in some training for the coming campaign. Are the Blues ready to go at it again?
2. CAN THEY STAY HUNGRY?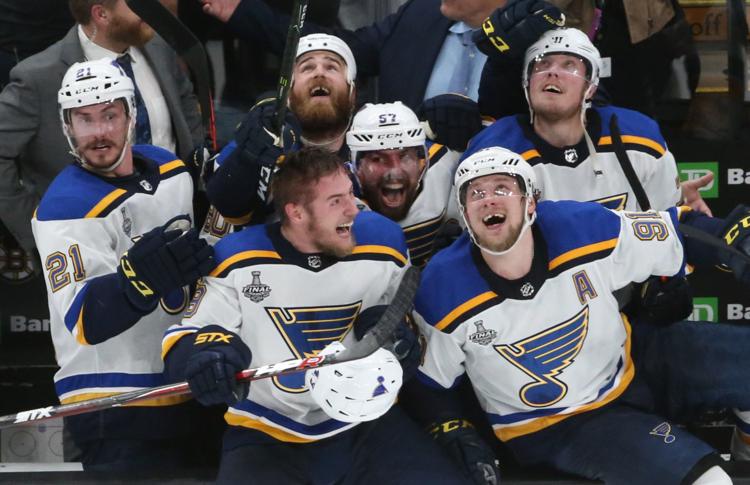 Hangovers are sometimes inevitable. Motivation is an entirely different thing. No matter what happens this season — or the next 20 seasons — the 2018-19 Blues will forever be legends in this town. They go down in local sports lore as the team that ended a dry spell that lasted a half-century by bringing St. Louis its first Stanley Cup. And they did so in dramatic fashion, going from worst in early January to first on June 12.
Will success spoil the Blues? Will heads swell? Did they train as hard in the offseason? Will they have the same resolve, resiliency, mental toughness that they displayed last season? The NHL is so balanced, the Central Division so stacked, even a slight dropoff could mean the difference between mounting a spirited title defense or being the '07 Hurricanes or '15 Kings.
3. BINNINGTON — STILL NOT NERVOUS?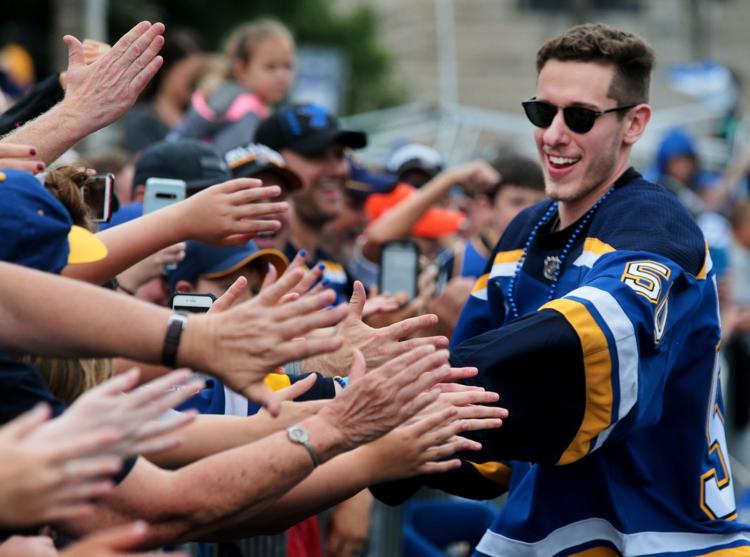 No one expects a repeat performance by Jordan Binnington — do we? But even if he's somewhere in the same area code as his out-of-nowhere performance last season, the Blues should be in good hands in goal. Even so, the entire NHL pretty much knows what he's about this time around. He won't sneak up on anyone.
Binnington played with a chip on his shoulder a year ago after being all but buried on the organizational depth chart. That fire and intensity was plain to see, long before he made his mark as a Stanley Cup champion. Little more than a year ago, Binnington was excited that his two-way contract paid him $100,000 even if he stayed in the AHL. Will success, and a two-year, $8.8 million contract change him? In other words, will Binnington actually get … nervous?
4. COULD THIS BE IT FOR PETRO AND/OR SCHENN?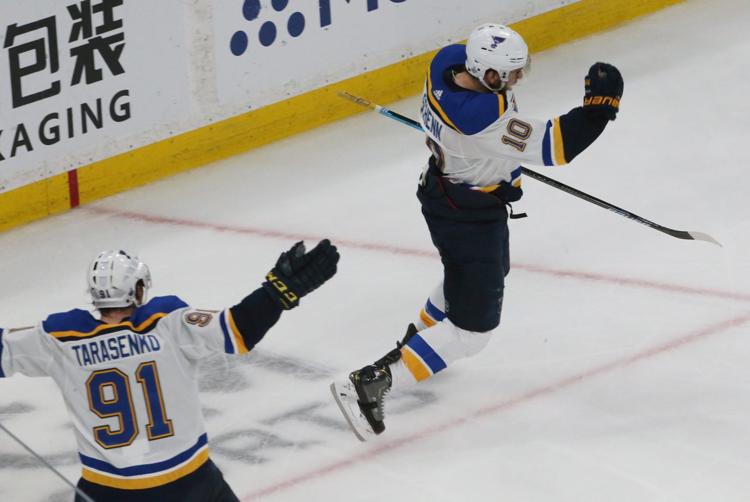 General manager Doug Armstrong and his front office staff have done a masterful job in recent seasons with roster management and managing the salary cap. The Blues have avoided situations where they've had to expose many players to unrestricted free agency in any particular offseason. They've been able to maneuver through tight cap situations while avoiding the cap issues that have plagued other teams.
Once again, they don't have many players scheduled for unrestricted free agency after this season. Then again, two who are, Alex Pietrangelo and Brayden Schenn, are two big names. Will the Blues be able to retain both players and remain in cap compliance? Do they want to retain both players? There are several factors that could affect the equation as the season unfolds, including team performance, the two players' performance, and whether the salary cap increases for 2020-21.
5. THIS YEAR'S 'SUNNY' SUNDQVIST IS . . . ?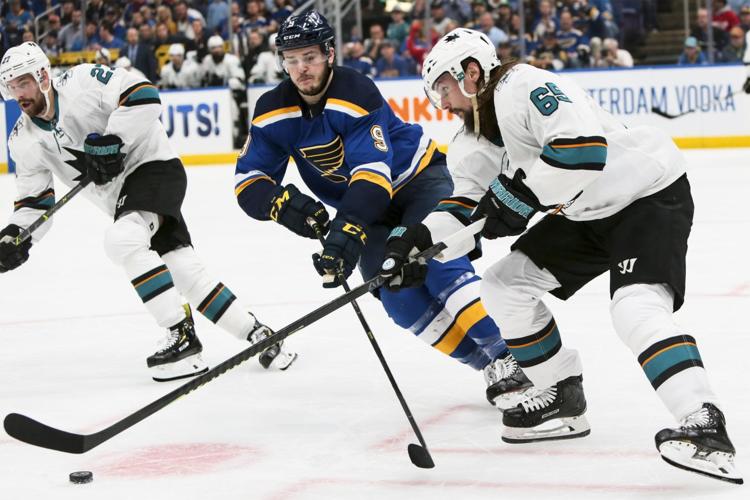 After a busy offseason of player acquisition, Oskar Sundqvist was anything but a lock to make the opening-day roster a year ago. But after an offseason of hard work, Sundqvist broke out with 14 goals and 17 assists in the '18-19 regular season and added four goals and five assists in the playoffs. He was one of the team's top penalty-killers and even saw power-play duty in the regular season.
So who is this year's breakout player? Sammy Blais, Zach Sanford and Robert Thomas are all candidates. In the 2014 draft, 175 players were taken before Blais, but he showed signs last season of combining physical play with scoring ability. Sanford displayed flashes of being an effective power forward. As for Thomas, he could make a significant leap from the nine goals he scored as a teenager last season.
6. HOW DO YOU MAKE THIS CLUB?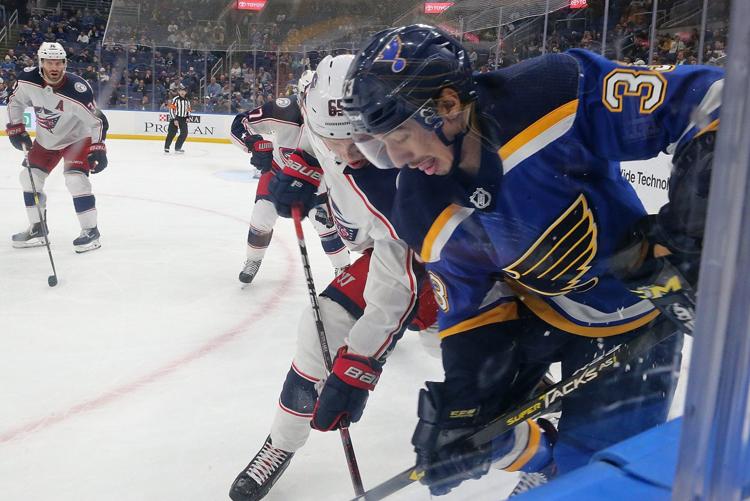 Pat Maroon signed a free-agent deal with Tampa Bay last month, but of the 23 Blues who appeared in the playoffs last season, he's the only departure. So for those prospects in San Antonio, how do you make this roster? Easier said than done barring injury. But injuries are a part of hockey, and at any given time in a season, it's safe to assume the Blues might be down a man or two.
That's where forwards Jordan Kyrou and Klim Kostin could step in, or defensemen Niko Mikkola and Mitch Reinke. Those four look like they're next in line to make a roster push, with Kyrou getting a taste of the NHL last season (16 games). Don't forget about Jordan Nolan as a potential call-up player. He has played in 375 NHL games — 14 for the Blues last season.
7. CAN SAVARD SPARK POWER PLAY?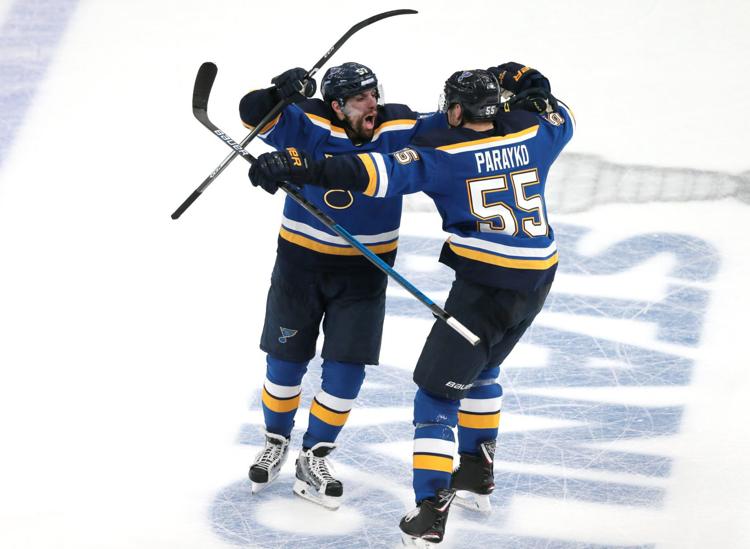 Marc Savard, whose NHL career spanned 13 season and more than 800 games, was added to the Blues' coaching staff — where among other things he's charged with improving the power play. It has been forgotten by many that the Blues finished a very respectable 10th in the regular season in power-play efficiency. But no one has forgotten the Stanley Cup Final series against Boston, in which the Blues somehow managed to win the Cup despite going an abysmal one-for-18 on the power play.
As a player, Savard knew a thing or two about scoring on the power play: 80 of his 207 career goals came with the man advantage, and he had three seasons with 10 or more power-play goals. But as a coach? Power-play tutelage or otherwise, that's a blank sheet. This is Savard's first coaching job.
8. WHICH SIX PLAY ON D?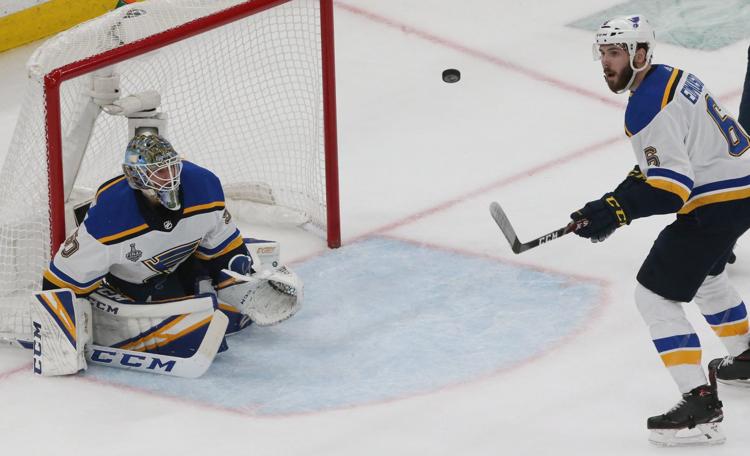 The Blues' top seven defensemen from a year ago all return. They have 3,532 games of NHL experience between them, ranging from Vince Dunn's 153 games to Jay Bouwmeester's 1,184. And those are just the regular-season games. The point being, all are NHL veterans — although Dunn is entering just his third season. And all are used to playing.
With rare exception, teams dress only six defensemen for games. So who's the odd man out on game day among the seven? Last year during the regular season, it wasn't much of an issue because the Blues rarely had all seven healthy and ready to go. But what if that's not the case this year? Joel Edmundson, whose role ranged from top defensive pairing all the way to healthy scratch at times, is someone to watch here.
9. NOW OR NEVER FOR FABBRI?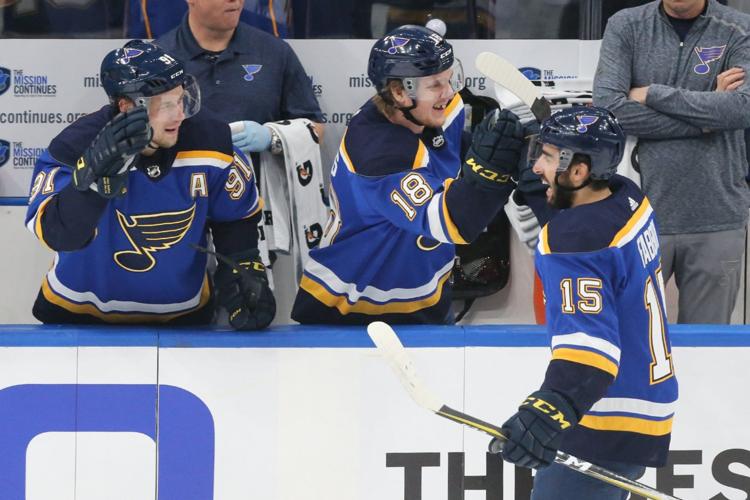 It's often the case that players recovering from major knee surgery, regardless of the sport, really return to form in their second season after the surgery. The Blues certainly hope that's the case with Robby Fabbri. He's actually coming back from two knee surgeries, but this is his second season back from the most recent procedure.
If Fabbri returns to form, and he showed flashes of it last season, he's a top six — certainly a top nine — forward. And if he doesn't? Well, the parade could pass him by in St. Louis, with young players such as Sammy Blais, Zach Sanford, Robert Thomas and prospects Jordan Kyrou and Klim Kostin all vying for a roster spot and playing time. This is a huge year for Fabbri, who looked like a star in the making not that long ago.
10. WILL HUSSO BOUNCE BACK?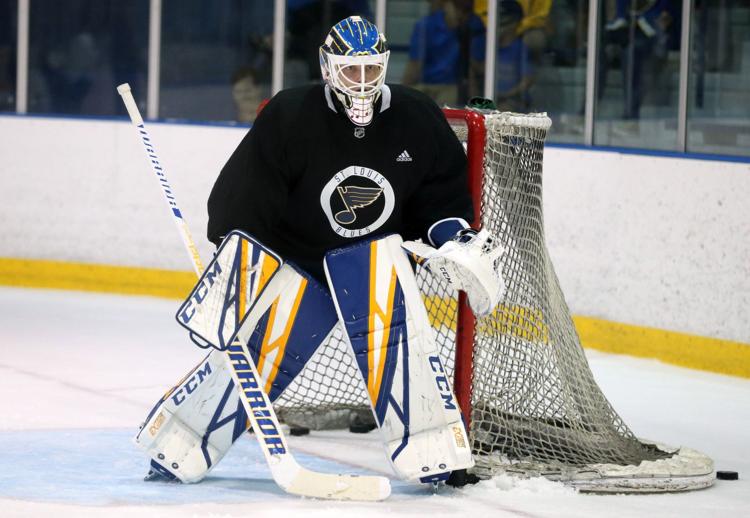 It's also a huge year for Ville Husso. Last year at this time, he was viewed as the Blues' goaltender of the future. Not Jordan Binnington. As such, he was ahead of Binnington on the organizational depth chart, third behind Jake Allen and Chad Johnson. A nagging ankle injury slowed Husso's development last season with the San Antonio Rampage, but even before the injury he wasn't posting the kind of numbers he had previously in the American Hockey League.
Once again, Husso enters camp as the Blues' No. 3 goalie behind Binnington and Allen. He needs a strong, injury-free year in San Antonio to restore the organization's faith that he can be a starting goalie in the NHL. In turn, that could eventually impact Allen's future with the team, or who knows — even Binnington's — if he struggles this season.