DALLAS — There was a quick-strike goal by prospect Klim Kostin. There was aggressive, effective play by Joel Edmundson and Robert Bortuzzo as a defensive pair. And solid work in goal by Ville Husso and Adam Wilcox.
But the one thing that stood out most about the Blues' play in their preseason opener — a 2-0 victory over the Dallas Stars — was the quick overall play by St. Louis, particularly in the first period.
"Yeah, everyone was energized, everyone was skating," Bortuzzo said. "We looked fast. We played fast in our structure as a team. I think that's where we have success. Everyone's kind of buying into that structure and you have a cohesion and you're looking quicker than you are."
The Blues controlled possession and had the puck in the Dallas end for much of the first two periods. The Stars didn't have their first shot on goal until just four minutes remained in the opening period. The Blues outshot their second-round playoff opponents from a year ago 10-2 in the opening 20 minutes and outhit them 16-8.
Robby Fabbri set the tone early, outracing a Dallas defender for the puck early in the Stars zone for a mini-breakaway but his shot missed the net.
Dallas played the Blues more evenly over the final two periods, but the Blues got the game's only two goals — by Klim Kostin and Robert Bortuzzo — in their preseason opener played at American Airlines Center.
"I thought our guys did a good job, start to finish," coach Craig Berube said. "Work effort was good, competitiveness was good."
If you practice fast, you usually play fast, regardless of the sport. And Berube has stressed tempo from Day 1 of camp.
"It just goes with the way we practice," he said. "We try to play fast and quick, aggressive. And then (the players) executed that."
The Blues aren't known as a speed team, but you wouldn't have known it Monday.
"I know," Ivan Barbashev said. "I was actually a little bit surprised. First game in the preseason, but I thought we did a pretty good job. Everybody was on top of the game. The third period was a little bit sloppy with the turnovers but otherwise it was a good game."
There were only a few times when the Blues got caught running around in their zone. They were positionally sound and more often than not got the puck out of quickly.
Playing in his first game for the Blues' organization since early March of last season for San Antonio, Husso stopped all 13 shots he faced in two periods of work.
"He didn't have a lot of action in the first period, but he got some in the second," Berube said. "Stood his ground, he was aggressive. I thought he looked calm in net, which he always normally is."
Ankle problems sabotaged most of Husso's season last year for the Rampage, but he's eager to regain his standing in the organization
"It was nice to have a start," he said. "It's been a long time since when I played last game. So it was pretty exciting. It's been long way (back). It's nice to be healthy right now. I'm super happy."
Adam Wilcox, new to the Blues this season after playing for the Buffalo Sabres' AHL affiliate in Rochester, N.Y., took over in the third period and was equally effective in goal, stopping all nine shots he faced.
"He moved the puck well, too," Berube said. "I thought he was aggressive. Made a couple nice saves. Made a couple good puck plays with the puck which was important."
Stars goalie Ben Bishop, of Chaminade College Prep in St. Louis, matched Husso save-for-save until Kostin sent a rocket of a shot past him at the 9:02 mark of the second period.
"He played with an edge," Bortuzzo said of Kostin. "I think someone (on the bench) yelled, 'That's in!' right before it got to his stick. He's known for his shot. Barby put it right on a tee. A shot like that, it's tough for the goalie to react."
Barbashev, centering a line that included Kostin and Jordan Nolan, got the only assist on the goal.
"(Kostin) told me he closed his eyes when he was shooting," Barbashev said. "I don't know if we can believe it or not, but it was a good shot."
Just 5 ½ minutes after Kostin's score, Bortuzzo made it 2-0 Blues when his slapshot found its way through traffic past Anton Khudobin, who had just replaced Bishop in goal.
"Got a fortunate bounce off something," Bortuzzo said. "We had two guys converging. . . .We had a couple great plays just to get the puck back (to the point)."
The Blues had several other prime scoring chances. Austin Poganski hit the crossbar on a tip-in attempt in the first period. In close in the third period, Oskar Sundqvist had an open net with Khudobin out of position, but was shaking his head when he failed to score.
With many of the team's regulars staying back in St. Louis, Sundqvist centered what was the Blues' top line Monday, flanked by Fabbri and Sammy Blais.
Mackenzie MacEachern missed some time in the first period after taking a puck to the face, but returned for the second period after getting treatment.
"I thought our whole team, the effort made and competitiveness was really at a high level," Berube said. "We played fast. We played our game. From man to man, I didn't think there was anybody that really had an off-game to be honest with you. I thought everybody was dialed in."
---
Quick Hits from Jim Thomas
WHY DON'T THE BLUES-BRUINS PLAY UNTIL SO LATE IN SEASON?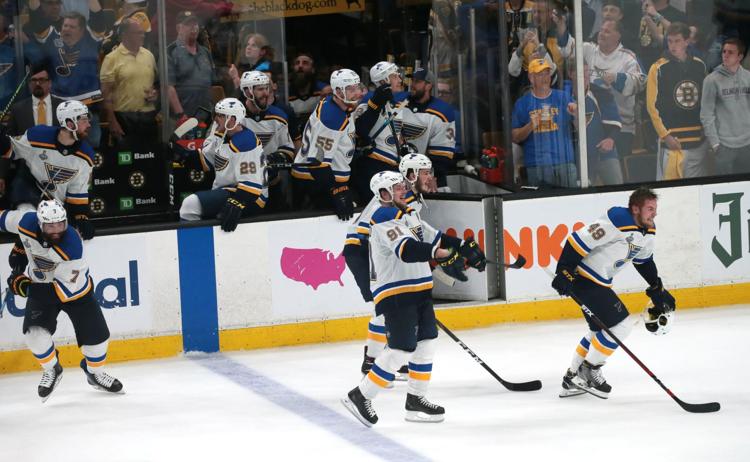 QUESTION: What in the name of Hockey were the schedule makers thinking by not scheduling the Bruins in STL until 4/2? Or was that a request by the Blues?
ANSWER: Well, they only get one home game against the Bruins, since as you know, they're in the East. But I'll try to check on that for you.
WHO WILL BE BLUES' BREAKOUT PLAYER IN 19-20?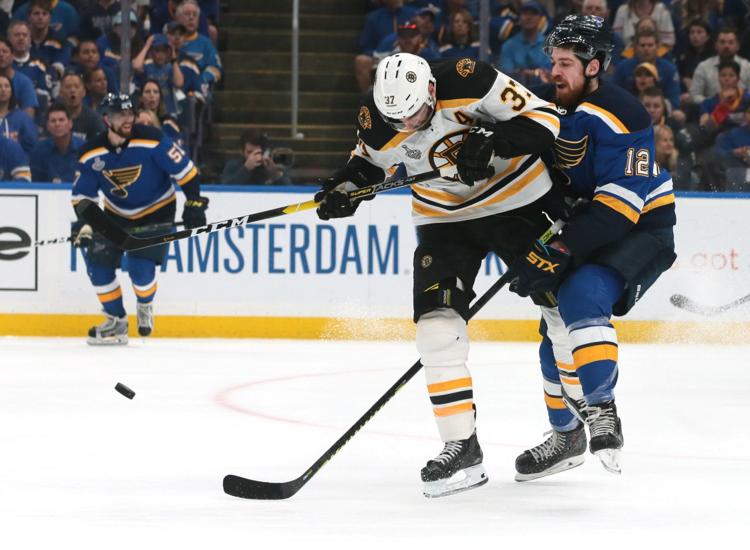 QUESTION: Who is the breakout player for the Blues this year? Or at least the guy who might dramatically exceed expectations? Thanks.
ANWER: You mean, who wins the Oskar "Sunny" Sundqvist award for 2019-20?
I'm gonna say either Robby Fabbri or Zach Sanford. Players coming back from major knee surgeries usually do much better in their second season back _ and this of course will be Fabbri's second season back. As for Sanford, he had some moments early and some moments in the playoffs _ and lots of ups and downs in-between. It was a tough, tough year for him with his father passing away. And with the practice fight with Bortuzzo. I'm thinking his play in the Cup Final had to boost his confidence.
WHAT'S THE FUTURE FOR PETRO AND SCHENN?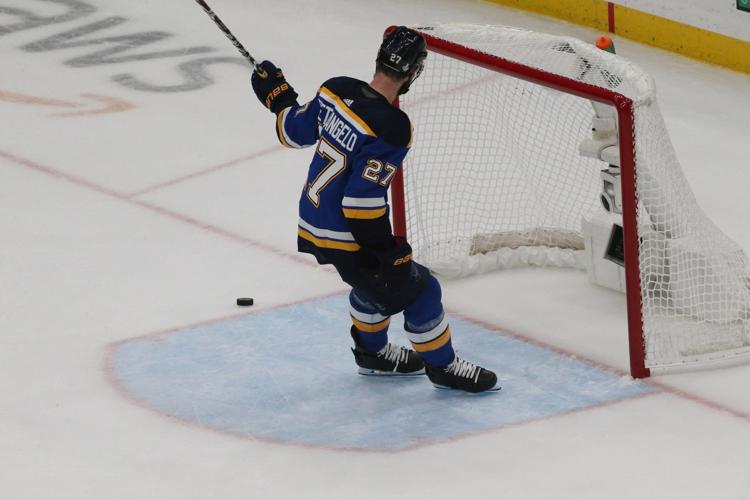 QUESTION: Isn't this the final year of Petro's contract? The Leafs were salivating at the idea of getting AP last year and may trade a scorer to get him. They know scoring without defense gets you tee times in May. We have to make room for the young d-men coming up and need a scorer now and in case Schenn's wants big $$ for next contract. Clayton Keller's contact guarantees he and others like him get big raises.
ANSWER: All things being equal, if it comes to picking between the two, I think the Blues go for Petro over Schenn. (Nobody in the organization has told me that - or anything like that - it's just my thinking on the subject.)
Petro, Bouwmeester and Edmunson are all scheduled for unrestricted free agency after this season. That's 3 of your top 7 defensemen. Gunnarsson is getting up there, although he has another year left after this season on his contract. You have Mikkola and Reinke waiting in the wings on D, but I don't think the organizational depth on defense is great at this point. Up front, Schenn is the only player among the top 14 forwards scheduled for unrestricted free agency, and you have Kyrou and Kostin waiting in the wings. There seemingly is more organizational depth at forward as well, with Toropchenko, Bokk, Alexandrov, as well as Jordan Nolan, Nolan Stevens and Austin Poganski in the pipeline.
WHAT ARE THE ODDS OF A STANLEY CUP HANGOVER?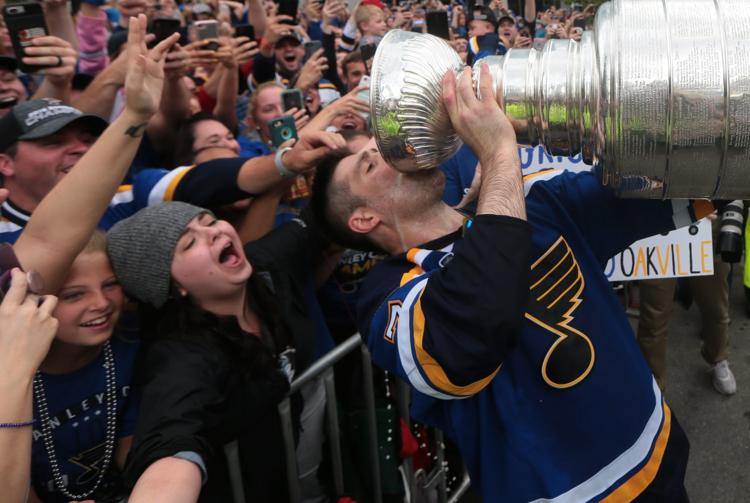 QUESTION: Thanks as always for taking time for the chat! With last years success the Blues certainly had a very short summer vacation to rest and regroup. Do you expect much/any of a Stanley Cup hangover? From what I have observed of Coach Berube I think he has the perfect personality to "encourage, " the team to forget about last year (after the banner has been raised!!) and focus on the task and season at hand. 
ANSWER: I wouldn't be shocked if there was some sort of hangover effect and slow start. Human nature. But I don't think this is the type of team that will rest on its laurels _ and you're right about Berube, he will do everything possible to keep this team motivated and humble. Had a long interview with Doug Armstrong in Traverse City and will have a story in Thursday's Post-Dispatch and on stltoday.com, with his thoughts on the subject.
WHY DO SOME PLAYER RANKINGS GIVE OUR DEFENSE NO LOVE?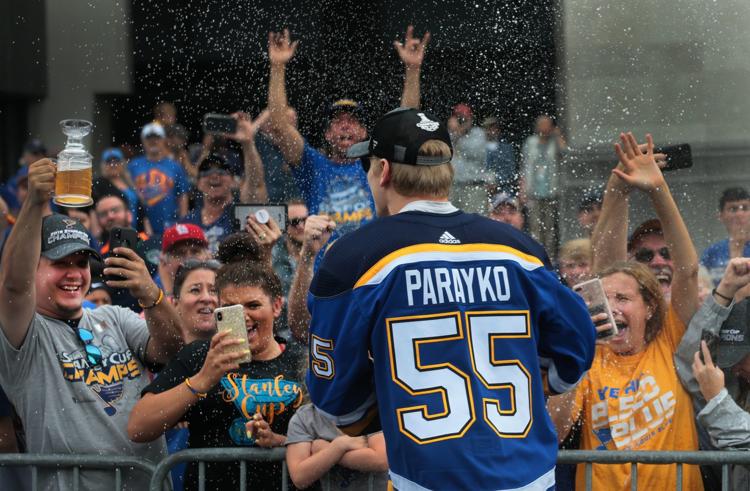 QUESTION: At the Hockey News this week there was a list of the top ten D-man in the NHL and none of our guys made the list. I believe Colton Parayko will be our best defenseman for 2019-20. I propose Army trade AP to the Leafs or any other Eastern Conference team for a scoring winger.
ANSWER: I wouldn't get too hung up on player rankings. I've seen others where Pietrangelo and Parayko are both ranked in the top 20. Parayko seems to finally be getting his due. I'm not so sure why you trade Pietrangelo. You have a couple of D-men who are getting up there in age, particularly Bouwmeester _ who may not be back after this season. I just say roll with Petro, and see what it takes to re-sign him.
ShareLikes0
WHO WERE THE TOP PROSPECTS AT TOURNAMENT?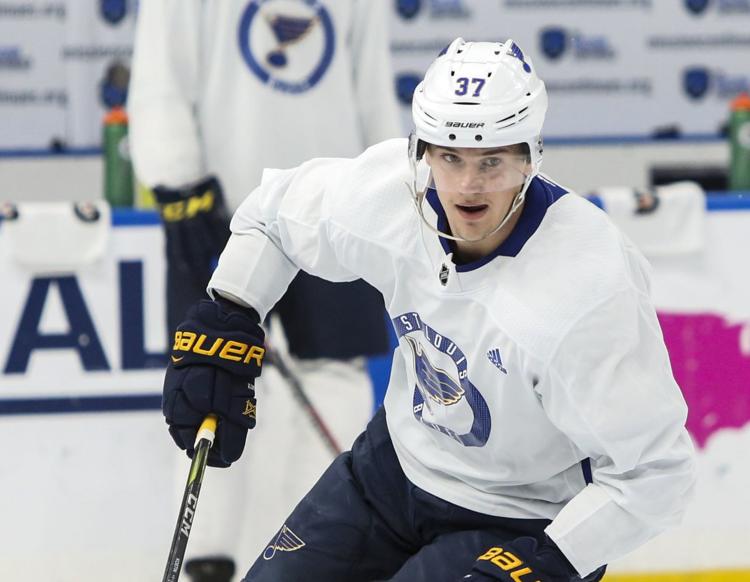 QUESTION: Which prospects stood out to you at the tournament?
ANSWER: In the two days I was there it was Klim Kostin, hands down. He scored a goal in both games, and easily could have had a couple of more in Tuesday's fifth-place game against the Rangers. He had lots of Grade A chances, many of which he got on his own. He was physical, certainly not afraid to hit anybody. It makes me very curious to see how he does in Blues came and the preseason. In case you missed it _ and it's hard to find on our web site for some reason _ here's an overview story I did on the Blues in Traverse City.
FOLLOW-UP:  People had unreal expectations for Kostin when he was drafted. It was automatically assumed he should step right in and score 80 points. I think people forget how hard it is to change from European hockey to North American hockey, PLUS learning a new language and a new culture. The kid is gonna be good. Potentially really good. But he's also only, what? 20?
ANSWER: Turned 20 in May. He needed help from Chris Butler to order a pizza his first year in San Antonio. His English is getting better _ much better. Playing in the AHL at age 18 was a rough adjustment and can't be understated. As Doug Armstrong likes to say, it's a man's league. But the Blues aren't disappointed in him at all. They have tried to tell Kostin this isn't a sprint. Keep working and be patient.
SERIOUSLY HOW IS HULL?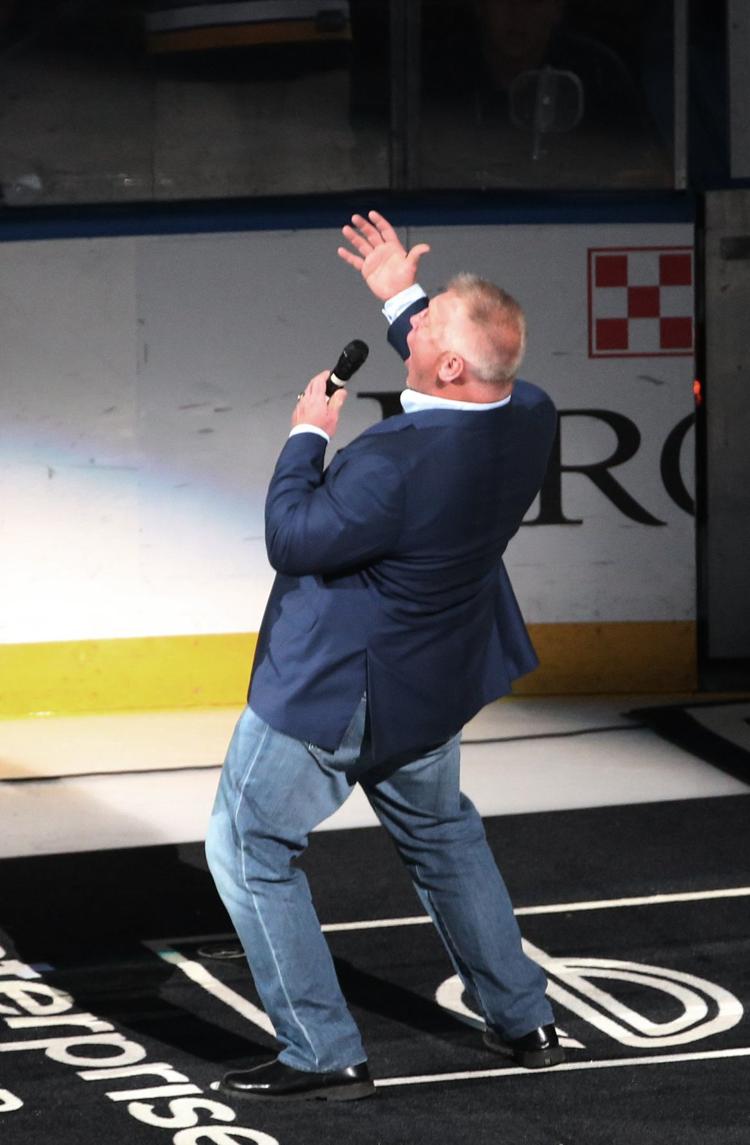 QUESTION: is Brett Hull alive and has anybody heard from him?
ANSWER: I could be wrong, but someone told me he's been in Nashville.
WOULD THE BLUES HOST A PROSPECT TOURNEY?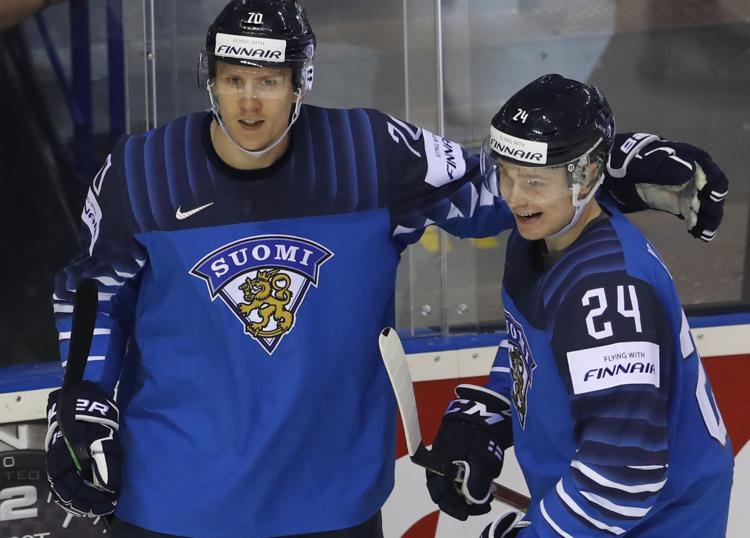 QUESTION: How did Kaapo Kakko (spelling?) look vs the Blues yesterday? It didn't look like there was much spectator seating in Traverse City. With the Centene Ice Center (correct name?)Opening do you think the Blues have a tournament in STL down the road? I see where Nashville and Buffalo had like tournaments over the weekend.
ANSWER: Kakko (you nailed the spelling by the way) did not play against the Blues. He was sick, I believe entering the tournament. As for the Centene Community Ice Center (you almost got that one as well), I don't know if the Blues will try to host a prospect tourney. I think there's some value to getting away and Traverse City is a nice spot. But I believe there are plans to try to host a variety of youth and junior tournaments - local, regional, national - in the building.
WOULD ARMY BE WILLING TO TRADE PETRO?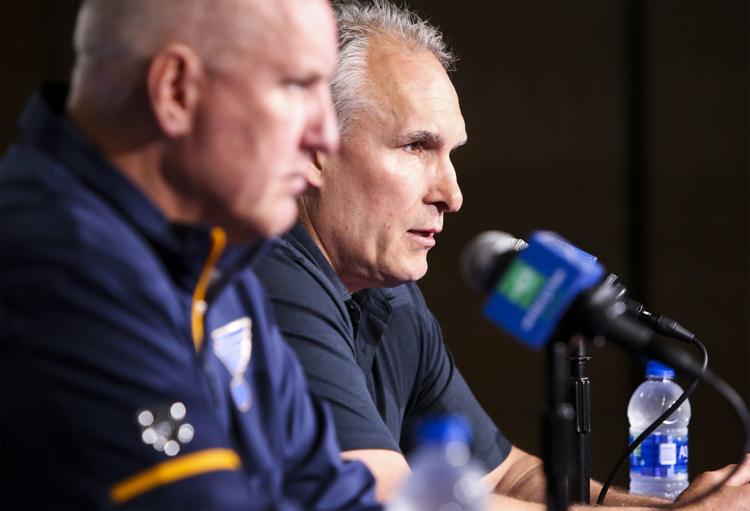 QUESTION: Jim, I don't see Army and Stillman willing to trade their captain but I'm sure Army will be fielding some attractive offers from other teams knowing Petro could win them a cup and our lineup would get younger in return. Stillman must want to take a victory lap with the fans having their cup winning lineup intact. Who knows, if Binner plays the season like he did from January to June Petro might raise another cup.
ANSWER: One thing I've learned about Armstrong, he always works the phones. I think the Blues regard Pietrangelo as an asset to the organization and a key cog in their bid to contend for the Cup once again. But I don't regard the fact that 22 of the 23 Blues playoff performers are back as simply a victory lap. If you had a chance to bring back a Stanley Cup championship team virtually intact, why wouldn't you? You'd have to have a pretty good reason to do otherwise. Now, we'll see what the season brings. The trade deadline is a long way away. If some players get stale, or if Armstrong gets an offer he can't refuse, or if Petro's or Schenn's demands are too high _ who knows?
FOLLOW-UP: Petro is 30 and will want a 5-7 year contract. That scenario didn't work out well for Boston when they signed our former captain David Backes to a similar contract, The Cardinals had to let go of Albert Pujols for the same reason. 
ANSWER: He turns 30 in January. What if the Blues sign him for four years _ does that make it more palatable for you?
ANY CHANCE OF LANDING MATTHEW TKACHUK?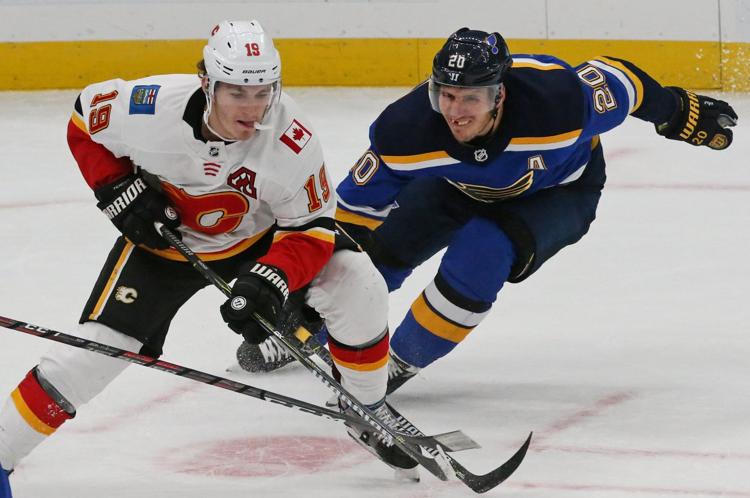 QUESTION: I have a sixth sense about Matthew Tkachuck! He will be available via trade from Calgary by December 1st. Calgary is too cheap to sign him. Kyrou, Schenn and a number 1 pick Will get it done! DO IT ARMY!!!! DO IT!
ANSWER: Not gonna lie, it would be absolutely fabulous to see him wearing a BlueNote. But realistically, it looks like the longest of longshots.
WHY ALL THE TALK ABOUT A STEEN BUYOUT?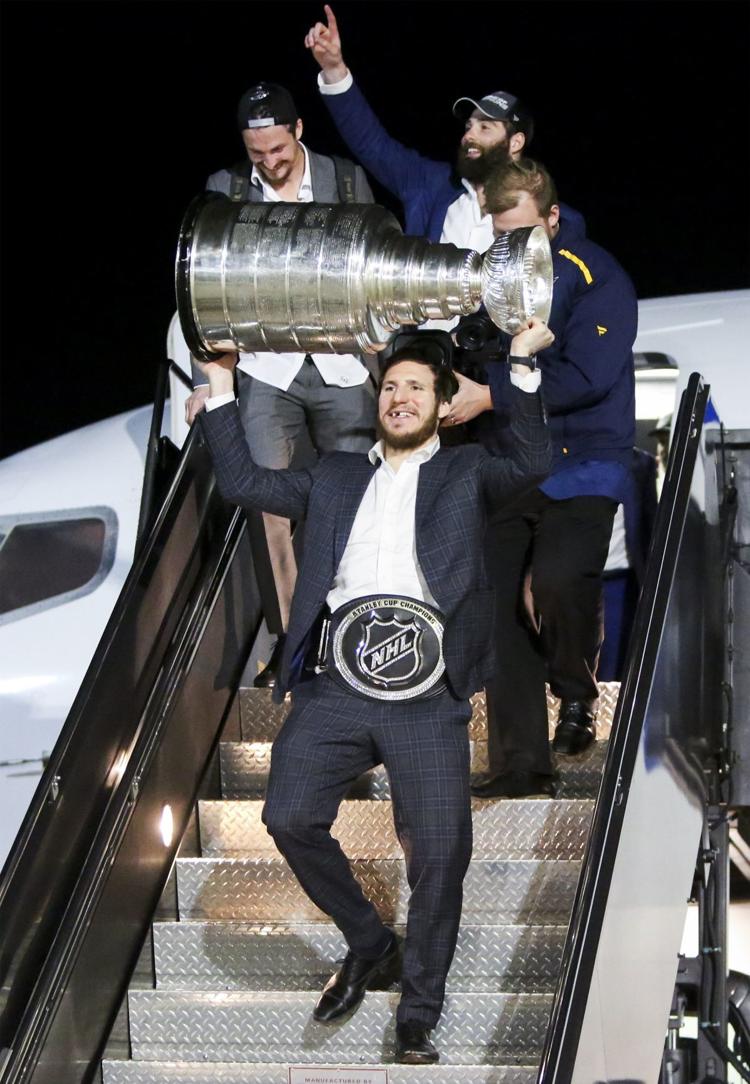 QUESTION: Jim, I just don't understand the fascination from some with buying Alex Steen out. Yeah, he probably is overpaid for his role at this point in his career. But so what? He still provides a valuable service and he's on the books for what, two more years? He was terrific in the playoffs on that fourth line. Just enjoy what he brings now and thank him for the time when he was one of the best all-around wingers in the game. Your thoughts?
ANSWER: Agreed. I don't think it makes sense buying him out for two years. If his play deteriorates this year, maybe you consider it for one year after this season. But I still consider him an asset. A player whose best days are behind him? Sure. But still an asset. Besides, I don't think Armstrong has ever exercised a buyout as Blues GM.
ARE THE BLUES TOO OLD?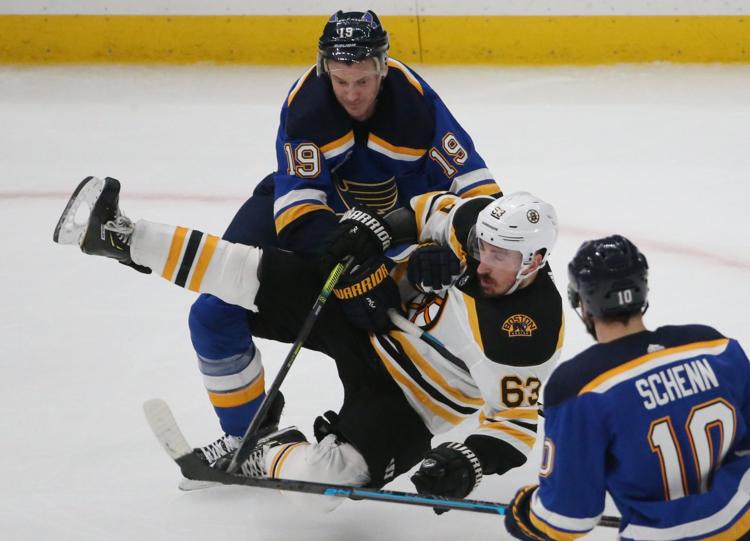 QUESTION: It seems like the Blues will be too old for success. When will they get some younger players on the team?
ANSWER: I think they have a good mix of young, old, and mid-career players. Binnington, Barbashev, Blais, Sanford, Thomas, Fabbri, Kyrou, Sundqvist, MacEachern and Dunn are all 25 or younger. Some much younger. Parayko and Edmundson just turned 26. The only forwards over 30 are Steen (36), Bozak (33), and Perron (31). On defense it's Bouwmeester (35) and Gunnarsson (32).
HOW DO THE BACKUP GOALIES STACK UP?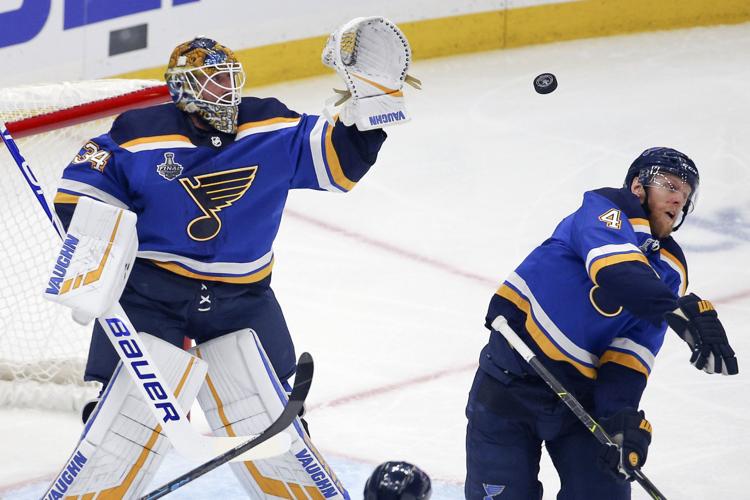 QUESTION: My take on Petro: At some point, the Blues are going to have make decisions on some veteran players. Brayden Schenn comes to mind. It's doubtful they'll keep Jake Allen past this season if Binnington continues to play well. But if Alex is playing at a Norris caliber level, the Blues you have to buck up to sign him.
ANSWER: Thanks for your input. On Allen, I think it takes more than just another good season by Binnington to make Allen expendable. The Blues have to have a backup in mind. Maybe it's Husso _ this is a huge year for him.
HOW GOOD CAN BINNINGTON BE THIS SEASON?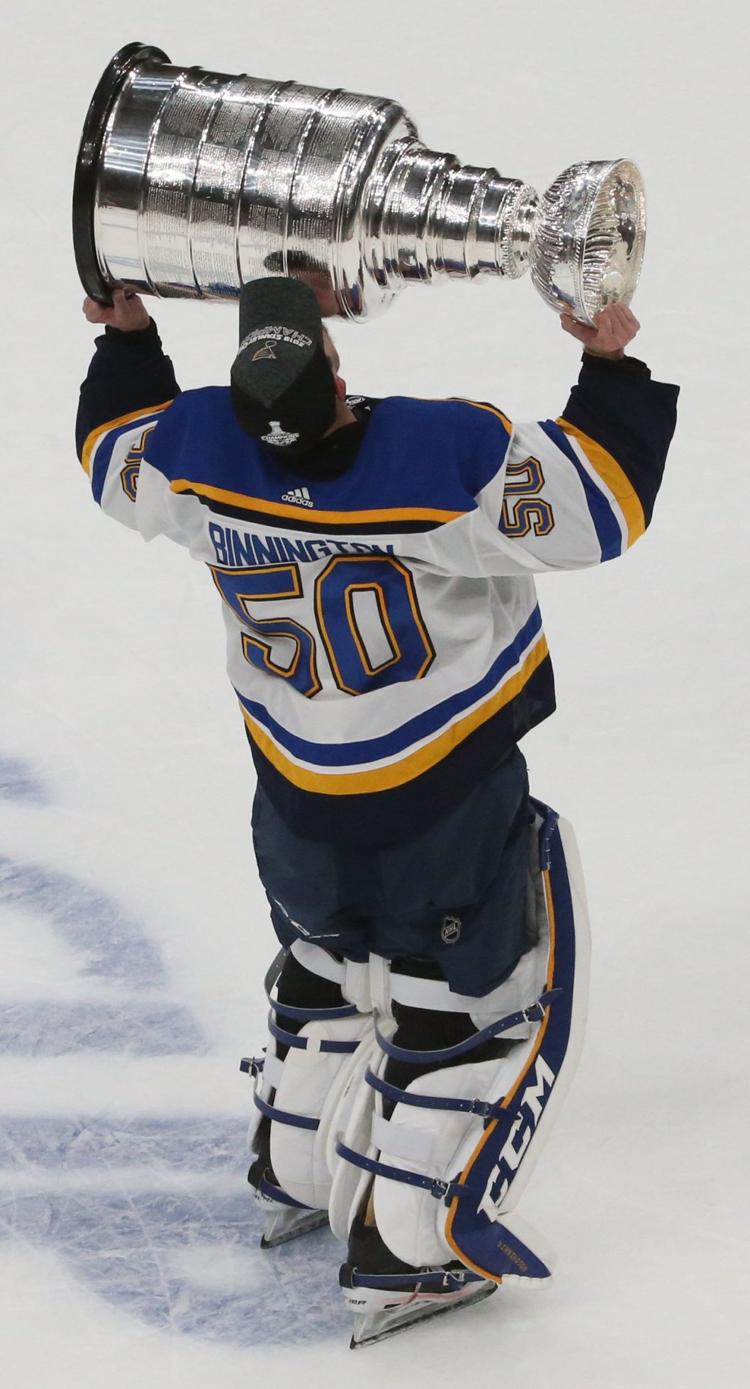 QUESTION: A very interesting article just appeared on The Hockey News website, "TOP 10 VEZINA TROPHY CANDIDATES FOR 2019-20" and Binnington was ranked at #4 but can perform at a high level again IF he continues to receive strong D-men support. Makes me want to start planning for another parade in mid-June. thehockeynews.com
ANSWER: If Binnington remains NOT NERVOUS, or anywhere in that general vicinity, it could be a very interesting season.