The Blues got to the end of a challenging stretch of their schedule on Saturday, a stretch made even more challenging by a rash of COVID cases, a late spurt of injuries and some significant offensive struggles.
The Blues played 12 games over the course of 21 days, their busiest stretch of the season, and closed it out with a strong 6-3 win over Columbus at Enterprise Center where they played their best hockey, somewhat surprisingly, in the final two periods. When the run of games began, the Blues were 7-1-1, and in the dozen games, they went 4-6-2. It was a grind for not only body and soul, but wins and losses. Sunday and Monday will mark the first time they've had consecutive days off since Nov. 5 and 6.
"We need it," coach Craig Berube said.
The Blues also need their Russians right now, without who they'd be in an even bigger hole. The three Russians in the lineup on Saturday — a fourth is injured — combined for four goals and four assists. Pavel Buchnevich scored twice, giving him four goals in three games, Ivan Barbashev scored twice, giving him three in two games, and Vladimir Tarasenko had three assists. (Klim Kostin missed his second game in a row with an upper-body injury.) That made six of their past eight goals and seven of their past 10 from Russians, with Buchnevich having scored in three consecutive games.
It's a great time to be a Russian in St. Louis, or, as it's starting to seem, Moscow on the Mississippi.
"Yeah, it is," said Tarasenko, who of late has been on a line with Buchnevich and Robert Thomas. "It's always fun winning. Fun to see countrymen have success. And it's been really fun so far.
"It's nice to play with a Russian guy. Sometimes we can talk in Russian while playing. I think Robert Thomas learned something but he can tell when we're angry for sure. He know the bad words."
"Vladi looks really happy to me here," Berube said, "and I think that helps having Buchy here, Barby here, Kostin. They've got a good thing going."
Ville Husso, whose hometown of Helsinki, Finland, is 116 miles from the Russian border, was strong in goal again, stopping 24 of 27 shots, including some very tough ones, as he picked up his second win in three starts since coming back from COVID and continued to make his case for more work.
The Blues were down three forwards on Saturday, with David Perron and James Neal also out in addition to Kostin. Neal was put on long-term injured reserve on Saturday, and will be out for another three weeks, while Perron and Kostin are day to day. Dakota Joshua was back from the AHL, but the Blues still had only 11 healthy forwards in the game.
Despite that, the Blues had one of their most productive offensive evenings since early in the season. The first period wasn't their best; not as bad as the final two in Chicago on Friday, but also nothing that generated much energy.
"We got clearly outskated in the period," Berube said.
"We've been having a tough time the last couple games," Barbashev said. "We didn't play great, I think it was time to turn around things and play simple, hard, and that's what we did in the second and it looks like the game turned around and it was good to win the game."
It was the Russians that turned it around. Buchnevich got his stick on a pass from Tarasenko 58 seconds into the second to tie the game, and 58 seconds after that, Barbashev poked in a rebound of a shot by Brandon Saad that goalie Joonas Korpisalo couldn't find. Buchnevich's goal was his seventh of the season and his first at Enterprise Center. It was also the third straight game where Buchnevich had the first goal of the game for the Blues.
"It fuels you up," Berube said. "It gives you confidence for sure and life."
"We had conversations with players and with Chief," Tarasenko said. "We can't start like this, especially at home. Last few games like we lose one, win one. We should be more consistent. And that's what we were talking about. Like especially at home, we have to start harder. I think we played well last two periods and found a way to win a game."
The Blues controlled the rest of the period — they outshot Columbus 17-8 in the second — and finally got a goal from Jordan Kyrou with 2:49 to go in the second that gave them the elusive third goal which is often the difference between winning and losing for the Blues. The Blues are 9-2-1 when they score three goals in a game, 2-5-2 when they don't.
Columbus scored on a power play early in the third to cut the lead to 3-2, adding a bit of intrigue to the evening, but the Blues answered with three goals in the third, first by Justin Faulk, then Buchnevich, to raise his season total to eight, second only to Kyrou's nine, and then another by Barbashev, to raise his total to seven. The team's four Russians have 34 percent of the team's goals.
"It was a great second and third period," Berube said. "We're a dangerous team if we want to play that way."
Photos: Blues 6, Blue Jackets 3
Blues host Blue Jackets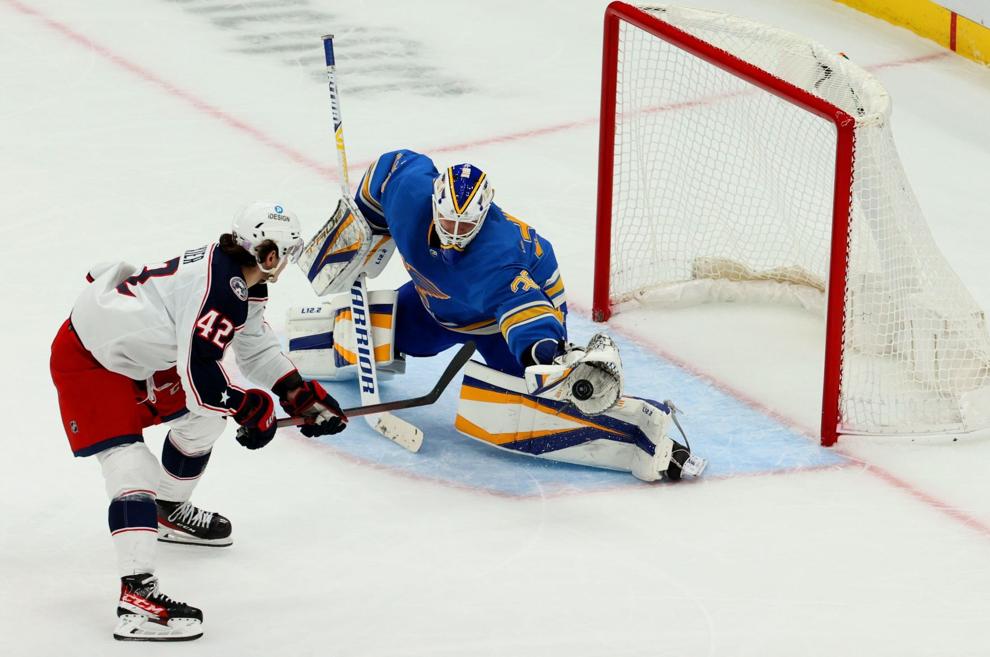 Blues host Blue Jackets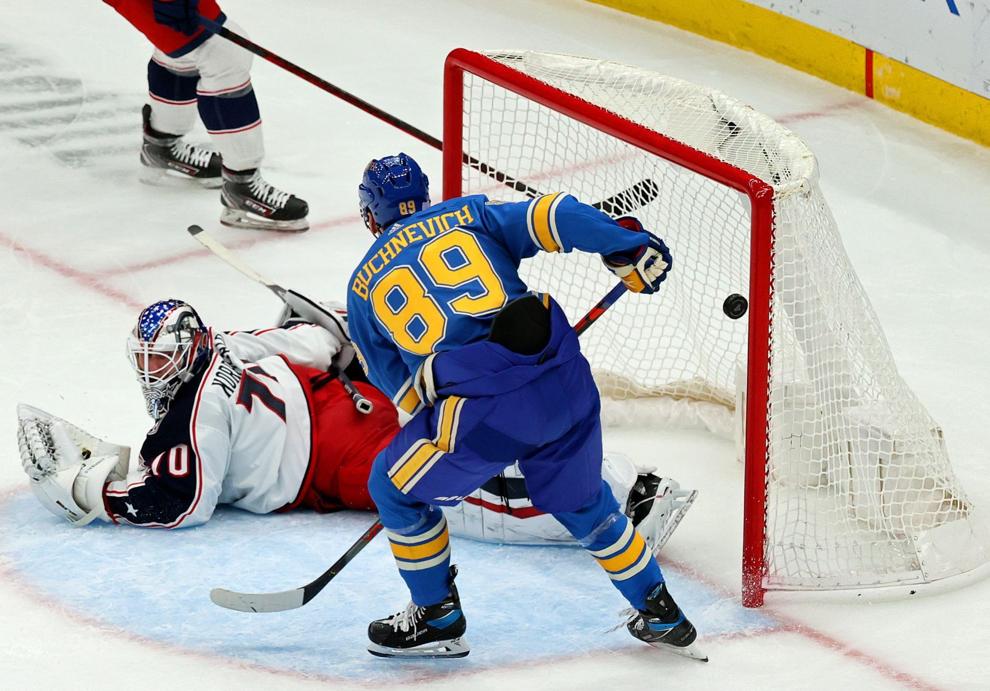 Blues host Blue Jackets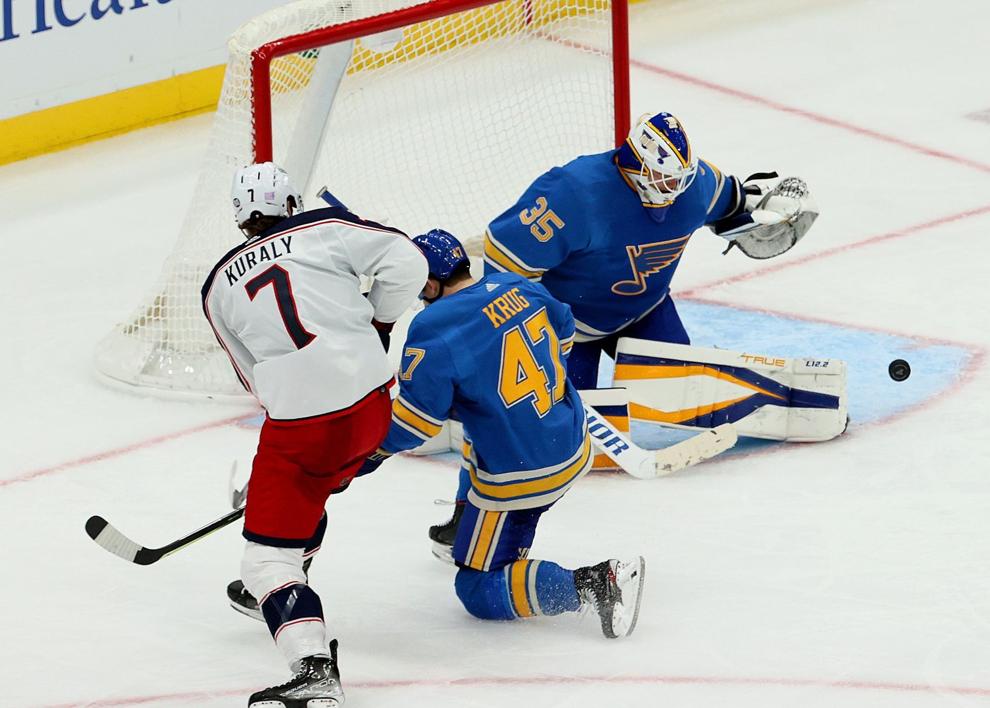 Blues host Blue Jackets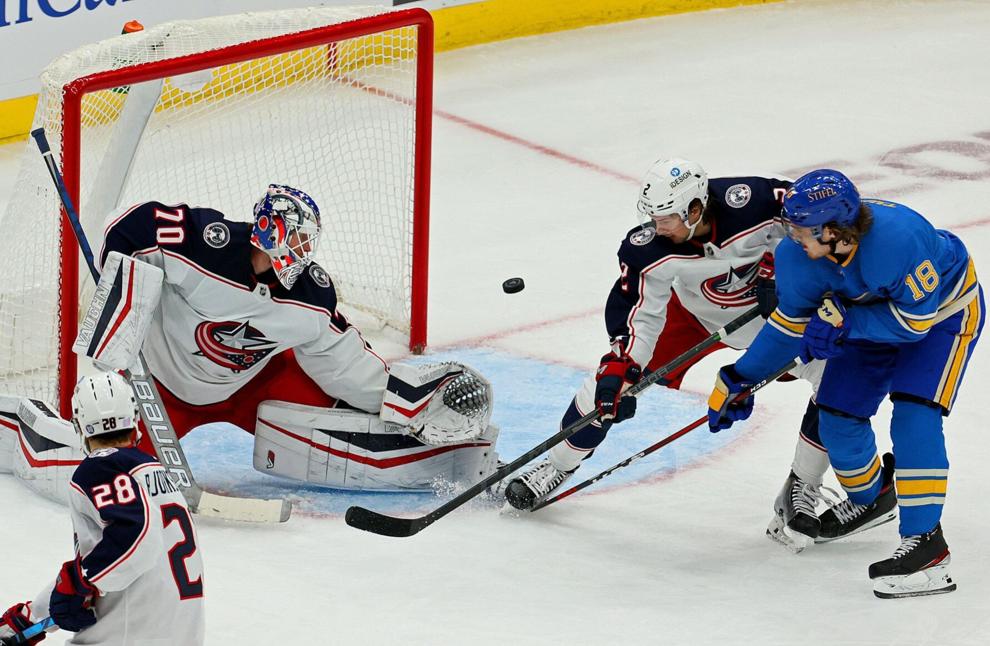 Blues host Blue Jackets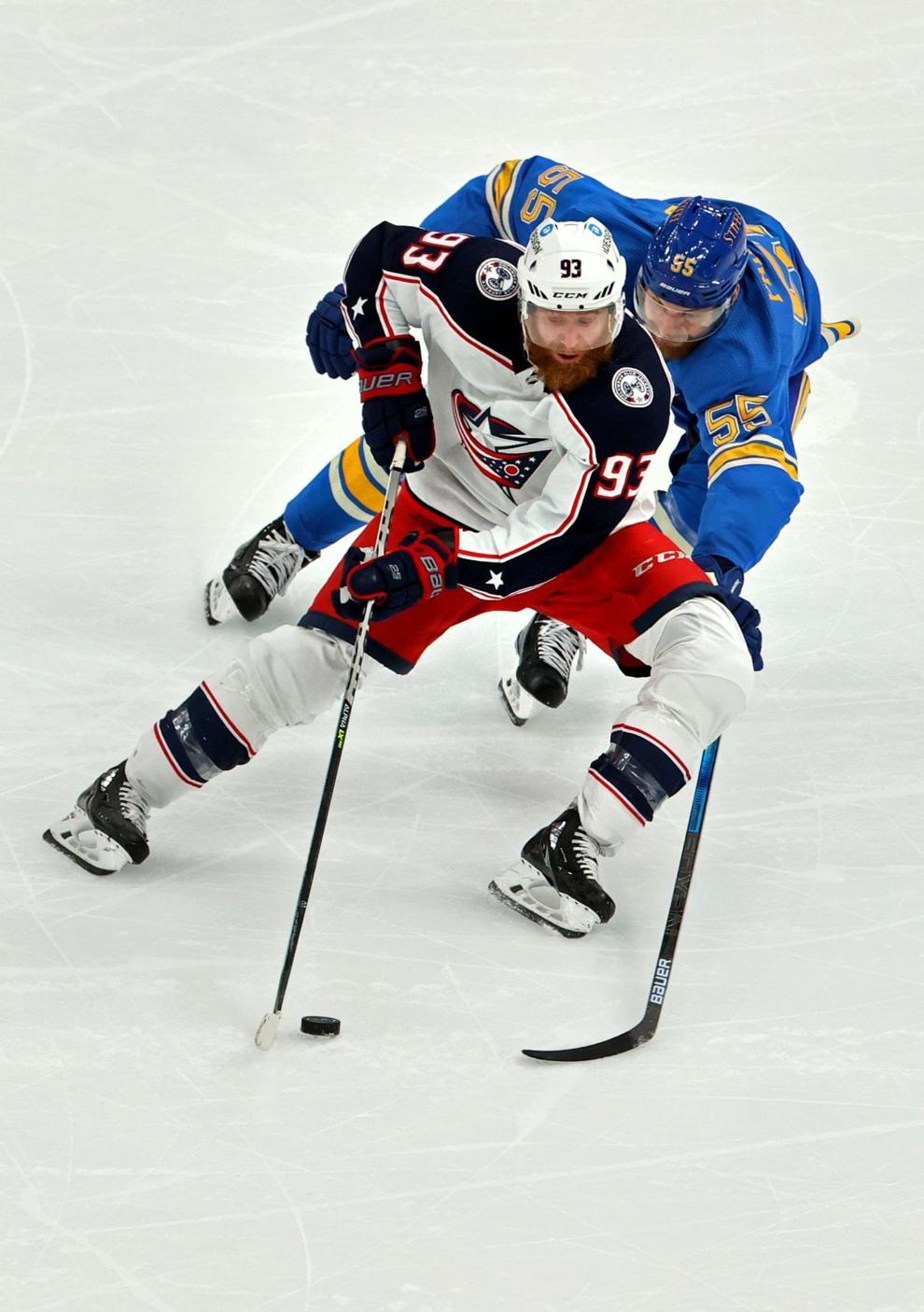 Blues 6, Blue Jackets 3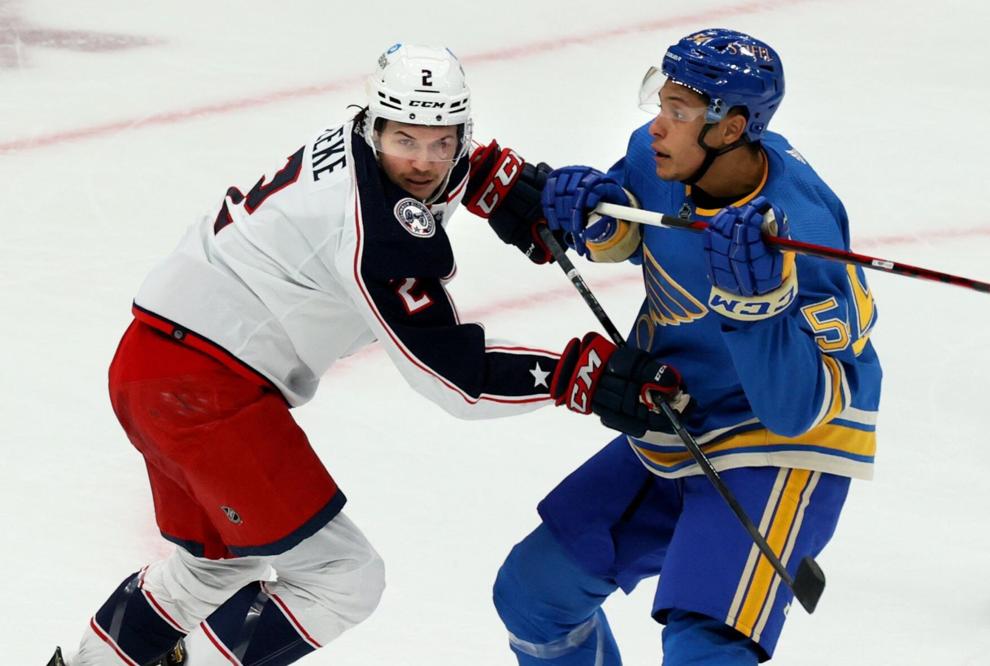 Blues host Blue Jackets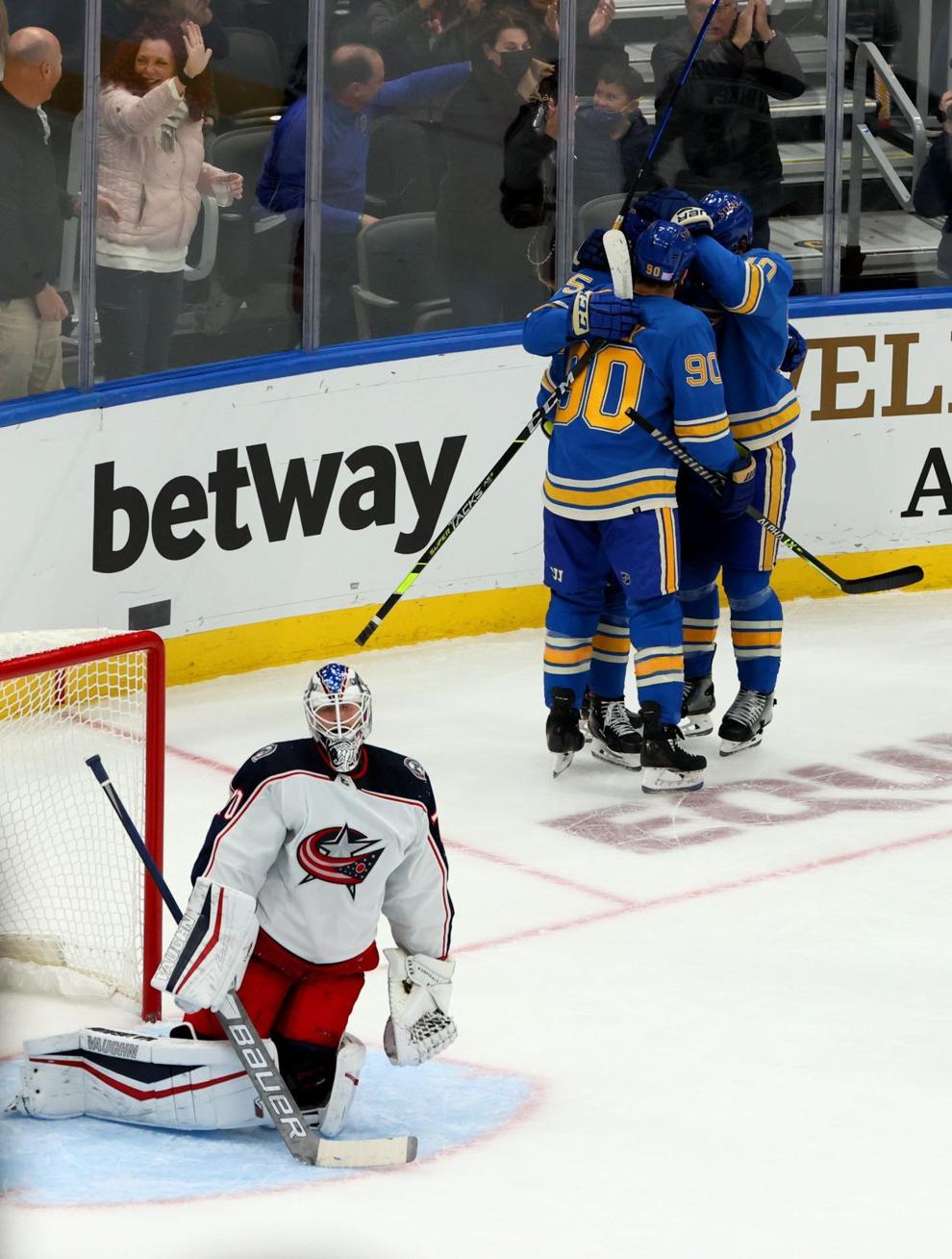 Blues host Blue Jackets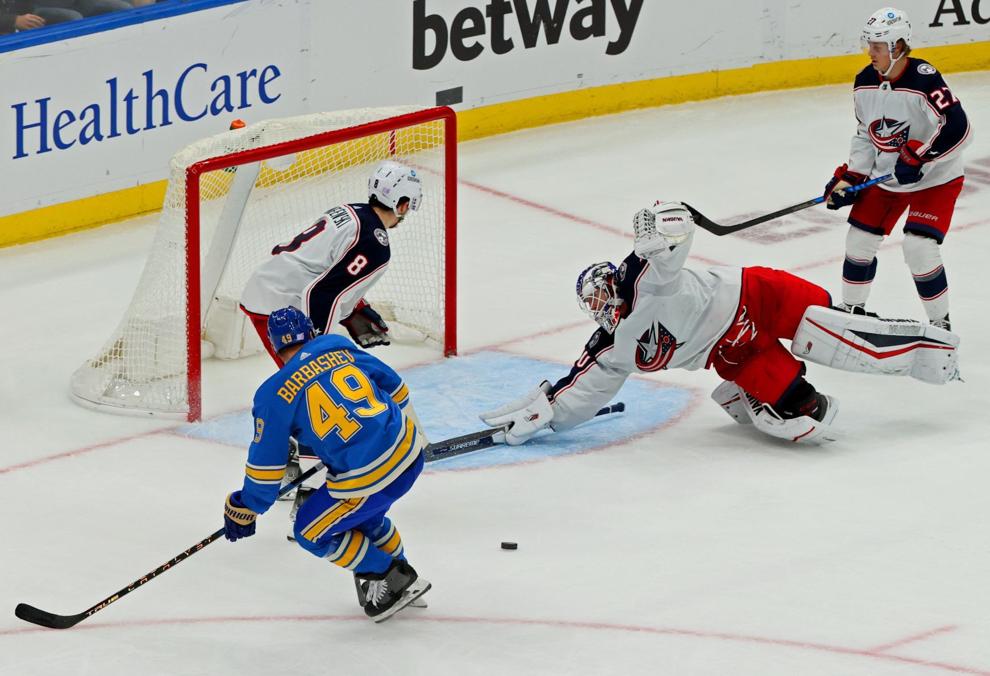 Blues host Blue Jackets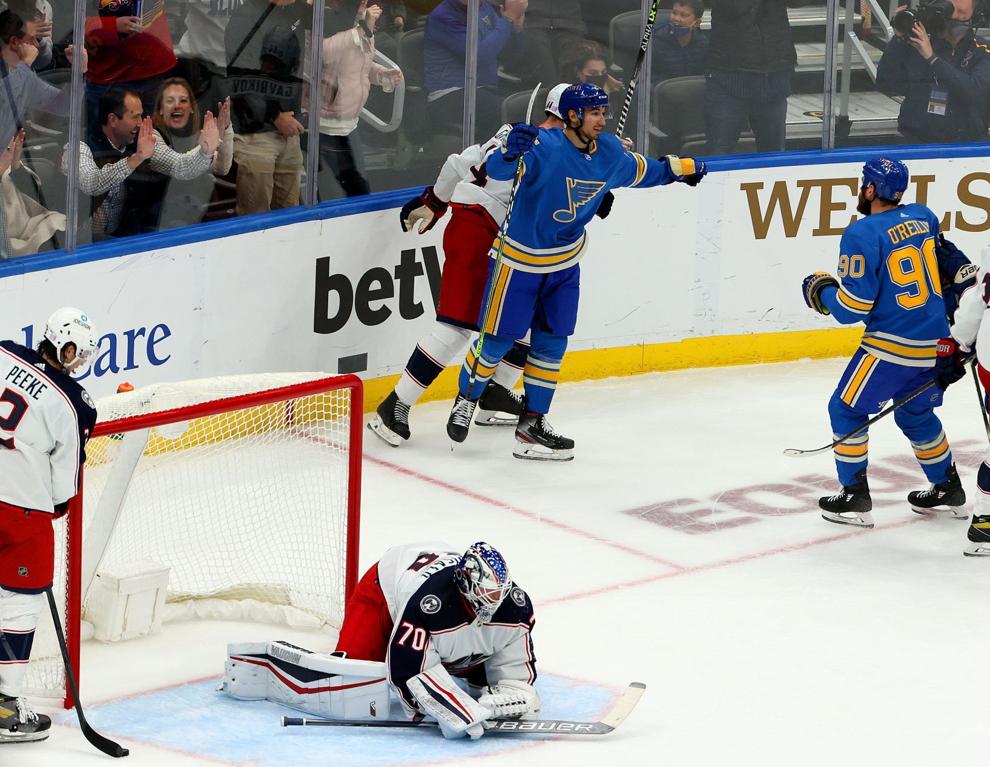 Blues host Blue Jackets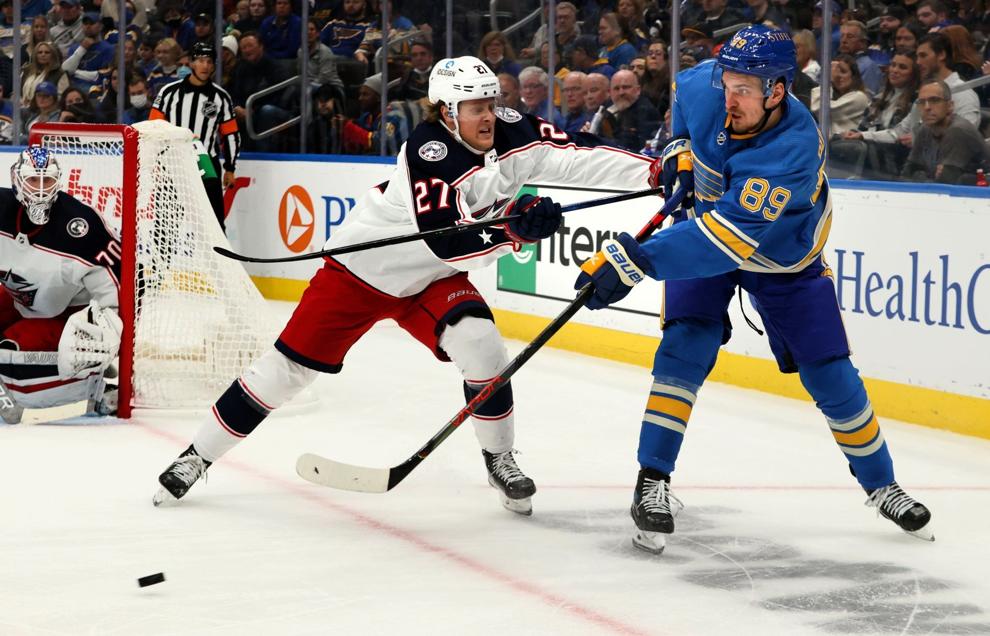 Blues host Blue Jackets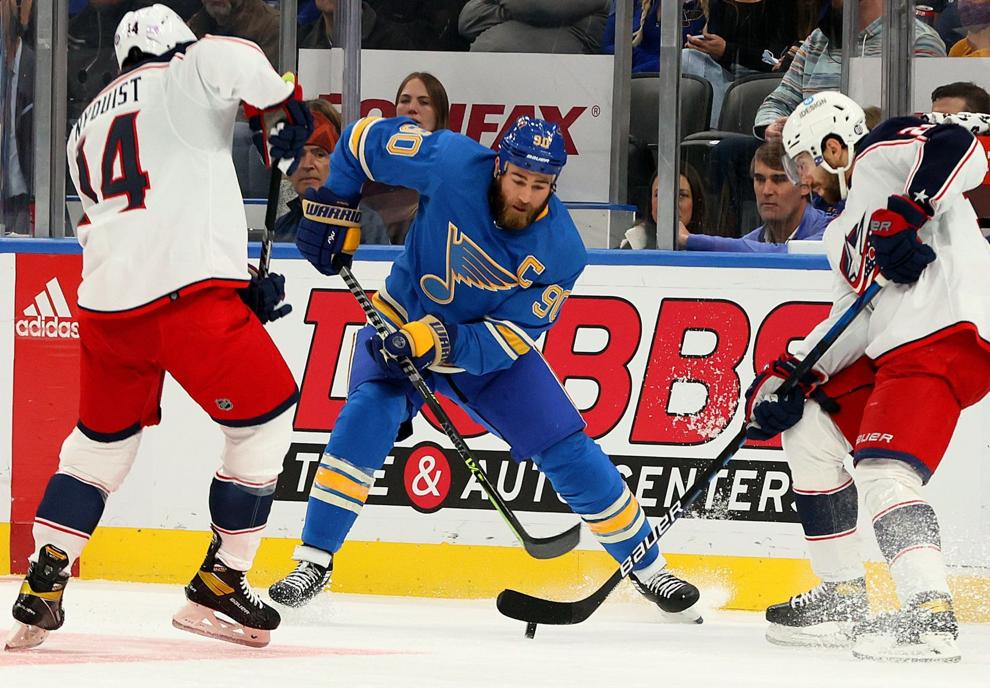 Blues 6, Blue Jackets 3
Blues host Blue Jackets