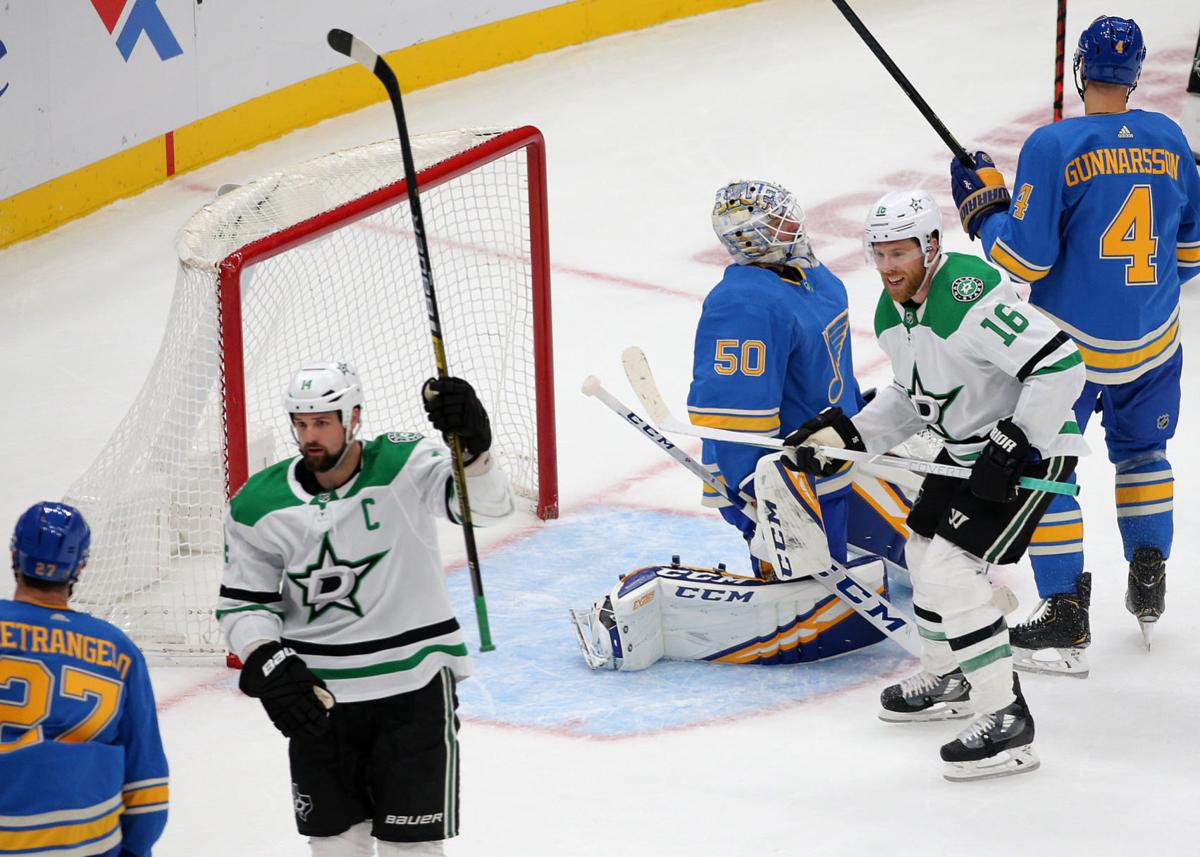 After a bad time on the road when the Blues won just one of four games, the team came home looking for better results.
The Blues didn't find them there. either.
The Blues lost 3-2 in overtime to Dallas on Saturday at Enterprise Center, in a game they led 2-0, to finish a home stand at 1-1-1. In the bigger picture, the team is 2-5-2 in its past nine games, the roughest stretch of a season that had been pretty charmed to that point. The Blues still hold a lead in the Central Division, but the number is down to five points on Colorado, which happens to have three more games left in its schedule than do the Blues. Dallas is six back.
The Central is now getting very tight.
"(It's) not a losing streak," Blues forward Brayden Schenn said. "But not winning hockey games can be humbling for us. I think we had an eight-, 10-point lead on Dallas and Colorado and now you look at the standings and it's (five) points and teams are a lot closer to us with games in hand. It's good for us in this locker room because we have to realize that we have to get to playing the way we can and winning hockey games."
"These next couple days are important leading up to next week for us trying to get some wins here," Blues captain Alex Pietrangelo added. "When we're good, we're hungry around the net. We just got away from that."
The Blues didn't lack for chances. They did lack for goals.
Colton Parayko continued his hot streak, with two goals in the first period to give him four in the past three games. But in the final 50-plus minutes of the game, every chance the Blues had ended in frustration.
Parayko had an open portion of the net to shoot at on a power play and missed. Jaden Schwartz looked like he had an open goal to shoot at and didn't get a shot off. Ryan O'Reilly couldn't elevate a potential game-winner over goalie Anton Khudobin's pads in the final five minutes of regulation. Vince Dunn had a chance so gaping that he raised his hands to his head after his shot went wide. There were others.
"Sometimes you don't get things going your way," Pietrangelo said, "and sometimes everything is going in. Sometimes the hockey gods test you. You just have to stick to what you're doing and I think we're getting a lot of chances, we're getting opportunities. We just have to find a way to put them in."
The big cushion the Blues built early in the season is proving its worth now as they try to hold off charging Colorado and Dallas.
"I just think it's getting back to being desperate, being hungry and trying to win the division," Schenn said. "At times maybe we're coasting a little bit, hoping we're going to win hockey games and at the start of the year, we did what we needed to win hockey games. It was a hard-fought battle. They're a good hockey team. I think we played pretty well for the majority of the game and we've got to find ways to get back to being as good as we can be."
It's been almost a month since the Blues last won consecutive games, on Jan. 11 and 13. The team's recent play hasn't been altogether bad — the Blues probably deserved a win or two more in that run — but in a results-oriented business, the team hasn't gotten them and the difficulty around the net has been an issue. The Blues have scored only two goals in four of their past five games.
"You gotta execute," said coach Craig Berube, who for the most part has been pleased with the chances his team has generated. "Missed opportunities."
Those missed opportunities have put a heavy stress on the defense and the goaltending, and Dallas got its first goal when all four Blues defenders on the ice during a Stars power play gravitated to the boards. That included three in the corner fighting for a puck, leaving substantial open space in two-thirds of the ice.
Berube went to Jordan Binnington for a fourth straight game and it was the seventh straight time he's allowed three or more goals. Berube liked his game as he stopped 31 of 34 shots, but Roope Hintz's second goal of the night, on a shot from just inside the right circle, went between Binnington's legs to end the game.
"I don't think he liked the last goal but for the most part he played a solid game," Berube said.
The night started well when Parayko scored two goals in a 3½ minute-span in the first period, continuing a red-hot stretch for the defenseman who started the home stand with two goals and finished with six. The first came on a power play with a one-timer off a pass by Dunn. The second came off a pass from David Perron, which Parayko was able to settle before shooting. Had he been able to finish off his hat trick on his chance in the second, the game might have finished very differently.
"Yeah, it's a tough one," he said. "But great look by (Robert Thomas). I just kind of caught it at the last second."
The Parayko hot streak is the best thing the Blues can take out of this home stand. All goals are welcome right now but if Parayko can keep scoring on a regular basis, it will be a big plus. And even if they're not going in, his booming slap shot is tailor made for creating rebounds.
"He's shooting it and he's shooting it quicker," Berube said. "That's his whole mindset, is when he gets it he's gonna blast it. It's paying off. With his shot, he can beat a goalie."
That is something the Blues really could use right now.