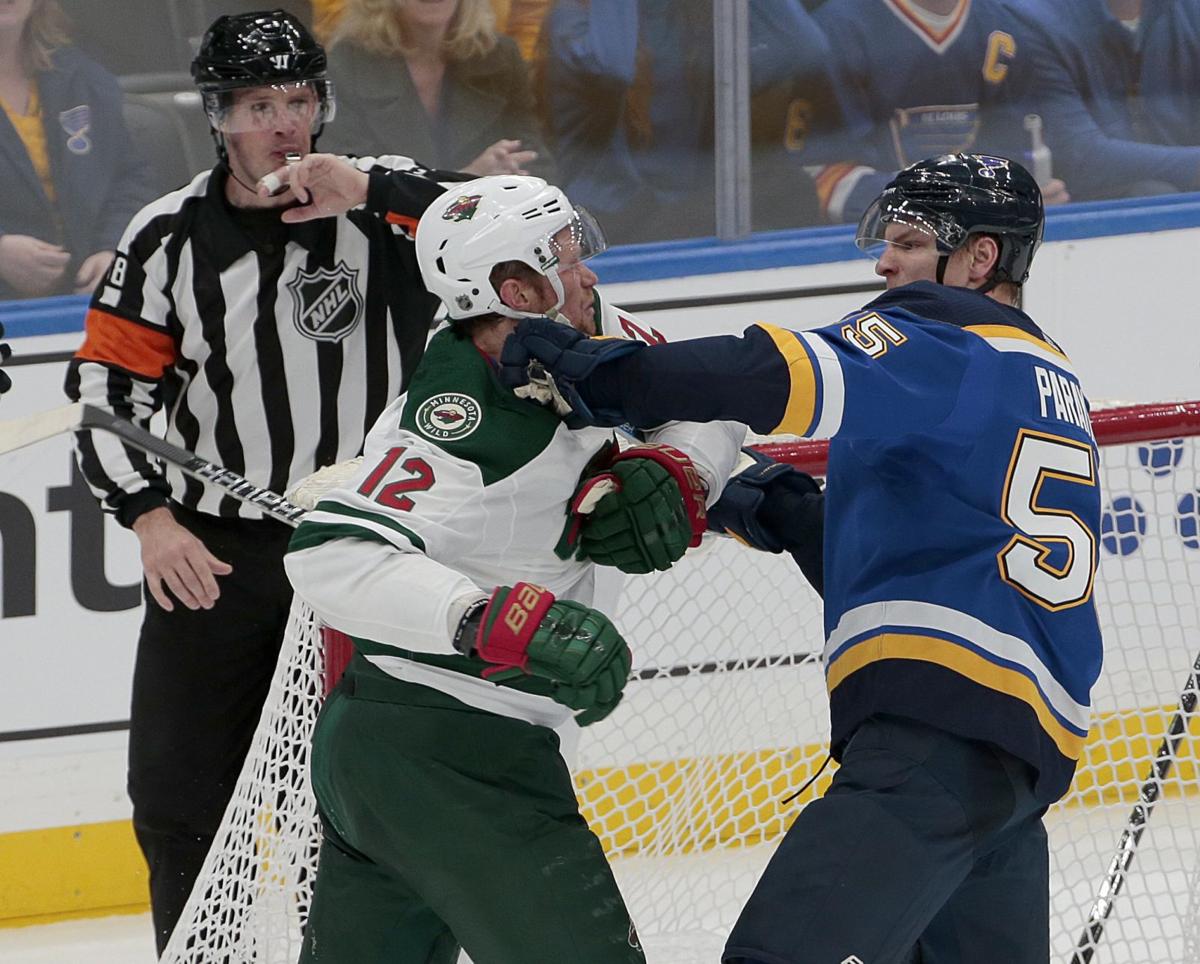 Minnesota was ripe for the taking Wednesday night at Enterprise Center. The not-so-Wild arrived in St. Louis tied for last in the Western Conference. They were playing the back end of a road back-to-back. And on the front end, they imploded in the final period Tuesday night, allowing five unanswered goals in a 6-3 loss in Dallas.
In the recent past, the Blues occasionally have had trouble in such situations, playing down to their competition. But Wednesday wasn't one of those nights.
To be sure, it was no cakewalk. But the Blues (7-3-3) won for the fourth time in their last five outings, getting goals from Sammy Blais and Alex Pietrangelo in a 2-1 victory before 18,096. The Wild, who had won their last three games in St. Louis, fell to 4-9.
"We're not going to step over everyone," said David Perron, who had the primary assist on Pietrangelo's goal. "There's really good teams in this league.
"I thought it was a good performance by us. Pretty solid play for the most part. There's always ways to improve and it's nice to come away with two points and keep looking at things to improve."
Maybe this game was a blueprint of sorts for the rest of the season. Maybe the Blues are going to have to win more low-scoring games, what with perennial 30-goal scorer Vladimir Tarasenko out for at least four months following left shoulder surgery.
"We played a good game tonight, obviously not a full 60 minutes," Pietrangelo said. "Again, you're going to have to find ways to win. I know you guys want to talk about us missing Vladi.
"Sometimes even when he's in the lineup you've got to win games 2-1. So it's going to be by committee for the rest of the time. But this is a good opportunity for a lot of people to step up, especially young guys."
One of those young guys, Sammy Blais, stepped up with his fourth goal of the season to get the Blues going seven minutes into the second period.
Pietrangelo had an assist on the Blais goal, as well as offering some, uh, encouragement.
"I told him to shoot," Pietrangelo said. "I don't know if he heard me."
After Mats Zuccarello tied things 1-1 less than two minutes later, Pietrangelo's fifth goal of the season 99 seconds into the third period proved to be the game winner.
Playing in his 701st NHL game, all with the Blues, it was Pietrangelo's second game-winner this season and the 24th of his career. And it came off a faceoff play, a play that according to Perron was called by Ryan O'Reilly almost like a quarterback who sees something he thinks will work.
"We see O'Ry before every draw," Perron said. "I love playing with him for many reasons. That's one of them. We always have something going on for different reasons. He's super smart, so it falls on him basically. He told us to do that play and it worked out."
Shortly after O'Reilly won the faceoff, Perron sent a seam pass to Pietrangelo on the weak side. It came so hard and fast that the Blues captain had little choice but shoot it. Even so, he showed patience on the play, hesitating just a moment — a moment that caused Wild goalie Devan Dubnyk and defenseman Ryan Suter to fall to the ice quickly in an attempt to block the anticipated puck.
"(Dubnyk) dropped pretty early," Pietrangelo said. "I think he thought I was going to shoot it."
That little bit of hesitation led to a largely open net and the go-ahead goal in a game where little came easy. The Blues looked sluggish in the opening period. It took them more than six minutes to get their first shot on goal, and the Wild had several odd-man rushes.
"Sure, we'd love to win 10-0," Pietrangelo said. "I'm sure everybody would every game. But sometimes bounces aren't going your way. Sometimes things don't necessarily go your way in the offensive zone. You've just got to find a way to score and hold that lead."
The defense tightened up over the final two periods. The Blues lost an apparent go-ahead goal by O'Reilly when the Wild successfully challenged an offside by Zach Sanford. But the Blues shrugged it off, kept playing, and got a strong bounce-back game from goalie Jordan Binnington, who stopped 35 of 36 shots.
"It's almost like we expect it now from him," Perron said. "Different situation last game (against Detroit). I think Jake (Allen) was sick and (Binnington) had to play back-to-back. It's pretty rough for goalies."
Binnington allowed four goals against the Red Wings, including a couple he'd surely like back. When asked if he was happy with his play against Detroit, Binnington replied: "It's a win. I don't really care. It's a win."
Wednesday was a different story.
"The defense did a good job tonight," Binnington said. "The PK was solid, a couple great plays on 2-on-1s defensively. It was a good night."
One of those rushes was broken up by a sliding Jay Bouwmeester about 10 minutes into the game. Later in the period, Colton Parayko slid to prevent a possible rebound shot by Joel Eriksson Ek on another 2-on-1 by Minnesota.
In their first two games without Tarasenko, the Blues were feast or famine. The famine came Saturday in a 3-0 loss to Boston, the first time the Blues have been shut out since March 14 of last season. The feast came the next day with a 5-4 overtime victory in Detroit, matching the Blues' second-highest goal output of the young season.
On Wednesday it was more famine than feast. The Blues will spend the next five months looking for goals to replace Tarasenko's production. And as Pietrangelo showed, there's no rule that says some of those goals can't come from defensemen.