A relatively quiet Blues preseason got un-quiet Tuesday.
The Stanley Cup champions have traded defenseman Joel Edmundson, 2018 first-round pick Dominik Bokk and a seventh-round pick in 2021 to the Carolina Hurricanes for All-Star defenseman Justin Faulk, plus a fifth-round draft pick in 2020.
In the process, the Blues also signed Faulk to a seven-year, $45.5 million contract extension. For this season, Faulk is playing under the last year of his original contract with Carolina.
According to Blues general manager Doug Armstrong, the Hurricanes agreed to take on "a little more than 14 percent" of that $4.833 million, saving the Blues $676,000 according to CapFriendly.com
"Which will allow us to be cap compliant with, I wouldn't say a healthy bit of room, but more room than probably people think initially," Armstrong said.
The deal includes a full no-trade clause for the first five years of the deal, and a limited no-trade clause in the last two (with Faulk able to designate 15 teams he does not wish to be traded to.)
But it's a "no-trade" not a "no-move" deal. In theory, that means Faulk could be eligible for the Seattle expansion draft in a couple of years. But such thoughts were far from the Blues' minds on Tuesday.
"We're excited to add Justin to our core group for the next eight years," general manager Doug Armstrong said. "He's a top-4 defenseman who averages over 23 minutes a game and we are confident he will be a strong addition to our club."
Faulk, 27, is a three-time NHL All-Star and was co-captain (with Jordan Staal) during the 2017-18 season and an alternate captain last season for a Carolina team that reached the Eastern Conference finals.
There have been trade rumors swirling around Faulk for a while.
"I've been traded a hundred times, according to reports," Faulk recently told the Carolina media, according to the Raleigh News & Observer.
Now, in fact, he has been traded.
"Not that I didn't want to be in Carolina at all, but it's just that if you're gonna move on and you're gonna go to another team and another situation _ that it's another team that's having success and doing well," Faulk said in a conference call Tuesday.
"I'm happy to be part of team that's gonna hopefully continue to have success. We all know what happened last season. That's great. It's nice to join team that is probably feeling pretty good and confident and knows what the rigors are like to keep going."
Faulk is on the last year of his original contract and counts $4.833 million against the salary cap this year. After this season, his seven-year extension kicks in, at $6.5 million a season over the next seven years, or through the 2026-27 season.
He has a modified no-trade clause in his original contract, whereby he could submit a 15-team trade list. But given the Blues' depth on defense, he didn't figure it would be St. Louis.
"To be honest, St. Louis wasn't necessarily one we were looking at as a team that would be able to make a trade happen," Faulk said.
"They kinda reached out. It's not necessarily like a huge surprise. Probably more so welcoming it I guess more than anything, and we were happy to go forward and try and get a deal done with Blues."
Over his eight NHL seasons, Faulk has scored 10 goals or more four times, including 11 goals last season when he also had 24 assists and was plus-9 during the regular season. During the playoffs last season, he had one goal, seven assists and was plus-4 in 15 games.
Nearly half of Faulk's 85 career regular-season goals have come on the power play _ 40 _ so he should be of immediate help in that area. He has six power play goals for the Hurricanes last season. Listed at 6-0, 217 pounds, he also gives the Blues another right-handed shot.
"Obviously, the power play's one of my specialties in my time throughout the league," Faulk said. "I think I shoot the puck pretty well, and have scored a good amount of goals in my career and throughout time on the power play.
"So if that's what's needed, I'm more than happy to try and lend my services and continue on with that. And I'm put in a different spot, that's fine too. Just trying to bring a game that's gonna be tough to play against all over ice."
A second-round pick (No. 37 overall) by Carolina in 2010, Faulk had only played for the Hurricanes in the NHL until Tuesday's trade.
"Carolina was good to me, the area was good, the organization was good to me," Faulk said. "I've enjoyed my time here, and that's nice. And it was nice to be a part of last season when fans got to get some playoff hockey again, after a real long time in area.
"But I'm not the first person to do this, I'm not the last. Not everyone gets to play for one team their whole career. Not many people do at all.
"During my time here, we've had multiple players kind of in the same situation. Obviously the most notable in my time was probably Eric Staal _ former captain and won a cup here and did real well. And it didn't work out for him.
"So you see it and you know what goes on. So there's not really any frustration that a deal couldn't be done (with Carolina) and I couldn't come to a deal with them."
Faulk is scheduled to arrive in St. Louis on Tuesday night.
Internationally, the native of South St. Paul, Minn., has represented the United States in the 2014 Olympic Games — he was the youngest member of the team at age 21. He also played for Team USA in three World Championships in 2012, '13, and '14.
As for Edmundson, he practiced this morning with the Blues and was scheduled to be in the lineup for tonight's preseason game with the Dallas Stars at Enterprise Center, paired with Vince Dunn.
Seven weeks ago, on Aug. 6, Edmundson received a one-year, $3.1 million deal as a restricted free agent via an arbitration hearing. He is scheduled to be an unrestricted free agent after this season, which could have factored into the Blues' willingness to trade him.
"Joel is a big, physical presence on defense, who knows what it takes to win a championship," Carolina GM Don Waddell said in a statement. "Dominik was a first-round pick who has a real chance to be an impact player on the NHL level.
"We'd like to thank Justin for both his on-ice and off-ice contributions during his time with the Hurricanes. He was a great teammate and made a significant impact on the community, and we wish him all the best moving forward."
Photos: Joel Edmundson with the Blues
Joel Edmundson celebrates with Blues fans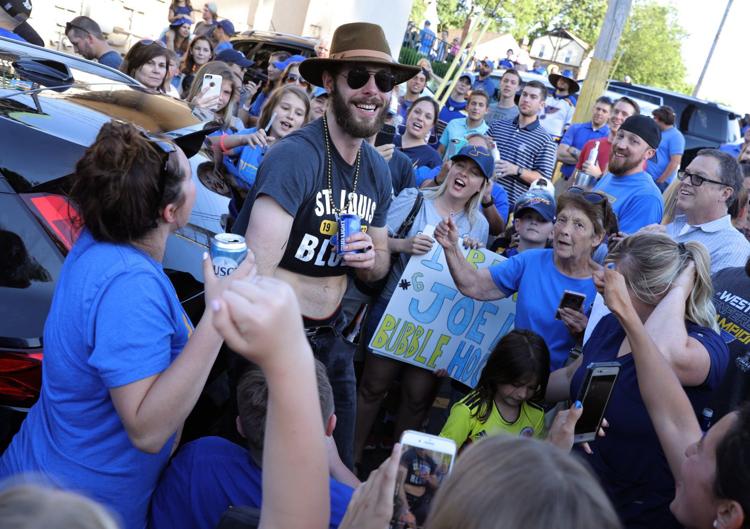 Edmundson in Game 7 Stanley Cup Final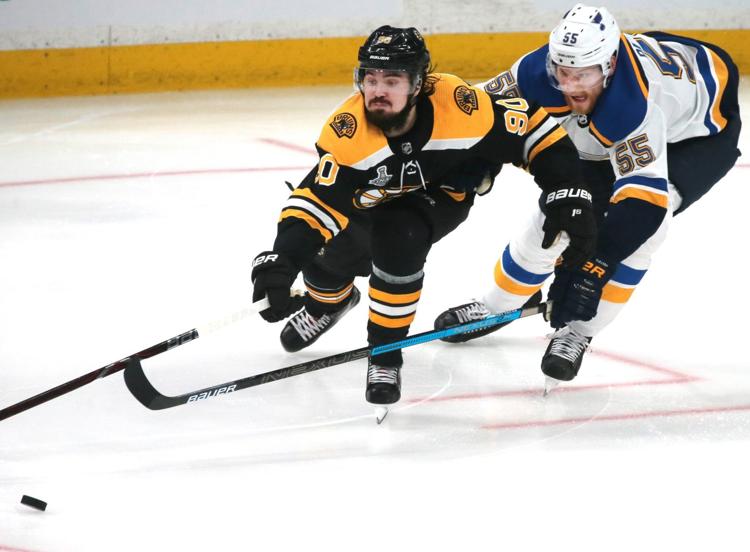 Binnington and Edmundson in Game 7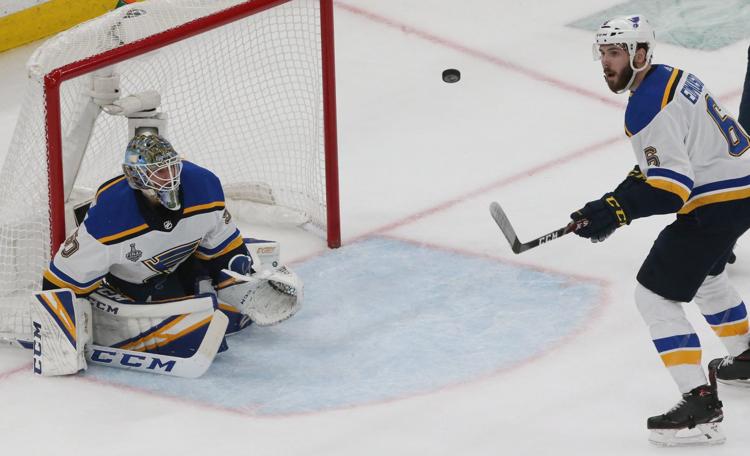 Game 6 Stanley Cup Final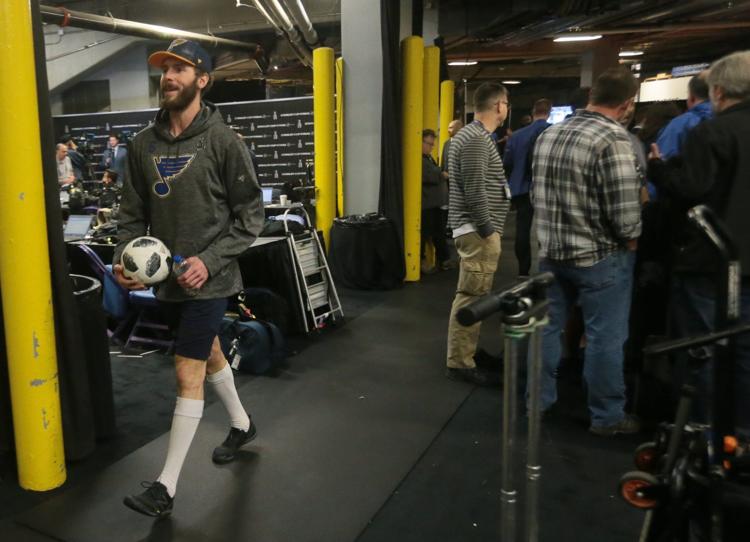 Edmundson vs. Sharks in Western Final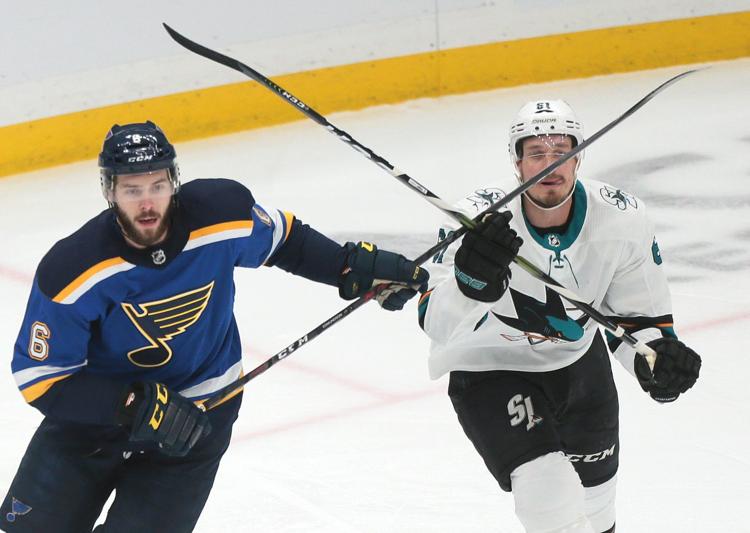 Blues and Jets in game 4 at Enterprise Center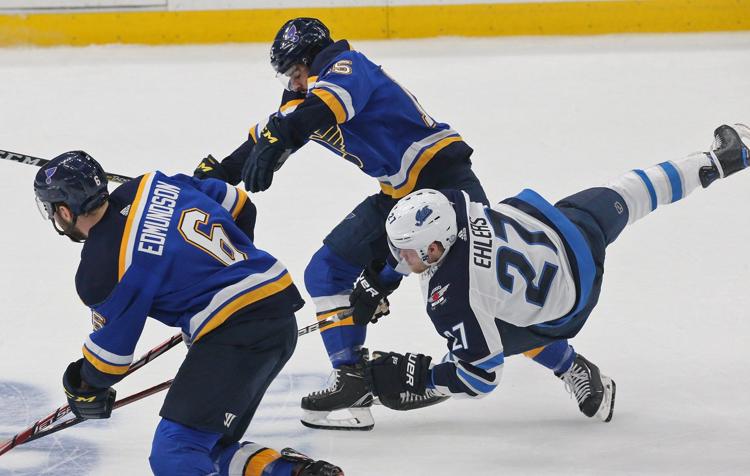 Edmundson crunches Nashville's Simmons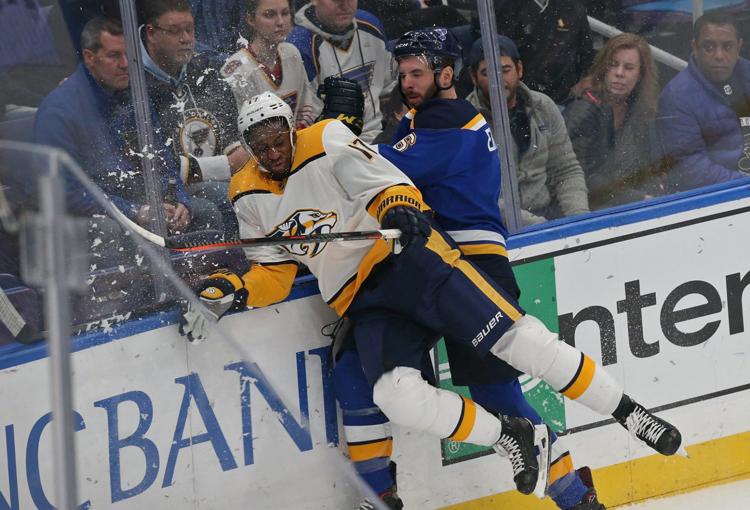 Edmundson jaws with Stars' Radulov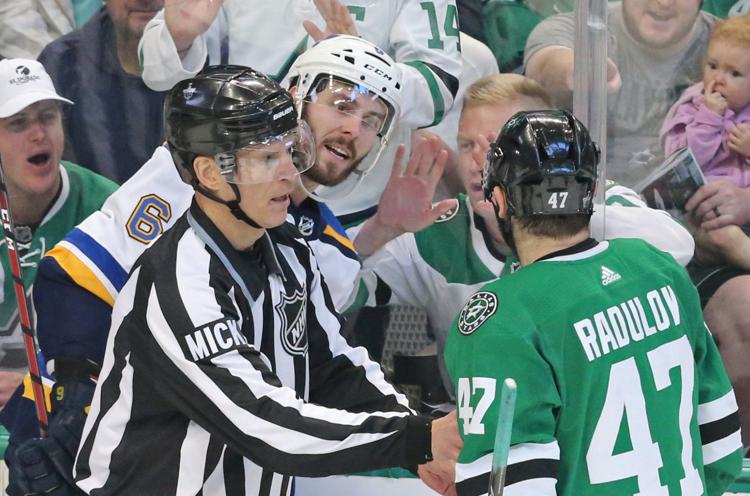 St. Louis Blues v Arizona Coyotes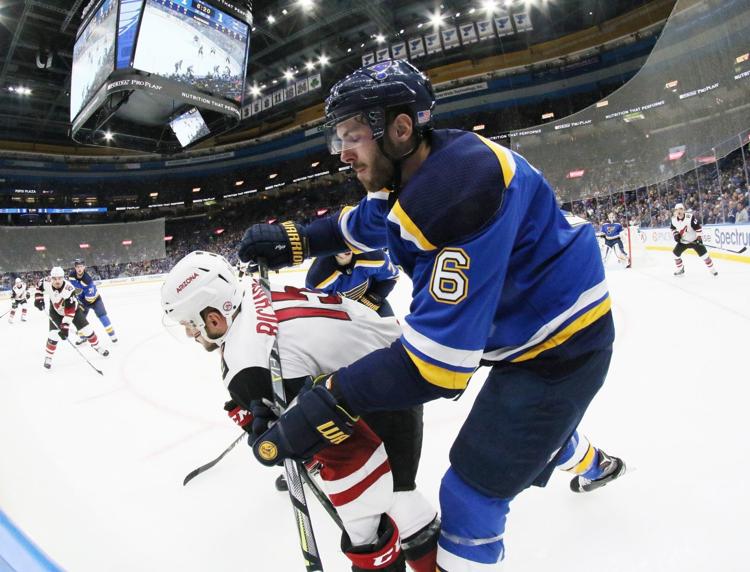 St. Louis Blues v San Jose Sharks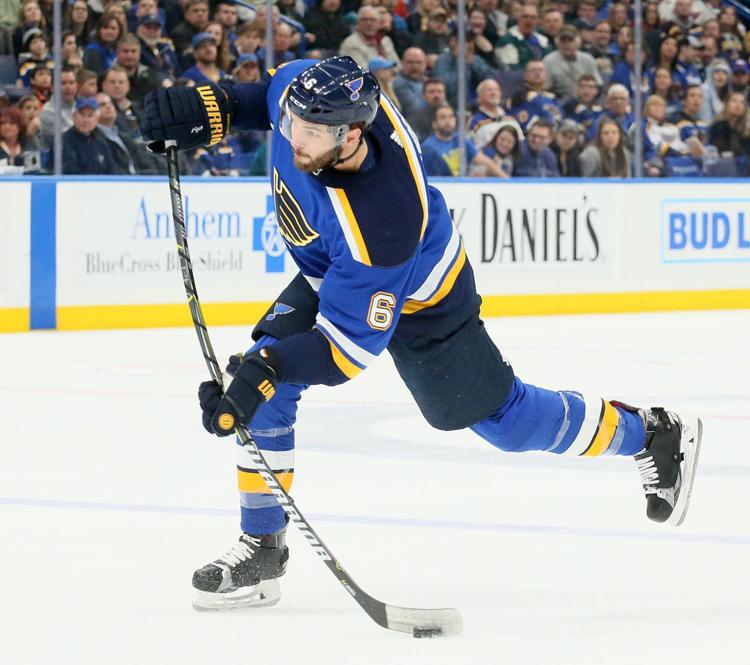 St. Louis Blues v Boston Bruins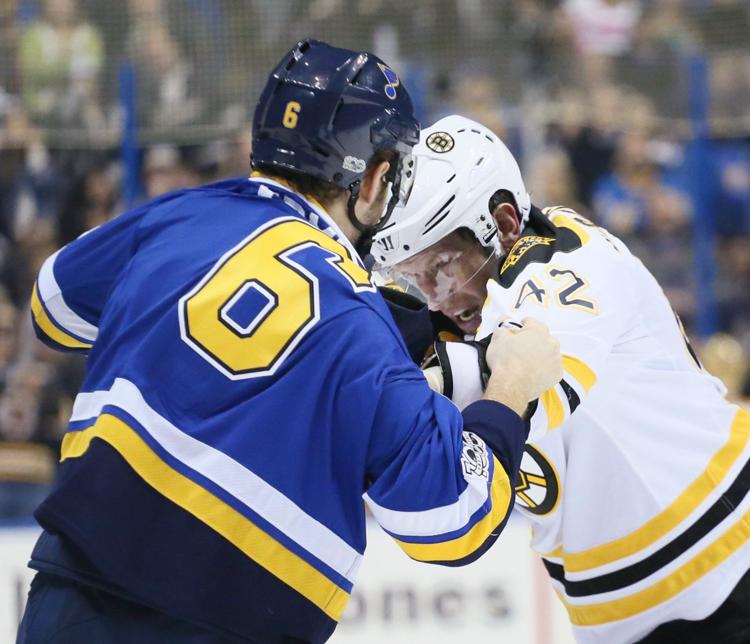 Joel Edmundson hoists the Cup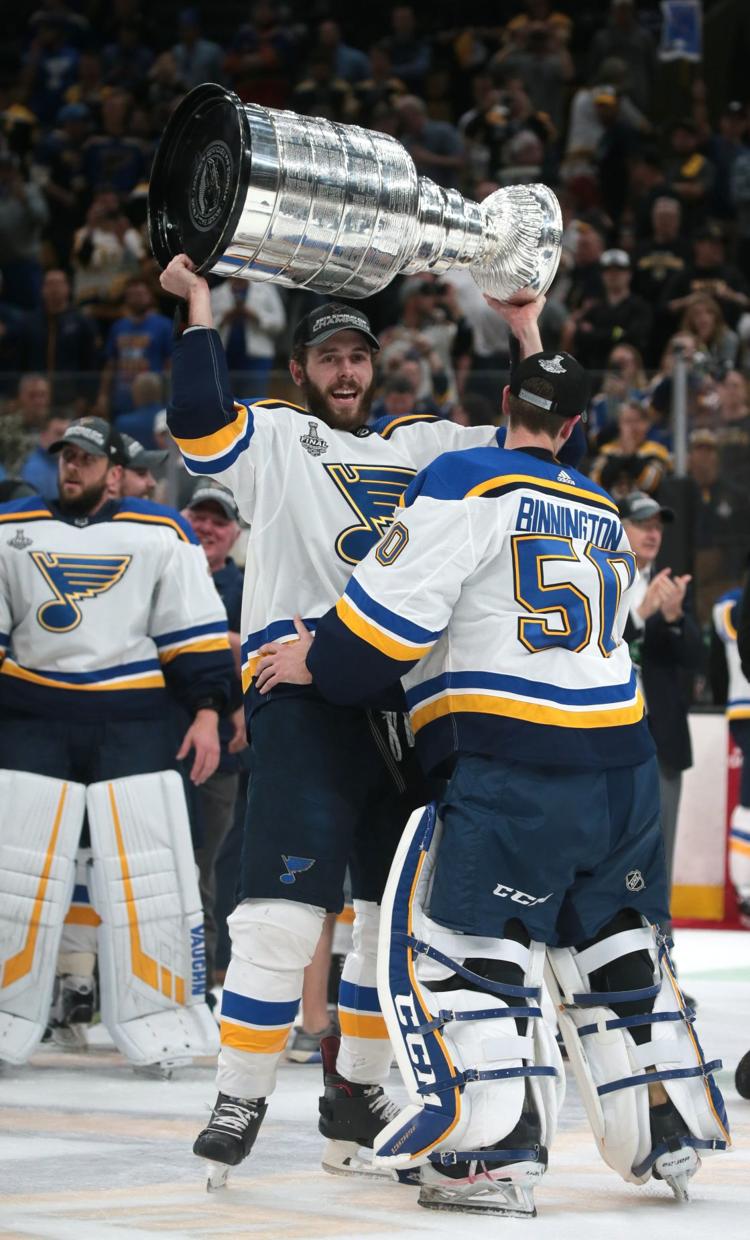 Blues Stanley Victory Parade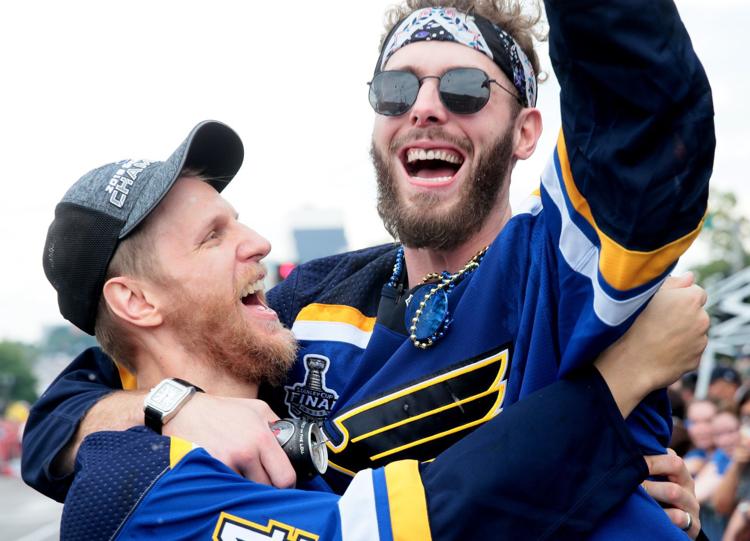 Blues fans parade like champions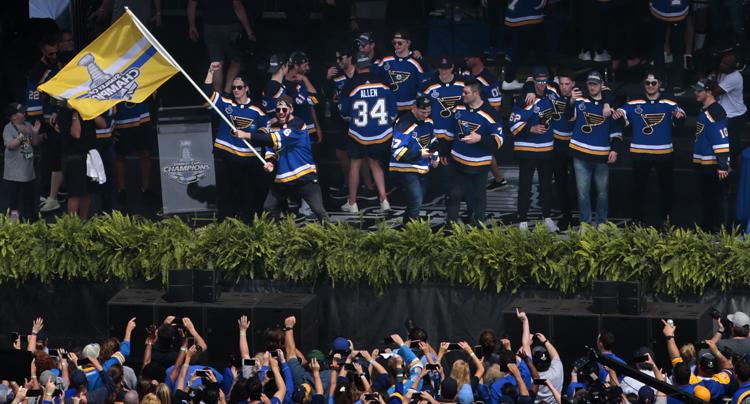 Blues celebrate at O.B. Clark's as fans celebrate with them