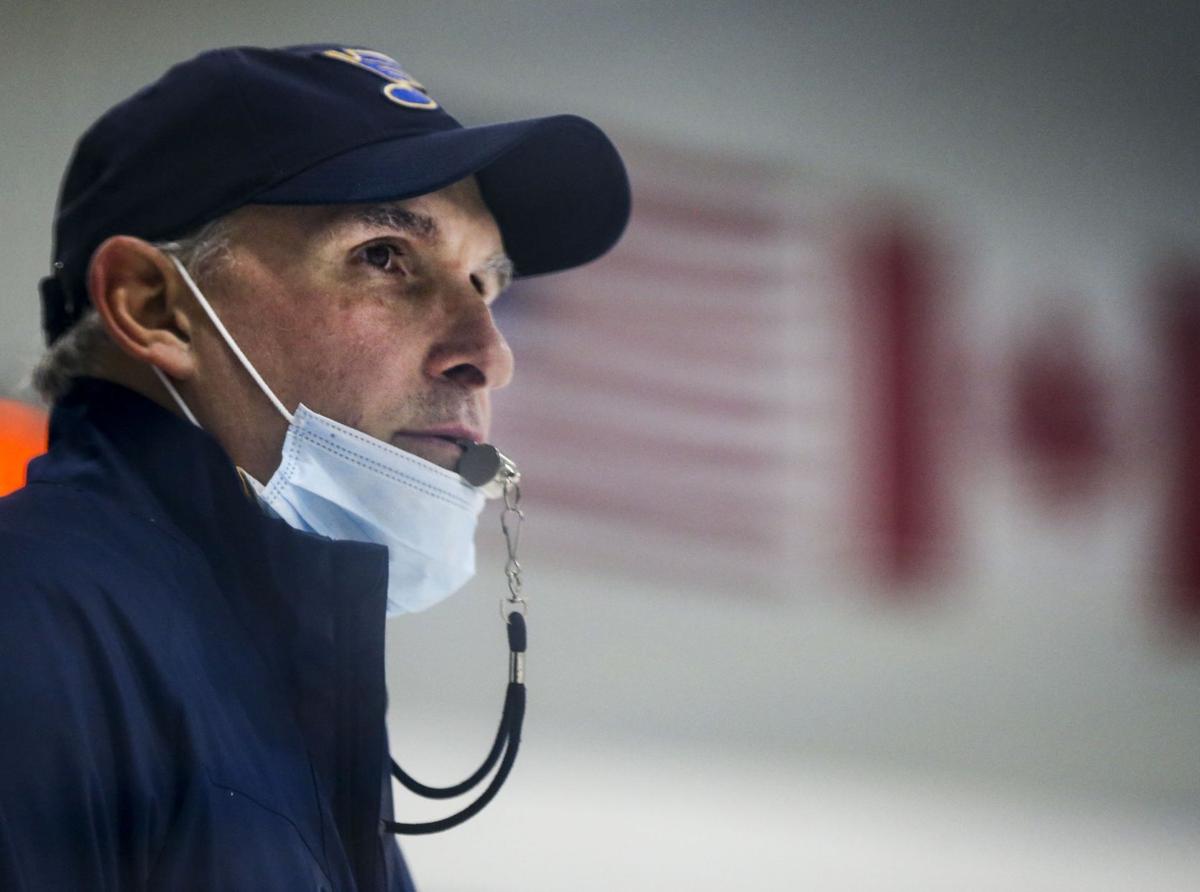 The Blues did a couple of quick drills to get loose and limber Tuesday at Centene Community Ice Center. And then it was all battle drills.
First came 2-on-2 drills in tight quarters, with two nets stationed no more than 40 feet apart on one end of the ice.
Next came a 3-on-3 session using half the rink. And finally, it was 3-on-2 using only one net but with the space limited to maybe one-quarter of the rink
"We needed it," veteran center Tyler Bozak said. "We lost a lot of battles out there last night. A lot of things to improve on. A good, hard practice was good for us and hopefully that translates into tomorrow's game and we come out with a better effort."
The Blues indeed lost a lot of battles Monday against the Vegas Golden Knights, especially when it came to defending the front of their net. The result wasn't pretty, a 6-1 setback that stretched the team's winless streak to seven games (0-6-1).
"Yeah, obviously nobody's in a good mood today with how it went last night" Bozak said. "Release some of that negative energy, practice hard, play hard on each other, get ourselves prepared for a tough game tomorrow against a really good team."
The Blues didn't work on their power play or penalty kill, and didn't even run lines and D-pairings, all of wich are pretty much standard fare for an off-day practice. Coach Craig Berube obviously was trying to get a message across with all the battle drills.
"We need to compete harder," Berube said. "The (Monday) game's 2-1 and you go out in the second period and goals go in. And we just stop playing, stop competing, and that can't happen.
"Things don't go your way out there, but you always gotta stay with the competitiveness and the work ethic. We just gotta get that home a little bit more."
With general manager Doug Armstrong watching from his glass-enclosed office on the second floor, Berube stayed detached from the action – letting his assistants basically run the practice and watching from a distance while saying very little.
This is out of character for Berube, who's normally very vocal and very active during practice.
"I just like watching individuals and how they react to things and how they're working and competing out there," Berube said.
And what did he observe Tuesday?
"I'm not gonna comment on individuals and stuff like that," Berube said. "That's all in-house stuff. But from a whole-group aspect I thought the guys worked really hard today and I thought they were competing out there hard.
"I know this group cares. Things aren't going well right now but to get out of it, you gotta keep believing and keep working and keep competing and stick together. That's the only way you get out of it."
The Blues had 24 players on the ice for practice Tuesday; the only missing regular was defenseman Justin Faulk. "Maintenance (day). He'll be fine," Berube said.
Forward Mackenzie MacEachern continues to be sidelined with an upper-body injury. He has missed the team's last 10 games and is still a ways away from returning. "Yeah, I believe so," Berube said. Other than Carl Gunnarsson and Oskar Sundqvist, who are both out for the season with knee injuries, MacEachern is the only other Blues player left on injured reserve.
In his return to the Enterprise Center as a Vegas Golden Knight, former Blues captain Alex Pietrangelo loved the video tribute Tuesday night: "Once the video passed – and I knew it was coming, which was special, they did a great job and it was important with my wife and kids in the stands – it was kind of business-as-usual back in the game," he said.