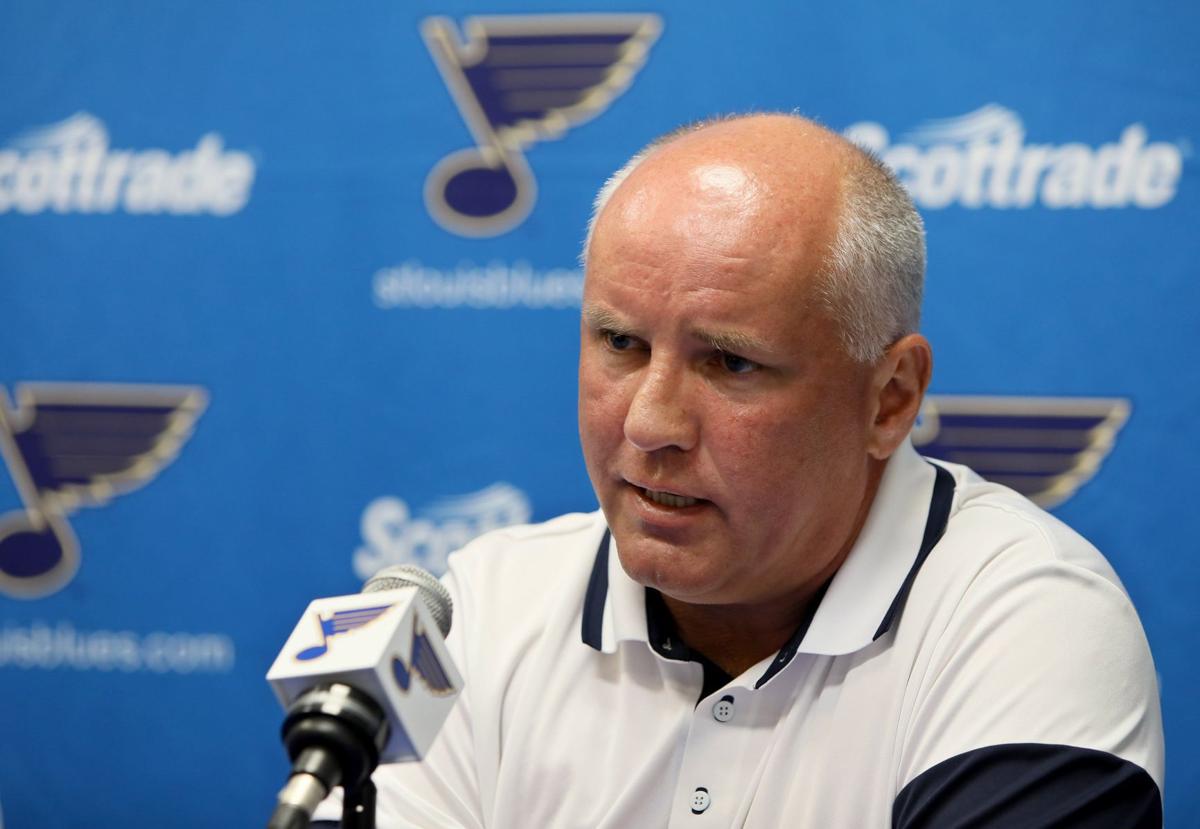 The Blues' four-year affiliation with the Chicago Wolves ended Tuesday, when the American Hockey League club confirmed that it will align with the expansion Vegas Golden Knights in 2017-18.
That will leave the Blues as the only NHL team without a primary affiliate, an arrangement that is far from ideal. After having total control of the Wolves last season — hiring the coaching staff, implementing its system and allotting ice time — they will have no say next year.
The Blues will instead "associate" with Vegas, supplying the Wolves with some prospects, but there won't be enough roster spots for all of their prospects, so others will be loaned around the league.
General manager Doug Armstrong said Tuesday that the organization has seen this day coming but came up short in its efforts to secure an AHL affiliate. The plan is to have an agreement with one for 2018-19.
"We were hoping to have it done this year so it's not something we're starting from ground zero on today," Armstrong said. "We talked to a couple groups about coming in for this year; it didn't happen, but we really have to put that at the forefront of our thought process."
One of the Blues' options for an AHL team appeared to be Kansas City, but those efforts lost support and seem to be dead now.
"I don't want to really get into the areas that we've talked to out of respect that they may have worked or they may not have worked ..." Armstrong said. "I'm going to keep that behind closed doors."
The AHL is expected to expand by one franchise in 2018, matching the NHL with 31 clubs and allowing the Blues their own affiliate.
In the meantime, Armstrong believes the Blues and Vegas can make it work for one season.
"I would think if it extended past this season it would be (a competitive disadvantage)," he said. "Part of my comfort level is my relationship with (Vegas GM) George McPhee. The players they draft this year, it's hard to get those 18-year-olds right into the American Hockey League, so I think it's really quite honestly a competitive advantage for Vegas and us to join forces. I think they're going to have a really good group of veteran players. I think we can supplement them with their younger players.
"We've talked to other organizations about assuming some of our (other) players. You're always looking to bring in players from different leagues anyway, so I think we'll be able to for one year to peace meal our group together but we're all hoping this isn't the case a year from now. If it went past this year, it would be a disadvantage."
The Blues and Golden Knights may be able to co-exist, but can the Blues and Wolves? In an article on Chicagobusiness.com, Wolves owner Don Levin called the marriage "painful."
"St. Louis would like to see their guys win but wouldn't put any effort into doing it," Levin said. "They didn't do what we expected them to do, and it was difficult."
"I think I'll just let Don speak his mind," Armstrong said. "From our point of view, we appreciated our time with the Wolves and we wish them nothing but the best."