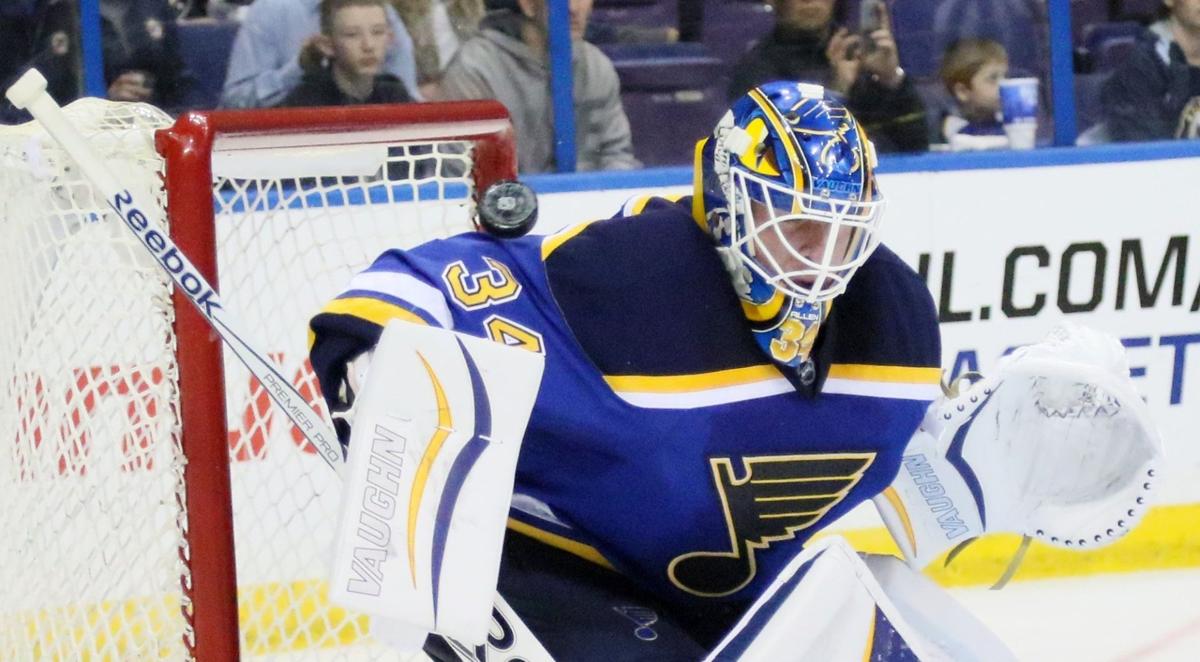 Remember when Blues coach Ken Hitchcock reaffirmed that Brian Elliott was the team's starting goaltender, would get the bulk of the games down the stretch and was seen as the go-to guy for the playoffs?
Fans perhaps still have the same tank of gas in their car from filling up around that time, or a few Thin Mint cookies left over from the same sleeve they opened that night. For those who have the newspaper article from the next day, you can throw it away.
The plan has been scrapped, underscoring more than ever for an NHL goalie that the phrase "What have you done for me lately?" really means "What did you do for me yesterday?"
On Sunday, Jake Allen made 38 saves, backstopping the Blues in a 2-1 win over Chicago, and Tuesday night he'll be back in the team's net in another critical game against the Winnipeg Jets.
The Central Division-leading club is focused on points, not personal feelings, as its looks to lock up the title in the final three games of the regular season. With 105 points to Nashville's 104 and Chicago's 102, the team controls its own destiny.
"We see a guy that is hot, that's feeling it, so you ride it out," Hitchcock said. "Whenever that runs out, then you go a different direction. I think when you're in points mode, you ride whatever's hot.
"During the season there's more of a long-term plan. But when you get into that 30-day mode, when there's 30 days left, it's whatever is going. It's nice to have options. That's what we've got right now — we've got options — so let's use them."
The Blues are one of only three teams in the NHL, including the New York Rangers and Winnipeg Jets, who have two goaltenders with 20-plus wins. Elliott is 25-14-3 with a 2.27 goals-against average and a .916 save percentage, and Allen is 21-6-4 with a 2.36 GAA and .910 save percentage.
But since March 21, Allen is 3-0-1 with a 1.74 GAA and a .933 save percentage. His only loss in regulation in his last 13 decisions was a 5-2 defeat to Montreal on Feb. 24.
"I want to play the best I can every single game," Allen said. "I think the guys are comfortable whenever me or 'Ells' are in net. That's what we wanted to do all year long. I've had a great partnership with him throughout the year. Whoever's in net, we'll do the best to give them a chance."
Meanwhile, Elliott is just 1-3 since March 21 with a 4.46 GAA and a .823 save percentage.
"There's a couple of games thrown in there that you don't want to think about; personally and as a team, it didn't go our way," Elliott said. "But you just try to have that confidence that you put all the work in, and now is the time to just let it play and not really think about the stage. Let that hard work and focus just kind of roll on."
Elliott's lone win in his last five starts was Friday's 7-5 victory at Dallas. He allowed five goals on 24 shots in the first two periods, but blanked the Stars on eight shots in the third, allowing the Blues to rally from a 5-3 deficit.
"He would've liked to probably have had maybe one or two back in Dallas, but look what he did in the third period," Hitchcock said. "We gave up some quality chances and he made every save. I don't look at it like (Elliott is struggling). He's saved our bacon so many times this year because we were loose as heck. He's saved us. I trust both guys. I have no problem playing either guy, but if one guy is hot, I'm going to go with him."
Elliott said that he wasn't surprised not to get the assignment in Chicago Sunday.
"I kind of saw it coming, so I wasn't too disappointed," he said. "You want to be in every game, that's what you play for. Whenever you don't get the call, it's obviously tough. But you put the team first."
With fans reading into every starting assignment, Elliott chose not to say whether he's also reading between the lines.
"There's an inside voice and an outside voice, so ..." Elliott said. "I have my own feelings, so I'll keep them to myself."
Hitchcock was asked if it's difficult telling Elliott that the Blues are going with Allen for now.
"Maybe for him, but not for me," Hitchcock said. "I've got to do what's best for the hockey club. And what's best for the hockey club is whoever's playing the best gets to play. That's just the way it is."
The Blues have not decided beyond Tuesday's game against Winnipeg who will be in net. Their next game is Thursday against Chicago, followed by the season finale Saturday against Minnesota.
"It could change in a moment's notice," Hitchcock said. "When you go in and it's your turn, whether it's as a forward, a defenseman or goalie, play well. The rest, leave it up to us. We expect both guys to contribute."
Asked if he could see Allen as the Blues' starter in the playoffs, Hitchcock acknowledged that the possibility exists if he continues to play well.
"Not just the Elliott-Allen situation; this is for everybody," Hitchcock said. "You're as good as your last game when you get this deep into the season. We're prepared to do whatever it takes to get ready to win hockey games."