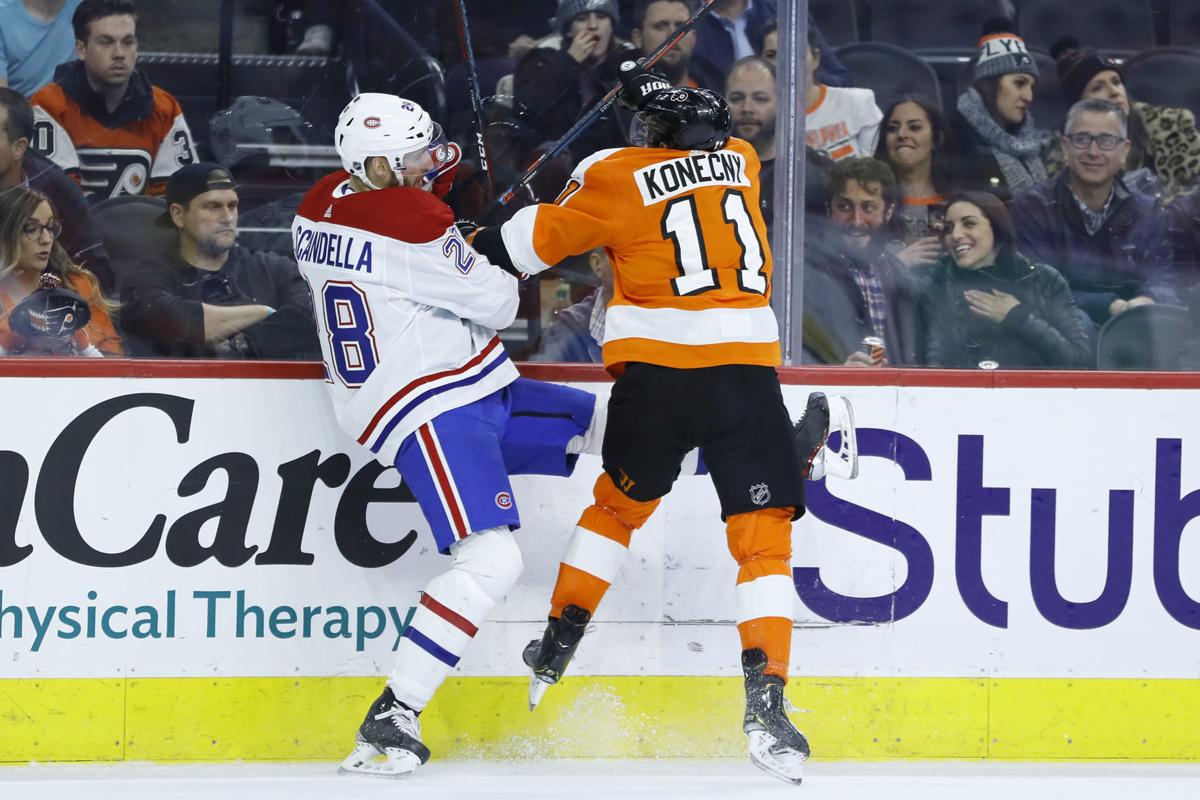 After the trade went down, the first person Marco Scandella heard from was Uncle Sergio, who talked to him about St. Louis.
"I'm just following in his footsteps a little bit," Scandella said Wednesday after his first skate as a St. Louis Blue.
Uncle Sergio is Sergio Momesso, who played parts of four seasons with the Blues from 1988-91 and again for 31 games during the 1996-97 season. Momesso, who now works in sports radio in Montreal, had a career-high 24 goals during the 1989-90 season. It helped to be playing on a line with Brett Hull and Adam Oates.
The Blues don't expect Scandella to score goals for them, at least not many. They want the 29-year-old defenseman to help fill the void created by the loss of Jay Bouwmeester, who's almost certainly out for the season after a cardiac episode last week in Anaheim.
"Penalty killer. Big guy that can defend well," coach Craig Berube said of Scandella. "Plays a physical game. That's basically what he is."
Which sounds like Berube's type of player.
"And he's got a heavy shot," Berube said. "We got a lot of guys back there that can shoot the puck, which we like. We use our 'D' a lot. They shoot a lot of pucks, so he's gonna be useful that way."
Berube plans to put Scandella to use right away. When asked Wednesday how soon Scandella would get in a game, Berube said: "Tomorrow probably. He's ready to go. We got him for a reason. So we'll get him right in there and play him."
The Blues play the Arizona Coyotes on Thursday at Enterprise Center.
Berube likes what he's seen from Carl Gunnarsson lately, particularly in Tuesday's 3-0 victory over the New Jersey Devils. So Scandella's debut probably will come at the expense of Robert Bortuzzo.
Berube wasn't sure who Scandella will be paired with, but didn't rule out sliding him into Bouwmeester's slot opposite Colton Parayko.
"That can be an option for sure," Berube said. "Getting him in that area and that spot, and getting that shutdown role."
Scandella was with the Canadiens in Detroit, getting ready to play the Red Wings, when he got the call from Montreal general manager Marc Bergevin that he was being traded to St. Louis for a second-round pick and a conditional fourth-rounder.
On one level this was tough because Scandella is from Montreal, and doesn't every young hockey player in Montreal dream of someday playing for the Canadiens?
"I feel like I lived the dream," he said. "Even though it was a small stint. It was just two months. . . . Got the opportunity to play there, play in front of my family and my friends. Scored at the Bell Centre against the Leafs. So some big moments there."
But as Scandella mentioned, it was a short dream. He was with his hometown Canadiens for only 20 games, 13 of which were played before family and friends in Montreal.
Scandella spent the previous 2½ seasons with Buffalo — he was a teammate of Ryan O'Reilly in the 2017-18 campaign — before being traded to Montreal on Jan. 3. The Sabres had an excess of defensemen, and although he was playing well for Buffalo, Scandella was shipped out.
With his contract up after this season, the Canadiens out of the Eastern Conference playoff picture, and the trade deadline fast approaching, Scandella prepared for the possibility of another trade before embarking on a three-game, six-day road trip with the team.
"I'm not gonna lie, I packed pretty heavy for the trip," Scandella said. "I knew (a trade) was a possibility if Montreal was gonna fall out of the race."
So he took more clothes than normal?
"A little bit," he said. "Couple more sweaters. You never know this time of year, so you gotta be prepared."
That's what you call veteran savvy. Which is one of the reasons why the Blues brought him in. He has 569 games of NHL regular-season experience. He also knows what the postseason feels like, having played 39 playoff contests as a member of the Minnesota Wild, most recently in the 2016-17 season against the Blues.
But after the missing the playoffs the past two seasons in Buffalo and on the verge of missing them again this season in Montreal, getting traded to a Stanley Cup contender was a big plus — more than making up for the fact that he was leaving his hometown.
"I was absolutely excited to come to St. Louis, defending Cup champs," Scandella said. "What a city, what a great organization to be a part of. So really happy about this.
"Playing in the playoffs is everything in hockey. So just to be a part of this team, this franchise, I feel like I'm really lucky."
Well, he's not back in the playoffs just yet. But even with their recent slump the Blues are positioned well for another playoff appearance. First in the Western Conference and first in the Central Division with 22 games left to play.
Besides O'Reilly, Scandella knows Jake Allen, Alex Pietrangelo and Brayden Schenn from playing in the World Juniors with Team Canada. From his roots in Montreal, he knows David Perron, who is from Quebec Province.
"It just makes the transition easier," Scandella said. "I feel like there's a lot of potential in this locker room. Obviously, you saw what happened last year. So I want to be a part of that this year."
A couple other things that should make the transition easier. He played seven seasons with the Wild, so he knows what the Central Division is all about.
And he knows Blues assistant coach Mike Van Ryn, who was an assistant coach with the Houston Aeros of the AHL, when Scandella was playing there for parts of the 2011-12 and 2012-13 seasons as a Wild prospect.
Blues Quick Hits
BOUWMEESTER'S FUTURE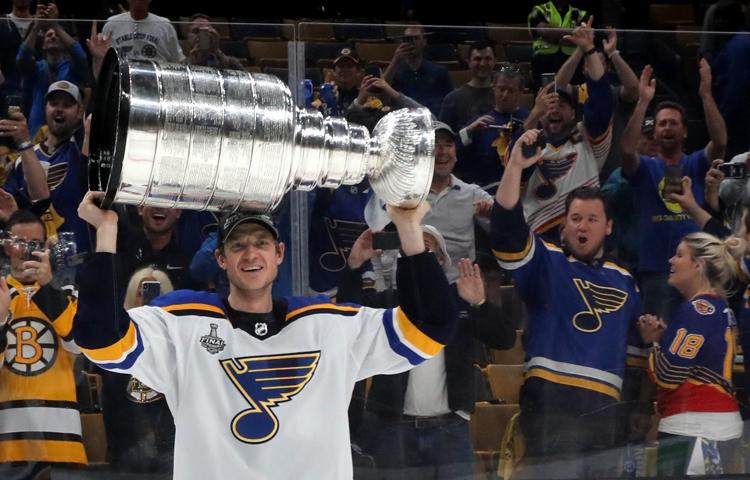 QUESTION: Can JayBo be expected to come back this season or is he out?
TOM T.: He's almost certainly out for this season. Putting him on long term injured reserve means he's out at least 10 games or 24 days, so mathematically, he can come back. Doug Armstrong said Tuesday they weren't saying definitively he's out, but they are assuming the seven defensemen they have now are the seven they will finish the season with. But they can't get both him and Tarasenko back in the regular season without freeing up $3 million of salary, which won't be easy.
Surgery to install an ICD is not something that's on the list of "how soon can someone play again?" questions, so when he might want to get back on the ice, if ever, is uncertain.
---
To a follow-up comment that it's "hard to believe" Bouwmeester would return because of the heart issue, Timmermann replied:
I find it hard to believe he would come back and I also find it hard to believe he would want to come back. Then again, I never had the drive to be an NHL player, so I may not be the most qualified to comment on a guy's future. But still, playing with a defibrillator in your chest can't be an easy thing.
Though, if Bouwmeester wasn't an NHL player, who knows what would have happened. He had his heart stop beating in a location where there were experienced trainers and doctors and paramedics standing by, who had the proper equipment and who had been trained to solve that problem. Short of having a heart attack while sitting in the ER room of a hospital, there aren't many better places.
LET'S GET PHYSICAL ... SOON!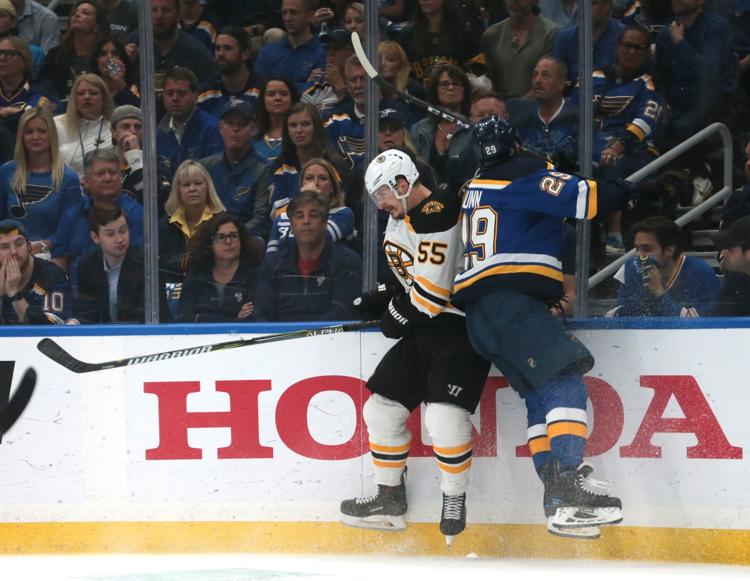 QUESTION: Does the Blues physical forecheck make a return as we get closer to the playoffs or is that a gear not likely to be reached this season?
TOM T.: Boy do they hope the physical forecheck is there, because that's how the Blues win games. If they're not doing that, there won't be a long playoff run this year. That's their style. Berube has acknowledged that it's a hard style to play, that it's very taxing and it takes a toll. But that's how this team is built.
WHAT WAS 'ARMY' THINKING?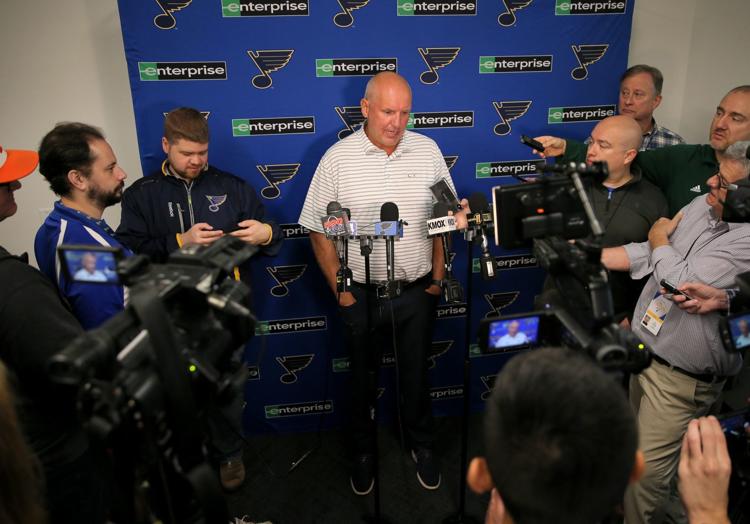 QUESTION: I trust in "Army," but trading a second-rounder for a guy who went for a fourth-rounder a month ago seems like overpaying to me. Looks like the Blues front office really doesn't want to roll Mikkola out there in the playoffs.
TOM T.: Armstrong admitted that making a trade at this point, a week before the deadline, almost assures you of overpaying. Buffalo traded Scandella because it had too many defensemen, so they were going to have to move someone, so they didn't have the leverage.
I think if this were earlier in the season, the Blues would have been content to have Mikkola around as the extra defenseman, but looking at the playoffs (and the trade deadline) fast approaching, they looked and thought, if Gunnarsson gets hurt again, now Mikkola is in, and while that's OK, now Derrick Pouliot or Jake Walman is the next man up, and that scared them.
Meanwhile, with defensemen disappearing off the trade board, they saw the need for a move quickly.
'CHIEF' JUGGLING LIKE 'HITCH'?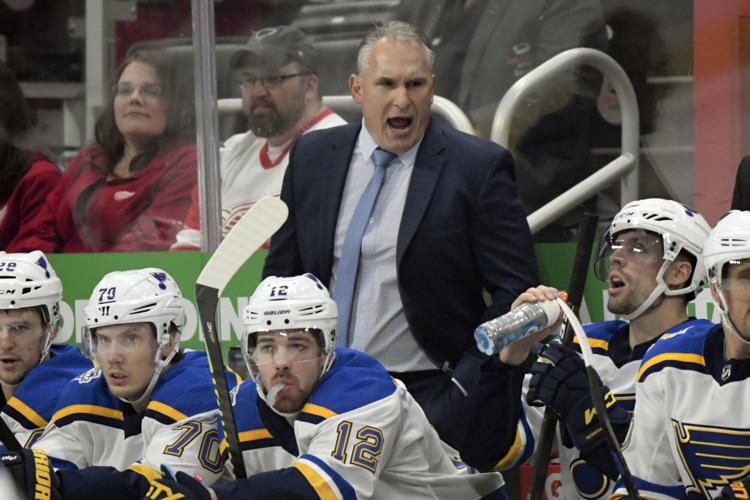 QUESTION: Last year, Craig Berube was loath to mess with lines. Now he's juggling like it's the heyday of Ken Hitchcock. With the playoffs a month away, do you see him settling down?
TOM T.: I think right now the line blender-izing is the result of nothing seeming to work and the steady stream of losses. I think once the team settles down and achieves some sort of consistency, the lines will settle, too. Ultimately, I think that fourth line of Steen, Sundqvist and Barbashev will go back together, as will O'Reilly and Perron on their line and Schenn and Schwartz on theirs.
Berube's fast running out of new ways to arrange people, short of de la Rose and MacEachern going on the top line. So even if the losses keep coming, the juggling will hit a wall at some point. If he's still juggling lines in two weeks, the Blues will be having major problems.
FIGURING OUT FAULK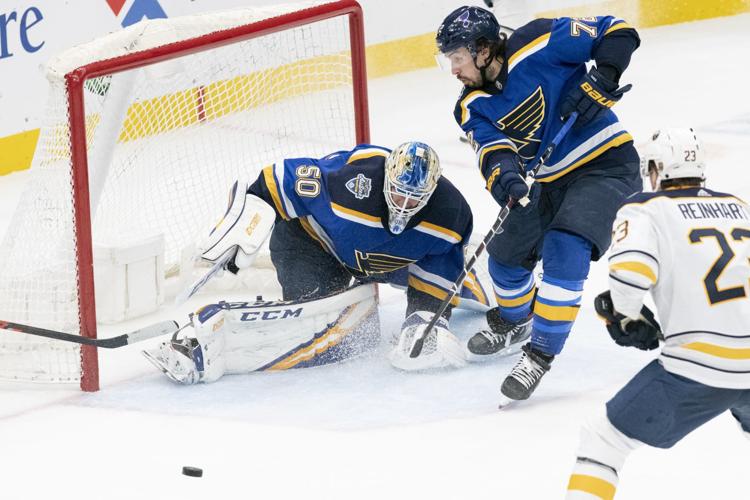 QUESTION: How much of this season is riding on Justin Faulk's shoulders? The Blues gave up a lot for him and signed him to a nice extension. The Blues had to have higher expectations from him than what they have received on the ice, right? Is Faulk just a bad match for this team? Does Berube fail to utilize him because he doesn't trust Faulk or because of Faulk's performance?
TOM T.: The Blues haven't been able to figure out yet where Faulk fits. They can play him on the top pairing with Pietrangelo, but that forces one of them to play on their off side, which they want to avoid. They can play him on the shutdown pairing, but he doesn't do that as well as Bouwmeester or Parayko did. So then he ends up on the third pairing with Dunn, getting less minutes.
Meanwhile, he's lost his spot on the second power play unit because Parayko has suddenly figured out how to shoot on it. Tuesday night, he played 19:56, which was behind only Pietrangelo and Parayko, so they must trust him.
So far, the Blues have been willing to accept this season as transitional pain for Faulk, after spending his whole career in one system and having to adapt to another. More will be expected next season, though it would certainly help if the team was able to settle on a role for him. The events of this offseason might provide some clarity there.
---
To a follow-up suggestion about the possibility that the Blues would trade Faulk, Tom T. replied:
Faulk has a no-trade clause for this year and the next five after that. The Blues have faith in him going forward. Also, giving up on a guy that quickly isn't a move that's going to get you much value coming back. Also, no one at the trade deadline is looking for someone with that kind of cap hit.
KREIDER STILL A BLUES TARGET?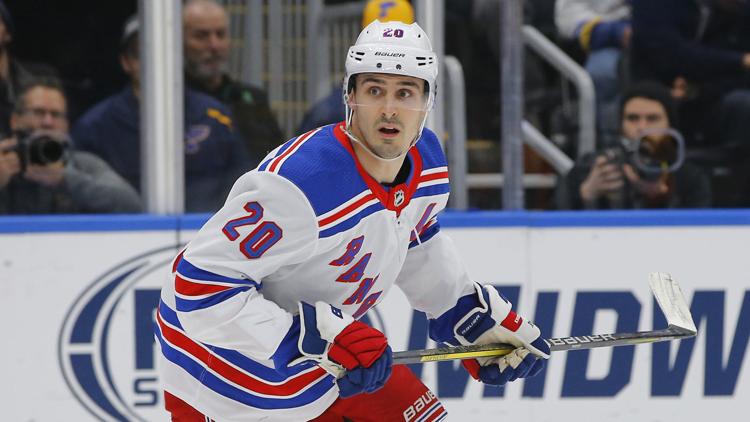 QUESTION: Is Chris Kreider still on the Blues' radar?
TOM T.: Reports say that Colorado and Boston are the main pursuers of Kreider, and Colorado is probably prepared to pay a lot more for him than the Blues are because they really need a forward about now. And judging from Armstrong's comments yesterday that the news on Tarasenko is encouraging, their pursuit has likely tempered.
Now, if Tarasenko says on Sunday, my shoulder really hurts, then everything changes. But right now, Kreider showing up here seems unlikely.
WHAT'S UP WITH SCHWARTZ?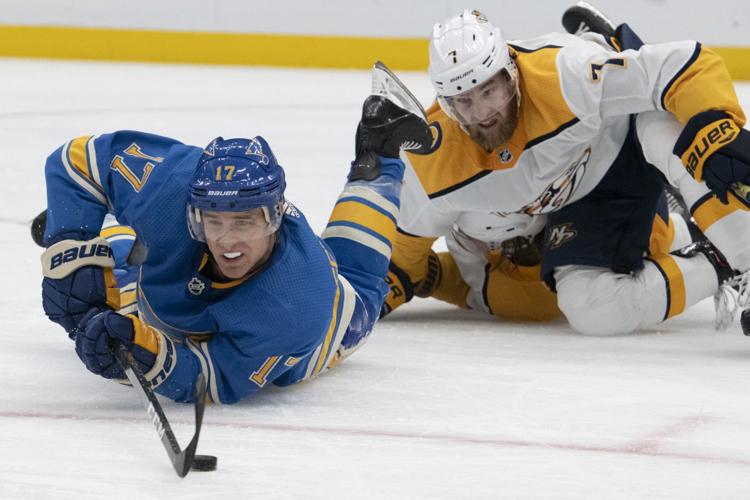 QUESTION: I'm becoming less and less of a fan of Jaden Schwartz. It's one thing to be snakebit, but it almost looks more like a lack of concentration. Maybe I'm being too hard on the guy but I just think there are other players out there that would be a better option for next year. Palmieri would be an interesting pick-up.
TOM T.: I think you're being hard on the guy, but he's a guy that the Blues are going to have to make a decision on soon because his contract is up after next season, and if the Blues re-sign Pietrangelo, one of the cap casualties of that could be Schwartz.
He has shown himself to be a streaky player, which may not be exactly what the Blues want to see, but when he's on, oh is he good. I don't know that the Blues win the Stanley Cup last season without his performance in the postseason.
He hasn't lacked for chances lately and there was a clear look of relief for him last night when he scored. Even when he's not scoring, he works hard fighting for pucks. And he's got 19 goals this season, which isn't too bad. He may come up a little short of his career high (28) this season, but he'll have a good total when he's done.
WILL SCHENN BE THE NEXT STEEN?
QUESTION: With Steen entering the twilight of his career and Schenn signed for a long time, do you see Schenn becoming the new Steen? Does he have the same pull in the room that Steen does?
TOM T.: Schenn and Steen are very different people in terms of personality, but both play an aggressive two-way game, and Schenn was telling me last week that he thinks he's his best when he's the most aggressive. So he'll be like Steen on the ice.
It's hard for an outsider to say what guys are like in the room when we're not in it, but it's clear what Steen is like, a real firebrand. Schenn may not be quite as intense, but he's also not Jay Bouwmeester-quiet. I think that Schenn realizes that since he's got a long-term contract and is someone the team is going to be built around for years to come, he needs to assert himself. He could easily have the pull in the room that Steen has while being a different type of leader, and he may already have it. There are a lot of ways to lead.
DOES PETRO STAY OR GO? (CONTINUED)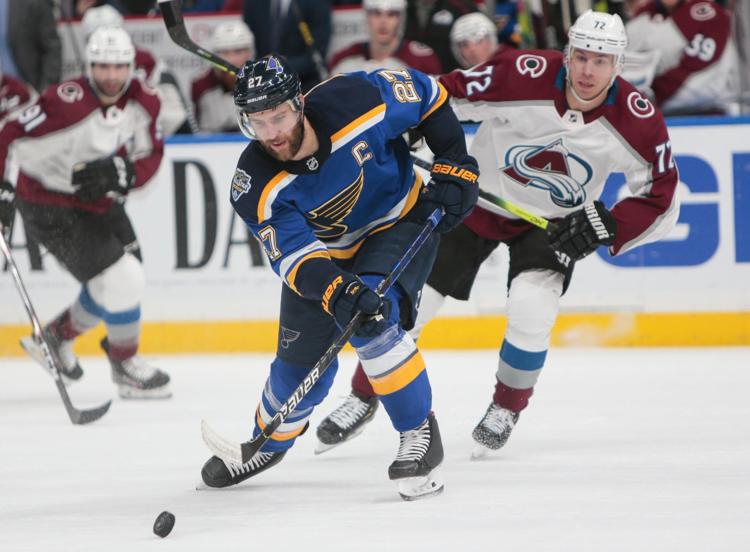 QUESTION: What are your feelings on the return of Pietrangelo? Isn't it hard to believe that an extension isn't worked out? Seems like something both sides would want. Is he chasing every dollar?
TOM T.: I think the Blues would do well to re-sign Pietrangelo, though to do it they'll have to find an artful way to make the deal and they're probably still going to regret when the contract hits its final years. That's the cost of getting a talent like that. He would be a hard guy to replace.
I don't know that he's chasing every dollar, but he's chasing a lot of dollars and Roman Josi has set a high bar that Pietrangelo wants to catch. He's certainly making a solid case for getting the money. This is quite the season he's having. It's also a case where if a deal is finally done, I think it gets settled very quickly.
---
Asked if the David Backes example would make the Blues hesitant to sign Pietrangelo to a long extension, Tom T. replied:
I think Pietrangelo will age better than Backes and will have more healthy years ahead of him. But to keep the annual average value down on a contract, the way to do that is to go the most years. Armstrong joked at the time of the Schenn signing that he wouldn't be around when that contract ran out, so it would be someone else's problem. Which could well be the case.
So the question is, what's the tradeoff? How much do you value five good years of Alex Pietrangelo? You could do a lot with five good years of him. If the Blues try to go with a shorter term on Pietrangelo, the AAV is going to be higher. So it could be a matter of which years you want to be rebuilding in, Year 5 and 6 or Year 7 and 8? I think most GMs would say 7 and 8.
KYROU'S PROGRESS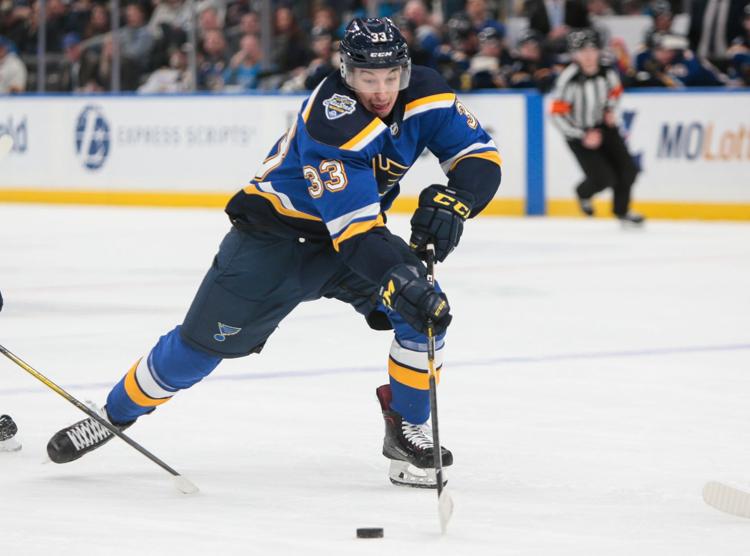 QUESTION: Have your thoughts changed on Jordan Kyrou as this year has progressed? How do you think he projects? I'm not sure this now-playing, now-sitting approach has been good for him.
TOM T.: I think I'm probably higher on Kyrou now than I have been before. He turns on that speed sometimes and all of a sudden, chances appear. He's also shown better skills with the puck and in tight spaces to make things happen. He's also still had some plays that show he's a work in progress. Which is to be expected. He's still a newcomer to the NHL, still figuring out what's going to happen.
Berube has used one of the teaching tools he has, taking the guy out of the lineup. Since the All-Star break, Kyrou has been scratched only twice, and not in consecutive games, so Berube must feel the lessons have been getting through. While learning in the game can be best done on ice, Berube no doubt feels that the points the team needs in the playoff race are more important and that other guys give the team a better chance to win.
I always go back to something Rick Majerus would say at SLU when asked why he wasn't playing someone more. He'd say (sarcastically), "I'm throwing games."
SURPRISES THIS SEASON?
QUESTION: We're at the stretch run -- which Blues players have surprised you the most this year? And are there any players who you expected more from?
TOM T.: It's hard to say I'm disappointed in Ryan O'Reilly's season, but his numbers certainly haven't matched last season, which comes as a surprise. His assist numbers are good, but his goal scoring has slumped. And the weird thing now is how low his shot totals have been. He's going full games without shot attempts, let alone shots on goal.
Zach Sanford easily wins the surprise honor. He could have a 20-goal season if he stays hot. Sammy Blais was doing very well before he got hurt and Mackenzie MacEachern, given the role he's in, has done well. And when it comes to surprises, I don't know that I projected David Perron as a 30-goal scorer this season. Though he has to get back on the case to make that happen.
Jake Allen's season has been strong, too, and, it turns out, much needed by the team.
---
Follow-up: So, to what do you attribute the drop off in goals for O'Reilly?
TOM T.: I asked him about this Tuesday. He thinks he's too focused on playmaking, on distributing the puck rather than shooting it. Also, he thinks he's staying on the perimeter too much, where he would make plays, rather than get into the dirty areas around the goal to tip pucks and set screens. In the past four games, O'Reilly has taken four shots. It's going to take an awfully good shooting percentage to score many at that rate.
DO WALMAN AND REINKE HAVE TRADE VALUE?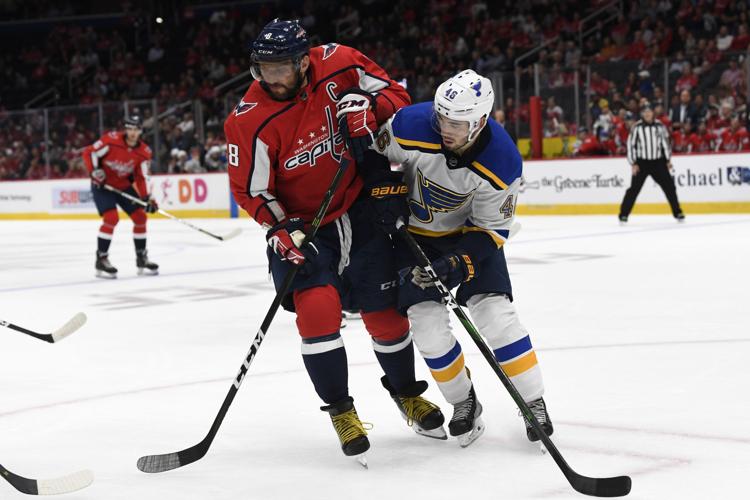 QUESTION: Do players like defensive prospects Jake Walman and Mitch Reinke have any trade value? Wondering if they could have been accepted by Montreal instead of a 2nd round pick?
TOM T.: Walman, maybe, but Reinke's stock seems to be down at the moment. Montreal has a heck of a lot of draft picks for next season. Looks like it's at 12 right now. Whether Bergevin sees this as allowing him to make moves come draft day, I don't know, but if any team can, it will be the Canadiens.
Walman could end up figuring in the Blues' plans going forward if Pietrangelo doesn't re-sign. They'll have two spots to fill on the roster.
IS IT THE OPPOSING GOALIES? OR IS IT THE BLUES?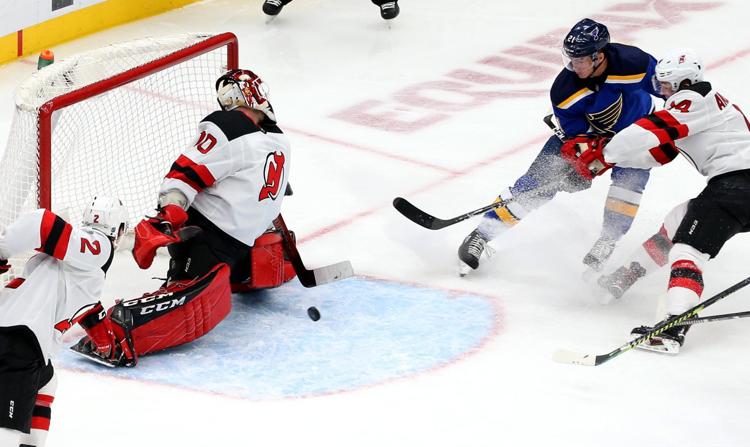 QUESTION: What is it with the Blues and hot goaltenders lately? The only goaltender who played at his level against them recently was Malcom Subban in Vegas. Everybody else looks like the second coming of Ken Dryden against them, including Domingue on Tuesday night.
TOM T.: There's a case to be made that maybe when every goalie is looking great against you, it's not the goalies. It's one thing to say Pekka Rinne stood on his head. It's another to say Louis Domingue did it. These goalies have made some great saves, but the Blues have helped, by not putting the pucks in places where the goalies can't stop them.
Schwartz's goal was an example. He found the top corner. When you're keeping the puck along the ice, it makes it a lot easier for the goalie to get his pad in the way. And some of the chances the Blues have missed have had nothing to do with the goalie.
The latest STL Blues hockey news, NHL headlines, scores, standings and rosters.