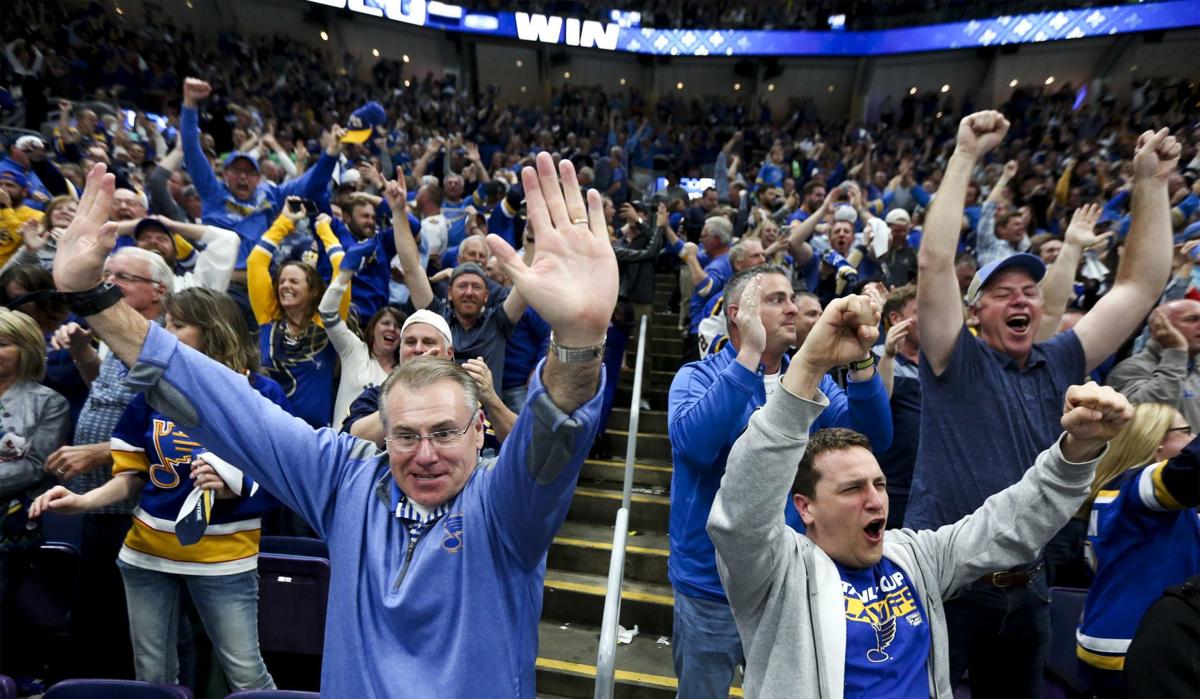 St. Louis will not be a hub city. But it's looking more and more like the Blues will get a chance to defend their Stanley Cup.
On what Gary Bettman called "an important day, particularly for NHL fans" the NHL commissioner officially announced Tuesday the league's 24-team playoff format, provided lots of new details on the postseason plan, potential hub cities, COVID-19 testing, and even the draft lottery process.
The return to play remains an "if-and-when" proposition due to ongoing uncertainty over the coronavirus pandemic, but the "when" is becoming a stronger possibility following Tuesday's developments.
On a videoconference with members of the media early Tuesday evening, Bettman said postseason play could begin as early as late July or early August under an optimum scenario.
"It's conceivable that we're playing at the end of July, could be the beginning of August, and then playing into September," Bettman said. "So somewhere around that time frame. It may be that things open up quicker.
"Players get back sooner. They feel they're in shape. (Or) that they don't want a prolonged training camp. And that, we're gonna take our guidance from the players on; then it'll accelerate a little bit.
"But I think realistically, if we're in training camp in mid-July that would be a good thing. If we could be playing by the end of July, the beginning of August, that could be a good thing, too."
Even so, Bettman cautioned against getting locked into a precise timetable.
"Anybody that gives you a date is guessing," he said. "And we think we'd rather take a more holistic approach to doing this."
But one thing is certain: Bettman declared the 2019-20 regular season over in terms of standings, record-keeping, and consideration for the various NHL individual awards.
So Ryan O'Reilly finishes as the Blues' scoring leader for the second year in a row, this time with 61 points on 12 goals and 49 assists. David Perron and Brayden Schenn share the team goal-scoring title with 25 apiece. Goalie Jordan Binnington finishes with a 30-13-7 record, a 2.56 goals against average and a save percentage of .912.
And Blues fans might want to congratulate their team on winning the 10th division championship in franchise history. With a record of 42-19-10, the Blues finished with 94 points to win the Central Division — their first division title since the 2014-15 season.
They finished just two points ahead of Stan Kroenke's Colorado Avalanche, who finished 42-20-8 for 92 points.
Just think, if the Blues had rescheduled what proved to be their final regular-season game (March 11 against Anaheim) even one day later, the Avalanche would be division champs.
The Avs would've won the tiebreaker under that scenario, because they had played one fewer game than St. Louis when the season was suspended March 12 due to the coronavirus pandemic.
That Anaheim game originally was scheduled for Feb. 11, but was postponed in the first period that night after defenseman Jay Bouwmeester collapsed on the bench due to a cardiac episode.
Of course, the Blues have their eyes on a much bigger prize than a division title. They want the Cup. Again.
"We appreciate the difficulty the NHL and the NHLPA has in coming up with a format that works for everyone," general manager Doug Armstrong told the Post-Dispatch on Tuesday. "With that backdrop we are hopeful and excited with the possibility to defend the Stanley Cup.
"Everyone in hockey works for the opportunity to compete for the Cup, and this format will ensure the 2019-20 Stanley Cup winner will be a deserving champion."
The top 12 teams in the Eastern Conference, ranked by regular-season points percentage, have qualified for postseason play and will be assigned to what the league called Hub City 1. The top 12 teams in the West, again ranked by regular-season points percentage, will go to Hub City 2.
The top four qualifiers in each conference will play a round-robin event to determine playoff seeding. So the Blues could slip to as low as the No. 4 seed if they finish last in the Western round-robin behind Colorado, Vegas and Dallas.
While round-robin play takes place in each conference, the bottom eight seeds in each conference will take part in what the league is calling the "qualifying" round. The winners of those best-of-five series advance in the playoffs; the losers go home.
The conference final and Stanley Cup Final will be best-of-seven affairs; it has yet to be determined whether the first and second rounds will be best-of-five or best-of-seven series. Also to be determined is whether the field is bracketed or re-seeded after the qualifying round and round-robin play.
Speaking of hub cities, the NHL has narrowed its list of candidate cities to 10, and St. Louis did not make the cut.
Two weeks ago, Blues president and CEO of business operations Chris Zimmerman told the Post-Dispatch: "We have shown interest and have provided the league with different scenarios and insights around our buildings, and how and why we think we'd be a fantastic hub city in the event that that happens."
The NHL obviously felt otherwise. The 10 remaining candidate cities are: Chicago, Columbus, Dallas, Edmonton, Las Vegas, Los Angeles, Minneapolis-St. Paul, Pittsburgh, Toronto and Vancouver.
Zimmerman did not comment immediately Tuesday on the St. Louis snub.
Bettman said the host cities will provide a secure environment health-wise in terms of arenas, practice facilities, hotels and transportation. A final decision on the two hub cities is expected in three to four weeks.
But without fans in the stands, any home-ice advantage will be minimal. And according to NHL deputy commissioner Bill Daly, it has yet to be decided if a playoff team from a hub city will even get to play in its hometown. (It could be shipped to the other hub city.)
"Obviously we've talked about that, and actually I've heard arguments on both sides of that equation," Daly said Tuesday. "I can't tell you that that has been finally decided, but particularly given the fact that there's no fans in the stands, we certainly see some merit to moving the club to a different market so that any perceived advantages associated with being in a home market are eliminated."
Each team will be allowed a personnel maximum of 50 in the hub city, and a very limited number of support staff will have access to the arena event level for games. Players will be tested daily for the coronavirus once they arrive at the hub city.
As for the draft lottery, Bettman said, "it's a bit complicated, and I apologize for that."
Phase 1 of the lottery will take place on June 26 and involve the seven teams that are not participating in the postseason (actually six teams since San Jose previously traded its first-round pick to Ottawa). The other eight lottery spots will be assigned to unnamed placeholders on June 26.
If the June 26 lottery awards the No. 1, No. 2, and No. 3 overall picks to non-playoff teams, there will be no need for a Phase 2. But if any of the top 3 picks on June 26 do not go to non-playoff participants, Phase 2 of the draft will be held after the qualifying round involving the eight teams that lost those series.
This is all of no concern to the Blues, who will advance to the round of 16 in the playoffs by virtue of their top-four playoff seeding and thus are not eligible for the draft lottery. The draft itself will take place after the playoffs.
The latest STL Blues hockey news, NHL headlines, scores, standings and rosters.