This one had a little bit of everything, and a lot of Blues goals. There was a monster, we mean a monster hit, by Vince Dunn. There was a fight, only the second of the season for St. Louis, when Brayden Schenn took offense to getting rear-ended by Rasmus Andersson.
Jordan Binnington got his first shutout of the season, matching his NHL career high in saves (40) to get there. The newly created Robert Thomas line sizzled with nine points — Thomas may be staying at center for a while.
And oh yeah, there were five goals from the Blues in a 5-0 triumph over sagging Calgary before 18,096 at Enterprise Center. Or more precisely, crashing Calgary. The Flames are, well, going up in Flames. Thursday's loss was their sixth in a row (0-5-1) — they have been outscored 23-5 in those contests and are now 10-12-3 for the season.
After absorbing their franchise-record third consecutive road shutout, the Flames had a players-only meeting after the game that lasted about 10 minutes.
As for the Blues, they continue to lead the Western Conference with a 14-4-5 record, and in a season in which they've played 13 one-goal games, enjoyed a rare romp.
"I think everyone did a great job today," said Dunn, who capped the scoring for St. Louis midway through the third period with his fourth goal of the season. "Obviously Binner was unreal. What was it, 40 shots? Our forwards found a way to not only get some nice highlight goals but some dirty goals.
"We've talked about it. It's all about competing right now. I think when we're playing our best defense our offensive chances come."
But with a 2-0 lead and the contest still somewhat in doubt — the Blues, after all, have had trouble protecting leads — Dunn delivered the hit that rocked Enterprise and Calgary forward Andrew Mangiapane.
Dunn isn't known as the most physical player, but every now and then, he'll deliver one to remember. Such was the case at the 9:14 mark of the second period when Dunn knocked Mangiapane off his feet and into next week. Mangiapane did not return, because of what was described as an upper-body injury.
When asked if the hit energized the team, Binnington replied: "I think it energized everybody in the whole city of St. Louis. It was big. He's got that in his game. He has an edge to him."
And for anyone who might think otherwise, Binnington offered a poignant reminder.
"He has a KO off the ice in the AHL, but he's a strong kid," Binnington said.
"It was a great hit," coach Craig Berube said of Dunn's Thursday blow. "We love it. It was a good clean hit."
Clean hit or not, Calgary's Zac Rinaldo took offense, skating in to give Dunn the business. Rinaldo got a roughing penalty as the third man in. And the Blues wasted little time getting their slumping power play going and making it a 3-0 game.
Just 24 seconds into the power play, David Perron rocketed a one-timer from the left circle past Flames goalie David Rittich for his 10th goal of the season. The Blues had converted only one of 14 power plays in their previous four games.
A three-goal lead midway through the second period — or anytime really — is something rarely seen from the Blues this season.
In fact, the only other times they have held three-goal leads all season were in 5-2 victories over both the Los Angeles Kings and Edmonton Oilers, with empty-net goals creating the three-score cushion in both cases.
"It was the first time in a long time that we were actually scoring a couple (insurance) goals and not letting them get back into the game," Oskar Sundqvist said.
No one found this more gratifying than Berube.
"It was great," Berube said. "I thought our third period we went out and played a solid period for most part. Got the next goal. Got another goal, that's what we want to see."
Berube undoubtedly liked seeing the third line click like it did Thursday. In Thomas' second game centering a line with wingers Sundqvist and Zach Sanford, the trio accounted for three goals and six assists. Sundqvist matched his career high with two goals — he now has six goals for the season. Thomas had three assists, and Sanford's four-point night (one goal, three assists) was a career high.
In addition, all three players were plus-4.
"It's early yet, it's two games," Berube said of that line. "So far, so good. I think they're all working pretty good together. Good chemistry. Sanford and Sundqvist are hard workers, and they forecheck. And you got Robby Thomas, who's a quick player, makes good plays."
As the lead mounted, and the game wound down, Sundqvist said there was talk on the bench about getting the shutout for Binnington. He had taken four shutouts into the third period this season only to allow a goal or more.
"That's nice of the boys," Binnington said. "We all want the best for each other and we all want to see each other succeed. We're a selfless team and that's good to hear."
After a start to the season that general manager Doug Armstrong labeled as "OK," Binnington is rounding into all-star form. With Thursday's shutout his goals-against average of 2.19 is fourth in the league and his save percentage of .926 ranks seventh — that's for goalies with 10 or more appearances.
But Binnington wasn't into self-evaluation Thursday night.
"Just another day," he said. "We're just working day by day, preparing for the next game."
And that comes Saturday against another slumping team, Nashville.
---
Blues Quick Hits
ROBERT THOMAS: CENTER OF ATTENTION?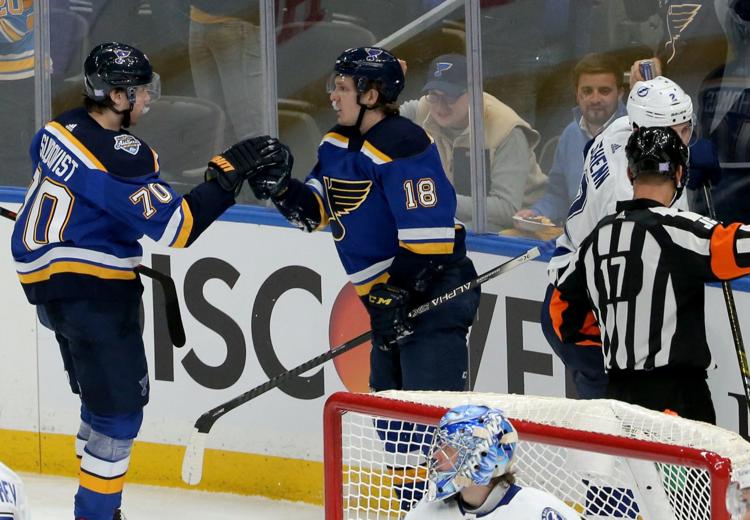 QUESTION: Robert Thomas literally has eyes in the back of his head. Although sometimes it appears he's hesitant with the puck, do you see him getting a shot at centering the first line at some point?
JT: The No. 1 line? That could be a few years down the road. Remember Schenn and O'Reilly are also under contract for many more years. For Thomas, the immediate goal is to stay at center for the near future.
That pass was unbelievable by Thomas. He was literally looking in the stands when he made it (or at least that's where his face was looking). How about this for next season? A Kid Line of Kostin-Thomas-Kyrou?
---
Follow-up: Seems Thomas has been a step or two ahead of his linemates, and often catches them off-guard with a pass they weren't expecting. Hopefully playing with more skilled players will make his vision more productive.
JT: I think most of his teammates have learned or are learning to keep their sticks down and be ready for the puck when the Blues are in the offensive zone. Sundqvist said Tuesday night that he's learned to get Thomas the puck as quickly as possible on possessions because of Thomas' speed up the ice and puck-handling ability. However, I still think Thomas needs to look for his own shot more often.
WASTING KOSTIN'S TIME?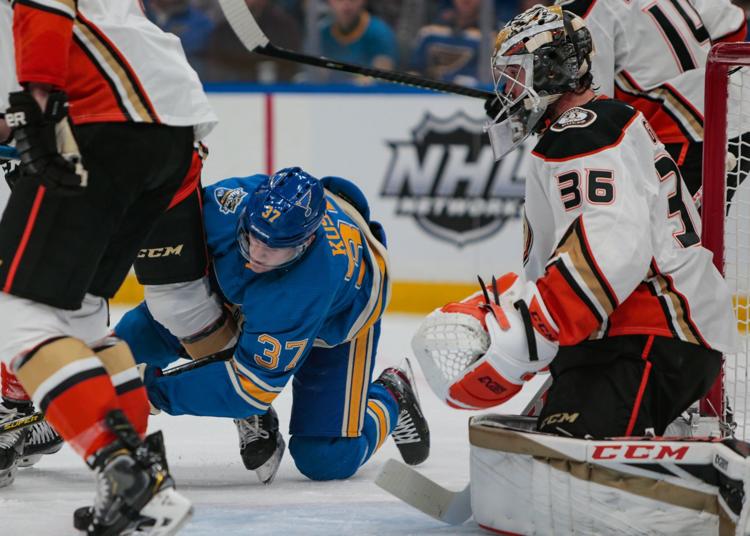 COMMENT: At this point, Kostin is wasted in the NHL. If Berube isn't going to play him, let him keep developing in the AHL.
JT: Over the long term, I agree with you. Over the short term, any exposure to the NHL is of great benefit for Kostin. Just being around the NHL scene, seeing how the players prepare, practice, study video, etc. And also seeing what the pace and tempo is not only of games but of practice. But yeah, the guy needs more than than 6 minutes a game.
I asked Berube on Wednesday about the playing time vs. Tampa; Berube says it was on him, not anything that Kostin did or didn't do against the Lightning. Berube frequently shortens his lines in tight games — basically using just three — in close games. And this season, the vast majority of games have been close.
The Blues, by the way, are 9-0-5 in one-goal games. Berube said he went to three lines much of Tuesday's game.
HOW BAD IS TARASENKO'S INJURY?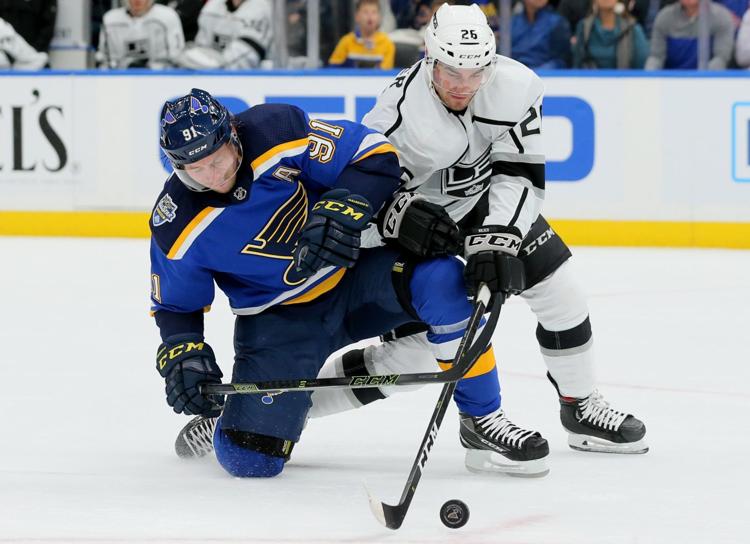 QUESTION: What's the feared prognosis of Tarasenko's shoulder? Will it be recurring?
JT: The most interesting thing that Tarasenko said when we talked to him after the Minnesota/western Canada trip was that it wasn't the same type of injury this time. The inference I took from that is that this one wasn't as serious as the last surgery — which was said by the Blues to be a total reconstruct. We'll see.
---
Follow-up: You think Tarasenko will be back early? What's your gut?
JT: He came back early last time. But even then it was about 5 full months. Also, if they can wait until the playoffs, assuming the Blues make the playoffs, there are no cap ramifications in terms of any players they might sign in his absence.
DID BLUES LOSE THE FABBRI TRADE?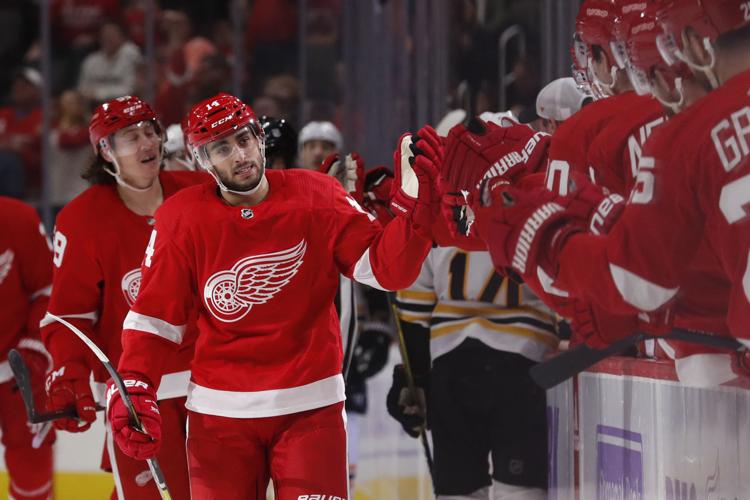 COMMENT: It's only a handful of games, but it looks as though Robby Fabbri is playing well for Detroit. It may end up looking like Army got his pocket picked.
JT: Hard to disagree with you at the moment. That's for sure. In just six games with the Red Wings, Fabbri's already seventh on the team in scoring (3G, 4A). He's getting 16 minutes of ice time per game and is plus-1. And the Red Wings have perked up in the won-loss column, going 3-1-2 since the trade. Let's see where things stand at the end of the season.
As for de la Rose, Berube thinks he has more to his game, but it's clear he hasn't shown much so far in St. Louis.
---
Follow-up: Was there some problem between Fabbri and the Blues? Seems like he would have gotten a shot once No. 91 got hurt.
JT: He just never seemed to fit the Berube style which demands defense, physical play, digging in corners, etc. I don't think Berube saw all that on a consistent basis with Fabbri.
STIFF COMPETITION FOR PETRO?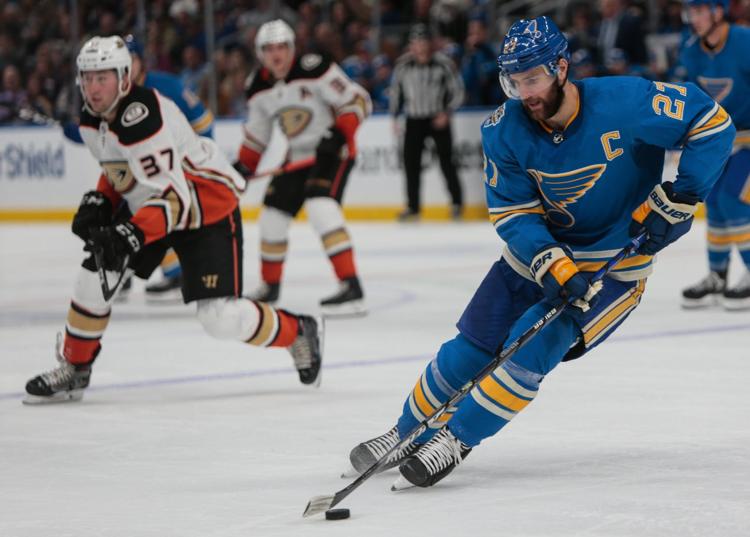 COMMENT: Pietrangelo is having what is CLEARLY his best season, at the exact same time John Carlson in Washington is doing his best Paul Coffey impersonation, Dougie Hamilton wants everyone to mistake him for Ray Bourque, and Cale Makar is on pace to set all kinds of rookie records for defenseman scoring. Pietro is playing like a Norris winner, except that if this keeps up, he won't even be a finalist.
JT: Couldn't agree more. And I think we all would agree, Norris voters are influenced by point totals.
How different are things this year for Petro than a year ago at this time when he was struggling and a lot of you — no names — wanted him to be traded. His play this year reminds me of how he started the '17-18 season — my first year on the beat — and before he was injured in Detroit in early January. What I'm noticing,too, is some of the defensive work Pietrangelo is doing, sometimes little subtle things — to gain possession or stop a scoring chance.
Right now, at least he'd get in the All-Star Game, right here in St. Louis.
ASSESSING PARAYKO'S PLAY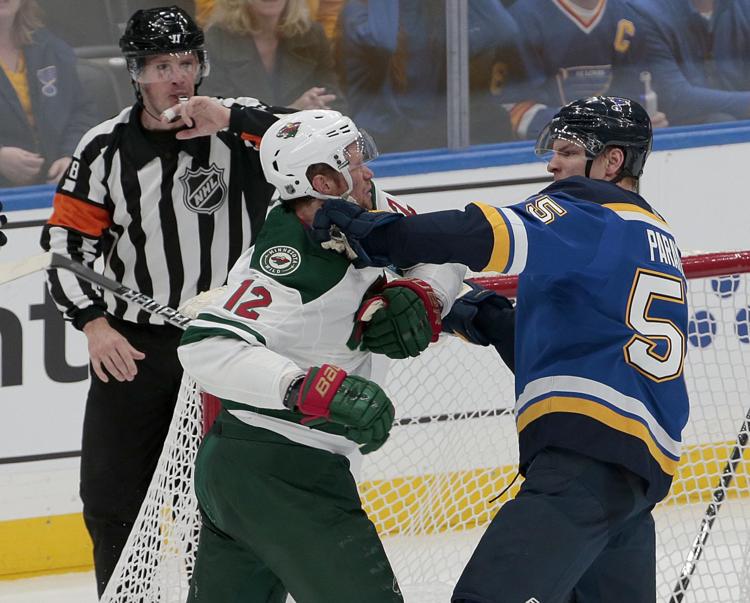 QUESTION: It seems Parayko has lost the physical edge he had several games ago. He is clearly more effective when he plays more like Chris Pronger. Is Chief pressing him to play meaner? On another note, I don't know how D-men can try and block one of his slap shots.
JT: You could be right, but I haven't really noticed that. I have noticed that he's blocking a lot of shots this year. He's been the team leader or tied for the team lead in blocks at least seven games this year. I'm sure Berube has talked to him about being more aggressive — that's something Berube wants in all his players across the board.
And no, I would not want to be in the way of a Parayko slap shot.
IT ALL STARTS WITH THE 'D' AND THE GOALIE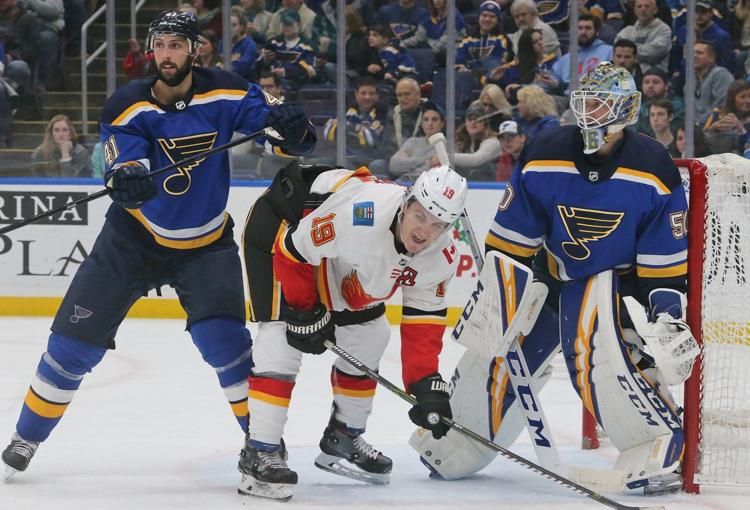 COMMENT: I'm going to take the optimistic view on the early part of the season. The gritty, veteran team knows how to win and it shows, especially in close games. There's still a lot of room for improvement, however, even though I thought they played very well against Tampa Bay. 
JT: When I talked to Matthew Tkachuk in Calgary on that Blues road trip, he made it crystal clear: It all starts with the defense and the goaltending with the Blues. Their D-corps is very good, and maybe a little underrated in the overall hockey world. And with a guy like Binnington in goal you've got to feel that you've got a chance to win every night. (Allen seems to have found a groove in his last two games as well.)
The question is, can they generate enough offense over the long haul without Tarasenko. And if they lose another core offensive player for an extended period due to injury, they could have a problem.
CALLING UP KYROU
QUESTION: How long before Jordan Kyrou is called up?
JT: That's a good question. Ideally, I think the Blues would like to keep Kyrou with the big club once they call him back. No Sammy Blais Expressway to San Antonio, as was the case for Blais the past two years.
If Kyrou keeps playing at this point-a-game pace in the AHL, is a couple of more weeks enough? One month?
EXPECT MORE FROM SCHWARTZ?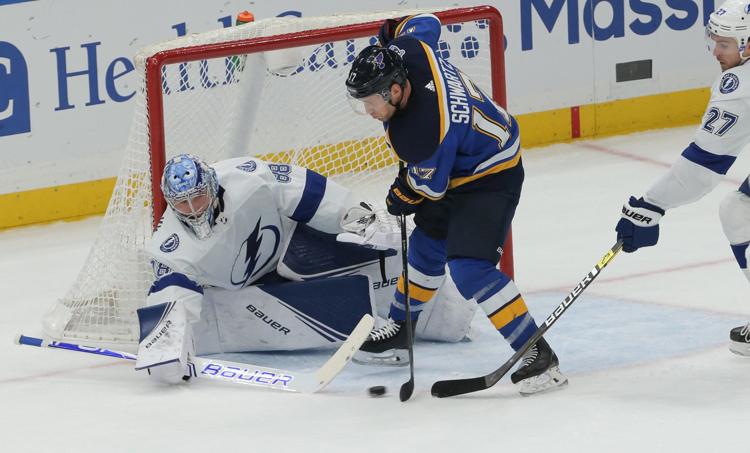 COMMENT: Schwartz doesn't seem to be the prolific scorer that was advertised. Could the Blues look for outside help up front in the form of an true scorer (25+ goals) with the long-term absence (and questionable long-term health) of Tarasenko? There still seems to be an obvious need for scoring.
THOMAS: Schwartz had 12 goals over the first three Blues playoff series last year. So we've all seen what he's capable of doing. Last year, he didn't get his fifth goal until Feb. 16, so he's off to a better start. Throw in his 12 assists and he's off to a decent start, certainly much better than last year. So let's see if he approaches 20 goals this season.
The Blues, like basically all teams, can always use more goal scorers. I'm sure they're hoping for more from Robert Thomas as the season continues, for O'Reilly to pick up his pace, etc.
BINNINGTON STANDING TALL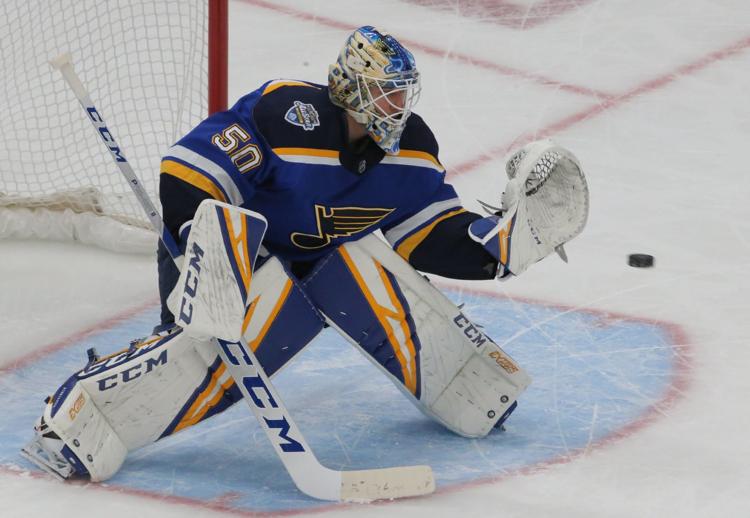 COMMENT: A big question going into this season was whether Binnington had staying power or if he was just a goalie on a great run last year. Do we have enough evidence now to say he's the real deal? Two things convinced me: He's continued to bounce back when he's had a rough game. And, when Army said Binnington had been "OK," Binnington clearly took that as a challenge and upped his game.
JT: I think as the season goes along, I'm leaning towards, yes, he will have staying power. I think just about every season you'd take a 2.31 goals-against average — which has Binnington ranked fourth in the league this season among goalies with at least 10 appearances. And his save percentage of .920 is 10th among goalies with at least 10 starts.
It's an interesting point you make about Binnington's play improving since the "he's been OK" remark by Armstrong. Coincidence? Or cause and effect?
WHAT BECOMES OF JAKE ALLEN?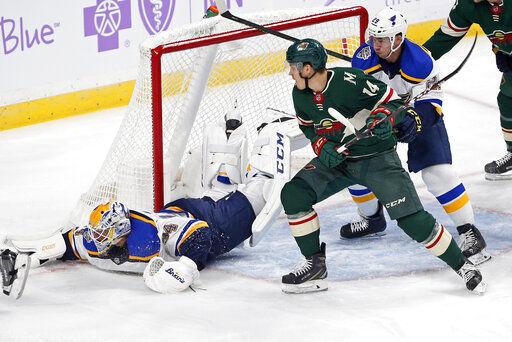 QUESTION: Is Jake Allen still wearing the Blue Note in April?
JT: Based on the way Allen's played the past two games, I'd say he stays. He's played very well, and if that continues, why move him? And I think the answer is at least partly related to Ville Husso's development in San Antonio. Husso is playing better so far this season than in his injury-plagued 2018-19 campaign, but his overall numbers aren't jaw-dropping: 5-4-4, 2.66 goals against, .907 save percentage.
LIKE ALI AND COSELL?
COMMENT: You and Binnington are Howard Cosell and Muhammad Ali.
JT: We have an interesting relationship. It's all in fun. I like that he's different than most hockey players. Never quite sure what he's going to say.
On Tuesday night, I got the distinct impression that he wasn't happy about the official stat sheet listing Tampa Bay with just 18 shots on goal.
I've joked with him that I've been unwittingly responsible for helping him establish his brand. ("Do I look nervous?, etc.") I'm squirreling away some of his memorable quotes, and when it reaches 10 gems, we're going to publish a list on STLtoday.com and get reader feedback. I'm at about 6-7 now.
FAULK'S ISSUES?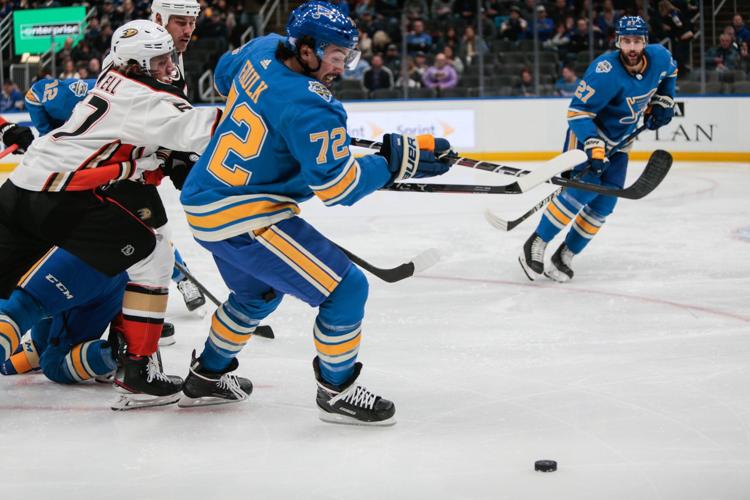 QUESTION: Is one of Faulk's biggest problems the fact that he never carries the puck into the offensive zone? More than any other D, it seems like he always dumps it along the half boards instead of taking a few more strides and letting his teammates establish position.
JT: Yeah, I've noticed that, too. And yeah, there are times when you'd like to see him keep carrying the puck. To me, he still looks just a little unsure of himself with the puck.
WOULD MAROON PLAY HERE AGAIN?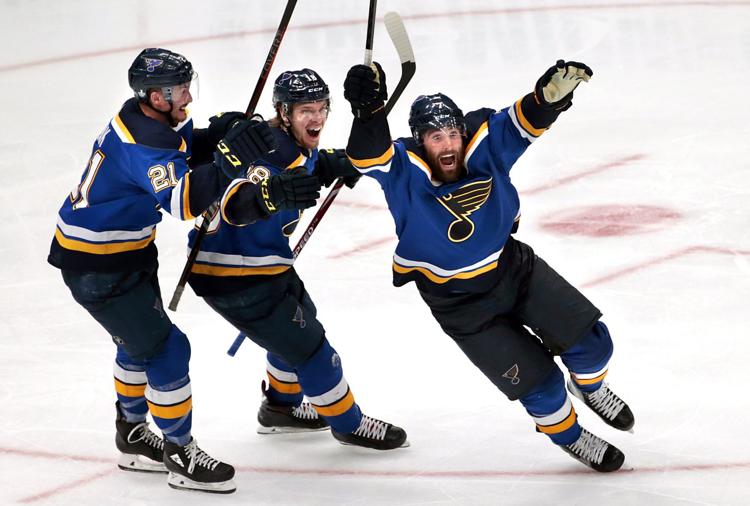 QUESTION: Do you see Maroon donning a Blues sweater again before his career is over?
JT: I doubt it. And in a way, that's good. The lasting memory will be of that goal against Dallas in double-overtime.
Blues-Flames photos
Blues take on Calgary Flames at the Enterprise Center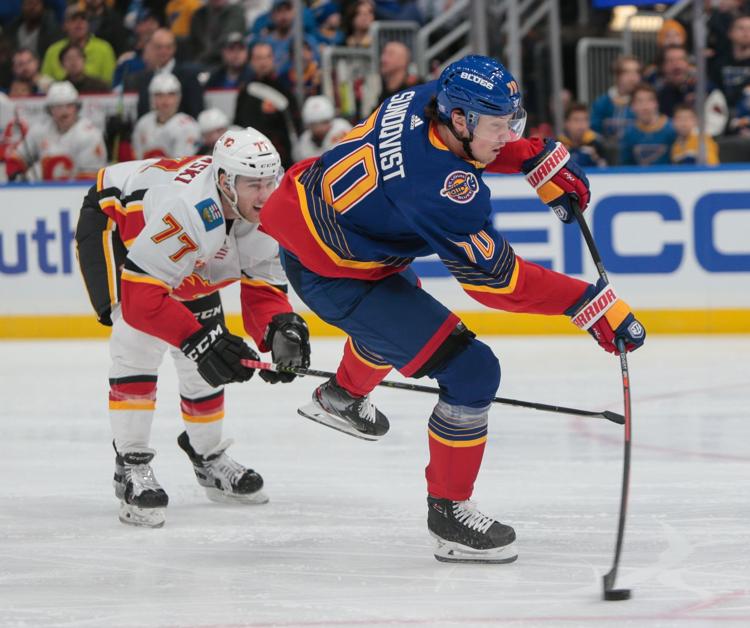 Blues take on Calgary Flames at the Enterprise Center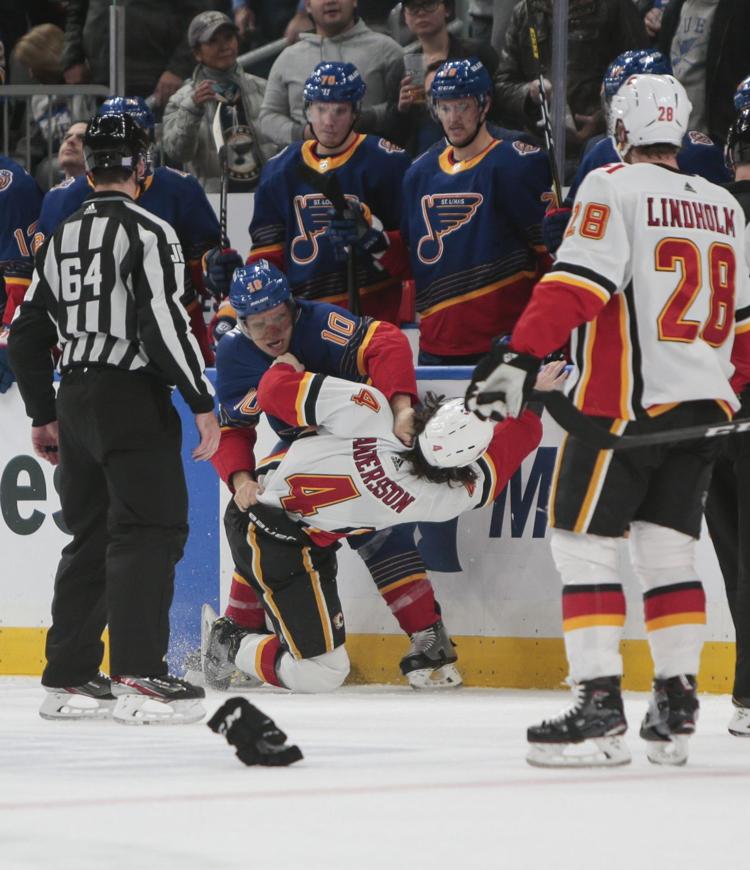 Blues take on Calgary Flames at the Enterprise Center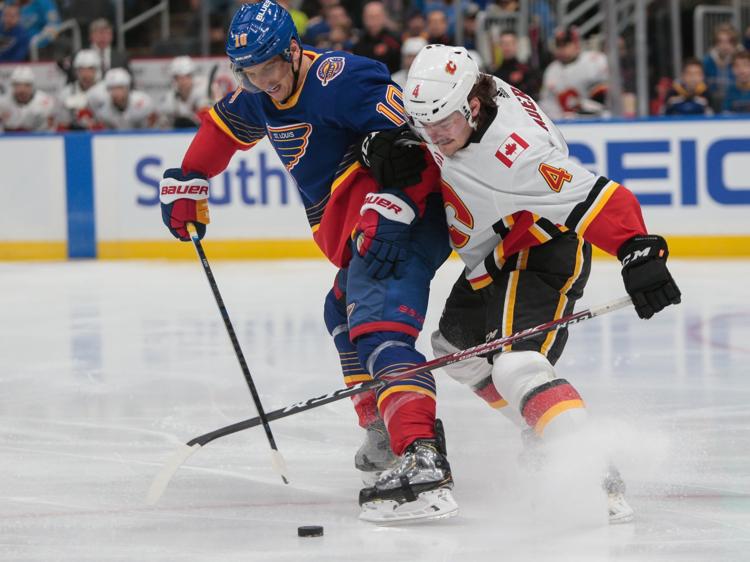 Blues take on Calgary Flames at the Enterprise Center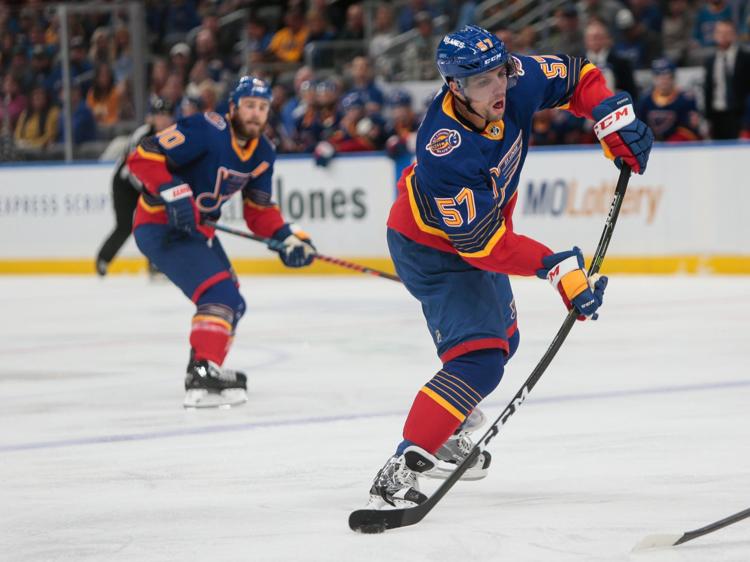 Blues take on Calgary Flames at the Enterprise Center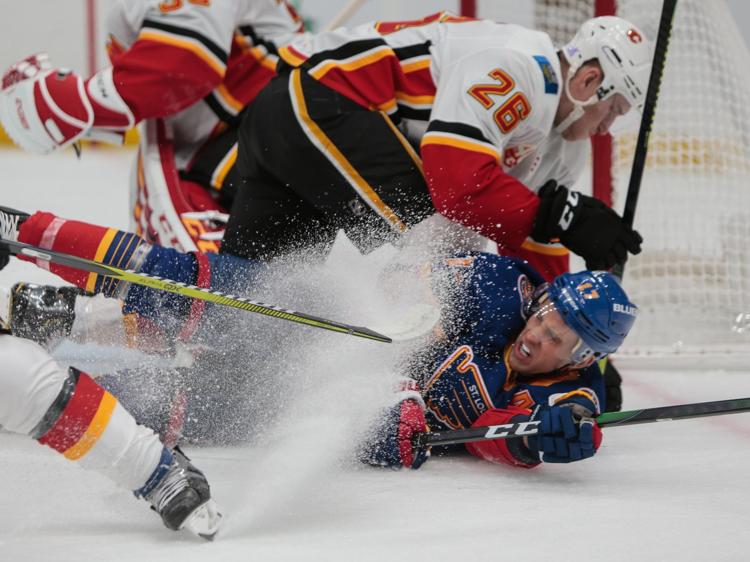 Blues take on Calgary Flames at the Enterprise Center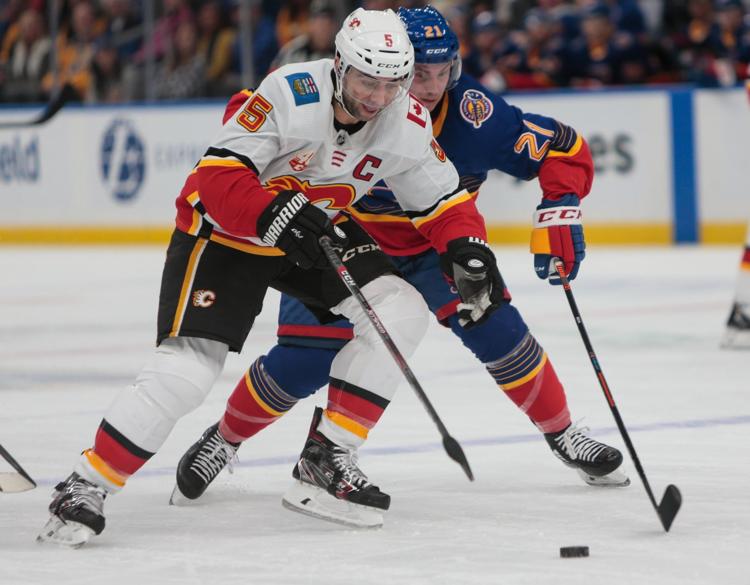 Blues take on Calgary Flames at the Enterprise Center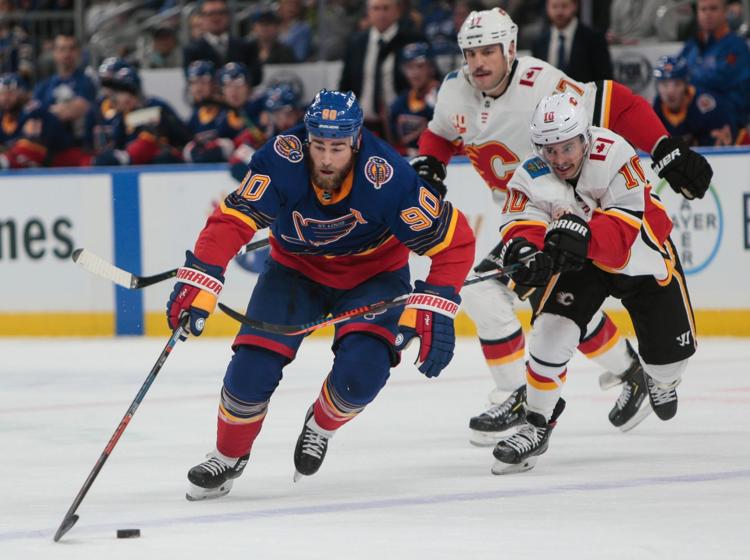 Blues take on Calgary Flames at the Enterprise Center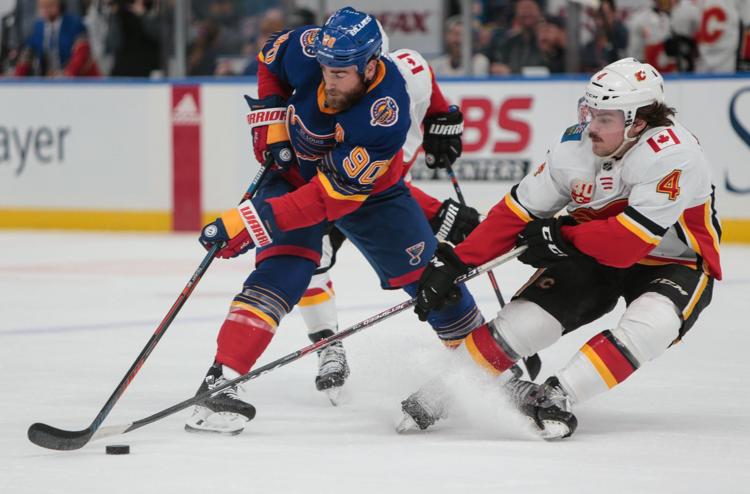 Blues take on Calgary Flames at the Enterprise Center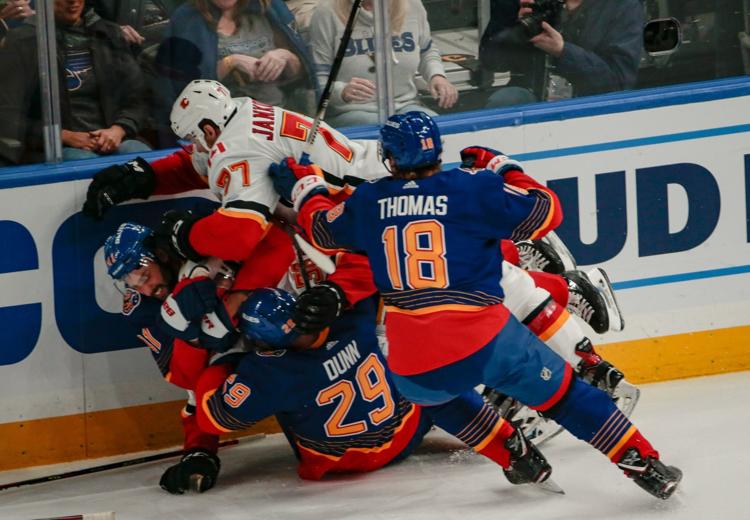 Blues take on Calgary Flames at the Enterprise Center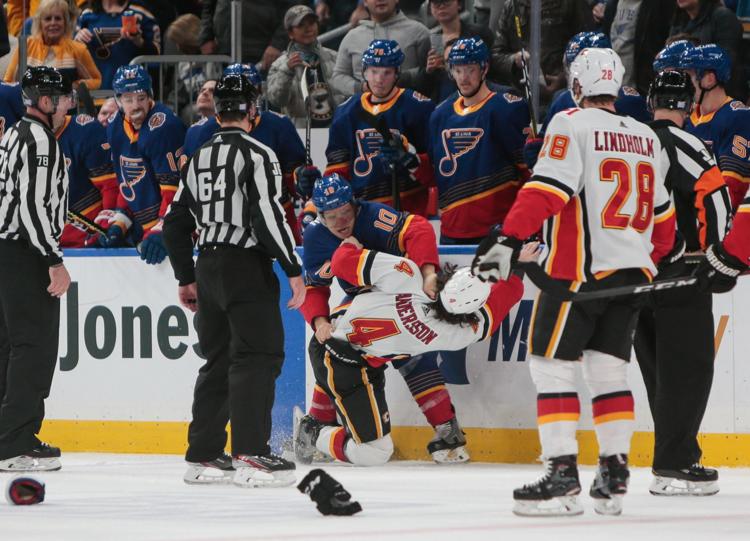 Blues take on Calgary Flames at the Enterprise Center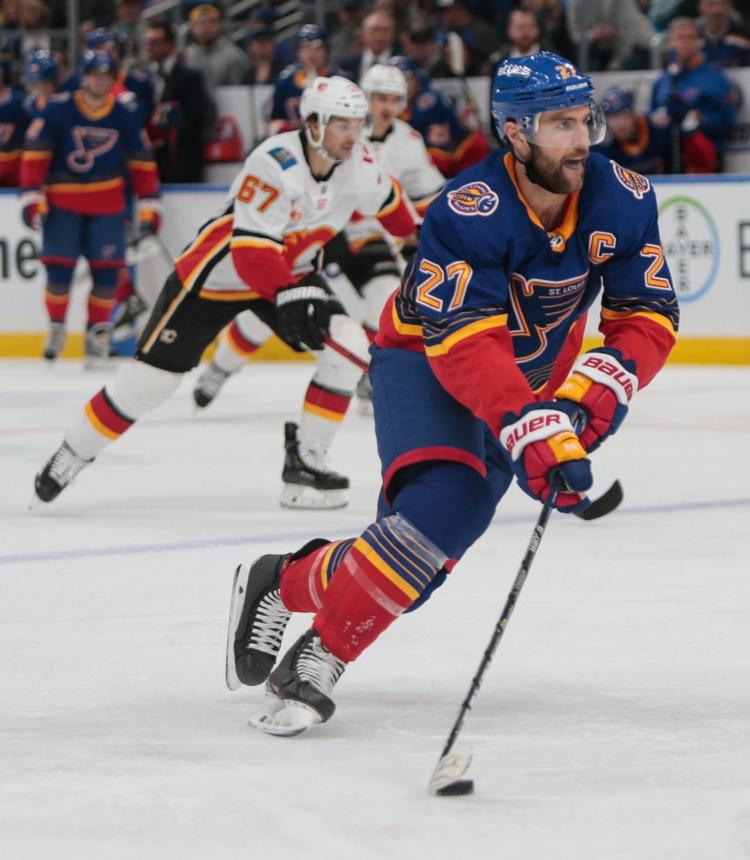 Blues take on Calgary Flames at the Enterprise Center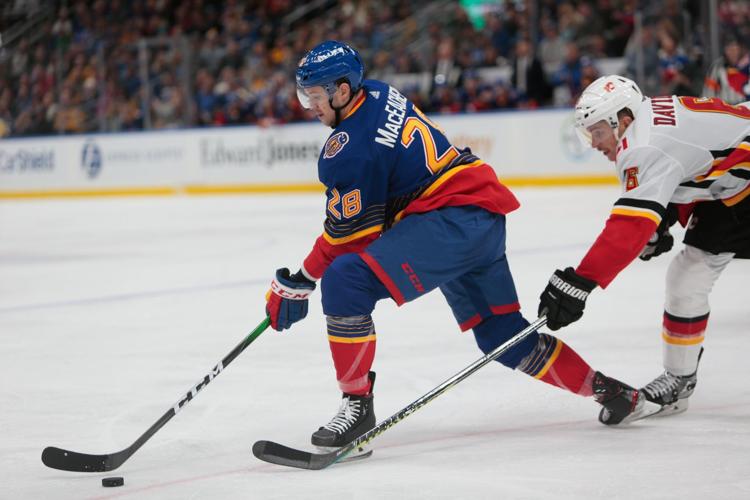 Blues take on Calgary Flames at the Enterprise Center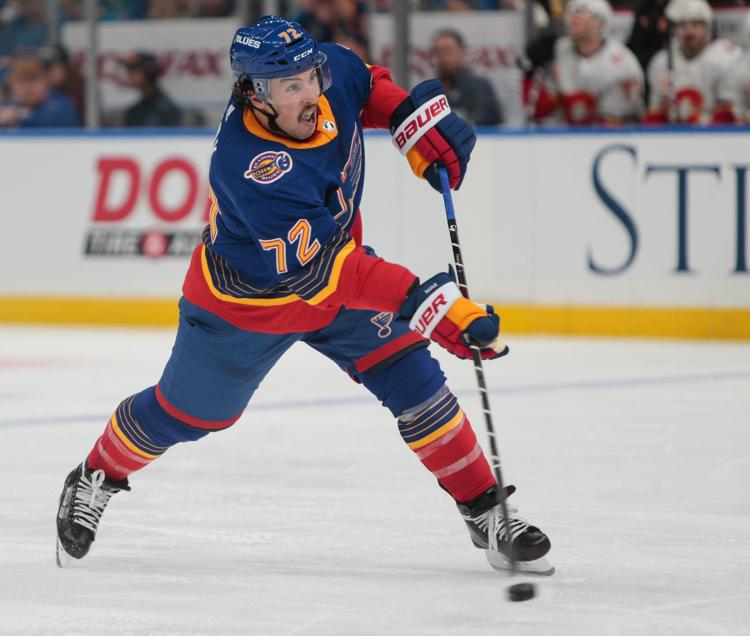 Blues take on Calgary Flames at the Enterprise Center
Blues take on Calgary Flames at the Enterprise Center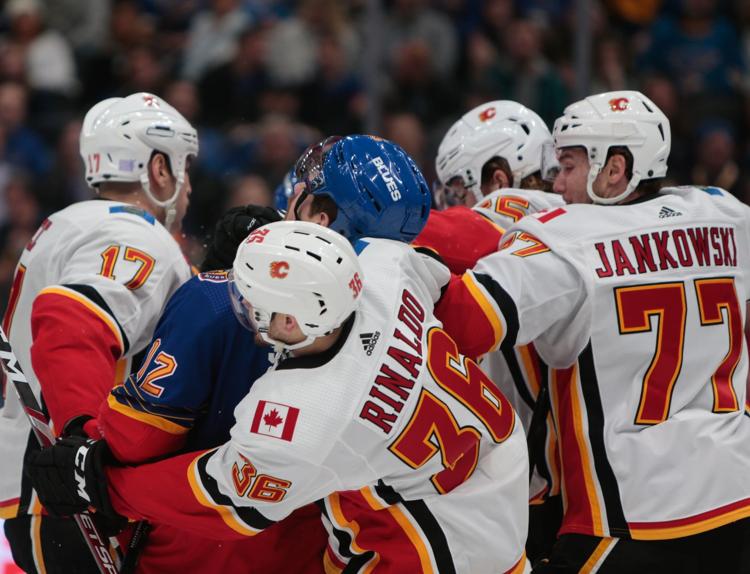 Blues take on Calgary Flames at the Enterprise Center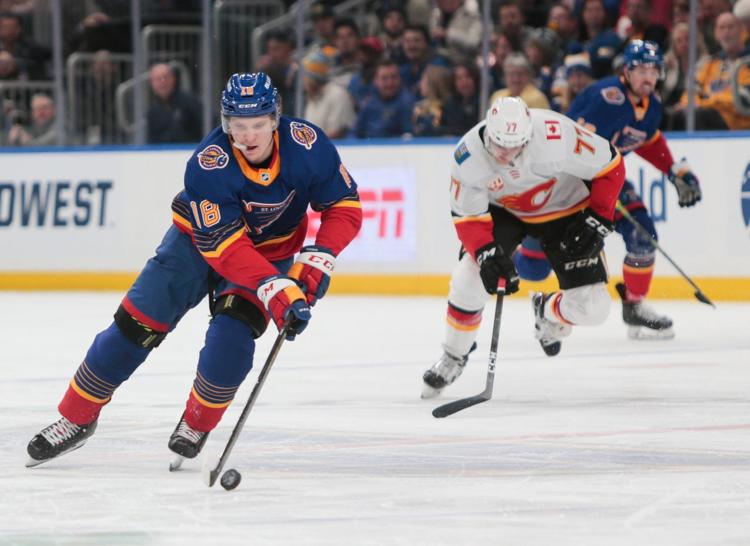 Blues take on Calgary Flames at the Enterprise Center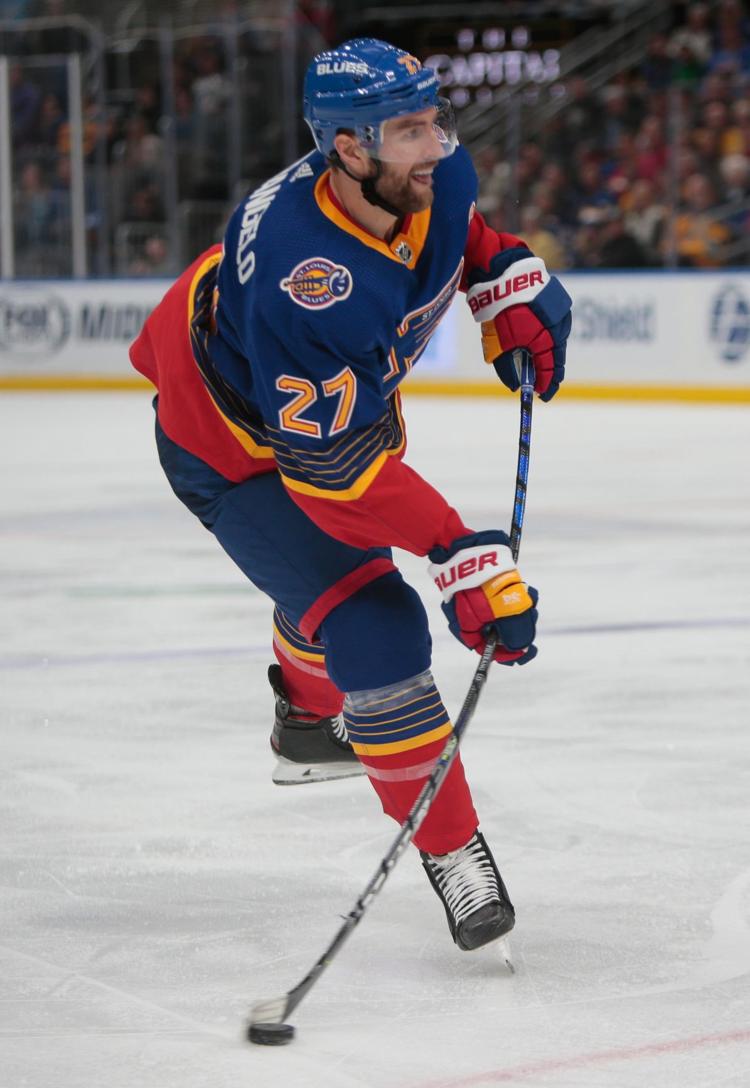 Blues take on Calgary Flames at the Enterprise Center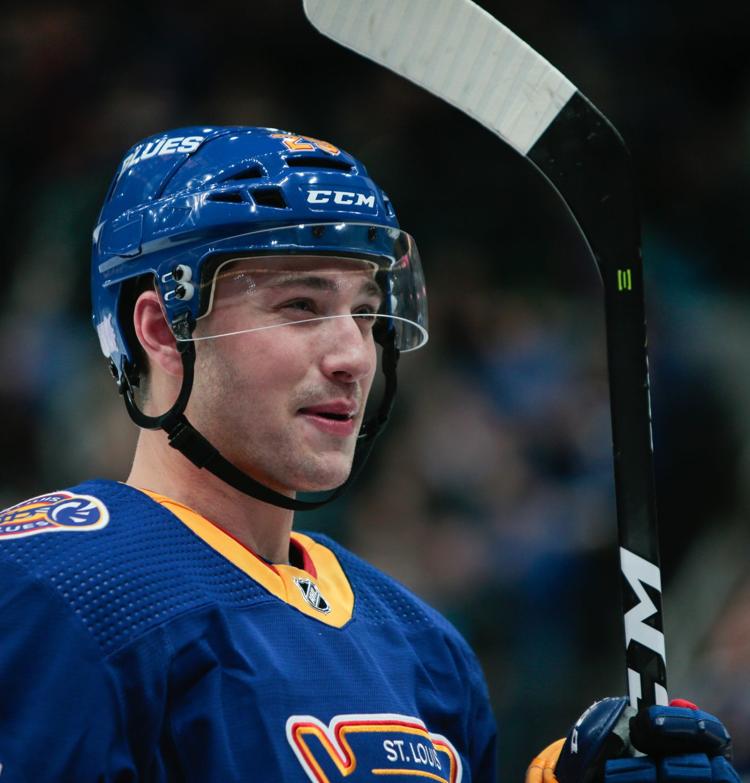 Blues take on Calgary Flames at the Enterprise Center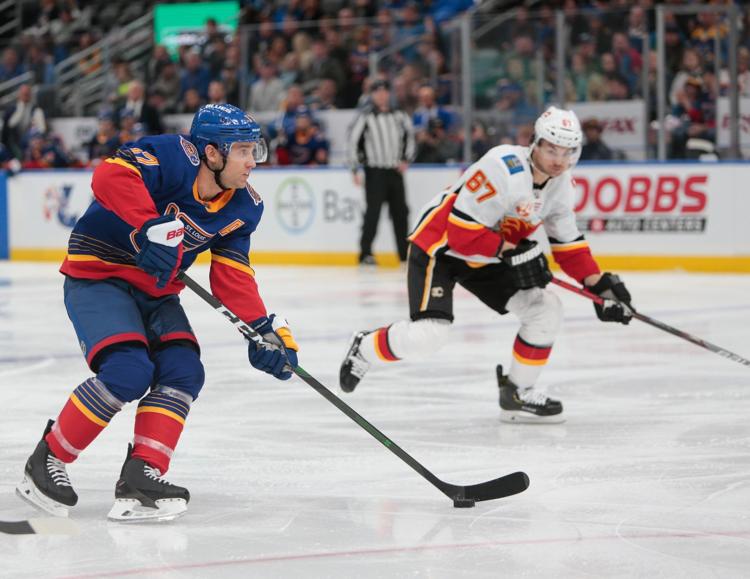 Blues take on Calgary Flames at the Enterprise Center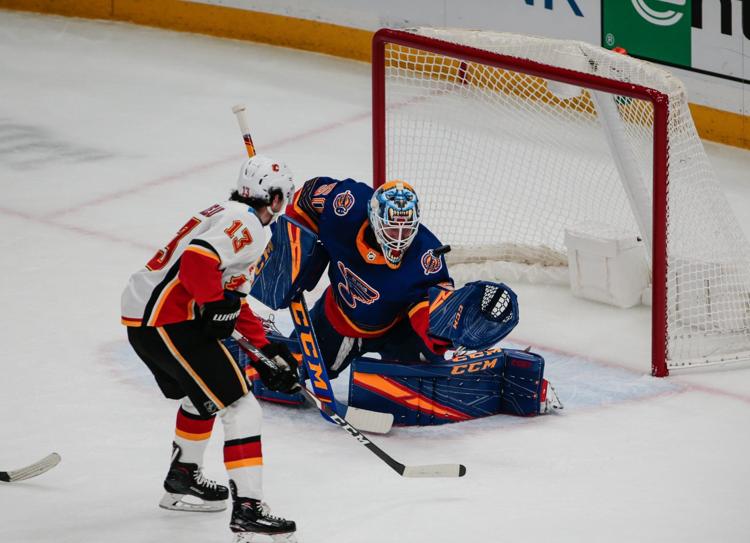 Blues take on Calgary Flames at the Enterprise Center
Blues take on Calgary Flames at the Enterprise Center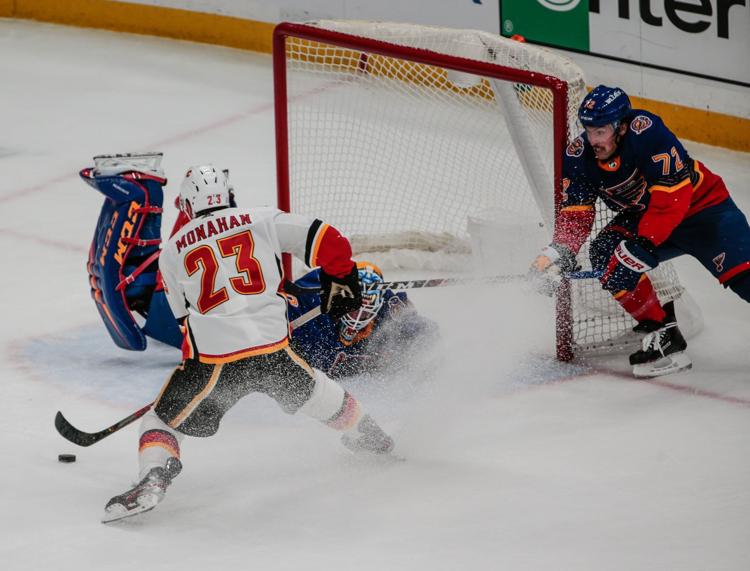 Blues take on Calgary Flames at the Enterprise Center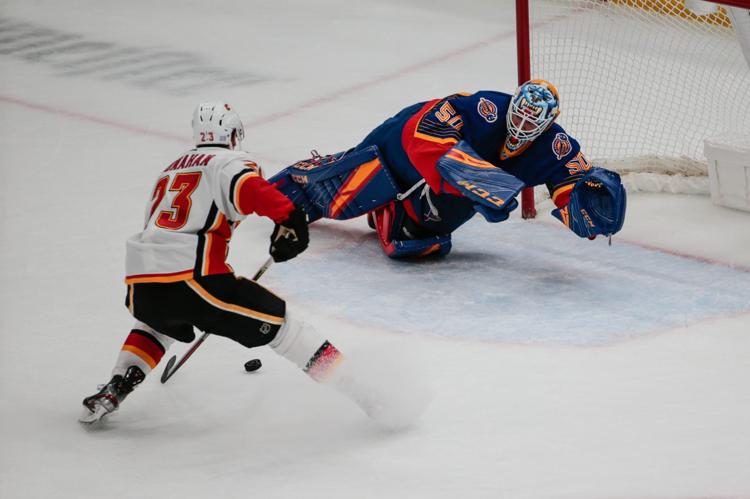 Blues take on Calgary Flames at the Enterprise Center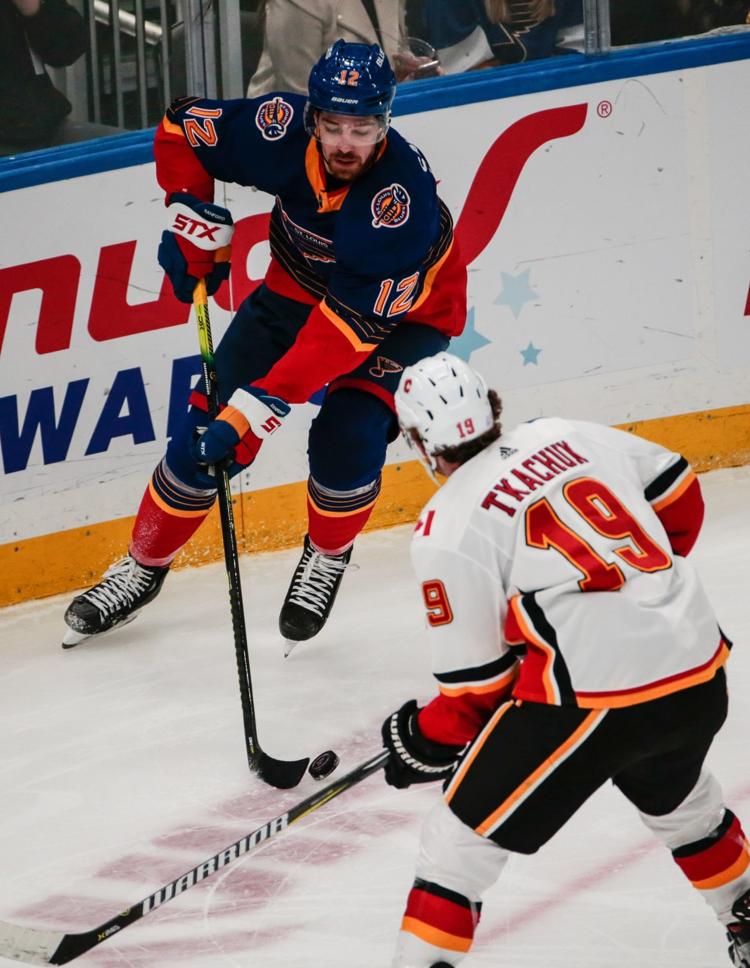 Blues take on Calgary Flames at the Enterprise Center
Blues take on Calgary Flames at the Enterprise Center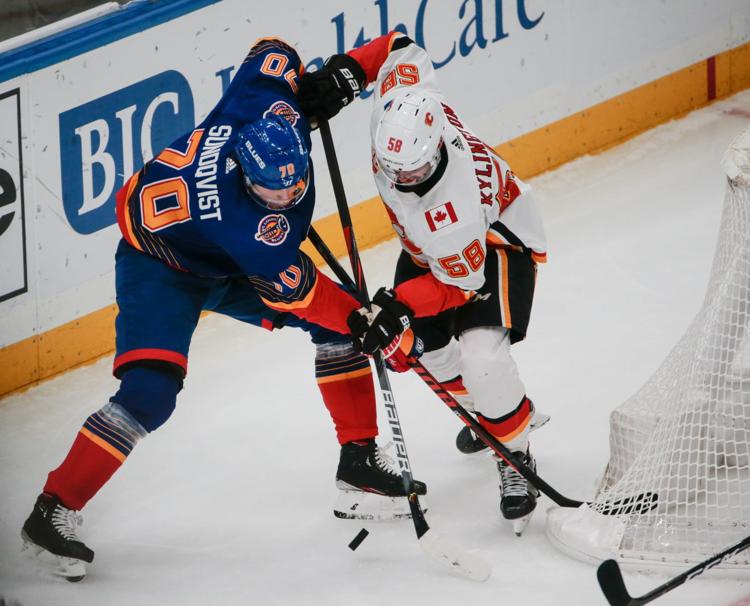 Blues take on Calgary Flames at the Enterprise Center