LAS VEGAS — Vince Dunn was a healthy scratch for the first time since 2018.
The entire Vegas Golden Knights coaching staff was a no-show due to COVID-19 protocols.
In case you missed it, Alex Pietrangelo now plays for Vegas.
And it snowed in Vegas, baby, for the second day in a row.
So far 2021 is full of surprises. Perhaps one of those surprises was the Blues toppling the high-flying Knights 5-4 in a shootout at T-Mobile Arena. Brayden Schenn scored what proved to be the shootout winner. David Perron scored twice in regulation. Jordan Kyrou had another highlight-reel goal, this time at the expense of Pietrangelo.
Don't be fooled by the four goals allowed. Jordan Binnington was tough as nails, making 42 saves in regulation and overtime and stopping two of three in the shootout.
And this just in: Blues coach Craig Berube is really fed up with all the penalties. More so with the officiating, than his players.
"C'mon, we're playing hockey here," Berube said. "Let us play hockey. I'm just tired of it. Going to the box six, seven times a night. Let us play hockey. You know it's a tough game out there. Things happen. You gotta let 'em go.
"Like (Marco) Scandella's penalty is a joke. I don't get it."
Scandella's cross-checking penalty (against Max Pacioretty) was one of four against the Blues called in the third period and came with 9 minutes 45 seconds to play with the Blues up 4-2. It gave the Golden Knights a 5-on-3 advantage for 38 seconds.
They needed only 20 of the 38 to make it a 4-3 game, with Pacioretty scoring from distance through traffic for his second goal of the night. And with just 3:25 to play it became a 4-4 game when Pacioretty scored again for the seventh hat trick of his NHL career on an even-strength goal from the near slot.
We've seen this movie before, right?
On Jan. 4 of last season, the Blues jumped to a 3-0 lead only to lose 5-4 here in overtime.
Five weeks later, on Feb. 13, the Blues led 4-2 here only to lose 6-5 in overtime. Zach Sanford scored four goals that night.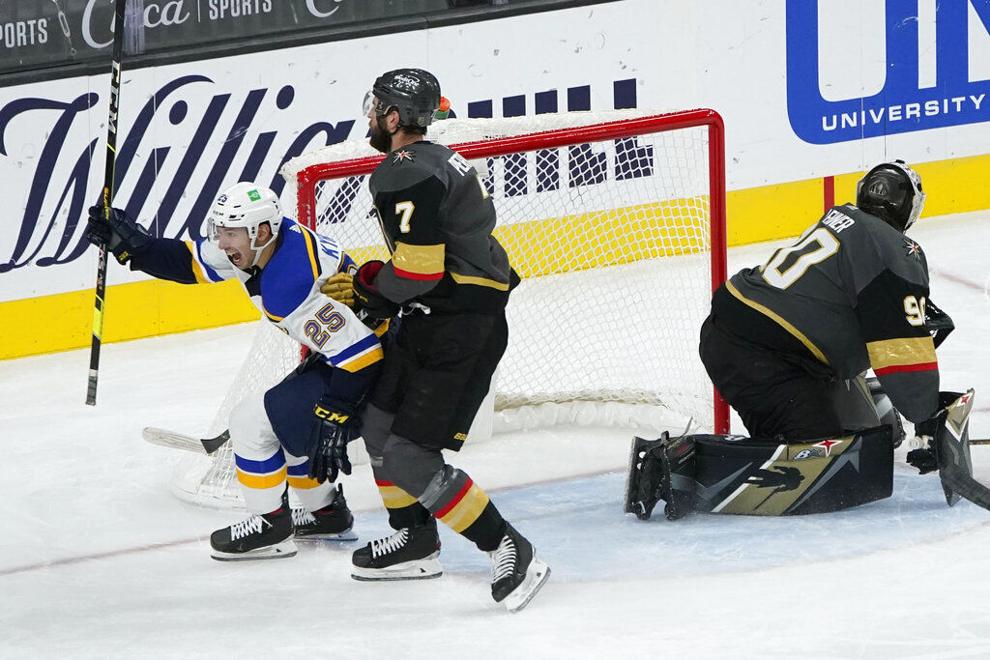 This time, the Blues turned a squandered lead into two points with an extra-time win.
"We didn't hold the lead either tonight, but we ended up winning it which was good," Berube said. "I think we will take some confidence. We get leads in this building and then we kind of try to hang on a little bit too much. They're a very good team … and kind of a back-and-forth game. We gotta defend better. We gotta close these games out here."
Part of that may be due simply to Vegas' speed and transition game. It's hard not to get caught up in that style, right?
"A little bit, but I thought we stopped making plays with the puck," Berube said. "But you gotta keep making plays to advance it 200 feet. That was the biggest thing I took from it all."
Vegas entered the evening with the best record in the West Division (5-1) and tied for the overall lead in the NHL with 10 points. Well, they're at 11 points and 5-1-1. And in their four-year existence, they still haven't won a regular-season game in regulation against St. Louis.
The Blues, winning for the fourth time to start a series, improved to 4-2-1, with the teams meeting again on Thursday. The Blues are now 6-0-4 against Vegas.
If you thought Berube was upset over a pair of botched plays by Dunn that led directly to Los Angeles Kings goals in Sunday's 6-3 loss, you were right. With trade rumors now swirling around Dunn, the young defenseman was a healthy scratch for the first time since Oct. 13, 2018, (at Chicago) and missed just the 12th regular-season game of his career.
"He's got to clean up the mistakes, that's the bottom line," Berube said. "And that's it. That's all I'm gonna say about that. He knows. We talked. I love Dunner, but you gotta clean the mistakes up."
Niko Mikkola replaced Dunn on the third D-pairing (with Carl Gunnarsson), and after getting caught up ice on Vegas' first goal, settled in and was solid in 10:40 of ice time.
"Mikkola's a simple guy (in style of play), but he closes plays out," Berube said. "He's got that stick and he's aggressive."
Meanwhile, out of what the Knights called an abundance of caution, the entire Vegas coaching staff spent the night self-isolating after a member of the coaching staff tested positive for COVID-19. General manager Kelly McCrimmon was behind the bench, getting some help from Vegas' American Hockey League team, the Henderson Silver Knights.
But back to the game. After the Blues took a 3-1 lead in the first period, with two of the goals by Perron, the highlight of the second period was another highlight-reel play by Kyrou.
He came up with a takeaway on the Blues' end of the ice, outraced and outmuscled Pietrangelo for puck control then rifled a wrister from 13 feet past Vegas goalie Robin Lehner for a 4-2 advantage. Pietrangelo reacted by rocking his head back in exasperation, and then appeared to utter an expletive — to no one in particular — on his way to the Vegas bench.
"He's the real deal," said captain Ryan O'Reilly. "You see that play at a time where we were kind of hemmed and he gives us a spark. Just great speed, the control he had … it's very impressive what he's doing. He played very well tonight and it's nice to see. He's a big piece for us."
Late in the second, Justin Faulk became the first member of the Blues to drop the gloves this season. He fought Vegas captain Mark Stone to a draw near the St. Louis net with 4 minutes 16 seconds remaining in the period. Faulk fought in response to a Stone hit on Tyler Bozak that knocked Bozak out of the game.
Neither Berube or any of the Blues who saw the play, or saw the replay, were happy about it.
"It was a very unnecessary play and I hope the league is going to look at it," Perron said. "It was not very smart. It was great to see Faulker do that. I think Schenner was close (to fighting) too. I saw him look at the replay. A couple other guys were not happy with it."
Photos: Blues beat Las Vegas in a shootout
Blues Golden Knights Hockey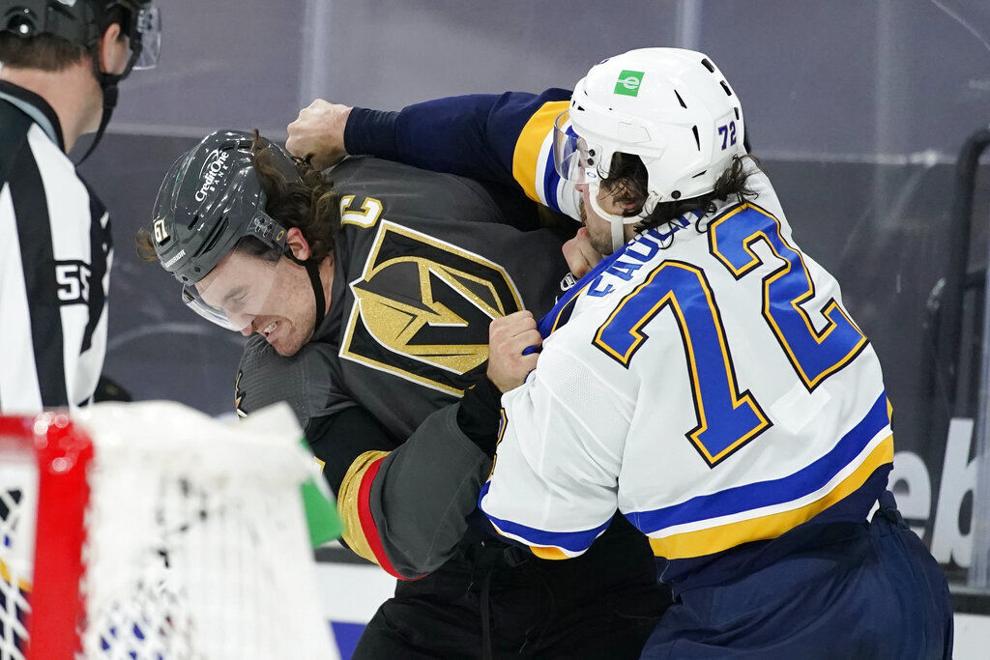 Blues Golden Knights Hockey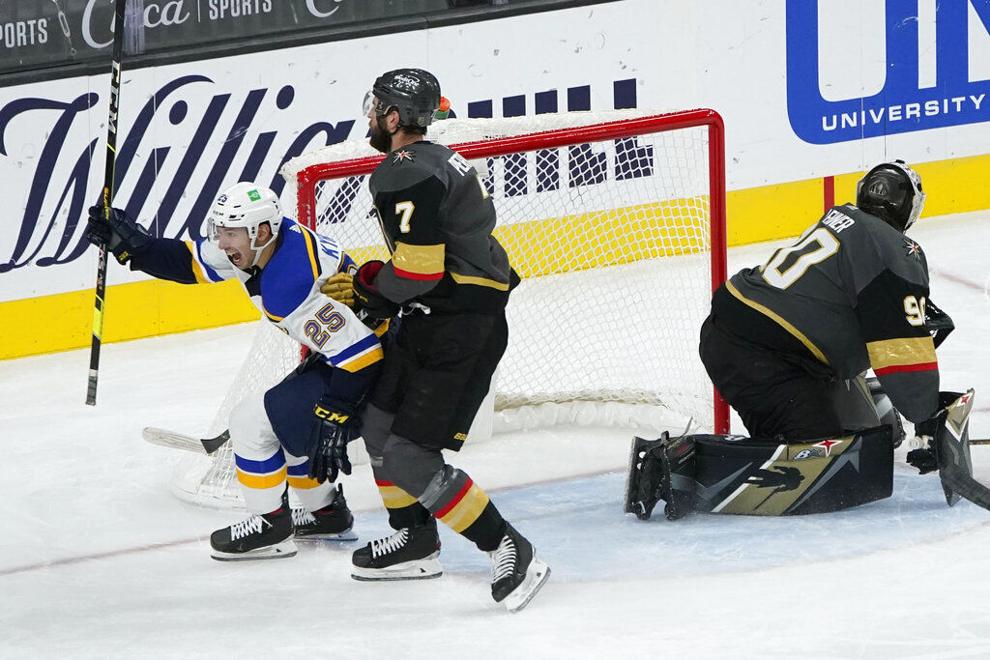 Blues Golden Knights Hockey
Blues Golden Knights Hockey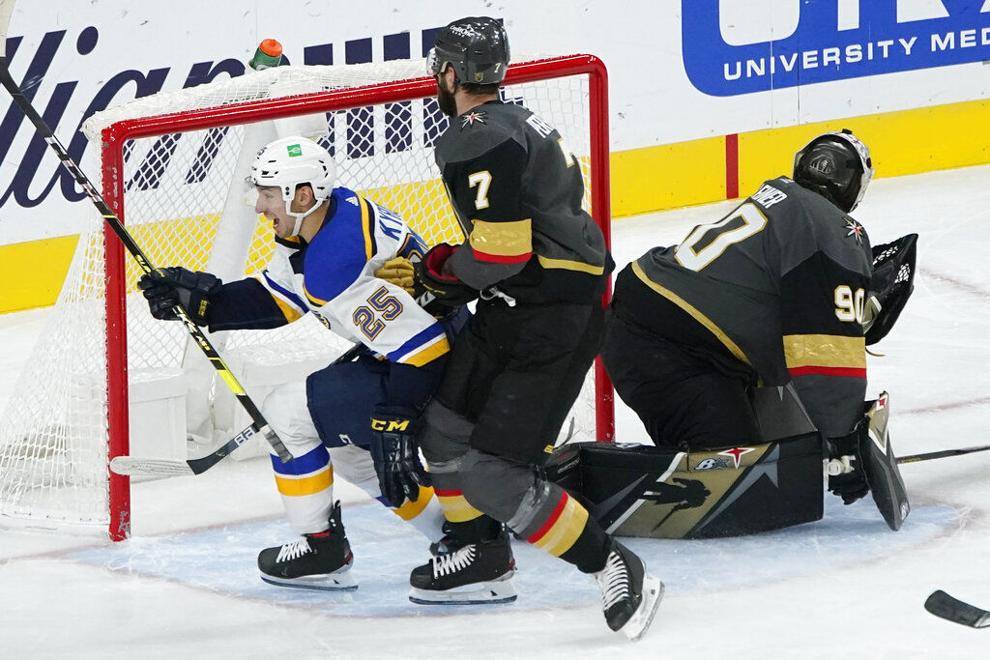 Blues Golden Knights Hockey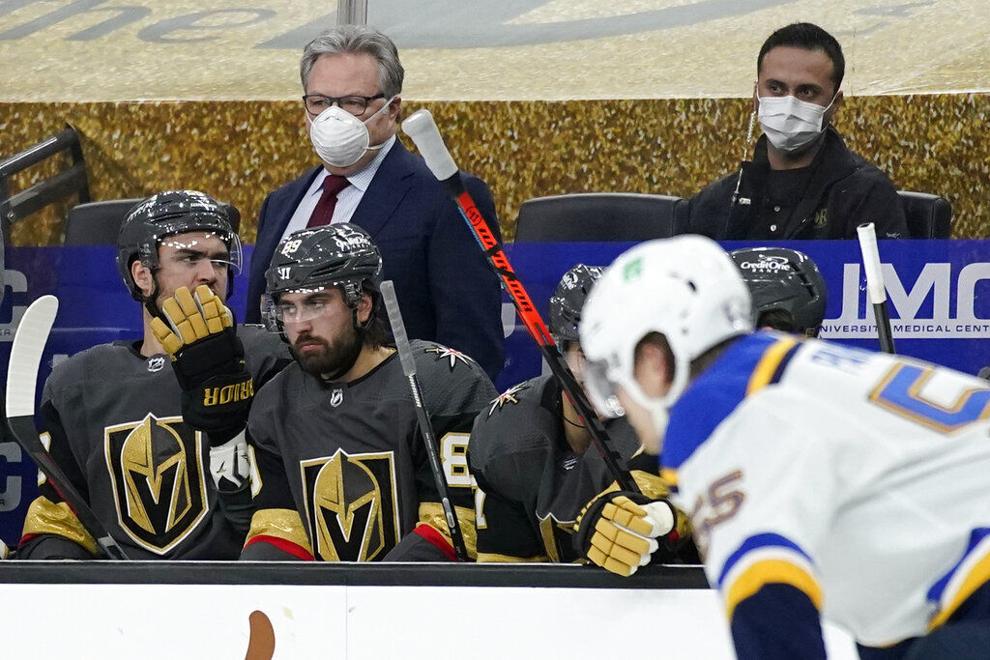 Blues Golden Knights Hockey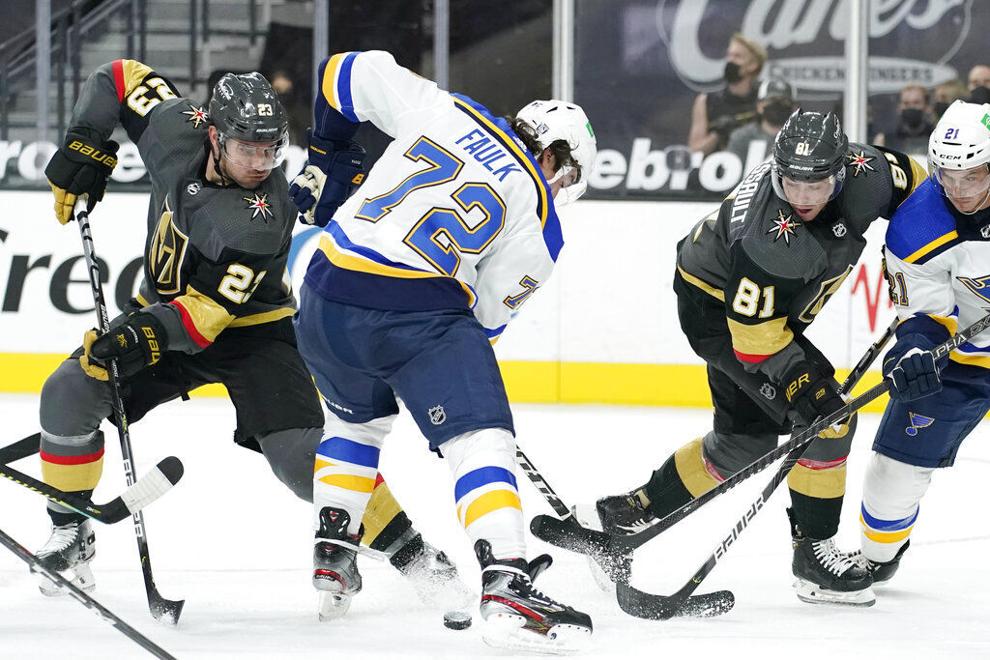 Blues Golden Knights Hockey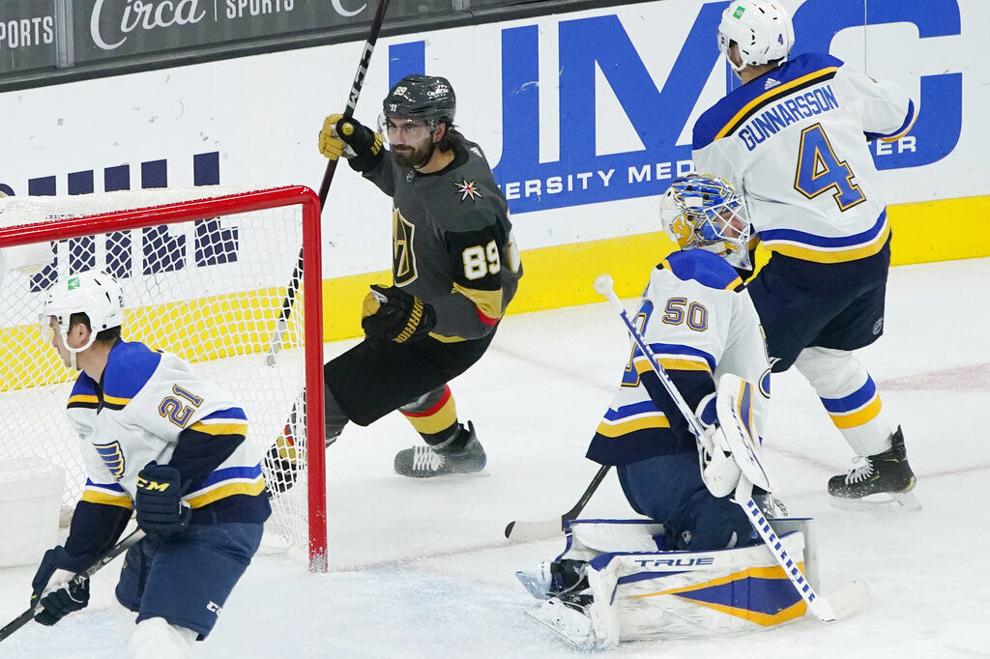 Blues Golden Knights Hockey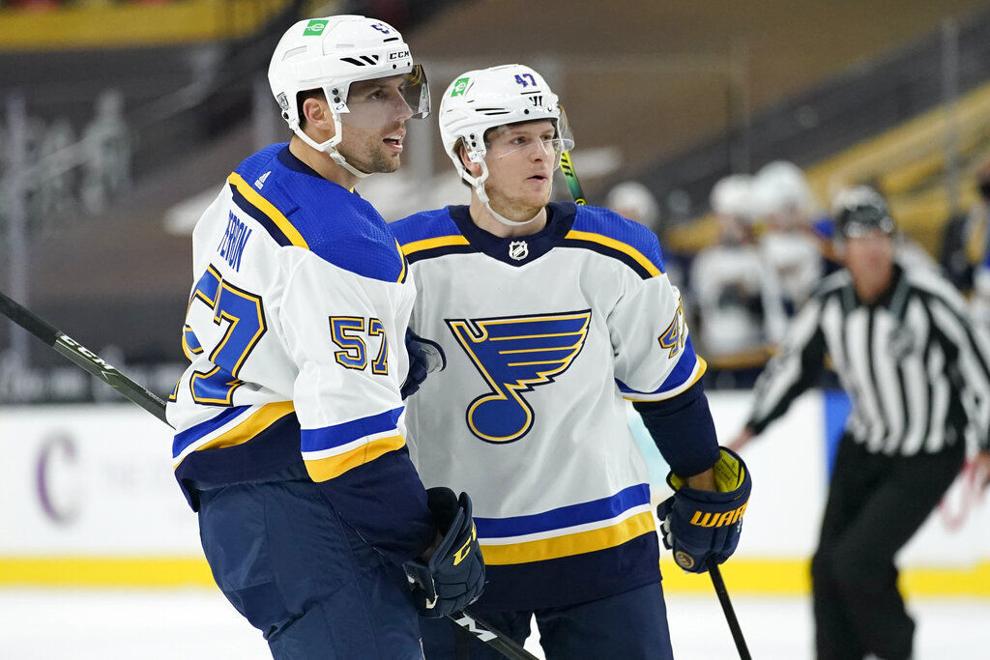 Blues Golden Knights Hockey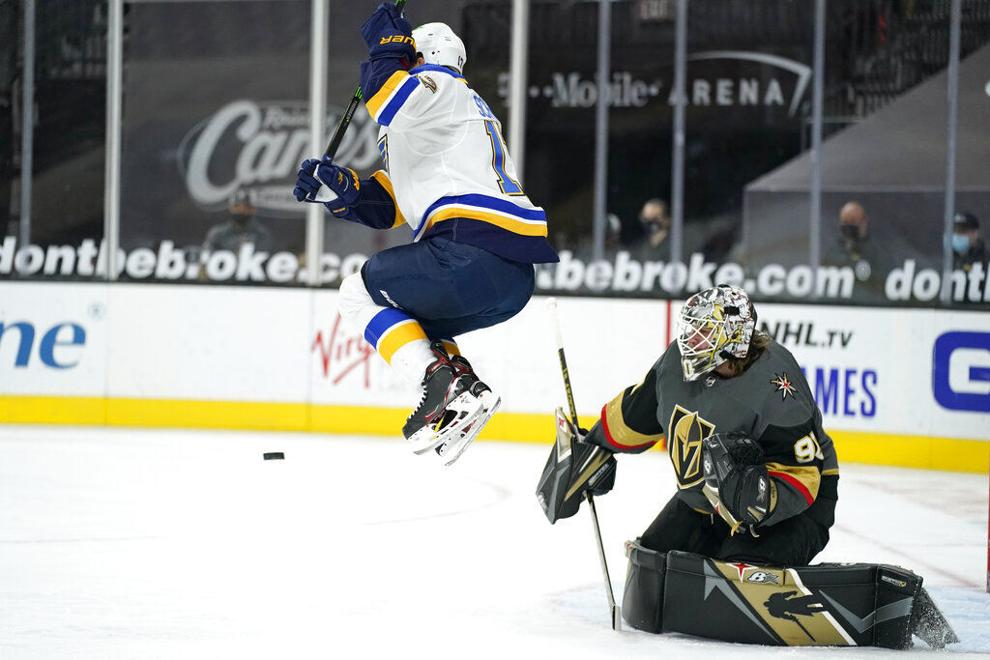 Blues Golden Knights Hockey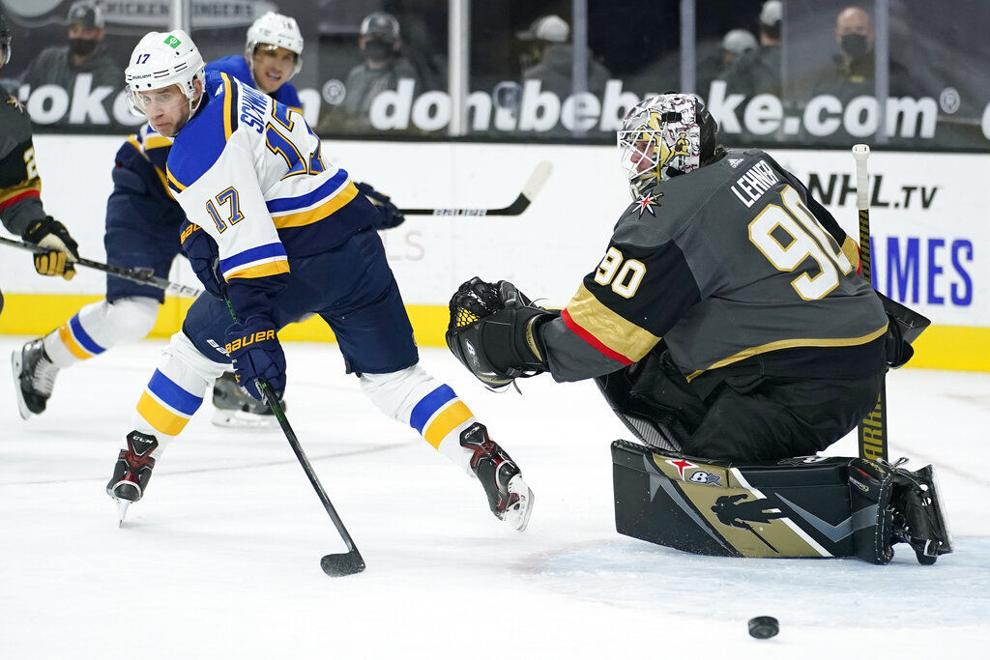 Blues Golden Knights Hockey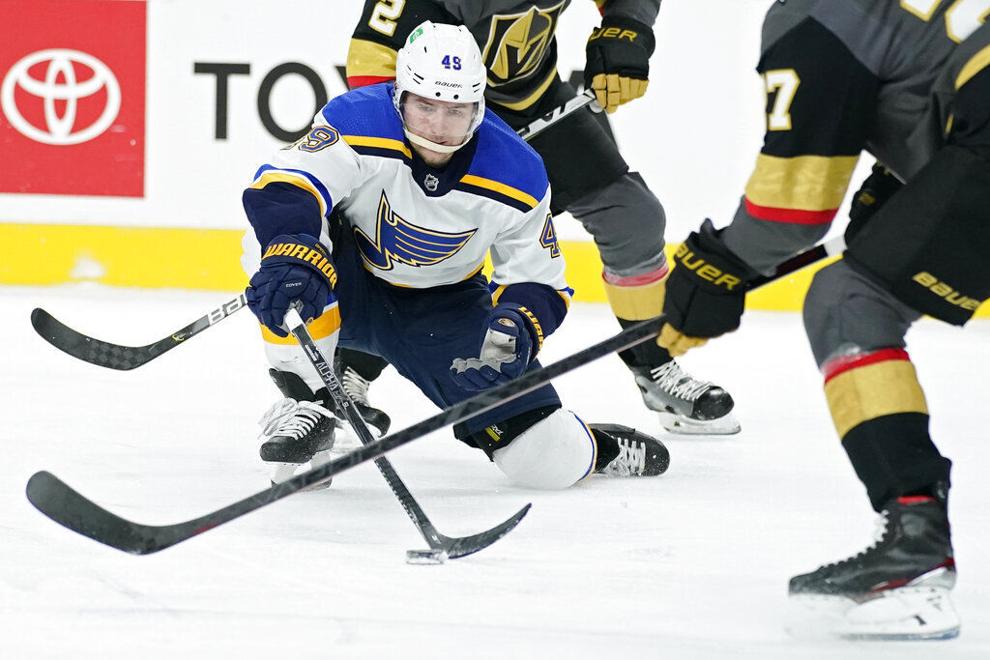 Blues Golden Knights Hockey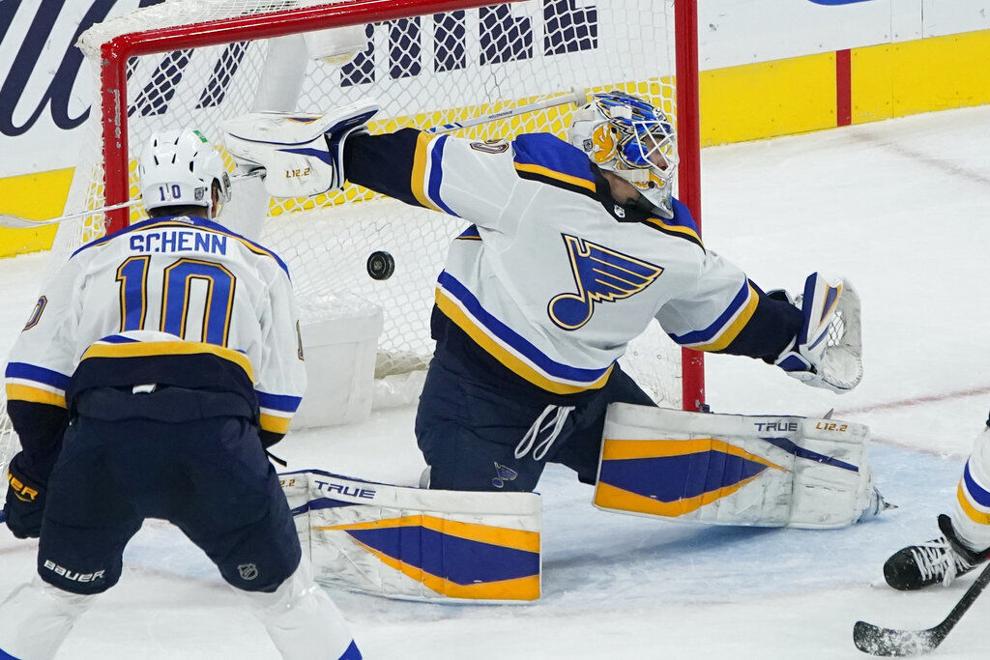 Blues Golden Knights Hockey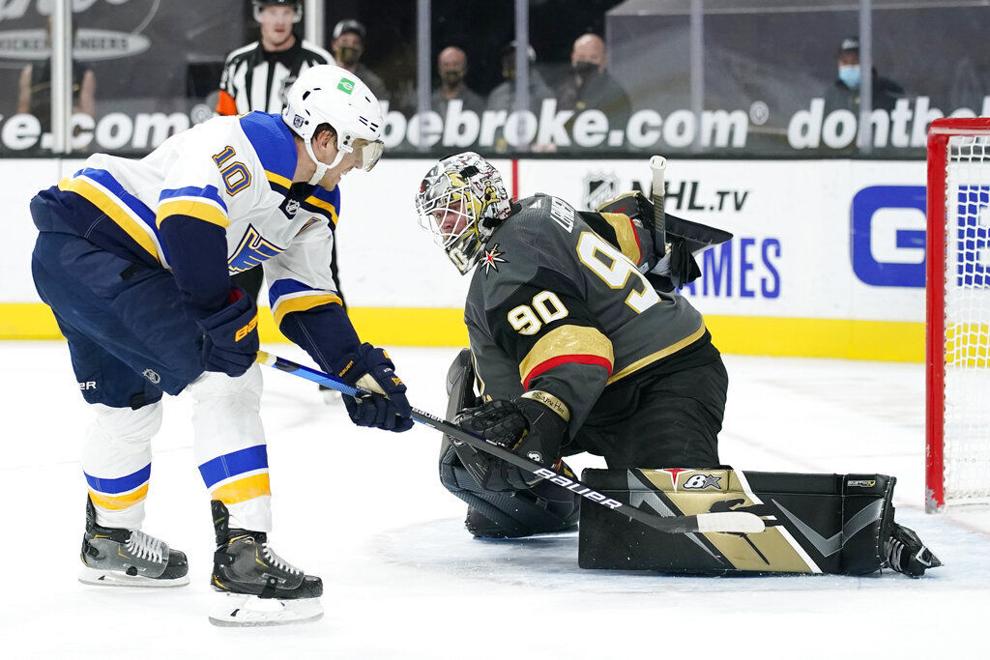 Blues Golden Knights Hockey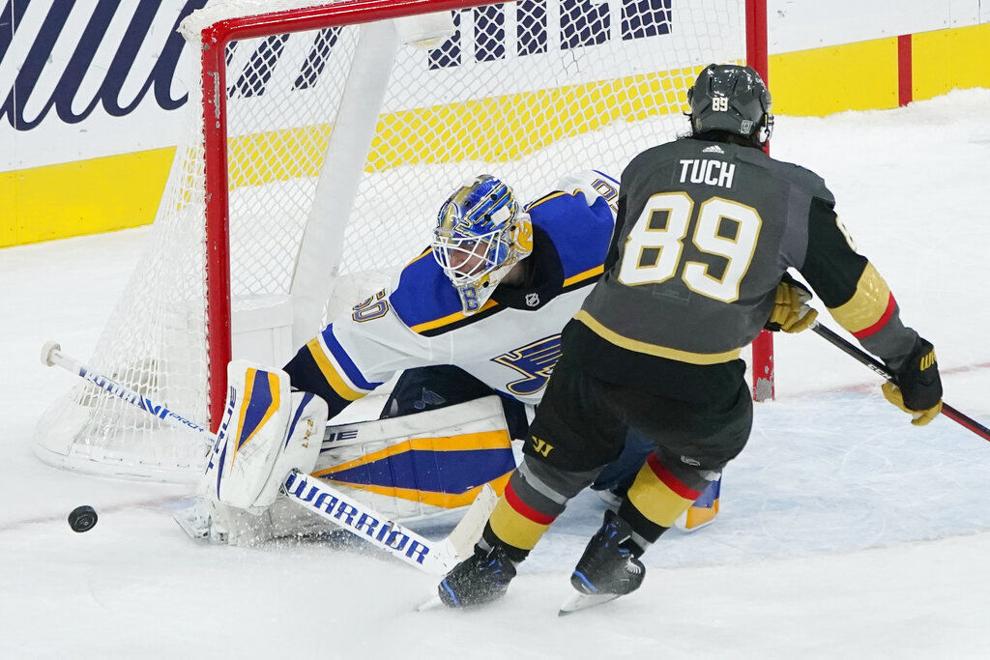 Blues Golden Knights Hockey