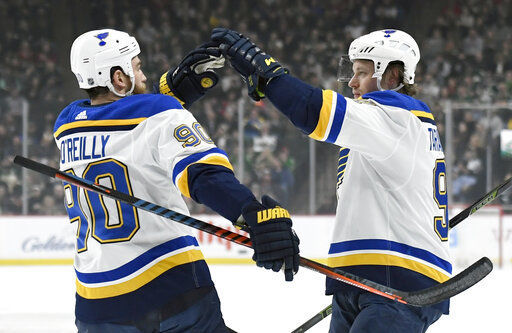 ST. PAUL, Minn. • In light of recent events, these questions must be asked.
Will the Blues ever give up another goal? It's now three straight shutouts and 187 minutes, 16 seconds of goal-free hockey by their defense. That's the third-longest streak in franchise history.
Will the Blues ever trail again in a game? They haven't since the third period against Florida on Feb. 5, eight games ago.
And will the Blues ever lose again? Sunday's 4-0 victory over the Minnesota Wild at Xcel Energy Center made it 10 consecutive wins, matching the franchise record set by the 2001-02 squad of Pavol Demitra, Keith Tkachuk, Chris Pronger, Al MacInnis ... and current Blues assistant coach Mike Van Ryn.
The answer to the above? Of course.
But right now the Blues simply are playing at a higher level than everyone else. During the 10-game winning streak they have outscored the opposition 40-14.
"It's all good stuff," said interim coach Craig Berube, who tosses superlatives around as if they were sewer lids. "Players are doing a great job. They're going out and executing and playing hard, doing the right things."
OK, fine. But 10 in a row? In the parity-driven NHL?
"I've never really been on a streak like this too often in any league where you can pull this many together," defenseman Vince Dunn said. "It's pretty unbelievable. Especially with three shutouts. It's an incredible feeling for us in the room."
Speaking of those shutouts, the Blues haven't strung together three consecutive shutouts since the 2015-16 season, when they actually posted four in a row from March 19 through March 26. Brian Elliott was in goal for the first of those three shutouts; Jake Allen got the fourth.
This time around, after Allen stopped 32 shots in Saturday's 3-0 victory in Colorado, Binnington stopped 31 Wild shots Sunday. (Binnington got the shutout streak going in Thursday's 4-0 triumph in Arizona.)
So it has been some defensive turnaround since the first month or two of the season.
"The defense is doing a great job," Berube said. "The big guys are getting in the way, and good sticks. The forwards are coming back and doing a good job. And the goalies are stopping pucks. It's everybody on the ice. It's not just one or two players. It's everybody buying in to do a good job."
Despite all those good deeds, the Blues made it tough on Binnington to preserve the shutout in the third period, getting whistled for three penalties. In addition, the period began with an additional penalty spilling over from late in the second period.
"Obviously, (Minnesota) had a couple penalties in the second, so we knew there was probably gonna be some calls (against us)," Binnington said. "We handled it well, we battled, and I think we helped our PK numbers a little bit."
It may have been a case of the Blues getting a little sloppy down the stretch, with a 4-0 lead after two periods. Or a little bit of the referees trying to even things up after giving the Blues all kinds of power play time in the second period, including 2 minutes, 42 seconds of 5-on-3.
It was Robby Fabbri who made one of the afternoon's biggest saves early in the third period when Charlie Coyle had Binnington beaten with a wraparound move. But at the last instant, there was Fabbri to get his stick down and prevent Coyle from jamming the puck into the open side of the net.
Suffice it to say Binnington was grateful for Fabbri's hustle.
"I went and gave him a little tap," Binnington said. "It's all love between us."
It's all love, all right, and sunshine and roses for the Blues these days.
At 31-22-5, the Blues are firmly ensconced in third place in the Central Division. "Separation Weekend" was a total success as the Blues swept games against three teams chasing them in the Western Conference. Arizona and Colorado now sit 10 points back of St. Louis; Minnesota (27-26-6) is now seven points back.
"I think we had real high expectations at the beginning (of the season) and it took us a while," Ryan O'Reilly said. "It was frustrating, but we stuck with it and kept fighting for wins and staying in the hunt.
"We found our game and it's been good. ... We're still not satisfied. We want to keep climbing."
The one area that had struggled during the hot streak was the power play. They were just two for 21 on the power play during the winning streak entering Sunday's contest, falling to 19th in the NHL on the season at 18.2 percent.
But that changed in the first period. With Minnesota's Jordan Greenway off for high-sticking Oskar Sundqvist, Robert Thomas and Ryan O'Reilly combined to win a puck battle along the side boards.
O'Reilly sent a cross-ice pass to Vladimir Tarasenko, who caught Alex Stalock sliding over late and blistered a wrist shot under the arm of the Wild goalie to open the scoring at the 5:08 mark.
It was Tarasenko's 26th goal of the season, which extended his career-best scoring streak to 12 consecutive games and gave him 15 goals in his last 19 games.
"He's pretty good, as you can see," Binnington said, in a subtle deadpan. "It's fun to watch him. I'm happy to be on this side of it. That whole line's rolling."
Tarasenko then returned the favor, feeding O'Reilly for another power-play goal with 30 seconds left in the opening period, making this the first game since Nov. 28 against Detroit that the Blues had scored two power-play goals.
It didn't stay 2-0 for long. In the second period, Dunn scored his eighth goal of the season and Brayden Schenn got his 11th to double the lead. And that was enough — more than enough — to keep the Blues rolling.
"I think it's fun to be a Blues fan these days," Binnington said.
Season 3, Episode 21 -- Blues reporter Tom Timmermann joined columnist Jeff Gordon to discuss the Blues' immediate rivals in the wild card scramble.
Quick Hits: Timmermann on the Blues
BERUBE'S FUTURE WITH THE BLUES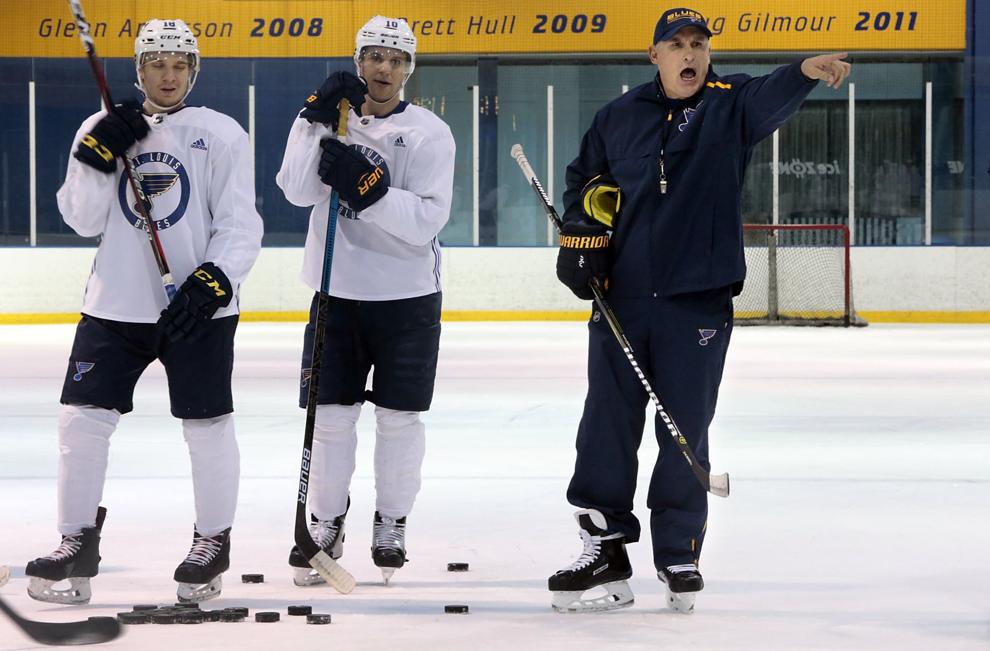 QUESTION: What's the general vibe from the players regarding the coaching situation? Do they support Berube getting the job on a permanent basis?
TOM T.: I think the players are pretty focused on the here and now, and right now, Craig Berube is the coach and things are going well. With the way the team has responded to him, I'd say they're pretty pleased with the situation and I would think they would support him getting the job. With that said, if you're comparing him to Unknown Coach X, you'll stick with the guy you've got and are winning with.
Berube coached some of these guys in the AHL, and many of the guys as an assistant and now as the head coach. There's a comfort level with that.
---
Follow-up: It seems obvious with the current state of play that "Chief" will be named the permanent coach of the Blues. Will management name him in the near-future vs. waiting until the end of the year?
TOM T.: The only thing Doug Armstrong has said is that Berube will finish out the season. Certainly if the team keeps going the way it's going, it's hard to see them not keeping him. I don't think Armstrong will pull a Cardinals and quickly pull the interim tag. But I could be wrong.
HOW DID BLUES TURN AROUND THEIR SEASON SO FAST?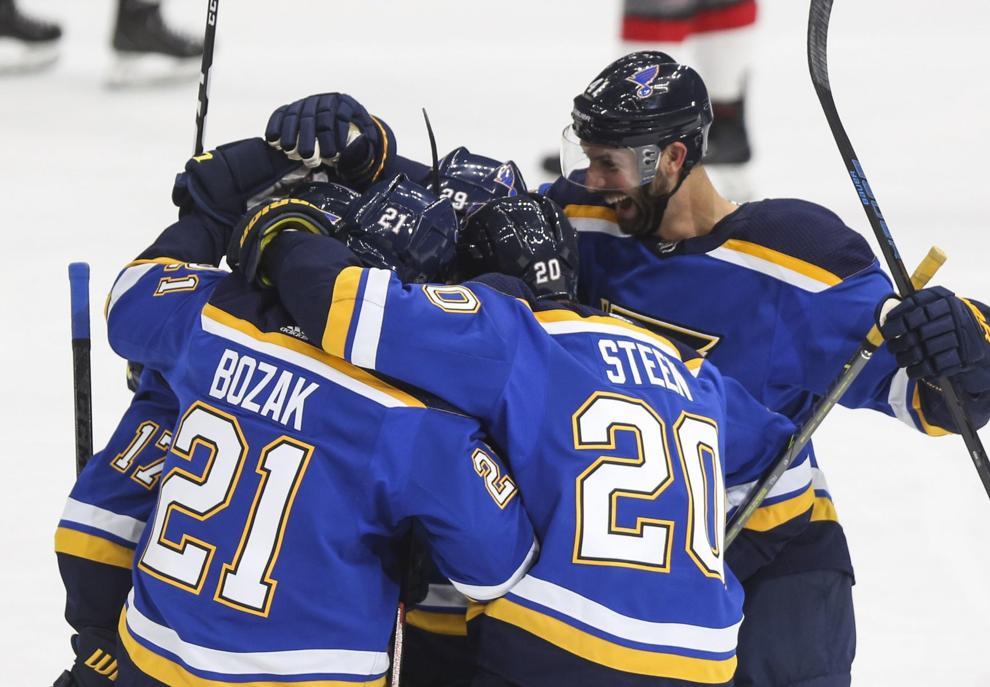 QUESTION: Watching Tuesday's game made me realize how far this team has come in just 30 days. The Blues were the New Jersey Devils just over a month ago. What happened — can you pinpoint it? Why did it take this long? What happens now? Are they buyers or sellers at the trade deadline?
TOM T.: I alluded to this in my story for Tuesday's paper, but the analytics for the Blues jumped up very sharply in mid-December. It's almost like they got an electric shock the jump was so sudden. That came about three weeks into the Berube Era. The on-ice events that correspond to the jump were the illegal-stick overtime win over Colorado and the practice session fight between Bortuzzo and Sanford. It's also very possible that it just took a while for Berube's message to sink in.
It's also possible that you or I could have been coaching the team and it would have eventually found that level, that the bad start was a combination of new faces not jelling, some bad luck and the standard ups and downs of the season. What ever it is, the team has an increased level of confidence and is nowhere near the fragile mess they were earlier. Let's face it: In November, the Florida, Tampa Bay and two Nashville games are ones they very likely would have lost.
---
Follow-up: What are the analytics that "jumped up" prior to getting the results?
TOM T.: The most significant one is what's called expected goals, or xG. It's based on who's taking shots and from where. After their slow start, the Blues are now 11th in expected goals for and second in expected goals against. (You can find this on corsicahockey.com, among other places.) So they're creating good chances while denying the other teams from having good chances. They're fifth in expected goal difference. For a while there, the numbers jumped and they were still playing .500 hockey. Now, it's to the point where they are playing up to their numbers and getting results.
If you recall, in that earlier stretch, there were times when Berube and players were saying they were playing well enough to win but weren't and they just needed to stick with it and they would get results. Turns out they were right.
STAND PAT AT THE TRADE DEADLINE . . .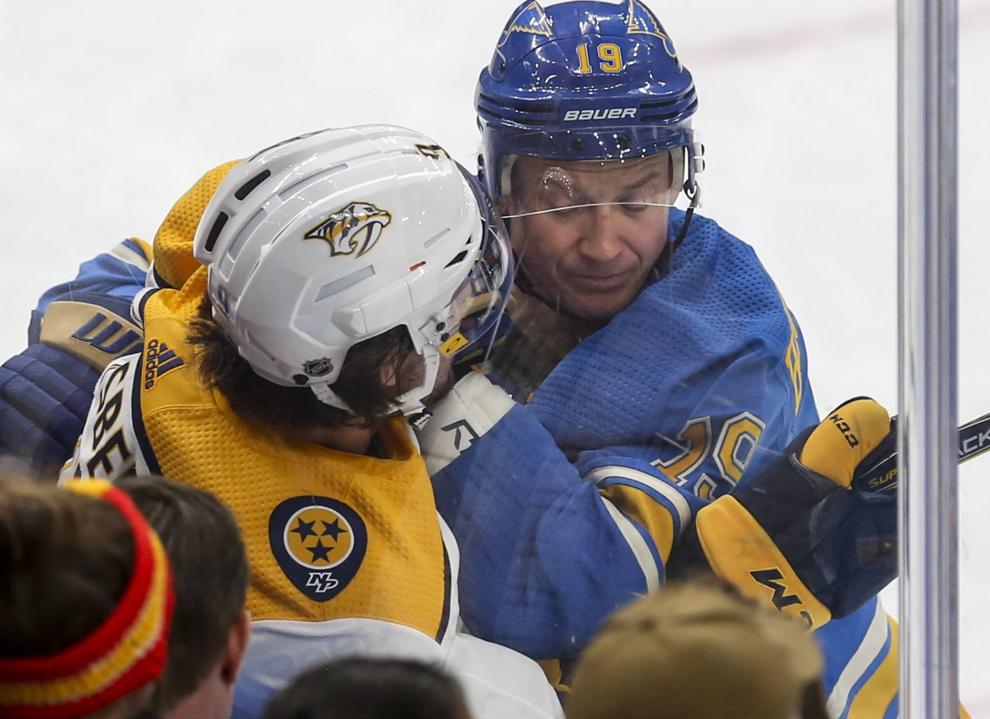 COMMENT: With the Blues' success since the start of 2019, they should stand pat at the trade deadline. They'll need depth across the roster come playoff time. Maroon has improved his game. If they trade Fabbri, they won't get a big return. Re-sign him; he'll be back to normal next season. JayBo and Gunnarsson? They'll need veteran 'D' for the playoffs.
TOM T.: I used to think that the Blues would be limited sellers at the deadline, dealing pending UFAs like Bouwmeester and Maroon. Now, I don't see that happening. As long as the team keeps winning, they'll keep those guys. The team has somewhat amazingly morphed from a team that would be fighting to make the playoffs to a team that looks like it could actually do something in the playoffs. At the same time, I don't see them buying. They certainly don't need any more defensemen, and they seem to have plenty of depth forwards. If by some chance a goal-scorer was available at a reasonable price, they would be interested, but a situation like that seems unlikely.
I don't think there's any kind of market for Fabbri at the moment.
. . . OR BUY AT THE TRADE DEADLINE?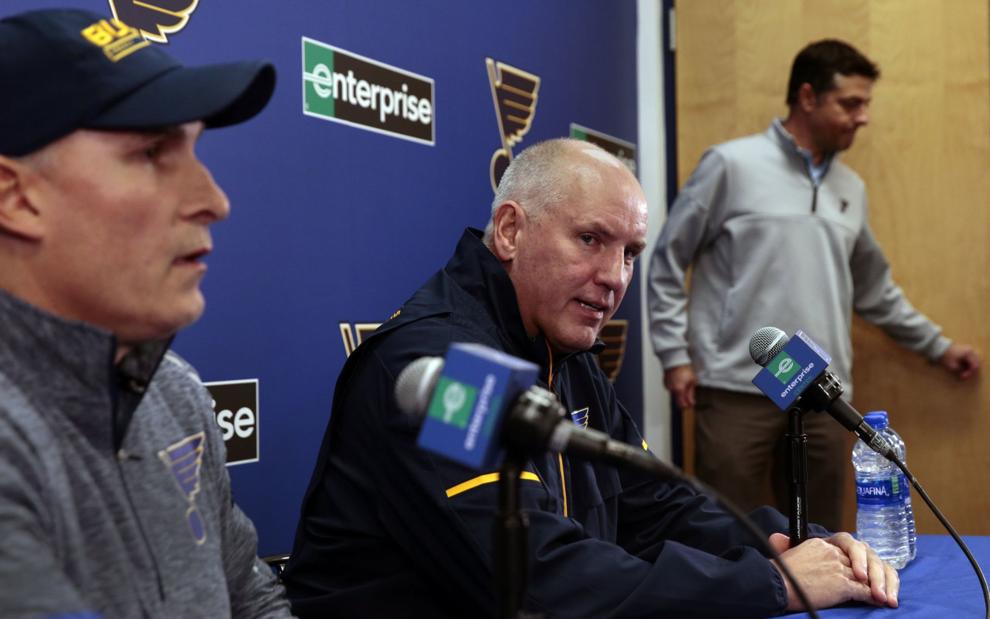 QUESTIONS: As long as the Blues don't lose their next several games before the trade deadline, it appears they'll be buyers. But who could they grab that isn't a rental? No rentals, please! Kyle Palmieri was impressive with the Devils on Tuesday. Would Palmieri be a good fit and if so, what would it take to get him? BTW, I really like this MacEachern kid. I hope 'Army' doesn't start shuttling him back and forth to San Antonio. What's up with Fabbri?
TOM T.: I don't see the Blues getting a non-rental. The price would be too high. They don't have the draft picks to trade and are reluctant to deal prospects (at least the prospects that other teams would want).
I think MacEachern is going to stay around, though if they got in a roster bind in the next two weeks before the limits come off, he would be the likely guy to go down because he doesn't have to go through waivers. Amusingly, after the Nashville game on Saturday, he got called into the GM's office to sign his new contract, but he thought he was going to be told he was being sent back to San Antonio because Perron was coming off IR.
Again on Fabbr: Basically, he came back a little tentative from the shoulder injury, the coaches sat him, and other players did better, making it tougher for him to get back in.
WHERE DOES PERRON FIT WHEN HE RETURNS?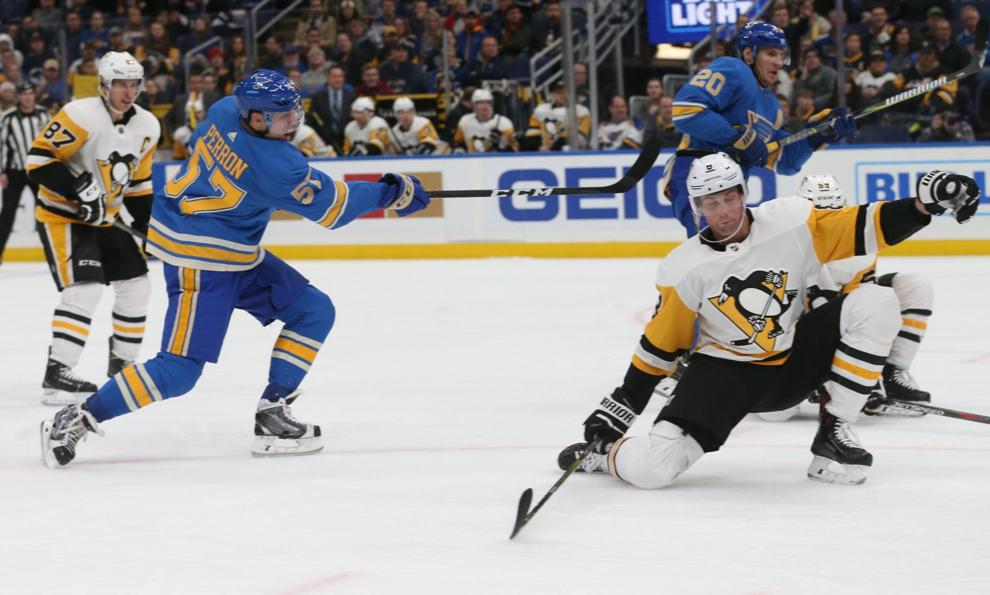 QUESTION: When Perron gets back in the lineup, does he eventually go back on the first line with O'Reilly? Would Schenn drop down to center the second line or play wing?
TOM T.: This has been a much-discussed topic the past few days. We discussed it at length in the press box Tuesday night and at practice Wednesday. I would think that the current O'Reilly line would stay the same. Perron would go on the second line, along with Schwartz, and Thomas would be moved up to center that line. Bozak would center a third line with Sundqvist and Maroon or Steen on the wings.
Then on the fourth line you would have MacEachern, Barbashev and either Maroon or Steen. Sanford would be the guy to come out. But I would think that Sanford and Fabbri would rotate through that third or fourth line from time to time.
WHAT'S FABBRI'S PROBLEM?
QUESTION: So what's the deal with Fabbri? Is it conditioning-related, lack of confidence that he won't get reinjured? Combination of both? Have we seen the last of him in a Blues jersey?
TOM T.: I don't think we've seen the last of Fabbri. When he has been healthy in previous seasons, he's shown he can play at this level and his price is still very reasonable, especially since he's not going to get much of a raise after this season. He's a valuable commodity and he's still young. (He's younger than MacEachern, for instance, and only five months older than Sammy Blais.)
Going into this season, it was hard to figure what the Blues would get out of him as he returned from two knee surgeries, and then when you throw a shoulder injury in, that's a lot to deal with. If he's fully healthy and fully confident, he can be a contributor. It just may take until next season.
BINNINGTON'S IMPACT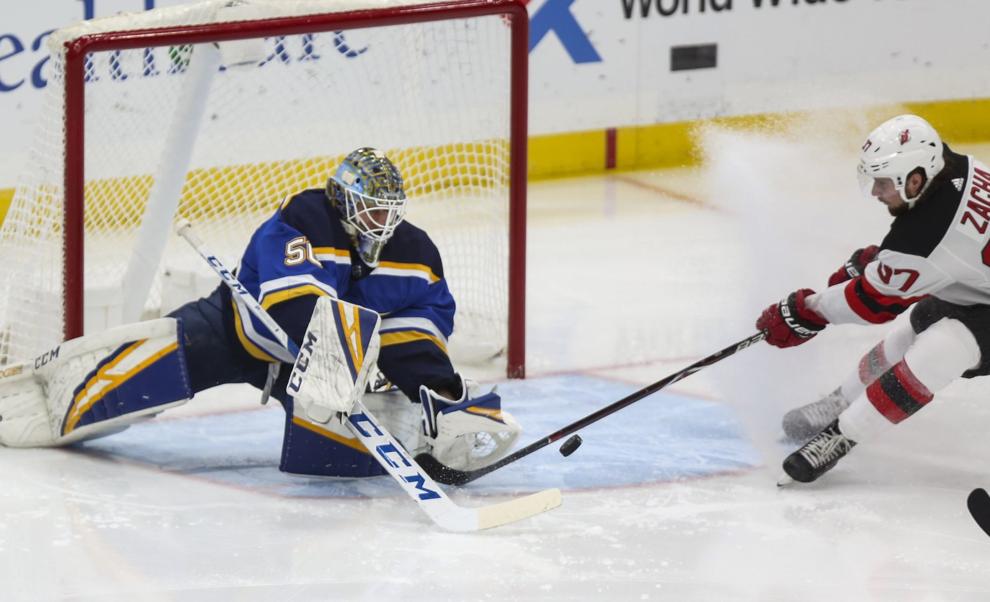 COMMENT: Here's hoping that Binnington's solid goaltending continues. Allen looked like a fish out of water way too many times against Nashville. Not all the goals were his fault, but he seemed to be lost on a few plays.
TOM T.: The net right now belongs to Binnington until something changes, and it's probably going to take a lot to change it, meaning more than just one bad game. Allen had to be thinking after Sunday's game, oh great, I come back and face 45 shots. The Blues defense didn't make it easy for Allen in that game. Binnington does have a calm, steady style in goal, but the Blues defense has also made it easier for him.
---
Follow-up: Seems like Army's best move was releasing Chad Johnson to make room for Jordan Binnington. At the time, it appeared to be a short-term solution. Chad Johnson stated how great it was to join a well-positioned team like Anaheim. Quite a significant change in the standings since then.
TOM T.: Who knew? Certainly backing up John Gibson would seem not to be a bad gig. It's interesting to remember that when Binnington was first called up, the Blues had no interest in playing him. Allen went every night until they had to use Binnington because they had a back to back. It's also interesting to remember that when Binnington came in in relief of Allen on a couple occasions, he didn't do anything that stood out and said 'Boy, they should start this guy.' But giving him a start seemed to push a magic button with Binnington. He's played great.
I also remember that when Johnson had a shutout early in the season, some members of the media (none of them me) wanted to know if Johnson was going to play more. I will say that when it comes to being quotable, Chad Johnson was far better than Jordan Binnington.
LET'S HEAR IT FOR THE 'D'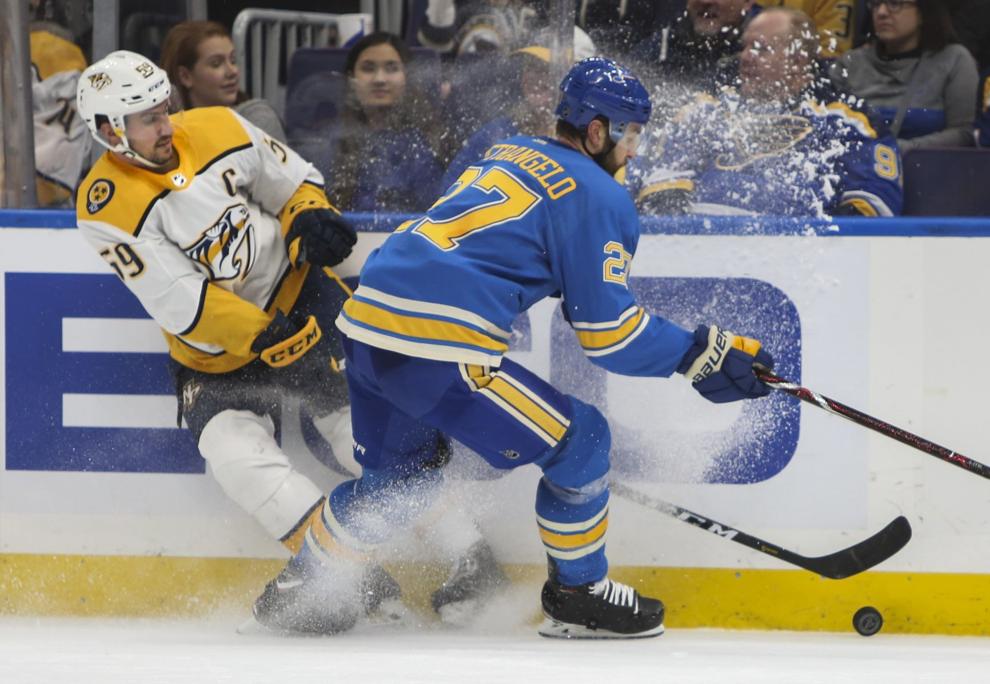 QUESTION: While better goaltending and Tarasenko getting hot are two of the most obvious reasons the Note are playing better, what is one of the more underrated reasons behind this turnaround?
TOM T.: I don't know if it's underrated, but the team's defensive play has jumped up. It is the five-man unit that teams live to see. Early on, you'd see defensemen pinch forward, the puck go the other way, and whoever was in goal was facing an odd-man rush. You don't see anywhere near the number of odd-man rushes you used to see. There defensive coverage is much better.
Also, they've gotten much better at keeping the puck in the offensive zone. One of the best ways to play defense is to have the puck 200 feet away from your net. That has helped them to wear down defenses more. And, again, the team's confidence has skyrocketed. They can weather storms much better than they have in the past.
MAROON IN BEAST MODE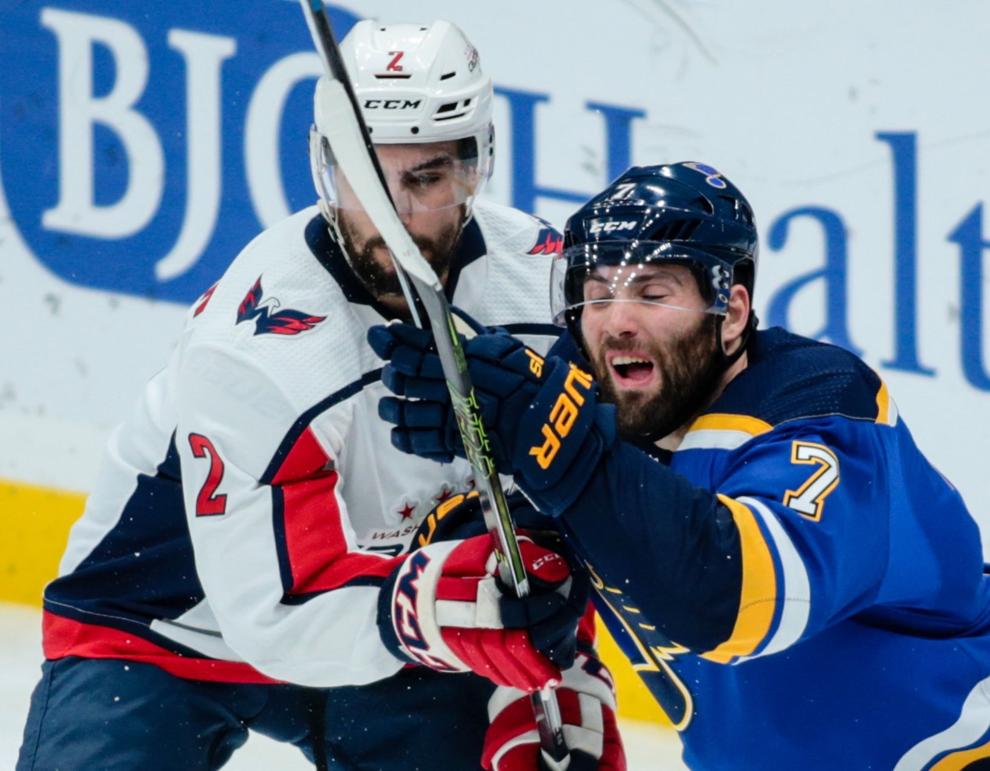 COMMENT: Wasn't a big fan of the Maroon signing at the time and thought early on he was a detriment to the team. But lately, the 'eye test' shows that he's a beast with the puck down low, behind the net and along the boards. Other teams really struggle trying to knock him off the puck before he can cycle it along. Are there any advanced stats that can confirm my eye test?
TOM T.: I was trying to find some stats to support that without grinding the chat to a halt and I haven't, but I'm sure they're out there and I'll keep looking. But the eye test is certainly valid here. Maroon has been very strong on the puck and his ability to hold on to it has allowed for line changes while the Blues kept the puck in the offensive zone, which has created more scoring chances as fresh legs start going against tired legs.
IS SUNDQVIST A KEEPER?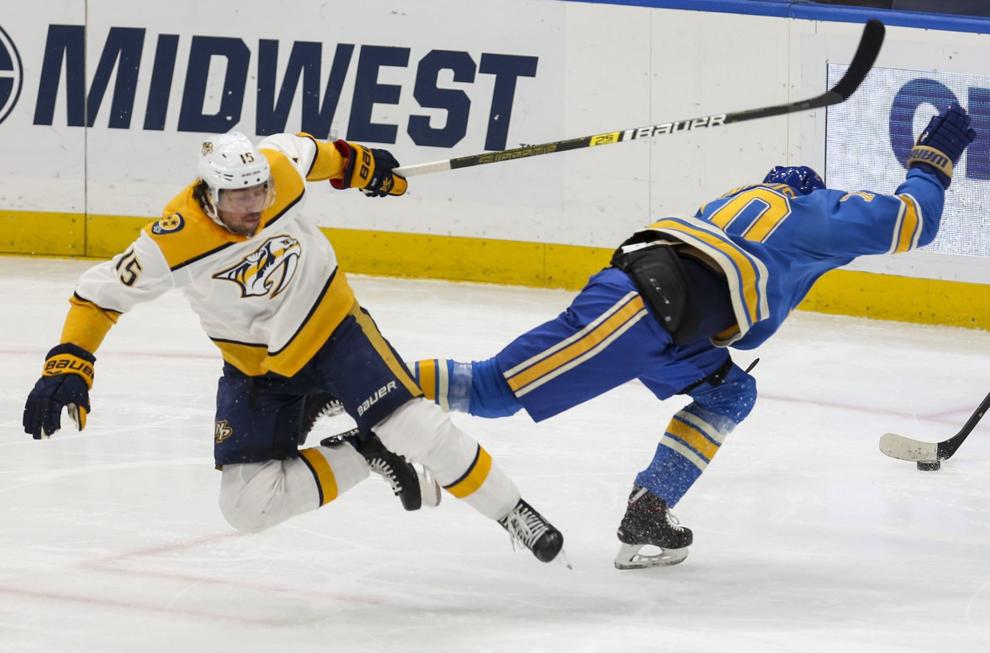 QUESTION: What's the long-term outlook for Sundqvist (if there even is one)? Is he a keeper?
TOM T.: Sundqvist is definitely a keeper. The team likes everything about his game, offensively and defensively. I don't think he's going to be a top six forward, but he could be a third-line guy who can be moved up or down the lineup if needed. Though, for some reason, opposing players seem to go out of their way to hit him.
GAME-NIGHT ATMOSPHERE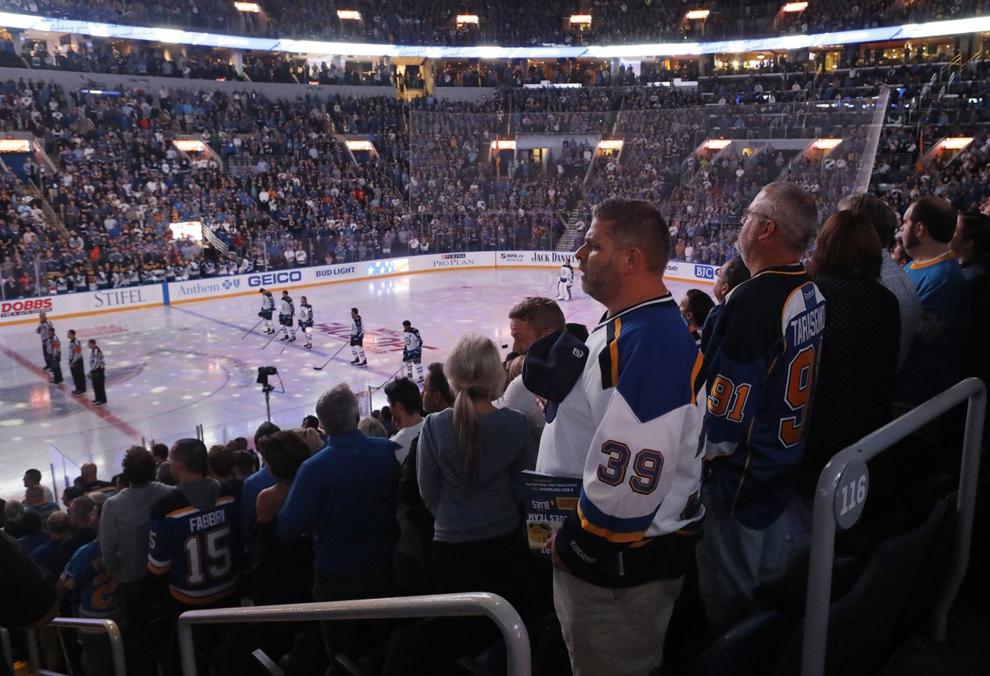 QUESTION: How does the game-night atmosphere at Enterprise compare to other rinks you've visited?
TOM T.: There are a lot of places with much splashier presentations. Vegas is renowned for its pregame routines and Nashville doesn't do on-ice contests between periods. They just introduce a band that performs from a stage on one end of the rink. I've seen some spectacular video presentations projected on the ice in places like Montreal.
Noise can be hard to compare from place to place, though I remember being at a game in Anaheim once where Doug Weight got hit, I forget if it was by a puck or a stick, in the face and it was so quiet you could hear him swear at the very top of the arena. Doug, being Doug, was embarrassed to hear that when I told him after the game and apologized profusely.
The Blues seem to do things like throw pies in the faces of "fans" of "other teams" more than any other team in the league.
BOTTOM LINE ON THE TRADE DEADLINE
QUESTION: With as well as the team is playing and as full as the roster is, will the Blues make additions at the deadline? How will the players feel if they stand pat? Do they expect moves?
TOM T.: Nothing big, but I also don't see them unloading players. If things stay as they are, I think Bouwmeester, Gunnarsson and Maroon will finish out the season.
I think the players would be OK with them standing pat because the team is finally playing as well together as they were expected to do so it's a fairly tight group. And any acquisition who would significantly add to the team would cost either a draft pick the Blues don't have or a prospect they don't want to part with. Pietrangelo said Wednesday that he didn't think most of the players knew when the trade deadline was. (I would think the pending UFAs might know.)
If there's someone the Blues can get for a mid-round draft pick, they would probably take a chance on that, but a Panarin type would cost way more than they are prepared to pay. I don't see the Blues outbidding for anyone in a trade situation.