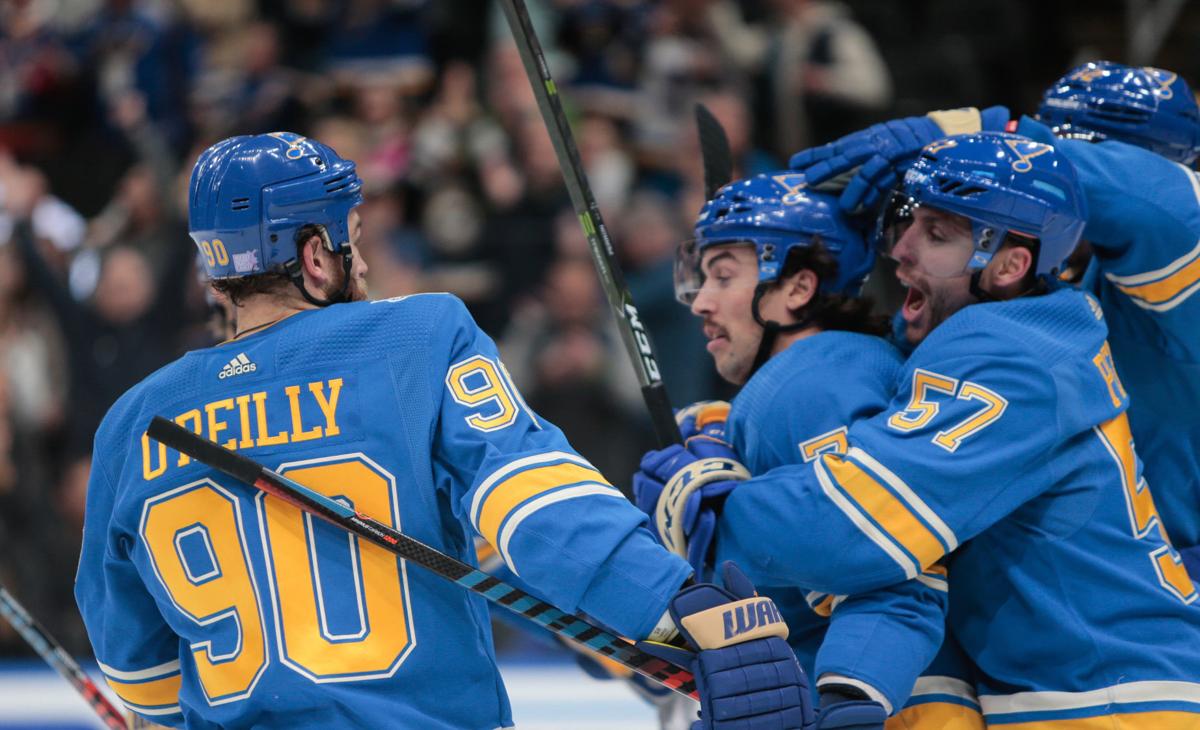 Justin Faulk got his long-awaited first goal as a Blue on Saturday night. Nathan Walker followed that with his briefly delayed first goal as a Blue. And out of breakthroughs like that came another win for the Blues.
At a time when the team's offense is supposed to have sagged as the injuries have piled up, instead the club has soared. The Blues beat the Penguins 5-2 on Saturday at Enterprise Center, the third straight win for a team that is fighting off all the indicators that say it should be struggling now while it is without four forwards from the opening-night lineup.
The Blues have scored 12 goals in their past three games, matching their most in any three-game run this season. It seems unlikely that can go on forever, but they'll take it for as long as it lasts. The Blues are 5-1-1 in their past seven games.
"There's confidence in everyone in this room I think," Faulk said. "No one that steps in feels out of place and I think everyone in the room has confidence in anyone that's going to step in or move up in the lineup, whatever role they're asked. It seems like we try to make it as seamless as possible for those guys. It's nice to see we have that confidence no matter who's in the lineup."
The Blues had confidence in Faulk, even as his goal drought reached near-record personal proportions. Saturday was Game 28 for the Blues, and Faulk hadn't scored in the first 27, which was out of character for a defenseman who had been in double figures in goals in four of the past five seasons. He was closing in on his personal-long drought of 31 games, in 2013-14.
"Obviously it took a while," he said. ". . . It's nice to get that first one in.
"I think I've had some opportunities. Not necessarily a ton of them so that I'm sitting here breaking my stick over the post and trying to switch them, thinking something's wrong there. It's a bit of a tough stretch there. I knew one would go in eventually. You just have to stick with it, keep shooting the pucks and getting pucks through and on to the net."
"He's had a lot of chances, they haven't gone in," Blues coach Craig Berube said. "Anybody that's played the game and you don't have a goal, it can be hard on you. Everyone's hard on themselves. Hopefully this will energize him a little bit. He has the capability of scoring some goals. He's got a good shot, he's just a good puck mover, he's an offensive guy. He plays both ends really well."
Faulk got his goal as he moved in from the blueline and took a shot that hit the top of Penguins goalie Matt Murray's pad and went in. Faulk, who can match goalie Jordan Binnington in a blasé battle, was swarmed by his teammates, including a big bear hug from behind by David Perron.
"I don't generally celebrate too much so they might seem more thrilled than I am most of the time anyways," Faulk said. "I just don't celebrate too much, but it's nice to see the boys were happy there."
Walker's goal came a day after what looked like his first goal as a Blue was wiped out because he was offside. He talked to his parents back home in Australia, who told him he had to be sure to get one on Saturday. That he did, volleying a pass from Jaden Schwartz out of the air and then having it take a hop on Murray and going in.
"Actually one thing I kind of worked on in the summer was batting pucks out of the air like that," Walker said, "trying to meet 'em when they hit the ice. I think I just got a little bit lucky there as well."
Walker did play some cricket when he was growing up in Australia — "mostly just to get out of school," he said — but he can't rule out it might have helped. "I'm sure the hand-eye coordination goes hand in hand with that," he said.
Walker, who had 12 goals in San Antonio, has done so well in his two games with the Blues that by midgame, he had been promoted up to the top line with Schwartz and Brayden Schenn, a move that took him by surprise.
"That was pretty surreal," he said. "There's a reason why you get a little promotion like that. I just wanted to keep playing my game, and obviously help them out and help the team out."
"This guy's had a good year so far." Berube said. "He had a real good training camp, was close to making the team, probably maybe even did make the team but we have the same team back from last year so there wasn't room right away."
Walker's goal came at a point in the second period when the Blues were being outplayed — Pittsburgh had 19 shots on goal in the second period — and the Penguins had tied the game. It gave the Blues a morale boost when they needed it most.
"It made us feel good about ourselves," Berube said.
The Blues came out in the third period and got a goal from Ivan Barbashev, his second in as many games and his sixth point in the past three games. Then it went to 4-1 when Mackenzie MacEachern redirected a picture-perfect pass from Jacob de la Rose, which got de la Rose his first point with the Blues since he arrived in the Robby Fabbri trade. Schwartz added a late power-play goal to seal the win.
Eleven of the team's 18 skaters had a point in the game.
"The second period wasn't great," Berube said. "But the first and third were good. We had everybody contributing, which was important for sure. I've said it before, we need everyone to chip in goals and we did that tonight."