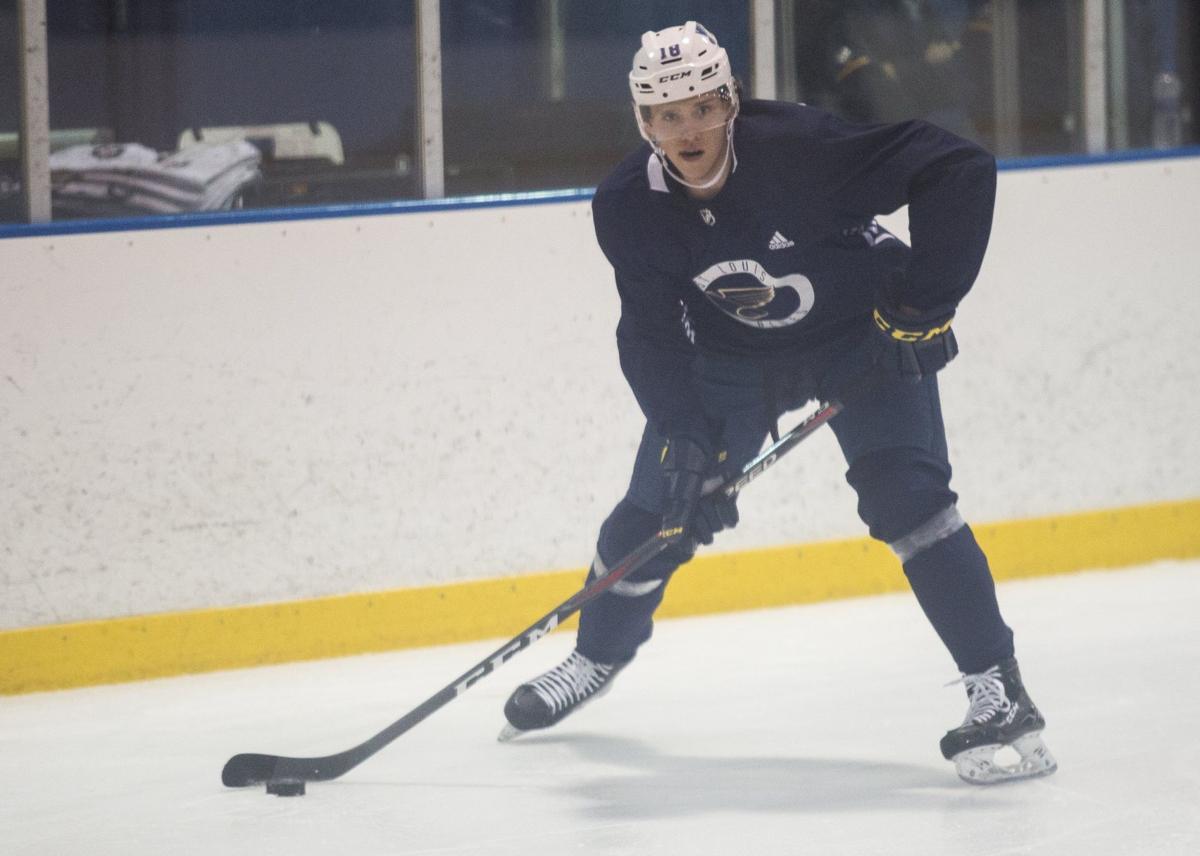 Dominik Bokk, the Blues' top draft pick in 2018, grew up in Germany and has been to St. Louis and the United States only a few times. Yet he's already fallen in love with one thing in the place he hopes to soon call his hockey home.
"We went (to Imo's) probably four or five times last year," said defenseman Scott Perunovich, who was the Blues' second pick in 2018 and has become friends with Bokk. "When he was here (in camp, before Perunovich arrived), he was asking me if we were going to go to Imo's pizza at all. I went there without him and he was pretty upset at me."
Before he can get to Imo's, Bokk has another year of Swedish meatballs, pickled herring and lingonberry jam ahead of him.
Before heading west, Bokk headed north. His road from Germany to the Blues runs through Sweden. Bokk, the 25th pick in 2018, chose to play the past two seasons in the Svenska hockeyligan, the Swedish Hockey League, rather than playing North American junior hockey. It's a good training ground if you can handle it: He's playing against grown men rather than players his age, 19, at a fairly good level.
"It's one he's comfortable with," said Tim Taylor, the Blues' director of player development. "He played in it last year, and it's a very comparable league to the AHL. It's not quite the AHL, but rather than play junior, he's in that elite league. If he was over here, he'd have to play junior hockey. So if he was in the Canadian Hockey League, he'd be playing way below the AHL. So now we're getting him closer at that young age. So it's a real good situation for him."
Bokk is positive about the results.
"Last year was a full year with the pro and I think it was a good year," Bokk said. "I learned a lot of things and it was a great experience. It was a pro league, so it was only men and a couple of younger guys like me."
Bokk had eight goals and 15 assists in 47 games for the Vaxjo Lakers. He also had two goals and an assist in six playoff games. He played most of the season before with Vaxjo's junior team but played 15 games with their senior team.
"It was a little bit hard at the start," he said, "and I had to get used to that. I had good teammates, they helped me a lot and gave me some tips. But it was no problem. I really like it there. I feel really comfortable there with the hockey.
"I think for me it's better to stay there. It's a great league for me. I learned a lot of things and I can learn a lot more there. My plan is to stay there one more year."
Bokk, who speaks German, Swedish and English, has been loaned from Vaxjo to Rogle for the coming season, a move that takes him even deeper south in the country and puts him a short drive from Copenhagen, Denmark. He'll play one more season there before coming to North America.
One of the big accomplishments for Bokk last season didn't come in Sweden, but in Germany. Though the main draw of the world junior tournament was in Canada, the Germans were in what's called Division IA, made up of a second tier of six teams that play in a separate competition.
Germany had four regulation wins and an overtime win to finish first in the group, which won them promotion to the top division for next year's world juniors. Bokk, who will be eligible to play in the world juniors again next season, led the group in points with one goal and seven assists in five games and was plus-6.
"Our goal was to go up in the top division, and we prepared for that and we did it, so it's great for German hockey," Bokk said. "It was a great experience to play there with my old buddies and win the tournament."
Bokk knows he needs to get stronger, in his skating and in his play on the puck, because he knows it's going to be harder when he gets to the NHL.
"That's my goal," he said, "to improve even more and get ready to play here."
And now the team he's trying to make is the Stanley Cup champion.
"It was great to see," Bokk said. "I hope I can be part of it."
FABBRI STAYS
Forward Robby Fabbri, who missed most of the past two seasons because of knee surgeries, re-signed with the Blues for a one-year, $900,000 deal that represents a slight pay cut from what he made last season.
Fabbri, still only 23, missed all of the 2017-18 season with a knee injury and then played only 32 games this past season as he struggled to get his speed back. He had just two goals and four assists in the 2018-19 season, and appeared in 10 postseason games, including two in the Stanley Cup Final with Boston.
Fabbri, one of the players who represented the Blues at the ESPYs on Wednesday, will be a restricted free agent when this contract runs out.
The Blues also re-signed restricted free agent defenseman Mitch Reinke to a two-way contract that pays him $750,000 in the NHL and $100,000 in the AHL. Reinke spent the season with San Antonio but traveled with the team during the postseason.
BLUES GET FORWARD
In a trade Friday, the Blues acquired forward Dakota Joshua from Toronto for future considerations. Joshua, who had been selected by Toronto in the fifth round of the 2014 draft, then signed a two-year entry level deal with the Blues.
Joshua, 23, played for four seasons at Ohio State University, had nine goals and 13 assists in 32 regular-season games for the Buckeyes as they won the Big Ten regular-season title. In 128 career college games, the 6-2, 198-pound forward from Dearborn, Mich., had 41 goals and 59 assists.