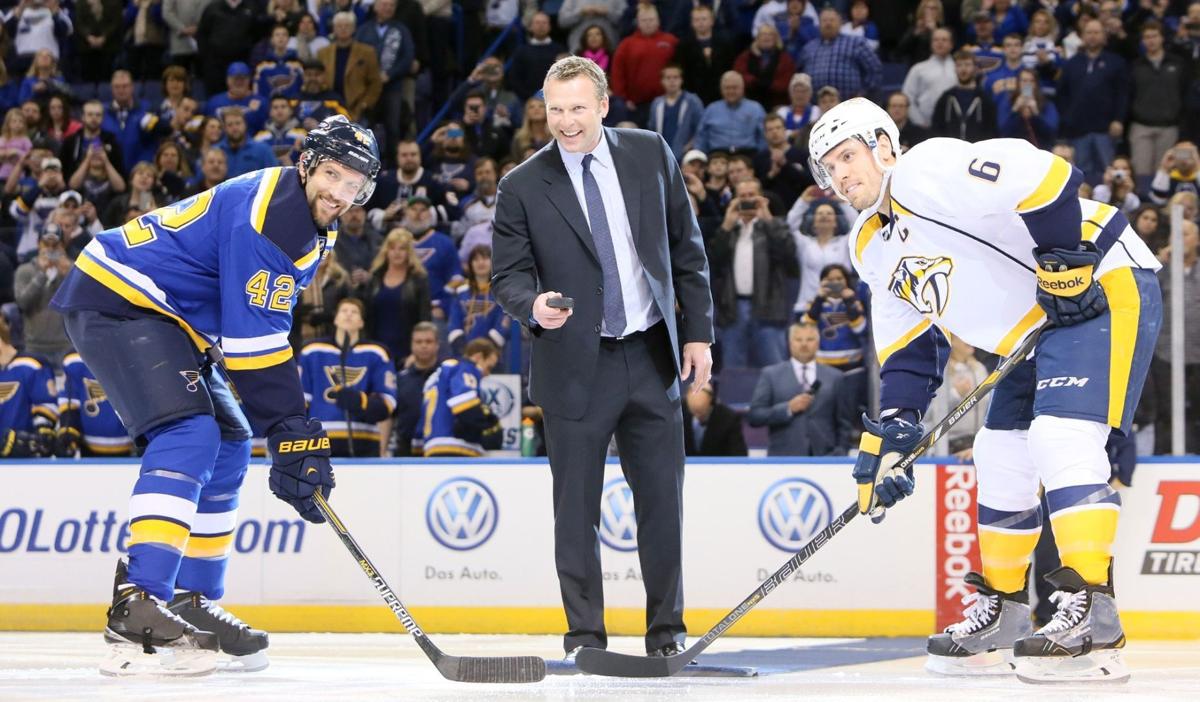 Martin Brodeur realized that he could have retired from the NHL after last season and been immortalized as a lifetime New Jersey Devil. The goaltender, though, still felt like he had a few saves left in him, even if it meant putting on another uniform.
This week, as Brodeur contemplated retirement again after playing seven games with the Blues, he realized that he could have returned to New Jersey.
But much like the future Hall of Famer wrote the story of his career, he's now penning his new path as well.
It may have been odd to see Brodeur announce his retirement as a Blue on Thursday at Scottrade Center and receive the title of "senior adviser" to general manager Doug Armstrong, but a certain set of circumstances allowed that, and however long it lasts, the arrangement appears to be one that will benefit both sides.
"This is a great day for me," said Brodeur, who dropped the puck before the Blues' game and received a raucous ovation. "I'm excited to start a new chapter in my hockey career. This is something I've been thinking about for a long time, and this is a great opportunity that the St. Louis Blues' organization — (owner) Tom Stillman and Doug Armstrong — are giving me. It's going to be a great challenge for me."
Brodeur, 42, said that he answered the question of whether he could still play by winning three games with the Blues, including a shutout against Colorado on Dec. 29. But when Brian Elliott became healthy, and the club was committed to Jake Allen as the backup, Brodeur said he saw the need for him shrink, leading to his "leave of absence" to contemplate his future.
"At one point, I just felt in the way a little bit ... it was almost dangerous for me to practice, and not get run over by line rushes," Brodeur said. "I was just in the way as the third goalie. So that's what made me kind of say, 'Well, let's move away from the game a little bit.' They gave me that space and I talked to my family — my wife, my mom and all the people around me."
In case Brodeur chose to retire, the Blues made him an offer to work in the front office, but knew they would be battling New Jersey for his services. Brodeur's agent, Pat Brisson, said the club still made a solid pitch.
"It made a lot of sense based on how Doug Armstrong approached it," Brisson said. "He gave him not only a title, but a job description, and he was able to visualize what he was going to be doing. It made it easier on Marty to make a decision at that point."
In describing the role Thursday, Armstrong said that Brodeur will be traveling "with our team on a daily basis and he's going to interact with our players and our coaches."
Brodeur, who called the Blues' offer "a surprise," acknowledged that the Devils weren't able to offer the same type of role.
"Whenever they gave me that opportunity, I had conversation with (New Jersey general manager Lou Lamoriello)," Brodeur said. "He agreed with me that this was probably the best opportunity."
Al MacInnis, another former Blue who has the same title of senior adviser to Armstrong, said he could understand why Brodeur would stay in St. Louis.
"He got a taste of it as a player here," MacInnis said. "He recognizes obviously the quality of the team we have. He sees this team can potentially go on a long run in the playoffs. If that is the case, he can certainly be a big part of it, even though he's not on the ice.
"That experience of a guy that's won three Stanley Cups, two gold medals, numerous personal awards, that knowledge of the game is so valuable. He sees something good here and, you know what, for the next few months, he could play a huge part of it, and we all feel the same way."
Brodeur is committed to staying with the Blues through 2014-15, but he doesn't know his future beyond that.
"I didn't give any guarantees," he said. "I signed up to be here till the end of this season, and help them out as much as I can. They might not want me either, we'll see."