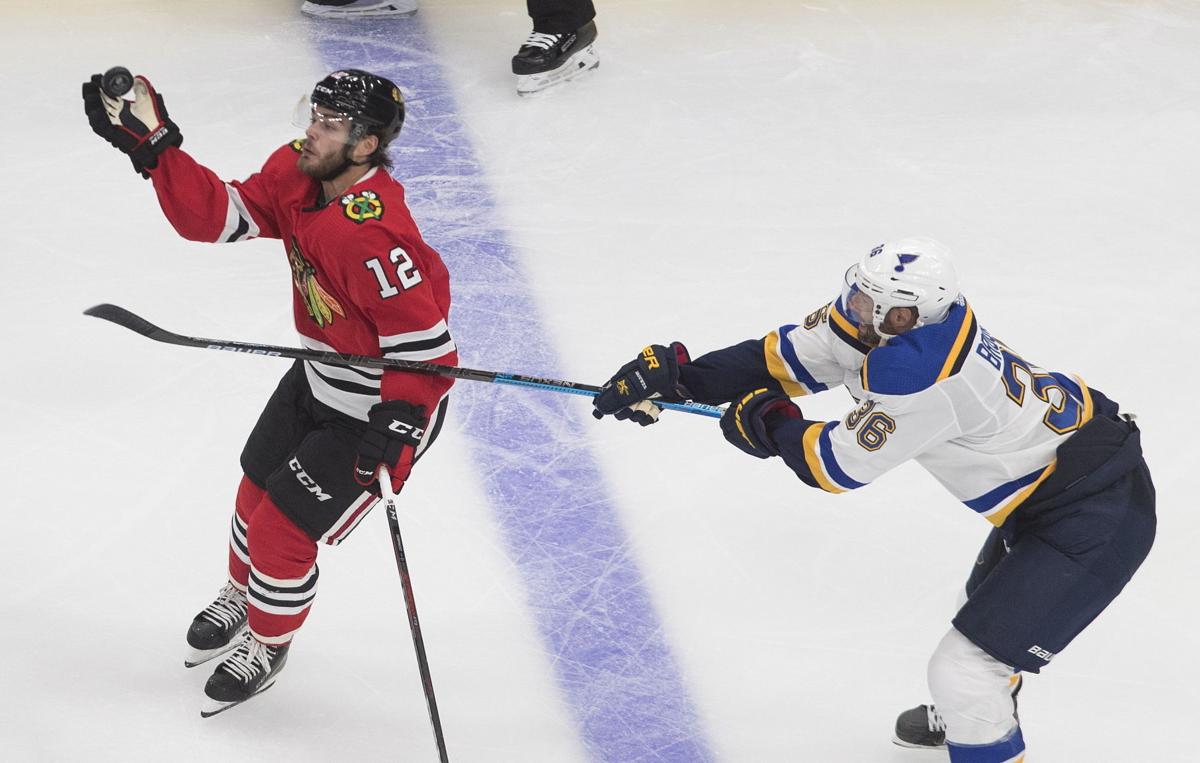 What was already a strange year for Blues forward Troy Brouwer just keeps getting stranger.
Plucked out of unemployment in Calgary in November when a rash of injuries hit the Blues and general manager Doug Armstrong was concerned over the number of rookies that might soon be in the lineup, the veteran forward earned a spot on the team. As the team got healthy, he played less and less. Twice he passed through waivers without another team putting in a claim. Twice the Blues announced he had been assigned to San Antonio, and a third one was maybe a day away when the season stopped. He never had to go. Talk about puck luck.
Now, he's with the team in a bubble in Edmonton, not far from where his family is in Calgary, and has a decent chance of winning a second Stanley Cup. Despite having barely played this season, Brouwer is likely near the top of the list of reserves who could get in a game during this postseason. Coach Craig Berube played him in the Blues' preseason game on Wednesday night, Brouwer's first game since Feb. 6.
"I thought it couldn't get a little bit more wild," Brouwer said of his season. "This is as wild a season as you can get. This has got to be up there all time."
Though Brouwer has barely played this season — 13 games, with an average of 9:28 of ice time per game and one goal — the Blues like Brouwer. For the most part, everyone likes Brouwer. He brings to the team experience on the ice, a light touch in the dressing room and a firm knowledge of where he fits in on this team. He has appeared in 102 postseason games, more than anyone on the team. Only Alexander Steen is older. And when Brouwer was a healthy scratch for the 13 games right before the pause, and for 28 times all season, he never stopped smiling, never stopped skating when the rest of the team had headed into the dressing room on a game day and he knew he'd be watching again from the press box.
"Leadership," Berube said of Brouwer's contributions. "He's won before, been a good player for a long time. He brings in leadership and work ethic, he still knows how to play the game. He's a smart player. Those are types of things he can bring to our team and add to our team."
Which is why, if the Blues need to make a move on their forward lines at some point in the postseason, Brouwer figures to get serious consideration. His presence in the preseason game proves that.
"I've done a lot of practicing this year," he said. "It comes down to having a good mindset. I didn't want to be an issue, a distraction for the guys. I'm coming in, having fun, staying ready and waiting for the time in case I've got to get in a game."
Not that they were eager for it to happen, but the Blues couldn't get rid of Brouwer this season. They announced he was being sent to San Antonio on Jan. 27, but gave him a few days to decide if at that point in his career if that was something he wanted to do. A day later, Oskar Sundqvist got hurt and Brouwer was recalled, never having left town. When Sundqvist came off injured reserve, Brouwer was sent down again to open a roster spot, but only on paper. The trade deadline passed a short while later, the NHL roster limit came off, and he was back on the roster, again without going to San Antonio.
But he wasn't done. Right before the season stopped, the Blues needed to free up a few dollars of salary cap space when Vladimir Tarasenko returned from injured reserve, and the simplest way to do that was to send Brouwer down. He had cleared waivers and didn't accompany the team on their final trip to Anaheim, spending time with his family. Then everything stopped. And once again, he didn't go to San Antonio.
"The first time, I probably would have gone to San Antonio," he said, "and we were looking at the schedule to see if I could fly back, take a day here or there if they were in Milwaukee or Iowa. Then Sunny got hurt and it never came to that. Then I was going to go down (in March) and I had a good conversation with Doug. He said I could be a valuable piece in the playoffs, but you can't play if you haven't played. The plan was to go to San Antonio for the last six or eight games and then be one of the guys they brought back for the playoffs. It never played itself out the way we thought because of the pandemic. I was willing to go. I didn't want to be a guy that quit on my teammates. It's a big pride thing for me. I'm not a guy that comes in and dictates terms. I wanted to let everybody know that."
When hockey came back, it was a different world. Brouwer, with two young children at home, gave serious consideration to opting out of returning to play. Among the handful of players who took that option were two of Brouwer's former teammates in Washington, Mike Green and Karl Alzner.
"Absolutely," he said. "When they said they'd opt out, I talked to Greener about what his thought process was. His was strictly family-driven. Being on a team with a great opportunity to win, my wife told me, 'You've got to play. As long as you're comfortable, you've got to try to get another Cup.' You don't get too many chances. However strange this year is, a win is a win in my book. I wanted to be part of that."
The Blues offense has a lot of players who are not just written in ink in the lineup, but with a Sharpie. But this postseason could be different. Coaches have said they won't hesitate to make changes. Injuries are inevitable. Who gets in will depend on who goes out. Brouwer is ready.
"You look at our lines, we're pretty set," he said. "I reiterate to the young guys, I'm in the same situation. I know it sucks. It's not fun when you want to play and compete. You have to have the mindset to stay ready. That's what I try to do. I think I'm a hell of a playoff player and if the time comes, I'll get in a game."