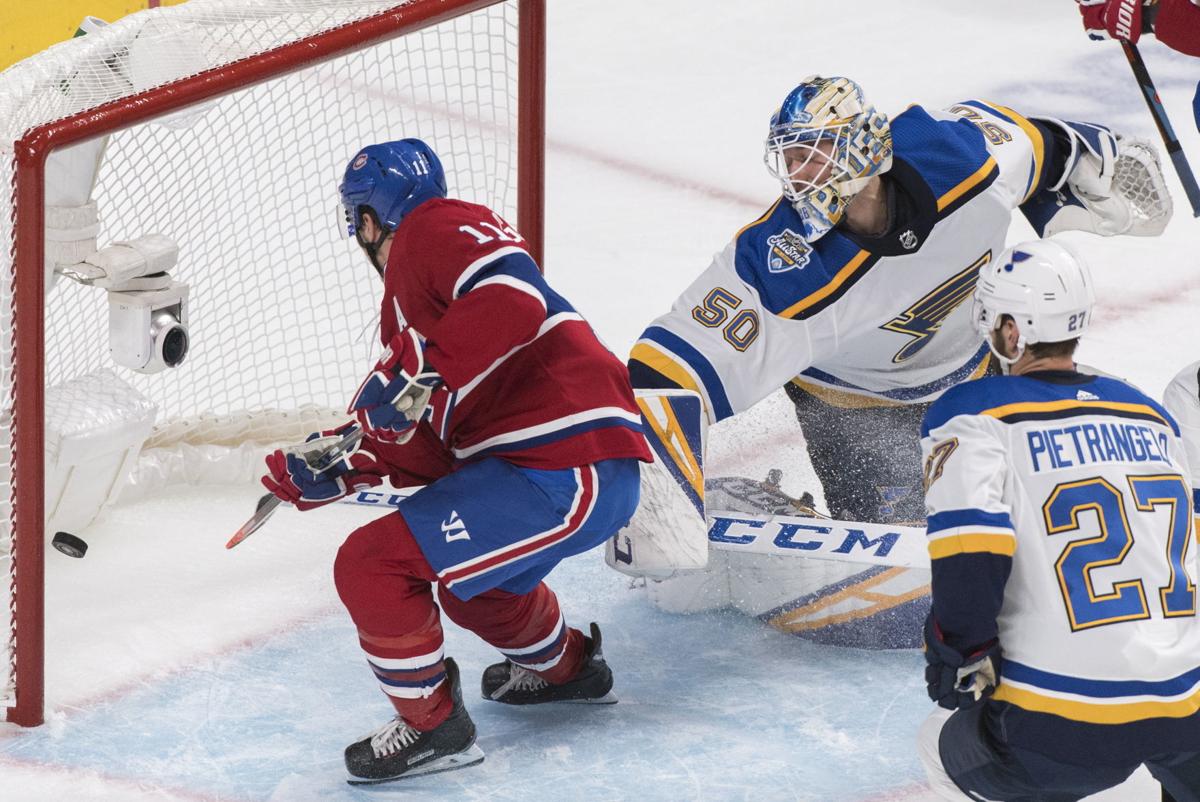 MONTREAL — A parade wouldn't have been necessary. Or another engraving of a Cup, or anything like that.
But the Blues were seeking franchise history Saturday night at Bell Centre. A win over the Montreal Canadiens would have improved their record to 4-0-1. And meant for the first time in 52 years of Blues hockey, the team had opened with at least one point in its first five games.
After a Vince Dunn power play goal gave the Blues a 3-2 lead with 7:10 left in the second period, it looked as if the team was in position for another comeback victory — having trailed 2-1 entering the second period.
Oh well. The Canadiens (2-1-2) scored the game's final four goals, including three in the third period, as the Blues (3-1-1) suffered their first regulation loss of the season, 6-3. Yes, 48 hours after scoring six times in Ottawa, the Blues allowed six goals to Montreal to the delight of most of the crowd of 21,302.
After the victory Thursday against the Senators, coach Craig Berube said he didn't want another run-and-gun game against a quick, relentless Montreal team. But that's what happened.
"They're quick, they're fast," forward Brayden Schenn said. "Eastern Conference type of team. When you play into a team's game like that where you think you're gonna go run-and-gun, or go chance for chance, more times than not they're gonna beat our hockey team like that. We don't tend to do that, and I think we did that too much."
Schenn scored his fourth goal in as many games since signing his eight-year contract extension the first week of October. It also tied his career-long streak for consecutive goals in a season, achieved three times earlier in his career. His goal Saturday came on a precise cross-rink feed from Vladimir Tarasenko and temporarily tied the game at 1-1 in the first period.
The Blues also got a backhand goal from Sammy Blais that seemed to surprise Montreal goaltender Carey Price to tie the game 2-2. It was his third of the season, a career high, and came before several dozen family and friends who came down from his hometown of Montmagny, Quebec, three hours away.
And there was the Dunn goal and that short-lived 3-2 lead. But the Blues couldn't keep up with Canadiens, who had all sorts of odd-man rushes, continually pressuring the St. Louis defense. And couldn't keep them from crashing the net.
"We weren't very good tonight," Schenn said. "We couldn't get to our game. We couldn't get the forecheck going, didn't sustain a lot of O-zone pressure, turned over the puck. Obviously you see the result, six goals against and that's even with Binner making some big saves."
Goalie Jordan Binnington, returning to the crease after Jake Allen got the start against Ottawa, faced 37 shots Saturday and did make some big saves. One came on a penalty shot by Joel Armia late in the third period. But five goals got past him, with the sixth goal an empty-netter with 2:28 to play by Max Domi.
Armia was whacked and tripped to the ice by Colton Parayko resulting in the rarely called penalty shot.
"We didn't play hard enough," Berube said. "We didn't manage the puck. Turning it over and then they transitioned and that's basically the game."
"We gave up more chances than we wanted to," defenseman Justin Faulk said. "More shots, more chances. They had a good handful of 'Grade A's' that we wouldn't want to give up. On any night you don't want to give up that many opportunities, and they capitalized on it."
Less than three minutes after Dunn's goal gave the Blues their 3-2 lead, they were uncharacteristically outworked near their net. Tomas Tatar won the puck behind the net and fed Phillip Danault crashing down into the slot for the goal. Danault somehow found some space between three Blues for his second goal of the season.
So it was a 3-3 contest entering the third period, a period the Blues have ruled this season, outscoring their opponents 6-1 in the final period in their last three games — all comeback victories. There were no third-period goals Saturday and no comeback victory.
"Didn't bring out our best effort in the third," Schenn said. "We turned over pucks and they just wanted it more than us in the third period."
Montreal came out flying in the third, outshooting the Blues 8-1 in the opening minutes. Arturri Lehkonen gave the Canadiens the lead back 7½ minutes into the final period. His quick wraparound shot from behind the net was stopped by Binnington, but Binnington left just a crack of space between his pads and the post and Lehkonen found that space with his rebound attempt.
Parayko was in the vicinity, but was caught betwixt and between. A part of him thought Binnington had covered up the initial shot, but he was wary of another pass to the near slot as was the case with Danault's goal.
"I was just trying to protect the slot a little bit," Parayko said. "Make sure that if there was a guy coming down in the slot like their third goal — so I was kind of trying to protect both.
"But he wrapped it and then before I could get back he had another jam at it."
Not content with a one-goal lead, the Canadiens didn't slow down. They kept charging, and took a 5-3 lead 4½ minutes later when Brendan Gallagher crashed the net, made contact with Binnington and somehow got the puck through the Blues goalie.