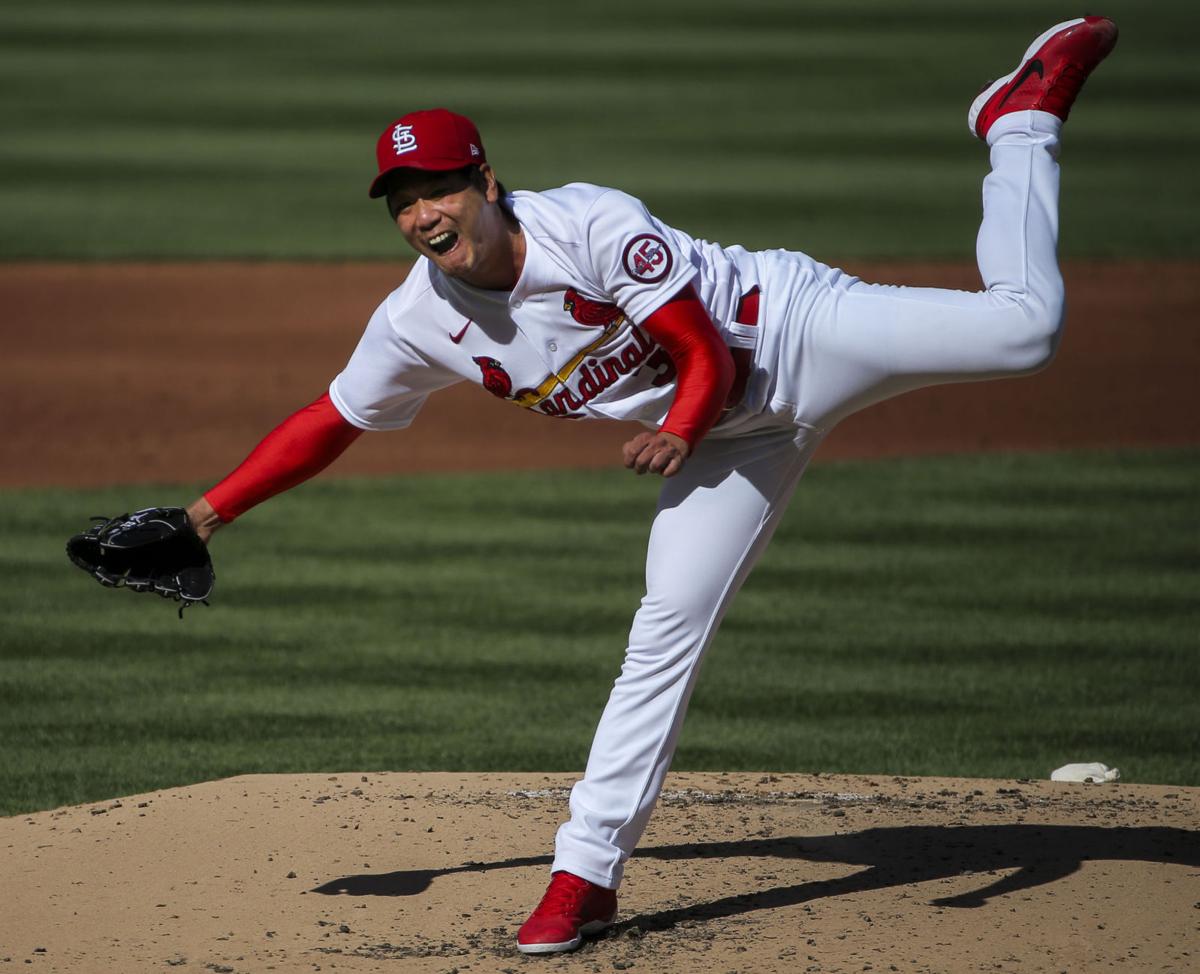 CHICAGO — As the need for innings and reliability from their starting rotation intensifies for the Cardinals, some of the most important pitches of the coming week will happen Sunday afternoon, hours before the game, and likely off a mound under the Wrigley Field bleachers.
Kwang Hyun Kim, nine days removed from back stiffness forcing him from a game, will throw a "full-steam ahead, no-holds barred" bullpen session, manager Mike Shildt said. The goal will be for the lefty to complete the aggressive workout without issue, recover and return to the rotation at some point in the next week.
"That's the hope," Shildt said.
Kim had no difficulty completing a light bullpen workout Friday and that prompted the team's move to ready him for a start in the coming two series. For the lefty, he's missed time twice because of lower back stiffness — first in spring training and then this current turn on the 10-day injury list — but he said one experience informed the next. He felt the twinge in his back running to first base June 4 against Cincinnati, and promptly opted not to make it worse.
"It was kind of a precaution," said Kim, leaning against the visitors' dugout Saturday. Craig Choi translated. "I listened to my body."
That, he added, made it possible to miss one start.
Kim said the back soreness was in his mind for two or three starts coming out of spring and that it would be when he returned to the mound again, but he described how it hasn't contributed to some of his inconsistency on the mound. He smiled and said it's all the time he's spent pitching with runners on base. The Cardinals have lost Kim's past four starts, and the veteran from the KBO has yet to finish a sixth inning.
At his best in 2020, Kim worked briskly, his athleticism loose and innings efficient. He has often described how he measures his outings by giving the team innings, and that's what they crave in the immediate future.
"We were first in the division and now we're third right now," Kim said. "I know that some of the starters among us have injuries. I know I have to do my best when I'm starting and the most important thing is helping the team win. I still have to do my best."
Gorman's mashing
Nolan Gorman, the Cardinals' top position player prospect, hit three home runs Saturday night for Class AA Springfield in its 9-2 victory at home over Arkansas, and he had two the previous night. He is the first S-Card since the affiliate began to have three homers in a game.
The trio of homers Saturday, in which he had four RBIs and drew a walk, gives him seven in his five games for the S-Cards this past week and nine for the season. After a slow start that saw him reach mid-May with a .189 average, Gorman's power has perked and he brought a .315 average with a .899 OPS into Saturday's game.
Gorman has been starting at third base, his natural position, and second base for Springfield to expand his versatility. That will continue when he rises this summer to Class AAA.
Brady Whalen, a switch-hitter at High-A Peoria, hit three home runs earlier this month in a game at Wisconsin. Tyler O'Neill, the Cardinals' left fielder, hit three for Class AAA Memphis in July 2018.
Two Gold Gloves, one tricky play
Yadier Molina and Nolan Arenado have attempted a daring picking at third base a few times already this season, and when it works there's a chance to erase a runner dramatically, 90 feet from home. The risk is what happened Friday — the runner, retreating hastily to third to avoid Molina's pickoff throw, gets to turn around and score as that throw sails into left field.
Arenado said it was his fault as he missed the catch by "trying to do everything at once there."
The play's degree of difficulty is heightened by Arenado racing over to third from the shortstop position, where he stands on a defensive shift. After recognizing the chance to try a pickoff, Arenado is essentially running a slant route to catch a laser and apply the tag, at least three times jumping over the runner as he tried to make the catch.
Shildt praised the play after Friday's game — and, he said, during it. Urging his two Gold Glove-winning infielders to use that pickoff as Molina has before, once to win a game.
"I loved it. I thought it was great. I thought it was a baseball play," Shildt said. "These are two talented guys and we'll take our shot. Guy's at third, young guy, getting a little too much, fantastic awareness and baseball IQ. Sometimes it doesn't work. I'll encourage them to do that as often as it's there."
Williams rehab; Hudson update
Justin Williams (neck) was assigned to Class AAA Memphis on Saturday to begin a rehab assignment and also accumulate at-bats he has not been getting at the big-league level. Williams had difficulty moving his neck without pain after the team's recent trip to the West Coast.
• Dakota Hudson (elbow surgery) has continued a throwing program in Jupiter, Fla., as he rebuilds arm strength after Tommy John surgery late last season. The north star of Hudson's recovery plan has been for the righthander to contribute at some point this season — and the team has encouraged that mindset without expecting him to throw in the majors before 2022.
It's possible Hudson will see some competition on a rehab assignment, depending on his progress through July.
"He is optimistic about something happening for us by the end of the year," Shildt said. "I don't want him to get the cart before the horse. He's on a good path."
Minor notes
First-round draft pick Jordan Walker, a third baseman, returned to Palm Beach's active roster after missing weeks because of a wrist injury.
• The Cardinals made two moves official Saturday to add depth to the minors, signing righthander Cory Thompson, 26, and lefty Kevin McGovern, 32. McGovern was assigned to Class AA, Thompson to High-A Peoria.