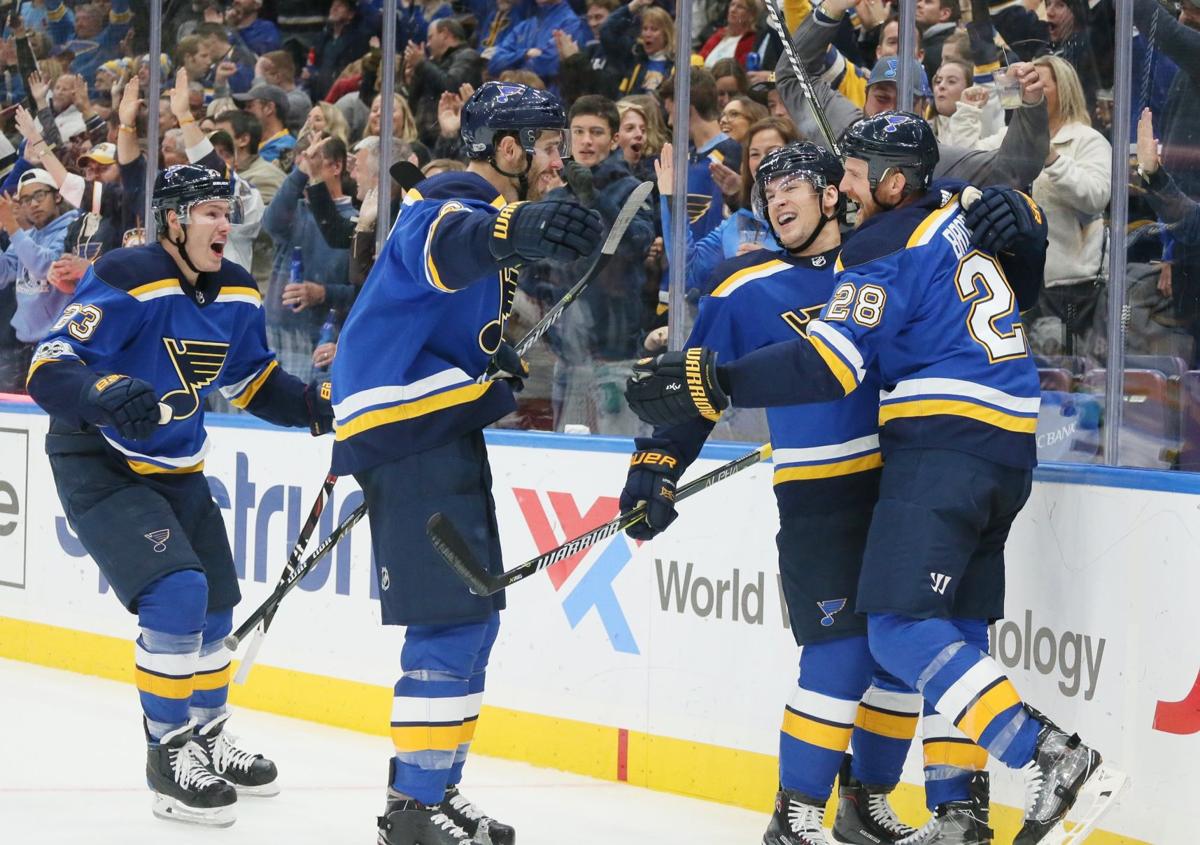 They call themselves the Century Line.
Add up the ages of the Blues' fourth line — Scottie Upshall on the left, Kyle Brodziak in the middle, Chris Thorburn on the right — and their combined age is more than 100 years. (To be precise, as of Tuesday morning, they're 101 years, 317 days old.) It's a group that has been there and done that in 2,275 NHL games over 41 combined seasons. They have, to put it simply, been around.
And despite their status as the team's graybeards — even though Brodziak's and Thorburn's beards aren't gray — their job is to run around like kids.
"It's kind of fun to watch," said Blues defenseman Colton Paryako, who will have to play 10 more seasons to match Thorburn, the Blues' oldest player at 34 years, five months. "It's funny that they're the guys that bring the energy. It seems you'd get some young guys to bring energy, but they love to bring energy, and I think they're doing a real good job of that. It's showing up in their game and it's showing up in our team game. They set the tone."
While the Blues' line of Brayden Schenn, Jaden Schwartz and Vladimir Tarasenko has been getting most of the headlines for their high-powered offensive performance (goals: 35; age: 77 years, 7 months), the Blues' fourth line has been a major contributing factor in their own way. They log about half the ice time and score a lot fewer goals (six total after Brodziak's short-handed goal Saturday), but the boost they give to the team is huge.
"Those guys are competitors, and that's what I like," said Blues coach Mike Yeo. "They bring that energy. You see the physical presence they bring on a night-to-night basis, on the forecheck, arriving, being physical. But you look at what they've been able to do as far as generating momentum and playing in the offensive zone, they're creating scoring chances."
There's enough flux to lines throughout the league that it's hard to say what the oldest line is. Minnesota has at times used Daniel Winnik (32), Matt Cullen (41) and Chris Stewart (30), which adds up to 103. Calgary, with 45-year-old Jaromir Jagr, has a start on its own Century Line.
Only in professional sports are players who are 34 (Thorburn and Upshall) and 33 (Brodziak) considered old — along with Jay Bouwmeester and Alexander Steen, they are the five oldest on the team. In a sport that leans young the three have managed to survive, but it's not easy. Upshall has come into camp in two of the past three seasons without a contract but has managed to win a job.
"It doesn't take much to look at a team roster and realize that 1983 (the year he was born) is a prehistoric age on your team," said Upshall.
"But we take pride in going out every night and working hard. For 33, 34 years old, I feel we're just as hard-working as the guys that are 28 years old. We feel we can skate, we play with an edge and that's kept us in the game."
"I guess we'd like to think of ourselves as wise people," Brodziak said. "In a young man's league, each of us has found a way to stick around. We feel pretty privileged with that."
"They work extremely hard, they're good players, they know what's going on, they know what to expect," Parayko said. "You can tell from watching them, they have a veteran presence. They have a good feeling for the game. They understand what we need in that game and what they can bring, whether it's energy or them being able to hunker down in the offensive or playing D against their top line. They kind of have all the tools, which I think is a bonus for Mike. He can rely on them in a lot of different situations."
This is the third season Upshall and Brodziak have played together. Previously, it was Ryan Reaves — who at 30 left the group three years shy of 100 — who filled out the line, but the Blues traded him to Pittsburgh in the offseason and picked up Thorburn. He was in and out of the lineup early in the season, but Saturday's game was the 10th straight the line had been together.
And Thorburn made his mark. He got in a fight, had an assist on a goal by Dmitrij Jaskin and was only a nice glove save by Devan Dubnyk away from his first career Gordie Howe hat trick. (Upshall was surprised to learn Thorburn had never had one before. "I should have put (the puck) more in his wheelhouse," he said.)
"He's really elevated his game the last four or five games," Upshall said. "He was in and out of the lineup early and he's playing with a lot of confidence. He makes plays, he sticks up for teammates, he's a great guy to have in your room and a positive guy to be around every day. We're happy to have him around."
"It's definitely a better feeling, a more comfortable feeling, especially creating some chemistry with my linemates," Thorburn said. "We understand gaining the coach's trust is a big thing and that will get us more ice time, which will get us more opportunities. We're defensive-minded, but at same time, we know how to create some offense or momentum change. It's just great playing with two older guys like this that have been around for so long and understand what it takes. From our line's point of view, we're almost playing every shift like it's your last one."
The clock may be running on those three, but they're making every minute count.
The latest STL Blues hockey news, NHL headlines, scores, standings and rosters.