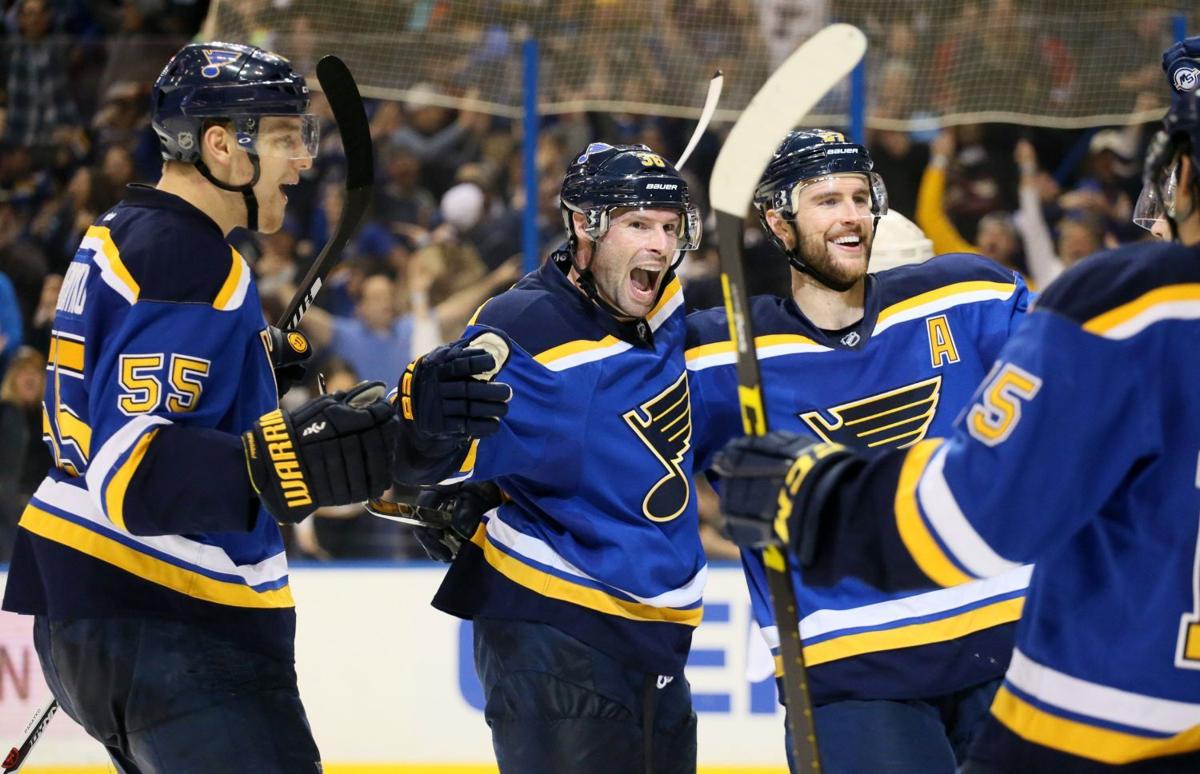 After being awarded the 2017 Winter Classic, the Blues and Blackhawks played another classic Wednesday night at Scottrade Center.
There was a controversial hit that led to an ejection. There was a stick save on the NHL's No. 2 goal scorer. There was a goal waved off in overtime. And there was a six-round shootout to end the evening in front of 19,756 at Scottrade Center.
A last-ditch shot by Chicago's Teuvo Teravainen hit the post, allowing the Blues to celebrate a 3-2 come-from-behind shootout victory over the Blackhawks, stretching their winning streak to four games. They pulled within one point of Central Division-leading Chicago and Dallas, who are tied at the top with 88.
The Blues are off Thursday before hosting Anaheim on Friday. That same night, the Blackhawks and Stars will be on the ice together in Dallas.
"Just the magnitude of this game and this entire week coming up for us," Blues forward Troy Brouwer said. "We wanted to get off to a good start with a couple points. We would have liked to win have won in regulation and gotten two points, but we'll take the one extra point and continue to try to move up the standings."
Two teams separated by two points going into Wednesday's game couldn't separate themselves by more than a goal in a matchup that was dominated by goalies Jake Allen and Corey Crawford. Their only slip-ups through overtime were three power-play goals and a six-on-five goal with the goalie pulled for an extra attacker.
It looked as if Brouwer would be the hero against his old team when he scored the last of the three power-play goals with 6:40 seconds left in regulation. But the Blackhawks pulled Crawford with 1½ left in regulation and after the Blues' Kevin Shattenkirk tried unsuccessfully to clear the puck, Artemi Panarin netted his 25th goal of the season for a 2-2 score with the 1:17 left in regulation.
"That's a play that I'd like back personally," Shattenkirk said. "I think that falls on my shoulders, that goal."
It was the seventh six-on-five goal the Blues have surrendered this season, leading the NHL.
"You hate to keep saying that these are teaching moments, but that's a great teaching moment," Blues coach Ken Hitchcock said. "If you're going to play that late in the game, there's certain elements that have to be core. We messed up and we'll fix it tomorrow."
In OT, Chicago's Andrew Ladd nearly won the game with his second goal of the night. But after a review, officials ruled that goaltender interference on Allen occurred before the puck crossed the line.
That would have ended a stirring comeback by the Blues, who trailed Chicago 1-0 after two periods on a power-play goal by Ladd. They were down to their final 12 minutes in regulation Wednesday and had been shut out for six straight periods by the Blackhawks.
But with 11:24 left, Chicago was whistled for having too many men on the ice, drawing a bronx cheer from fans who were heavily critical of the officiating Wednesday. Ten seconds into their man-advantage, the Blues tied the score 1-1 on David Backes' 17th goal of the season, a deflection off a point shot from Shattenkirk.
Then with 7:48 remaining, Chicago defenseman Christian Ehrhoff was called for holding the Blues' Kyle Brodziak. This time, Paul Stastny set up Brouwer in the slot for a quick shot and a 2-1 lead on Brouwer's 13th goal of the season.
"Paul did a great job," Brouwer said. "His first look was back door to (Alex Pietrangelo) and it was closed off, so a player with that much patience was able to make a second read and get me and I got a clean shot from the slot."
The Blackhawks were 32-0-2 in regulation when leading after two periods and hadn't lost in that situation since the 2013-14 season. The Blues couldn't give them their first regulation loss in that span, but they did deal the Hawks a shootout defeat.
Brouwer, Shattenkirk and Patrik Berglund scored in the six-round shootout, while Allen stopped three of five Chicago attempts before the final attempt hit the post. He improved to 4-0 in shootouts this season, picking up 33 saves on a night in which he tied his single-season career-high with 22 wins.
Allen helped the Blues keep the game scoreless through the first period, despite 6:17 of power-play time for the Blackhawks in the first period. They erased a tripping penalty on Backes and a slashing penalty against Stastny and the first part of a five-minute charging major against Ryan Reaves.
On the replay, Reaves' left shoulder appeared to hit Ehrhoff in the upper chest, but officials called a major penalty and a game misconduct.
"I think it was a bad call on 'Reaver,'" Allen said.
Allen made a stick save on Patrick Kane, who is second in the league with 38 goals. The game stayed scoreless until Ladd scored just 1:14 into the second period. But the fact that the Blues only allowed one goal after nine minutes on the PK, they said afterwards, gave them a boost.
"We give up the one goal on the penalty kill, (but) nine minutes with their ability, things are going to happen," Backes said. "But to respond the way we did, not mail it in or tuck tail the way we've done in past years, it's a great sign. We come out of here with two points, find another way to win and get one more day to get a few more healthy guys back."