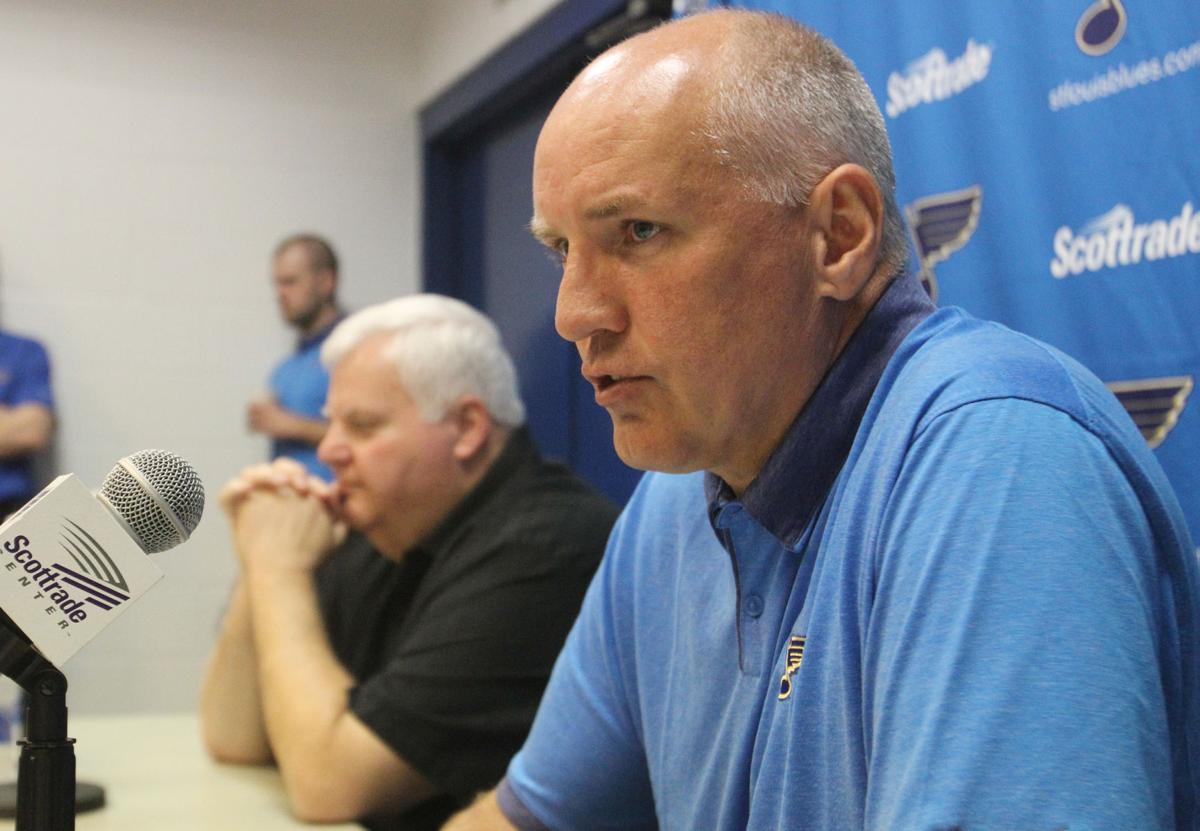 The Blues confirmed Tuesday that they were keeping their head coach, Ken Hitchcock, who agreed to another one-year contract extension. But as a result of the short-term contract offers made to the staff, associate head coach Brad Shaw is moving on and assistant Kirk Muller could be as well.
Both, particularly Muller, had been seen as potential successors to Hitchcock when he retired.
But that won't be 2016-17, after the Blues and Hitchcock announced that he will be back for a sixth season with the team. It will be his 21st in the NHL and last in the league behind the bench, he insisted.
"I'm telling you right now, this is my last one-year deal," said Hitchcock, who will turn 65 in December. "I'm not coaching after this year. This is it. So I'm done. I don't know if I'm going to retire ... but I'm not coaching after this year."
Blues general manager Doug Armstrong had plans to bring Hitchcock back after the team advanced to the Western Conference finals, but let some time pass following a six-game loss to San Jose before gauging his interest. The two met over the Memorial Day weekend, which solidified Armstrong's decision.
"When Ken and I talked, and he said he wanted to come back, you start to look at where does he fit in in the hierarchy of the game?" Armstrong said. "Can we do better? Is this the right thing for the organization? Since the day he walked through this door, we win two out of every three games that we play. Just digest that for a second — we win two out of every three games we play. That's an incredible winning percentage.
"We've stubbed our toe more than we want to admit to in the playoffs. This year didn't stub our toe. This year, we knocked off the defending Stanley Cup champions and we knocked off the best team in the Western Conference. We didn't get to our ultimate goal, but that showed me there's enough left in the tank for Ken if he had enough left in the tank.
"We had a lot of talk. I'm not going to lie to you, I asked those questions that you guys are asking. It's easy to walk in there and (have Hitchcock) say 'Hey, this is it.' But he says, 'It gets better!' And I trust him when he says it gets better. So we're going to go at this one more time. I guarantee you a year from now — God willing I'm around — we'll be talking about the next head coach of the St. Louis Blues. But it's not now."
In regard to Hitchcock's successor in 2017-18, Armstrong said that he would consider promoting from within. The two possible replacements were believed to be Shaw and Muller.
But the Blues have decided not to offer any of their assistants a longer term than what they're giving Hitchcock, and so after 10 years with the franchise, Shaw has decided to move on.
"It was a one-year (offer) and I just made the decision with my family that now is a good time to maybe take the next step in my career," Shaw said. "It's been a great 10 years here. I've had so much growth as a person and as a coach and met so many great people. It wasn't an easy decision, I can tell you that."
Armstrong said the Blues valued Shaw, who specialized on defense and perennially had one of the top penalty-killing units in the NHL, but couldn't accommodate him on the length of a new contract.
"It's difficult," Armstrong said. "Brad has been here before I got here, and I think he's a great coach. But I also understand his situation. It's difficult in this industry to work on one-year deals. We tried and do a couple of things to put a safety-net in there for a few months after the season but ... Ken is the head coach and he's on a one-year contract."
The possibility of being promoted to head coach next season was intriguing to Shaw, but he has been overlooked twice in the past when the Blues' job was open.
"Sometimes it's easier to hire somebody from outside than it is to have an associate coach to transition into the head job," Shaw said. "(The possibility) plays in the back of your mind, but I think the overriding key for the decision was that it just seemed like the right time for my family and myself."
Armstrong said that Muller could be a candidate. He was the head coach in Carolina for three seasons before being fired in 2014. He has spent the last two years as an assistant on Hitchcock's staff.
"I would say obviously the one, Kirk Muller, stands out as someone that has been a head coach," Armstrong said. "I know 'Mulls' really well. He's been good for our group here. Now, I want to talk to him. There's a lot of things that he and I would have to hash through before we got to that point."
But it may not get to that point. According to sources, Muller is likewise looking for a longer term and also exploring other options. He didn't immediately return a message from the Post-Dispatch on Tuesday.
Meanwhile, assistant coach Ray Bennett, goalie coach Jim Corsi and video coach Sean Ferrell are expected to accept one-year extensions and remain with the organization.
For one more year, they will have the same boss. Just don't remind Hitchcock that it will be his last.
"There won't be any ... farewell tour," he said.