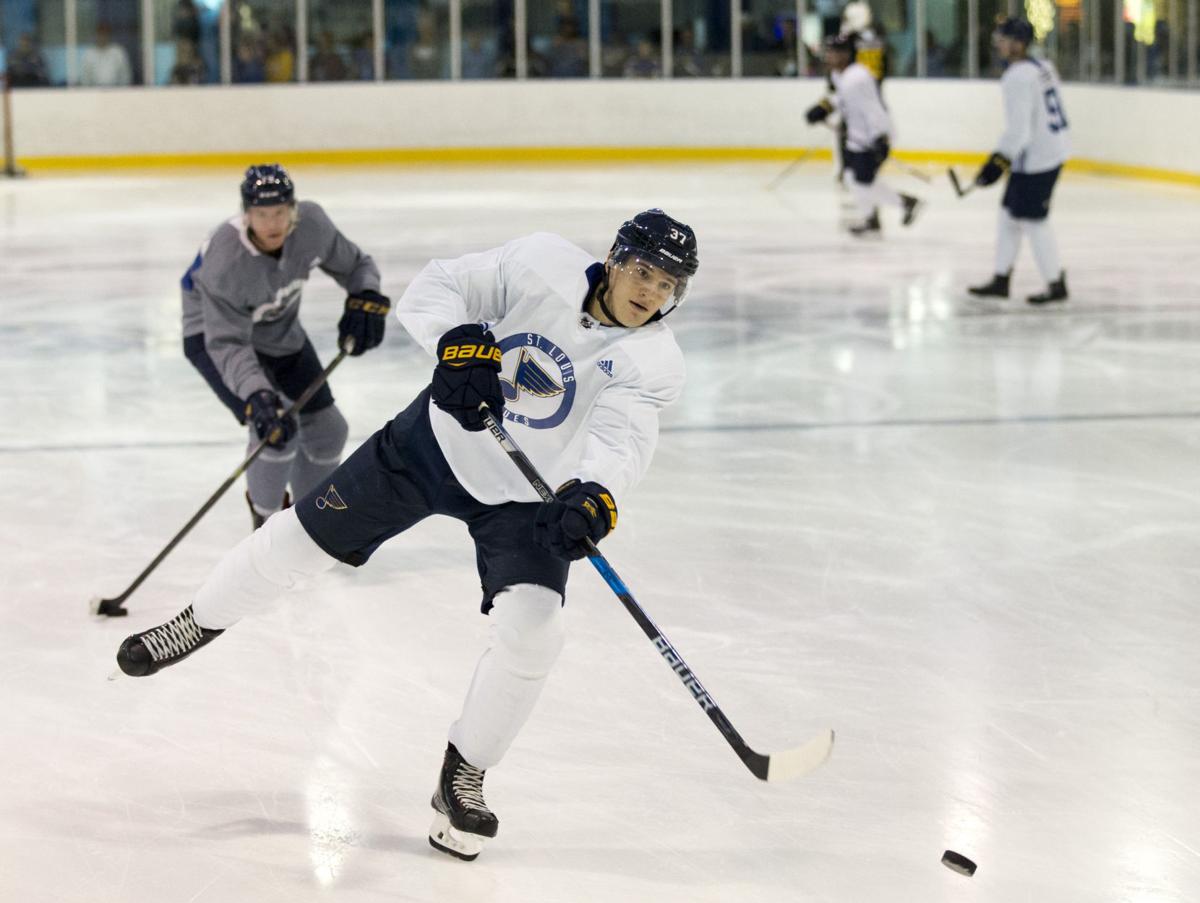 If you think getting the 2020-21 NHL season underway is a complicated proposition for the Blues, take a look at the organizational picture in terms of younger players and prospects.
Even in normal times, it's a crazy quilt of players participating in junior hockey, college, overseas leagues, and minor leagues. Blues prospects always are spread out all over the place. Now add into that mix the ongoing coronavirus pandemic, and you have a situation just short of chaotic.
The result, Blues general manager Doug Armstrong said, is a "unique and scattered approach by different leagues. Like, they're playing in Europe, but they're shutting down in some areas of Europe.
"They're battling through in the KHL. Quebec is up and running, and I hear they might need to slow down."
There's a different approach for just about each league and level, affecting Blues prospects every step of the way:
JuniorAs Armstrong mentioned, the Quebec Major Junior Hockey League is playing games. Goalie prospect Colten Ellis, a third-round draft pick by the Blues in 2019, is off to a strong start for the Charlottetown Islanders with a 5-0-0 record, a 2.00 goals-against average and .919 save percentage.
Elsewhere in the league, seventh-round 2019 pick Jeremy Michel, a forward, is playing for the Val-d'Or Foreurs and has a goal and an assist in four games.
Canada's two other main junior leagues haven't begun playing.
Blues prospects in the Ontario Hockey League are forward Keenan Washkurak (fifth round, 2019), forward Tanner Dickinson (fourth round, 2020) and goalie Will Cranley (sixth round, 2020). The OHL announced Thursday that it plans to resume play Feb. 4 with a reduced 40-game schedule.
The Western Hockey League, where first-round 2020 pick Jake Neighbours, a forward, will play again for the Edmonton Oil Kings, announced a Jan. 8 start date this month. But it now looks like the WHL start also will be pushed back to early February although there has been no official announcement.
CollegeCollege hockey announced in September that it was delaying the start of its season, but has yet to come up with a new start date. That affects three picks from the Blues' 2020 draft: third-round forward Dylan Peterson (Boston U.), fifth-round defenseman Matthew Kessel (Massachusetts) and seventh-round defenseman Noah Beck (Clarkson). All three prospects are practicing with their teams, but again, no games are scheduled yet.
OverseasDefenseman Leo Loof, a 2020 third-round pick, is staying with the Farjestad BK program in his home country of Sweden. Loof has been sidelined with a concussion, but the expectation is he will play for both Farjestad's Under 20 team and men's elite pro team this season.
Two forward prospects on the fringe of the main Blues roster — Klim Kostin and Alexei Toropchenko — are on loan to the Kontinental Hockey League. Kostin has no goals and two assists in 10 games for Avangard Omsk; Toropchenko has two goals and no assists in six games playing for Kunlun Red Star.
Kostin and Toropchenko both will be back with the Blues once training camp starts with a chance to make the opening-day roster. Failing that, they will play for the Springfield (Mass.) Thunderbirds, the Blues' new affiliate in the American Hockey League.
Lastly, forward Nikita Alexandrov is kind of in European limbo. The 2019 second-round draft pick, who was one of the top performers for Russia in the 2019 World Juniors, has completed his time in junior hockey (having played for Charlottetown in the Quebec League).
Although of Russian descent, he grew up in Germany, and has been training in Germany and trying to hook up with a pro team there. Like Kostin and Toropchenko, he will report to Blues camp once it starts and try to make the "varsity" roster, and play for Springfield if he doesn't.
Minor leagueThe AHL announced Wednesday that it is pushing back its planned return to play to Feb. 5. That means Springfield, which replaces San Antonio as the Blues' farm team, must wait a little longer to welcome the organization's top prospects to town.
"We're really excited to start with them, but obviously we're dealing with something that we never would have imagined back in February," Springfield Thunderbirds president Nathan Costa said. "We got this deal (with the Blues) done right before this COVID thing happened."
So the Thunderbirds' website lists an admittedly speculative roster — giving its fans at least some potential names to look it. It includes the aforementioned Kostin, Toropchenko and Alexandrov. Some returning members of the San Antonio Rampage are listed, such as Austin Poganski, Mitch Reinke, Nathan Walker and Jake Walman. And there are some up-and-coming prospects such as Nikko Mikkola, Scott Perunovich, Joel Hofer and Tyler Tucker.
Of course, neither Costa nor Armstrong knows exactly when — or where — any of those names will be back on the ice.
"The hardest part for the prospects is there's no uniform approach where you can bring them in and train them and have an (offseason) program," Armstrong said. "So Tim Taylor and his staff have done a great job of making sure that they have conditioning programs they can do at a gym or at home."
Taylor is the Blues' director of player development.
"Our coaches are trying to send them a little bit of video on things to work on, whether it's our NHL players — (Robert) Thomas and (Jordan) Kyrou — or some of our younger guys.
"In a normal year, you have a month of training camp and whether it was a Robby Fabbri a couple years ago or a Robert Thomas — you allow training camp to play itself out," Armstrong said.
Meaning there can be surprises on who makes the opening-day roster. But that will be tougher this year because of the COVID chaos.
"All players are gonna have less of an opportunity to make an impact on the coaches," Armstrong said.
Starting with the fact that there was no post-draft development camp following the 2020 draft early this month.
Instead, Armstrong said: "We had a Zoom call with everybody. Tim Taylor organized it. Our strength coaches and our staff introduced ourselves (to the draft picks). And sort of walked through it."
Not quite the same as being in St. Louis, practicing at Enterprise Center, and looking up and seeing a Stanley Cup championship banner.
"It's not the 45 minutes they're on the ice; it's the other five or six hours you spend where you get a chance to bump into them in the hallway," Armstrong said. "When you come to a training camp and you're bumping into Ryan O'Reilly for the first time, or a Colton Parayko, it's different."
Different, but all part of the landscape in these pandemic times.
From Arbour to Pietrangelo, a look at the top 10 St. Louis Blues captains
Recent history says the Blues will name their new captain — the successor to Alex Pietrangelo as the titular leader of the team — right before the start of training camp, whenever that might be.
There are several options: Promote one of the current alternate captains, Alexander Steen or Vladimir Tarasenko, though it seems a good chance neither will be on the opening day roster because of injuries, which might complicate things. Ryan O'Reilly is popular, a top two-way player and a leader who sets a good example with his tenacious practice habits. Brayden Schenn is a battler, unafraid to drop the gloves to motivate the team, as well as one of the team's best and someone who, with an eight-year contract about to kick in, is going to be around for a long time.
Whoever it is will be stepping into a distinguished line that includes seven Hockey Hall of Famers, 10 players whose name appears on the Stanley Cup (though all of the most likely candidates already have their name there as well) and two of the top four goal scorers in NHL history.
The job of the captain, according to the NHL rule book, is simple. Says Rule 6.1: "He alone shall have the privilege of discussing with the Referee any questions relating to interpretation of rules which may arise during the progress of a game."
After that, the job of the captain depends on what you want to make of it. The captain is the liaison between the coaching staff and the players, delivering messages both ways on relevant matters. Does the team need a break from training? Does the coach need to yell at them about something or can it be handled internally? They are motivators in the dressing room, the head of the welcoming committee off the ice, spokesmen for the team when times are tough.
"No. 1, you have to put the team in front of yourself," Brian Sutter said in 1988, when he handed his "C" on to Bernie Federko after retiring to become the Blues' coach. "No. 2, there's a lot of responsibility off the ice, and that can take away from the performance on the ice. … It's not easy. A lot of times you go home crying inside, but you can't let anyone know about it."
Captains usually fall into a few categories. Some get the job because they're the Best Player on the Team. (In the Blues' case, see Wayne Gretzky and Brett Hull.) There's the Scrappy Battler (David Backes, Sutter), the Wise Veteran Presence (Al MacInnis, Dallas Drake) and the Young Guy You Want to Learn to Be a Leader (Chris Pronger, who eventually moved into Best Player status). Attitude apparently helps: Sutter, Barclay Plager, Backes and Pronger are among the top six in franchise history in penalty minutes.
The best of the Blues' captains come from all of those categories. Here's 10 who made a mark on the franchise, starting from the very first and ending at the most recent wearer of the letter "C" (which per Rule 6.1, should be approximately three inches in height and of a contrasting color to the uniform).
1. Al Arbour, 1967-70, 1971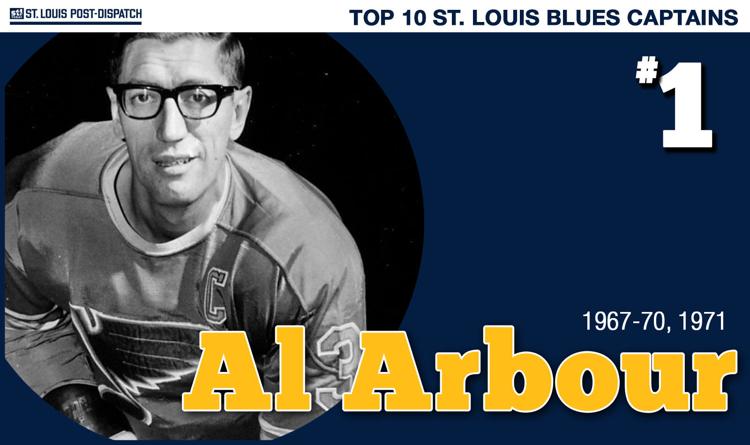 2. Red Berenson 1970-71, 1976, 1977-78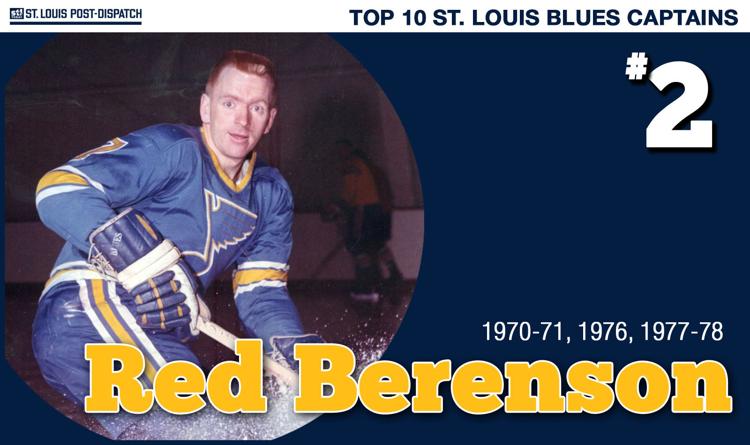 3. Barclay Plager, 1972-1976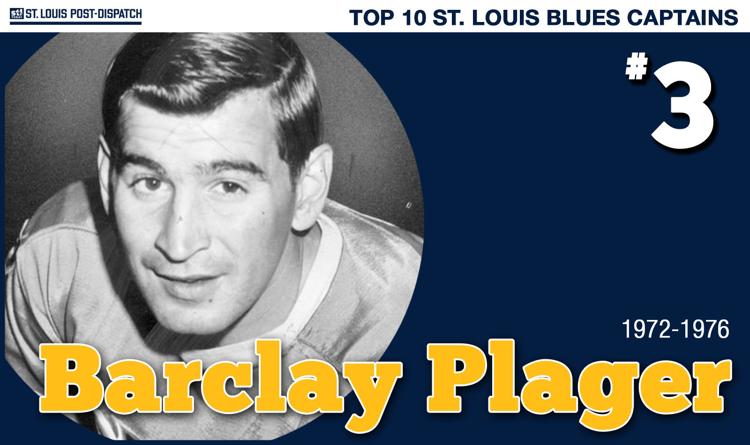 4. Brian Sutter, 1979-1988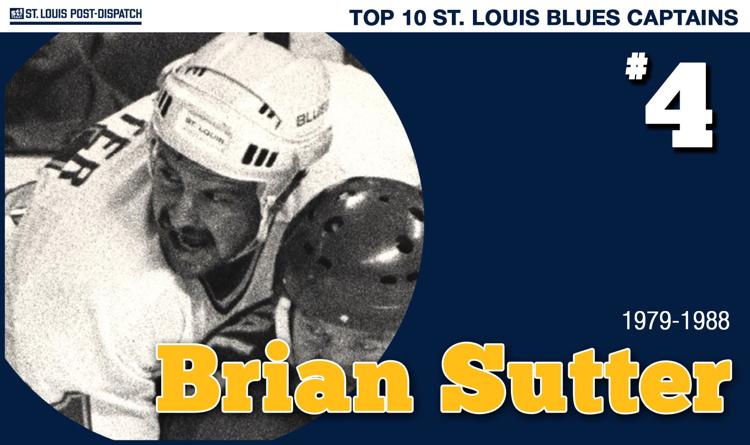 5. Scott Stevens, 1990-91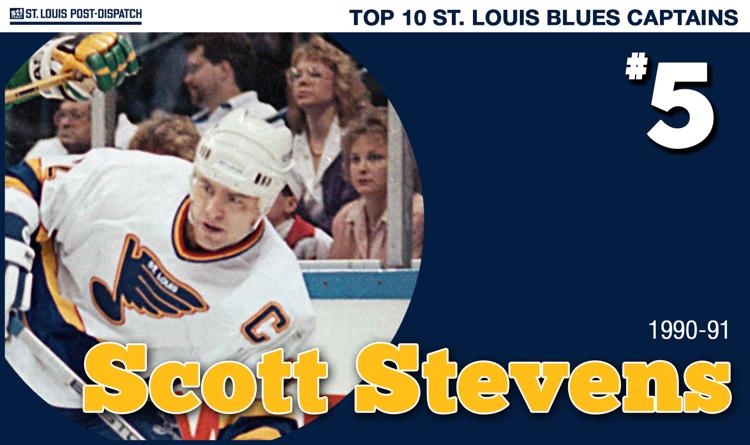 6. Chris Pronger 1997-2002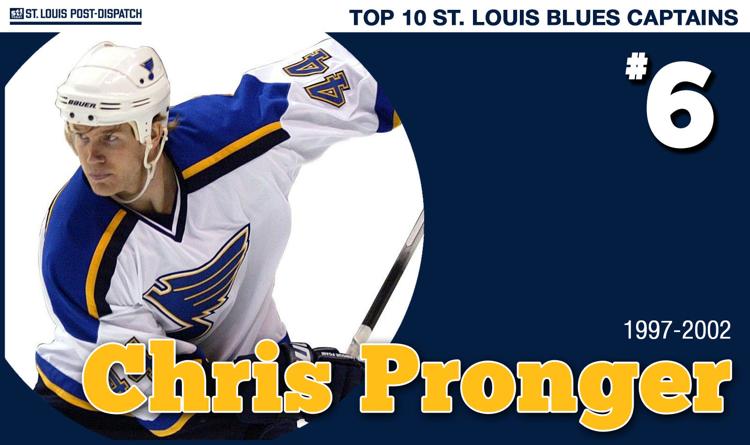 7. Al MacInnis, 2002-04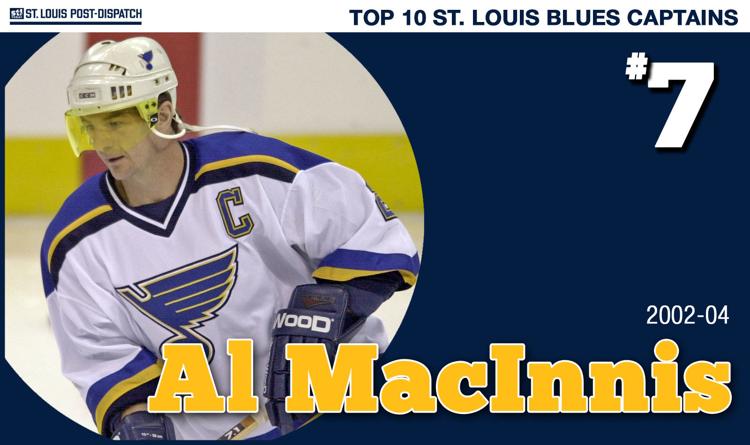 8. Dallas Drake, 2005-07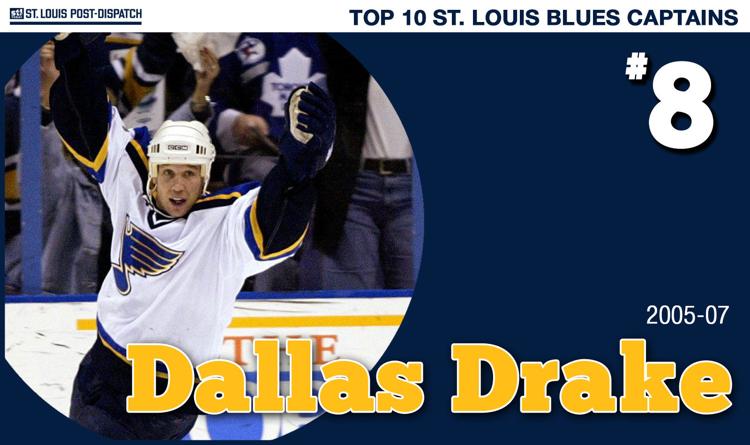 9. David Backes, 2011-2016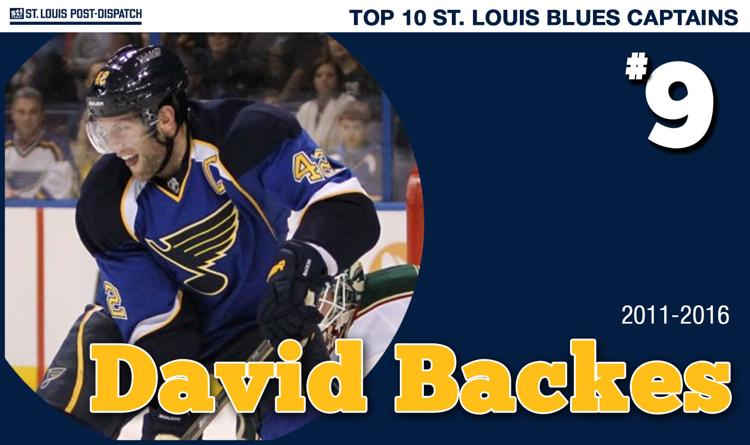 10. Alex Pietrangelo, 2016-2020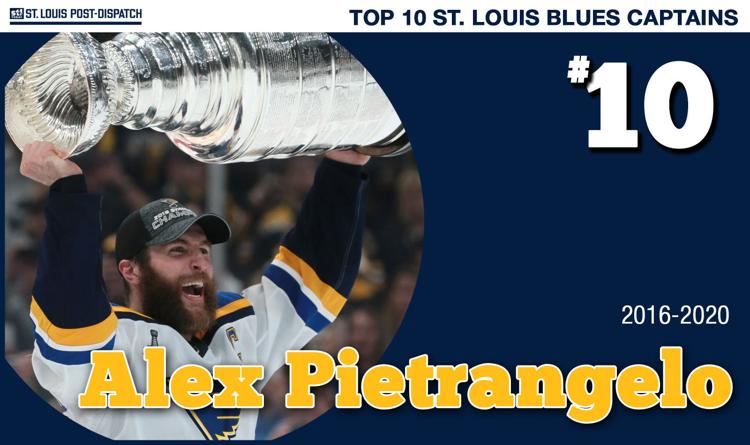 The latest STL Blues hockey news, NHL headlines, scores, standings and rosters.