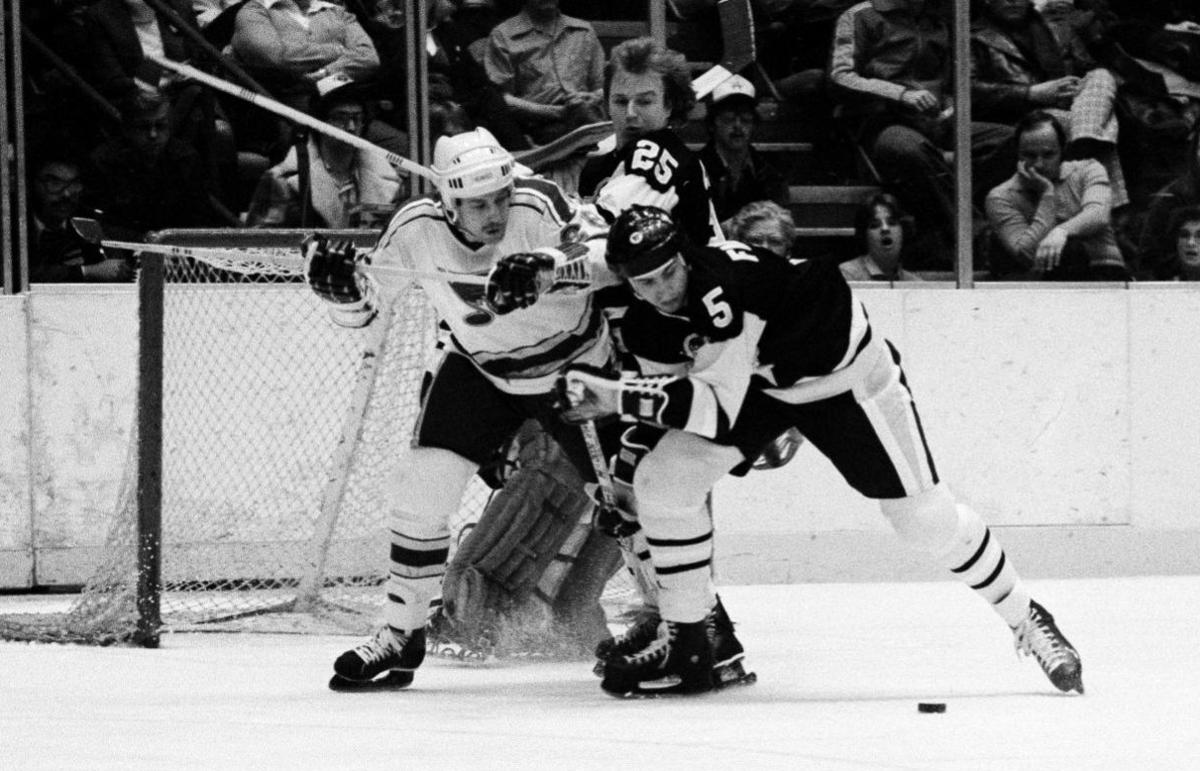 Hockey writer Jim Thomas continues our "Where are they now?" series on former Blues.
Struggling with a bad cold, Mike Crombeen had trouble breathing during the morning skate. The Blues' winger felt a little better that night but knew he was slated for only spot duty in the decisive Game 5 against the Pittsburgh Penguins.
Over the opening two periods he played only three shifts — all on the penalty kill. Then he sat and sat some more. For nearly two hours.
"You sit there on the bench and it's funny how things go through your mind," Crombeen said at the time in 1981. "I kept wondering whether we'd be playing New York or going home. I never dreamed I'd be the guy to score the goal."
But 5 minutes, 16 seconds into the second overtime, Crombeen played his fourth shift of the night. Taking a Mike Zuke pass from the corner, Crombeen was left uncovered in front of the net. Pittsburgh goalie Greg Millen got a piece of the shot but not enough. Crombeen never saw it go in.
"I was aware of the mayhem in the crowd, and I looked over at 'Zukie' and he was two feet in the air," Crombeen said after the game. "That's when I knew it was in."
And there it was — one of the most famous goals in Blues' playoff history with Crombeen the unlikely hero in a 4-3 victory that clinched the series, 3 games to 2. The Blues were upset by the New York Rangers in the quarterfinals.
Nonetheless, Crombeen's goal breathed life into a franchise that had not won a playoff series since 1972.
Now 63 and living in Barrie, Ontario, Crombeen hasn't watched that goal in years. No, make that decades.
"I think I have a copy of the goal that's on an old cassette, which obviously in time I've gotten rid of anything that could play it," he said in a phone interview Saturday. "So I can't even remember the last time I've even looked at it. It's probably been 30 years ago."
(Alas, it's easy enough to find on YouTube.)
But Crombeen isn't the type to live in the past.
"It was a time of my life that I enjoyed very much, and a lot of fun memories with it," Crombeen said. "But since that time you kinda move on. I've looked at it with my kids when they were growing up, stuff like that.
"There's the odd time when it comes up in a conversation, where you bump into somebody and somebody recalls it or saw it and brings it up. So you relive it I guess in your mind."
It is commonplace in the NHL for the equipment manager or someone to fetch the puck after a memorable goal and save it for the player, but Crombeen doesn't remember that happening.
"Maybe I did get it and maybe I misplaced it," he said. "But I don't have it in my possession now and I don't recall ever having it."
Overall, Crombeen regrets that he kept very little memorabilia from an NHL career that spanned eight seasons with the Cleveland Barons, Blues and Hartford Whalers. Crombeen says he has a Whalers jersey somewhere, and that's about it.
He scored 47 of his career total of 55 goals over five seasons with the Blues, including a career-high 19 during the 1981-82 campaign.
A highly-touted junior player, Crombeen scored a franchise-record 160 goals in four seasons with the Kingston Canadians. The Barons made him the fifth overall selection in the 1977 NHL draft; he was taken fourth overall by Edmonton that same year in the WHA draft.
He chose the Barons for what would be their second — and last — season in Cleveland. In an unusual set of circumstances, the Barons ceased operations after that '77-78 season, merging with the Minnesota North Stars.
"To be honest with you, it was a pretty rough year as a whole," Crombeen said. "It was a franchise that was at the bottom of the league. I remember the rink was actually situated closer to Akron than it was to Cleveland.
"The Montreal Canadiens would come in, they were one of the elite teams in the league, and I remember playing a game there where we had 2,500 people in the stands. . . . It created an atmosphere like you were at a practice."
After the merger, the North Stars were allowed to protect 14 players from the combined rosters. The rest would be made available in a dispersal draft to the five teams that finished with the worst records the previous season.
Only two of the five eligible teams made a selection in a draft that took all of four minutes. The Blues made one of those two picks — Crombeen — and were excited about landing a winger regarded as perhaps the fastest skater in junior hockey just a year earlier.
"I can't say specifically that I recall it to a 'T,' but I'm sure to me it was a breath of fresh air, a chance for a new start to try to play up to expectations," Crombeen said. "At the time when I first went to St. Louis, it was a team that was somewhat in a rebuilding process.
"There were a lot of young players that were just starting their career, and had a year or two under their belt. Bernie Federko, Brian Sutter, a lot of those guys were just at the start of their career. Mike Liut."
He never became the kind of scorer in the NHL that he was with Kingston in junior hockey, instead settling into a role of defensive specialist and penalty-killer.
Crombeen enjoyed his time in St. Louis. During off-days, he'd go hunting and fishing with Larry Patey or Ed Staniowski. He appreciated the passion and loyalty of the fan base.
But just two years after his historic goal against Pittsburgh, the Blues had a new general manager in Ron Caron, a new coach in Jacques Demers, and no room on the roster for Crombeen.
He was placed on waivers prior to the 1983-84 season and claimed by Hartford along with Bob Crawford and the man with the big assist on that Pittsburgh goal — Zuke. Crombeen played his final two seasons in Hartford, where Caron's predecessor in St Louis, Emile "The Cat" Francis, was GM.
Crombeen would return to St. Louis many times in later years to watch his son B.J. play for the Blues from 2008-12.
"During that time it gave me a chance to connect with some of the guys that I played with that I hadn't seen for 20-plus years," he said. "It was nice to get caught up with a number of the guys that settled in the area."
Following hockey, Crombeen spent nearly 30 years working in sales for Adidas. He retired from Adidas three years ago and has eight grandkids to keep him busy, many of whom are now playing hockey.
Who knows? Maybe there's a third generation Crombeen in the making for the Blues.
The latest STL Blues hockey news, NHL headlines, scores, standings and rosters.