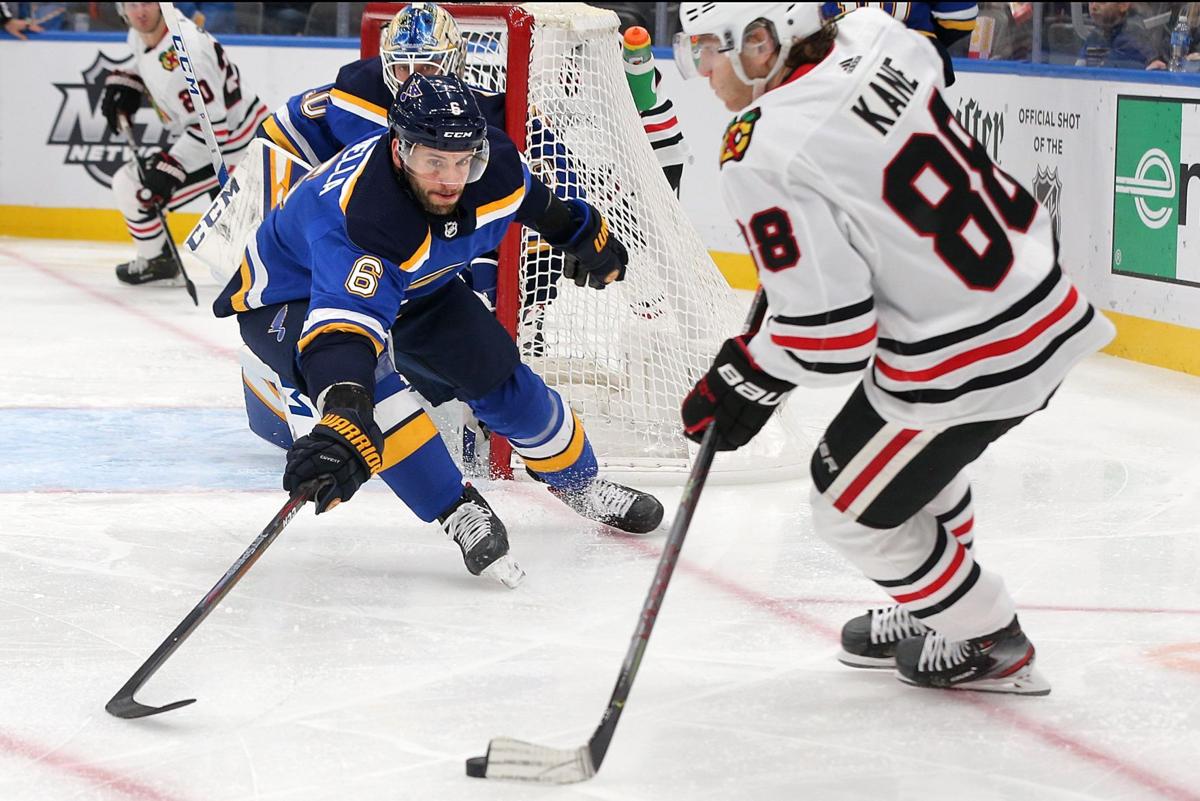 The Blues have another player under contract. Defenseman Marco Scandella has agreed to terms on a four-year contract worth $3.275 million per year, the team announced Thursday afternoon.
Suffice it to say that Scandella, 30, impressed the Blues in just 11 games with the team since being acquired via trade from the Montreal Canadiens on Feb. 18. He had been scheduled for unrestricted free agency after this season.
"I think that in the games here, and how quickly he was able to partner with (Colton) Parayko, we thought we had enough information (to pursue an extension)," Blues general manager Doug Armstrong said.
It was clear to Armstrong that Scandella was the player they thought they were getting from Montreal.
"And how he played in our group, what we asked him to do, and what we were replacing in terms of what Jay (Bouwmeester) was doing at that particular time," Armstrong said. "A strong defender, good stick, decent skater. A 'plus' skater and a good partner for a guy like Colton."
Paired with Parayko in all 11 games, Scandella had no goals and one assist and was plus-4. It was a seamless transition for Scandella, who averaged 20 minutes 18 seconds per game with St. Louis before the NHL suspended play March 12 because of the coronavirus pandemic.
He also saw lots of duty on the penalty kill unit, averaging 2:22 of shorthanded ice time per game. Excluding goalies Jordan Binnington and Jake Allen, that was third-best on the team trailing only Bouwmeester (2:38) and Robert Bortuzzo (2:30).
"We obviously knew him well from his time in Minnesota," Armstrong said. "A good, strong competitor that played against the other team's better players _ played against our better players. He came as advertised. I think he's much more comfortable in the Western Conference. And fortunately for us, that's where we play."
After playing all or part of seven seasons with the Minnesota Wild, Scandella was traded to Buffalo prior to the 2017-18 season. After 2 ½ seasons with the Sabres, he was traded to his hometown Montreal Canadiens on Jan. 3 of this year and then shipped to St. Louis 1 ½ months later for a second-round pick in this year's draft and a conditional fourth-rounder in the 2021 draft.
The Canadiens now get the fourth-rounder, because one of the conditions that would send them that pick was if the Blues signed Scandella to a contract extension
Although not a big scorer, Scandella has a decent shot, and is capable of jumping into the play on offense. He has a physical element to his game as well.
"He can be a primary penalty killer," Armstrong said. "Can be a primary shutdown guy. Can play deep into the third period when you're up by a goal and tied in a game.
"You're trying to build a team that has all sorts of different elements," Armstrong said. "Marco gave us an element that we had in Jay, and now we have that moving forward. We like that style of defenseman _ the rangy guys that have got good sticks and have good feet."
By retaining Scandella through the 2023-24 season, the Blues almost certainly are moving on from Bouwmeester, who may retire after a life-threatening cardiac episode March 11 in Anaheim.
"I'd rather not comment on that," Armstrong said. "Jay at his press conference (in March) said he was not gonna play the rest of the season and would make some decision in the summer. And I'll just allow him to go down that path."
No matter what Bouwmeester decides, his contract with the Blues expires after this season.
But what about Alex Pietrangelo, who is scheduled for unrestricted free agency after this season? After agreeing to terms Wednesday with Sammy Blais on a two-year contract worth $1.5 million a year, and now Scandella at $3.275 million per year, is there enough money to re-sign the Blues' all-star defenseman?
The answer is "no" unless Armstrong makes some moves to free up salary. According to CapFriendly.com, the Blues have only $5.4 million of cap space under a projected salary cap of $84 million. And it's possible the cap could be less because of revenue lost during the coronavirus "pause."
"We have a plan and we just continue to sign guys, Armstrong said. "Any organization, you can't just do nothing and wait for one thing to happen.
"Our goal is to try and get Petro signed. We were gonna need a player like Marco, with or without Petro. And now we have that done but we still want to sign Petro."