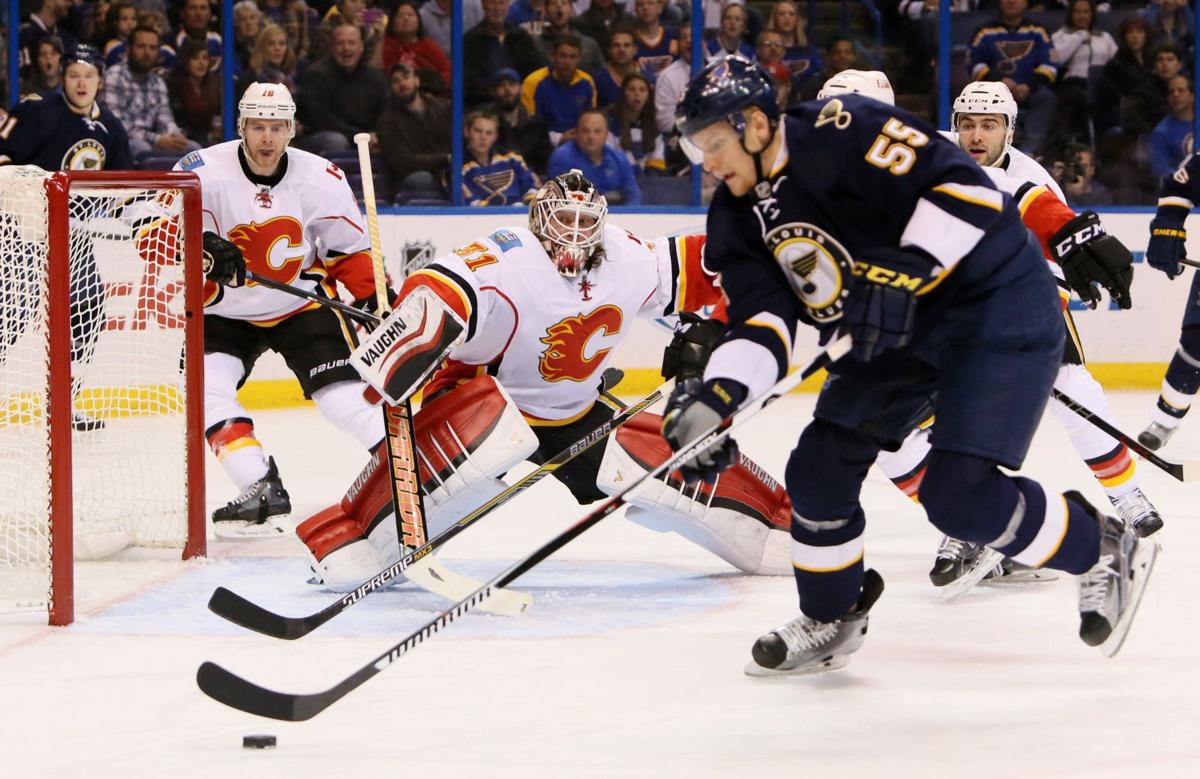 An awful lot happened to Blues defenseman Colton Parayko last season. He came to camp apparently targeted for the minors, and then not only made the team but became a key part of the roster. He had nine goals and 24 assists and was a plus-28 in plus-minus, the fifth-best in the league and the best mark for a Blues defenseman in 16 seasons. He was a significant part of the Blues getting to the Western Conference finals.
After the season, he was named to the all-rookie team, was eighth in voting for the Calder Trophy as rookie of the year in one of the most crowded fields in a long time and was named to Team North America, the 23-and-under squad for the World Cup of Hockey, which starts in September.
And after all that, he hit another milestone in the summer: He finished his college degree.
Parayko left Alaska-Fairbanks needing to take seven more classes to finish his business administration degree. He took three classes online in the fall semester, two in the spring and then finished it up with two classes in a summer session that ended Friday. While several Blues played college hockey, he's the only to have gotten his degree.
"I think it was really important (to finish the degree)," Parayko said. "I spent three years there working really hard, going to class, taking tests, studying, doing homework. To finish it was something I wanted to do. My mom wanted me to do it, my family did. … Hockey's only going to last so long. You never know when it's going to end or what's going to happen, so when you get an opportunity to finish your degree, something you started and worked so hard on, it's a huge accomplishment for myself."
The last year was in some ways harder than the first three, as he had to juggle his class assignments with being an NHL player. Because of the Blues' extended postseason, he ended up having to take final exams for his spring classes between playoff games. The last two classes — a chemistry lab and a current topics in business class that looked at operations in native Alaskan communities — he finished at his home in Edmonton, doing chemistry experiments on the dining room table. (He put off taking the chemistry class to the summer because while it's one thing to take textbooks on the road, taking his lab kit on the road may have been a bit much.)
"Pretty much every day, every second day, I was looking at something (for school)," he said. "Sometimes the schedule was tough and if we were on the road for a few days I might miss something. I tried to make sure I worked ahead of time. I was always three days ahead, if not four, just to make sure something didn't sneak up on me and I didn't do it. Sometimes you can miss a thing and go down a whole grade point. I was just making sure little things like that are taken care of."
Other than finishing up his schoolwork, Parayko has tried to take it easy in the summer after a season in which he played 99 games covering the regular season and playoffs after playing just 51 the year before between college and a brief stint with Chicago in the AHL and in the 30s in his college years. He spent most of the summer in Edmonton, though he, Alex Pietrangelo and David Backes took a trip to Indianapolis to watch the Indy 500 with pit passes.
The World Cup will shorten Parayko's offseason. While the Blues open training camp Sept. 23, training camps for World Cup teams will start Sept. 4 and 5, with exhibition games beginning Sept. 8. Parayko is working out every day and is on the ice every other day to get ready for Team North America camp, which will be held in Quebec.
"I want to get ready for next season and (the World Cup) is going to be a good stepping stone to help me get prepared," he said. "I think it's going to be beneficial for me. I'm looking forward to the World Cup and hopefully coming out with a strong start (in the season).
"It's something that's pretty big. There's going to be a lot of good players there, it's going to be a reasonably big stage. I'm looking forward to playing with new players, younger guys around my age. That will be a good opportunity to grow a little bit. It's going to be a lot of fun."
How Team North America will fare is one of the mysteries of the tournament. What they lack in experience they make up for in fresh legs. With teams playing three games in four days in the first round, that could give the youngsters an edge against veteran teams. (And it's a pretty talented group.)
"I guess I expect to win it, I think," he said. "It's obviously going to be a tough tournament, with great players from great teams. I think if we come and work together as a team, I think that's one of the big factors. I think we can do it.
"We're going to have a good team, a fast team, a very skilled team and when you've got that combo, it's pretty good."
There's a lot that lies ahead for Parayko, who's also looking at video for things he needs to improve in his game. With his coursework done, he's got a lot of extra time now. What's he going to do with it?
"I don't know exactly," he said. "I've got to find a cool hobby of some sort."