ST. PAUL, Minn. — Just a few days ago, a rested Blues team had the good fortune of catching the visiting Minnesota Wild on the back end of a back-to-back. They took advantage of the favorable scheduling, albeit in a hard-fought 2-1 victory at Enterprise Center.
On Saturday, the tables were turned. The Wild, who had not played since that game in St. Louis, were fresh and welcomed the Blues to the Twin Cities on the back end of a back-to-back.
It didn't matter. The Blues stayed hot, winning their fourth game in a row and for the sixth time in their last seven. Not that it was easy. It never is, it seems, with these Blues. Another day, another overtime. This time, it took a Ryan O'Reilly goal with 2 minutes 33 seconds left in OT for a 4-3 triumph at Xcel Energy Center.
That's right, David Perron let someone else score the OT goal.
"It was nice to contribute this time," O'Reilly said. "We just caught 'em in a break and obviously a big goal. Needed that. It wasn't a perfect game by any means. I thought Jake (Allen) played very well and we didn't help him enough.
"But a couple good breaks and we found a way to win. It's an important two points but a lot of adjustments we need to make going forward."
Other than the reference to Allen, playing only his third game of the season, a lot of O'Reilly's words should sound familiar. It's the refrain of this Blues season so far. Three of the four victories during the current streak have come in overtime. Earlier in the season, the Blues lost three games via overtime or shootout.
Yes, they seem to have this thing about living on the edge.
"I think we're definitely comfortable in high-pressure situations," O'Reilly said.
Of course, some of that "comfort" is a carryover from the crucible that was the Stanley Cup playoffs.
"They're used to it," coach Craig Berube said. "Going through the playoffs — there's a lot of high-pressure situations there. I don't think we panic. We stay with it.
"Things don't go right all the time. That's the way the league is, night-in, night-out. . . .You just gotta keep battling."
Sure, but wouldn't Berube like to win 4-1 or 5-2 once in a while?
"It is what it is right now," Berube said. "You gotta roll with it and you gotta deal with what's handed to you. You gotta find different ways to win and that's what we're doing."
The path to victory might have been blocked were it not for a successful goalie interference challenge with the Blues down 3-2 in the second period.
It appeared to be a 4-2 lead when a Mikko Koivu shot bounced off Colton Parayko and past Allen with 5:29 left in the period. The Blues challenged for goaltender interference, risky business these days due to a rule change that makes a failed challenge subject to a two-minute penalty for delay of game.
The crowd at Xcel didn't like the call one bit, but Zach Parise — parked in front of Allen — was ruled to have interfered with Allen. It's not as if Parise leveled Allen, but he did lean into him with his right shoulder and elbow on the play.
The NHL situation room determined that "Zach Parise's elbow contacted Jake Allen in the crease, which prevented his ability to play his position prior to Mikko Koivu's goal."
"I've never watched the Jumbotron, so I don't even watch replays but I know I got bumped a little bit," said Allen, who stopped 20 of 23 shots. "I sort of lost my balance. I wasn't sure who it was so I really didn't argue it right away."
The successful challenge, "gave us some life for sure," Berube said.
It sure did. Although they didn't score over the remaining 5:29 of the second, the Blues outshot the Wild 7-1 and had several prime scoring chances. The Blues outshot Minnesota 18-8 after the successful challenge, including the third period and overtime, and outscored the Wild 2-0.
After that largely awful second period, the Blues were able to tie the game with 13:55 to play in the third on Sammy Blais' fifth goal of the season, a hustle play in which he came up with a loose puck and beat Wild goalie Devan Dubnyk in close.
The Wild wanted a tripping call on Blais who tumbled to the ice along with a Minnesota player behind the goal line. Once again the Wild didn't get the call.
"The other guy pushed me on him and I kind of fell on him," Blais said. "It's hockey. It happens and we had a goal on that so we're happy about it."
Wild coach Bruce Boudreau wasn't happy. He must have said something naughty to the officiating crew because the Wild got a bench minor after the Blais goal. It should be noted that referee Pierre Lambert, who worked this game, also was part of the crew that gave Berube a bench minor in the Blues' 4-3 overtime loss to Vancouver on Oct. 17.
When reminded that Lambert was the referee in both games, Berube said with a noticeable grin: "(Boudreau) better not talk to him then. I don't know what to tell you. I did it, too. You're better off not saying anything."
What's worth saying is that the Blues have won four straight for the first time since March 19-25 of last season. They maintained their first-place status in the Central Division and improved to 9-3-3 for the season. Minnesota, now 0-7-1 against the Central this season, is 4-9-1. Despite their lowly record, the Wild had won three straight at home prior to Saturday's game.
O'Reilly scores overtime winner, Blues beat Wild 4-3
O'Reilly scores overtime winner, Blues beat Wild 4-3
O'Reilly scores overtime winner, Blues beat Wild 4-3
O'Reilly scores overtime winner, Blues beat Wild 4-3
O'Reilly scores overtime winner, Blues beat Wild 4-3
Blues Wild Hockey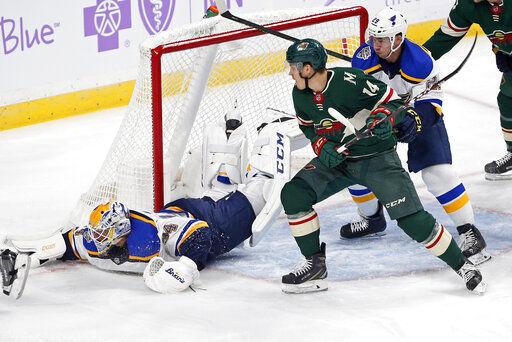 Blues Wild Hockey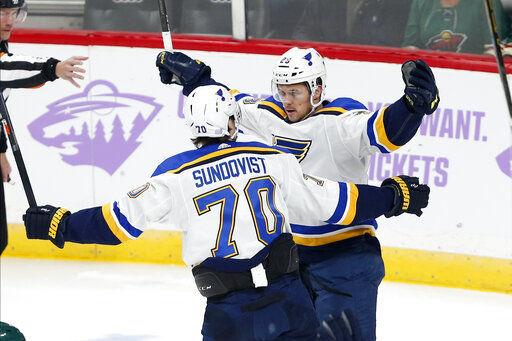 Blues Wild Hockey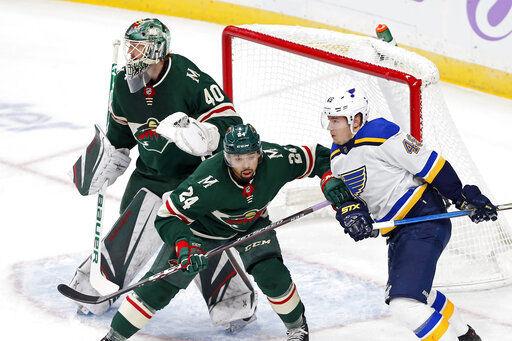 Blues Wild Hockey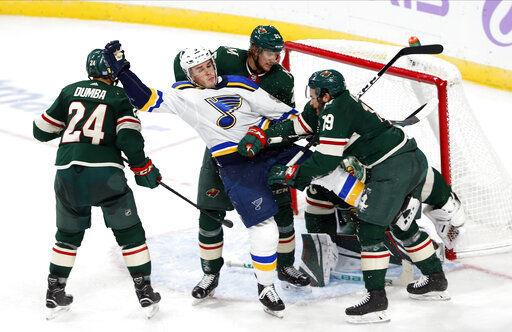 NO headline in galleries