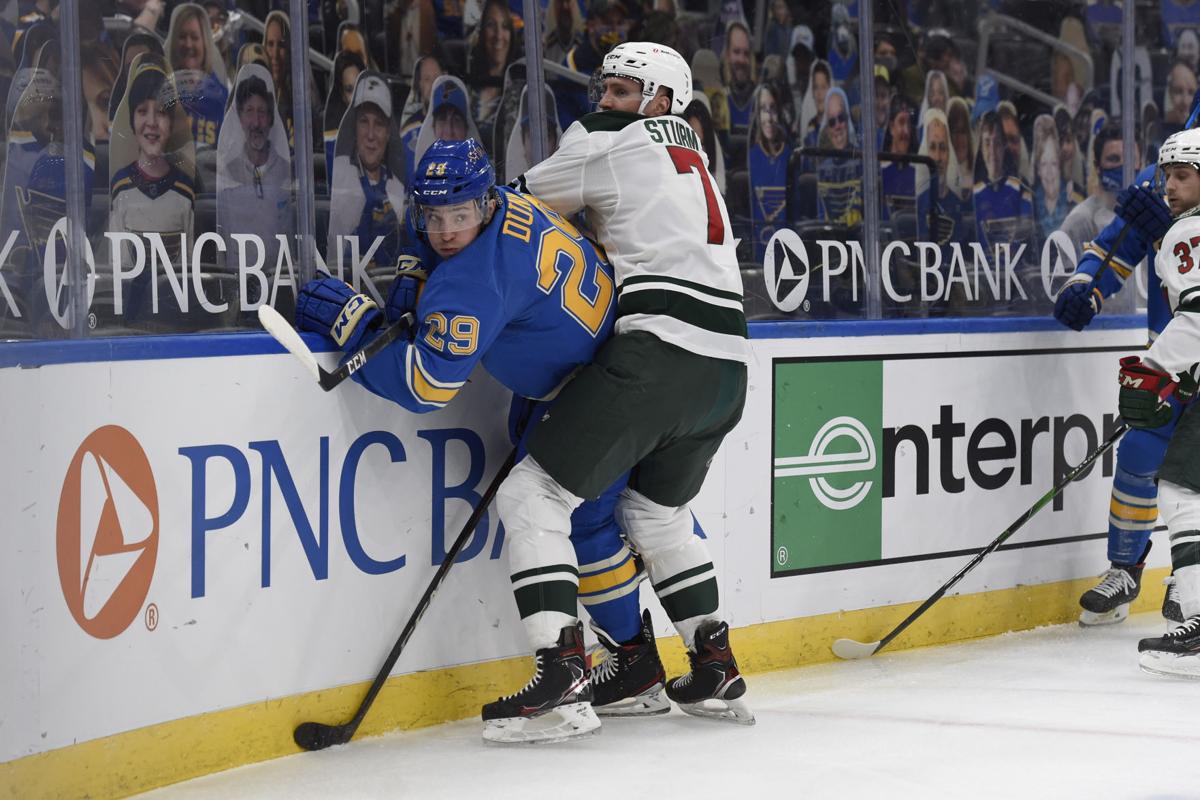 The NHL's format this season, with games against only teams in your own division, has guaranteed that every game matters a lot. There are no games against the other conference, where if you don't win, all it costs you is two points. In NHL 2021, not only does a loss cost you two points, it gives two points to a team you're competing with for a playoff spot. Every game is a four-point game.
Which brings us to Saturday.
In a game between the two teams battling for the fourth and final playoff spot in the West, the Blues and Coyotes meet on Saturday afternoon at Gila River Arena in Glendale, Ariz. While it's only one game, it will help shape the contours of the final four weeks of the season, determine who is the hunter and who is the hunted. The Blues come in with a one-point lead on the Coyotes. A regulation win will put them up by three points with 13 games to play. (And only 11 to play for Arizona.) A regulation loss puts them in fifth, one point back. At moneypuck.com, a Blues win would lift their playoff chances 14.6 percentage points to 56.1 percent. A loss would drop them 11.6 percentage points to 29.9 percent to get in. That's a potential 26-percentage-point swing in one game.
"It's huge," center Ivan Barbashev said.
"At this time of year," captain Ryan O'Reilly said, "every point matters and when you get to play a team you're fighting with, it's huge to create separation, and that's why it will be so intense. Both of us are fighting for our lives. So it's huge, it's huge points. We need to keep separating ourselves and keep moving up in the standings."
Nothing, of course, is guaranteed, and the West has shown to be subject to swings. Just 10 days ago, the Coyotes were up by five points on the Blues and thanks to a five-game losing streak for the Coyotes, they're now down one. But with time running out, being ahead is far superior to being behind.
This is the final meeting of the season between these teams, and the other seven all happened in an unprecedented two-week span in February, thanks to COVID postponements for Colorado and Minnesota that left the Blues and Coyotes with nothing to do other than play each other. Arizona won three of the first four, then the Blues took two of the final three. Arizona took Game 7 in Glendale to win the "series." With overtimes, Arizona took nine points from the seven games, the Blues took seven. "That was a hell of a series, to be honest with you," coach Craig Berube said.
But those were different times. The Blues were without Vladimir Tarasenko, Tyler Bozak and Marco Scandella because of injuries, and Robert Thomas and Jaden Schwartz missed a few of the games as well. Colton Parayko was in the lineup but playing at something less than the best of his ability. Thomas will miss this game with a different injury, but all the rest are back.
"We were still trying to find our game a bit more," O'Reilly said. "I expect we'll be a lot better."
"I believe (we're better)," Berube said. "For sure."
And also the Coyotes were on a roll. Now, with a five-game losing streak, the Blues hope they can go on the aggressive against them.
"You want to put doubt in their mind, you do that with not giving them anything," O'Reilly said. "You're disciplined with the puck, winning the right battles, winning the bluelines. You take care of those things, that frustrates the team, that wears them down and that will force them to get into their head. It's just a commitment to those details and go from there."
"I think we've got to continue to get that good first period in there," Berube said. "It's nice to come out of there with a lead. Scoring first is obviously important. Basically, we've got to go into this game and you're going to leave everything out on the ice. You've got to empty the tank against them."
Especially since after this game, only three of the Blues final 13 games are against a team that isn't one of the top three spots in the division. It's going to be hard for the Blues to get points against Colorado (which is 17-1-2 in its past 20 games) and Vegas, so they've got to jump on all the other opportunities they can.
"It's just a fight for a playoff spot right now," Barbashev said. "We don't have a lot of games left. Every single game is really important right now, I guess for both teams. It's going to be a really hard game for both teams."
The Blues' three-game win streak came to an end on Saturday, when a bad second period doomed them against Colorado. But they have continued to play better.
"It's starting to come," O'Reilly said. "There's still a lot of work left. We're still a little bit upset with our second period last game. But we saw in the third what we can do against a really good hockey team and make that extensive assault and that's how we're going to have to play the rest of the way and in the playoffs. I feel good about our group. I like the way we're working and working together and taking care of each other. It's time to go win some games now."
Blues beat reporters Jim Thomas and Tom Timmermann joined columnist Jeff Gordon to pump a little sunshine after the Blues' rally fell just a b…