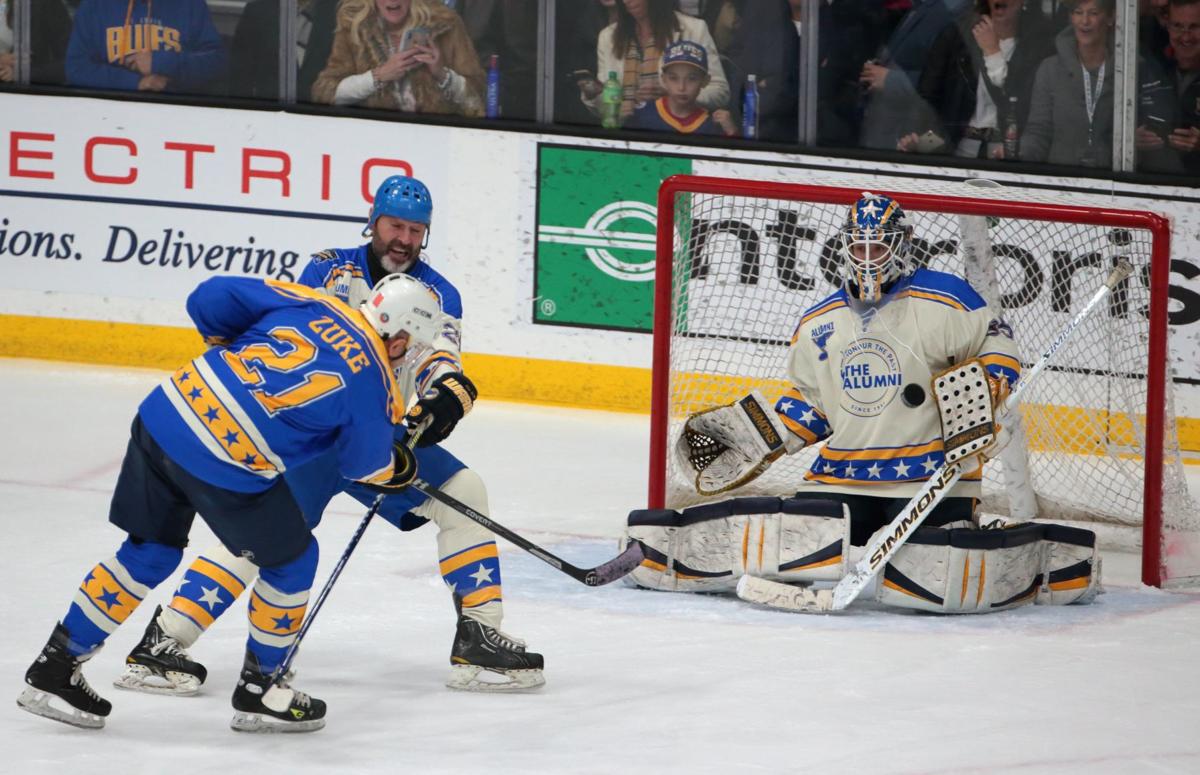 Seventh in a series of "Where are they now?" stories on former St. Louis Blues players.
Remember the scene in "Slap Shot" where Walt the bus driver takes a sledgehammer to the side of the Johnston Jets' team bus? Mike Zuke does.
"Actually, I lived 'Slap Shot' for half a year," said Zuke, the former Blue. "Four or five of the guys I played with down at Mohawk Valley in the North American Hockey League were extras in the movie."
"In the movie, I don't know if you remember, but they took a (sledgehammer) to the bottom of the bus and broke up the door where the equipment went," he said.
Well, that very same bus was the one used by Mohawk Valley to get to its road games in the months after filming of the hockey classic was completed.
"The production company writes a check to the owner to fix the bus," Zuke said. "He puts the money in his pocket, takes a piece of plywood (over the damage). So we're traveling to Maine and Quebec, below-zero weather, and our equipment's all in this bus with the wind blowing through it."
As a result, once it was game time, "We'd have to put on frozen equipment," Zuke said.
Memories of those bus rides, and the sensation of wearing frozen equipment, may have contributed to Zuke's decision to retire from the NHL midway through the 1985-86 season. After spending parts of five seasons with the Blues, Zuke spent his last 2 ½ NHL campaigns with the Hartford Whalers.
In his early 30s at the time, the game was getting faster, Zuke was slowing down, and he was on a two-way contract. Whalers GM Emile "The Cat" Francis, who had brought Zuke to St. Louis years earlier as Blues GM, told Zuke right before Christmas that Hartford wanted to bring up some younger players.
"He wanted me to become assistant player-coach in Binghamton (N.Y.)," Zuke said, referring to the Whalers' farm club. "Because I came up riding the bus, I thought it was time to just get into business. Decided not to go down."
Like so many other Blues alums, he decided to establish roots in St. Louis. A couple of years into his tenure with the Blues, he purchased a home in Ballwin. So it was back to the Gateway City after his playing days were over. He still lives in the same house.
'A lot of us stay here because of the people, the city," Zuke said. "It's a great place to raise a family. Good opportunities for business. We're appreciated by the fans. They appreciate the old guys."
Blues fans seem to have a deep knowledge of franchise history and former players. Zuke got a reminder of that Monday.
"I just walked into a car dealership not five minutes ago, and the guy said, 'Hi Mike,' " Zuke said in a phone interview. "And I said, 'Hi, have we met before?' And he said, 'No, no I just recognize you.'''
Keep in mind, Zuke's last game in St. Louis was 37 years ago. He had a good run in St. Louis, scoring 22 goals in 1979-80 and 24 goals in 1980-81.
Zuke's favorite moment as a Blue came in the playoffs against Pittsburgh in the 1980-81 season, when he set up Mike Crombeen for the game-winner in double-overtime in the decisive Game 5.
"I had injured my shoulders with about three or four games left in the season," Zuke recalled. "(When) I came back for the playoffs. I was still hurting a little bit so I was in the lineup all the time but I didn't play a regular shift because my shoulders were so bad. Mike (Crombeen) and I sat the bench for probably two periods."
Crombeen had been sick, so his playing time that night was limited as well by coach Red Berenson.
"Red saw everybody was getting tired, so he finally threw Mike and I in," Zuke said. "Red tells the story, we looked pretty fresh, so he sends us out again for a second shift and that's when I ended up going into the corner. Mike was all alone out in front so I passed the puck out to him."
In an article written after Pat Maroon's double-overtime winner last season against Dallas, former Post-Dispatch sportswriter Dan O'Neill ranked the Crombeen goal No. 2 on his list of most memorable playoff overtime goals in franchise history. (The list included only games prior to Maroon's heroics.)
For the last 25 years, Zuke has run Zuke Enterprises, which sells apparel and memorabilia to teams, corporations, clubs, and charity groups. Business has been a little slow during the coronavirus pandemic, so he's now selling hand sanitizer, personal protective equipment and synthetic ice.
"It's just plastic tile that goes together like a jigsaw puzzle," Zuke said. "Even though it's plastic you can skate on it, you can turn on it. You can stop on it."
He remains active in the Blues Alumni Association here, at age 66 skating regularly with the group pre-pandemic. And he's been involved in coaching youth hockey for nearly 30 years, currently serving as skills director for the Affton Americans program. He basically coaches the program's coaches.
"As you know nowadays, skill development is so important," Zuke said. "All these guys do the off-ice training and they do the skills. It's a lot more specialized now than it was when I grew up."
In what can only be described as snapshot of hockey culture in Canada, Zuke grew up playing on a backyard rink in Sault Ste. Marie, Ontario. And in this case not just any rink.
When Zuke was about 7, his father — Mike Zuke Sr. — built it.
"It started off small, with two-foot high boards," Zuke said. "And then a couple of years later he put in six-foot high boards. He put lights up. So we would skate on it all winter, probably from November to almost April, we'd skate outdoors every night."
By "we," Zuke meant the whole neighborhood. The whole town. Future NHL players such as Ron Francis, Marty Turco and Joe Thornton, as well as current Winnipeg Jets coach Paul Maurice, used to skate at the rink, which became known as the Zukeadome. When the skaters became too numerous to dress in the Zuke household, an old barn was brought over on wheels to the backyard.
"So the kids started dressing in there with an old pot-bellied stove," Zuke said.
It took Zuke all the way to the NHL and a life in St. Louis.
The latest STL Blues hockey news, NHL headlines, scores, standings and rosters.