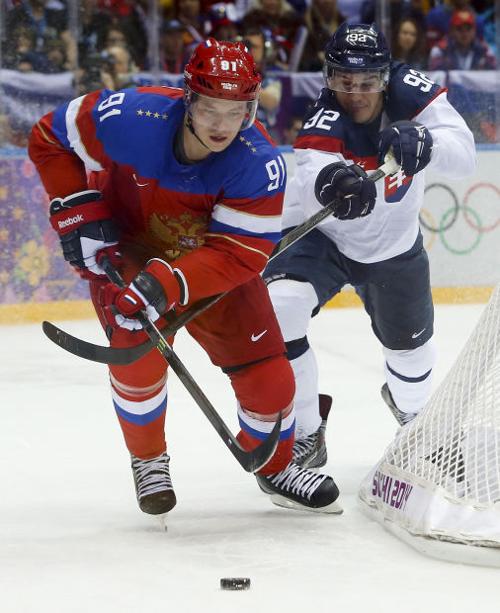 The Blues have plenty to look forward to this season. A revamped lineup bolstered by the additions of Brandon Saad and Pavel Buchnevich. The return of a full 82-game schedule, which includes a Winter Classic appearance Jan. 1 in Minneapolis.
And let's not forget the return of NHL players to the Winter Olympics, scheduled for February in Beijing.
The NHL is unique among major professional sports in North America in that it pauses its season for the Olympics. There will be no regular-season games played leaguewide from Feb. 3 to Feb. 22. Included in that break is the NHL's All-Star weekend, set for Feb. 4-5 in Las Vegas.
Given the particulars of the Blues' schedule, their break is a few days longer: They play Feb. 1 at Bell Centre against the Montreal Canadiens and then don't resume play until a Feb. 25 game at Enterprise Center against the Buffalo Sabres.
The Blues figure to have some representation in the All-Star festivities and in the Olympics as well. But for the team as a whole, and for those players not going to Las Vegas or Beijing, that's a long layoff.
"It could be a good thing depending on where guys are at injury-wise," defenseman Colton Parayko said. "Maybe it'll be time for guys to heal up. Maybe it'll be time for guys to recharge the battery."
But what if the team is on a roll at the time, piling up points? And then has to put that momentum on hold for three weeks-plus?
"I know," coach Craig Berube said. "But that's out of our control. I can't worry or focus on that.
"They're going to the Olympics; there's going to be a big break. We could have some guys that go over there.
"They're going to come back. And then there's going to be a lot of games. March and April are going to be packed with games. It's going to be important that we use a number of guys probably in those games and keep people fresh and hopefully stay injury-free."
Starting with that Feb. 25 contest against Buffalo, the Blues play three games in four days to close out February. Next comes 14 games in March and 16 games in April. It adds up to 33 games over the final 65 days of the regular season, slightly more than a game every other day. Included in that stretch are seven sets of back-to-back contests.
Scheduling hardships aside, you'd be hard-pressed to find a single NHL player who doesn't like having the opportunity to play in the Olympics or even the concept of having them in the middle of an NHL season.
"As a hockey player, and as an NHL player in general, you grow up and first off you watch the Olympics every year (it's played), especially from Canada," Parayko said. "And you want to be in the Olympics and play in the Olympics.
"So just for the NHL to be going, that's exciting. Anybody that gets a chance to go — it's obviously a special time in their career. You can't take that for granted."
The NHL didn't send players to the Winter Olympics in 2018, so this will be the first time for NHL players since the 2014 Games in Sochi, Russia.
"It's nice just in general for the game of hockey," Blues captain Ryan O'Reilly said. "I think it was missed last time. I know guys around the league were disappointed with that."
Although most Blues have represented their countries at some level of international competition, only Vladimir Tarasenko (Russia) and Justin Faulk (United States) have been Olympians. Both participated in the Sochi games.
They are probably candidates for their country's Olympic team this time around as well. Other Blues candidates figure to be Torey Krug (United States), O'Reilly (Canada), Parayko (Canada), and perhaps even David Perron (Canada) and Jordan Binnington (Canada), and Ivan Barbashev (Russia).
"I don't think Team Quebec is going," Perron quipped. "But if they are, maybe I'll have a chance on that one. We'll see.
"I have confidence that I think I could play in those type environments, but it's not something I'm expecting at the stage where I'm at right now. I think there's many deserving guys, and we'll see where it goes. So I'm just going to leave that there."
If you had to pick one Blues Olympian right now, it would probably be O'Reilly, who has played for Team Canada six times in the World Championships — three times as an alternate captain — and also played on Canada's World Cup squad in the 2016-17 season.
"For myself, there's nothing obviously I can do to control it," O'Reilly said. "Just got to play hockey, enjoy it, try to win here. If I'm lucky enough, I'll be able to get a chance to represent my country. It'd obviously be a huge honor."
O'Reilly and all the other Canadians on the Blues' roster do have an ally in general manager Doug Armstrong. Armstrong is the general manager of Canada's Olympic team and will pick the squad with input from others.
Just before the NHL Prospect Tournament in Traverse City, Michigan, Armstrong met with his Team Canada coaches, management and training staff in Banff, Alberta.
"We have a list of players we're scouting," Amstrong told the Post-Dispatch in Traverse City. "But our focus is on our day job. But we'll be watching as we pare our list down for that."
He added with a laugh: "And we'll have a lot of help from all the Canadians."
Yeah, all 38 million of them.
Governing bodies for Olympic hockey participants had to announce the first three players on their roster by Friday (Oct. 15).
The "first three" for Team USA are Patrick Kane and Seth Jones of the Chicago Blackhawks and Auston Matthews of the Toronto Maple Leafs.
The "first three" for Team Canada are former Blue Alex Pietrangelo of the Vegas Golden Knights, Connor McDavid of the Edmonton Oilers and Sidney Crosby of the Pittsburgh Penguins.
A "long list" of potential Olympians for each participating country must be submitted by this Friday. But in the case of Canada, Armstrong said the final roster choices won't be decided probably until early January.
"You push it off as long as possible to allow players to have as much runway as they can to work their way on or off the team," he said.
Brown, MacEachern to Springfield
Forwards Mackenzie MacEachern and Logan Brown both cleared waivers Sunday and have been assigned to the Blues' American Hockey League affiliate in Springfield, Massachusetts.
As season begins, the St. Louis Blues are looking to find their old form with many new players.