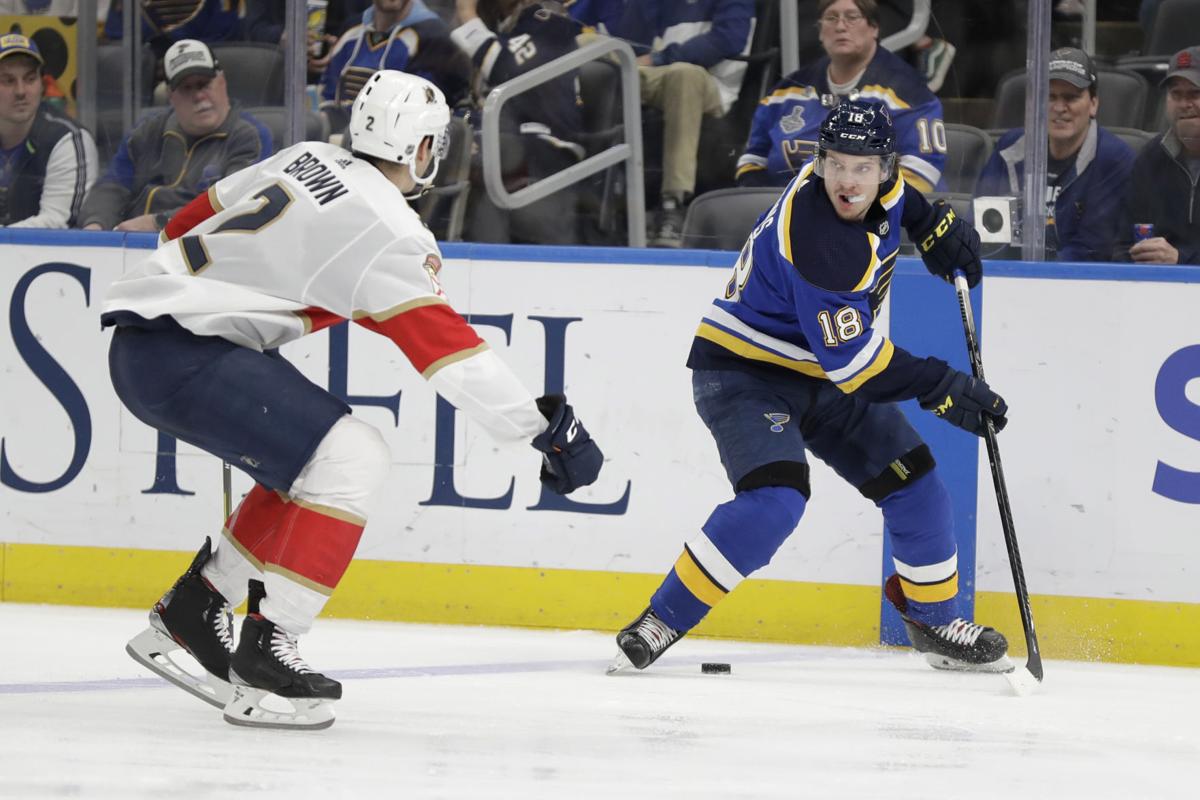 It's been more than 10 months since the Blues last played a real game in their home, Enterprise Center, and so much has changed since they lost to Florida 2-1 on March 9.
When they play the San Jose Sharks on Monday night at Enterprise Center, the building will be mostly empty. Less than 300 fans will be allowed in the building, a crowd consisting of friends and families of players, coaches, staff and team officials and a selected group of frontline COVID-19 workers, who will sit spaced out in the Plaza level of the building. Tarps will cover large sections of seats. Crowd noise will be piped in. Cutouts of fans will fill some of the seats.
And while the Blues have gotten used to playing in empty buildings, after playing 10 in the Edmonton bubble in August and two in Denver last week, a nearly empty Enterprise Center will be very different. Different, yet welcome.
"I think it's definitely different to be at Enterprise," forward David Perron said Sunday. "But I think just the feeling for us players to walk into the building, to park our cars and walk underneath all that, just get that feeling back. It's fun to walk in that building, every time I do it I still get excited about playing a game there. It's going to be fun, regardless.
"Obviously, we want fans and hopefully starting to see some faces of people in the stands, people kind of get used to that again, start feeling like it's normal again and we start increasing the number as we go."
Defenseman Carl Gunnarsson agrees. Gunnarsson on Monday is expected to play for the first time this season, after Robert Bortuzzo was put on the injured reserve list Sunday with what probably is a concussion.
"We're going to miss the fans for sure," Gunnarsson said. "One of the good things in the last couple years is the fan base we have here. We're going to miss that but at the same time, we knew that coming in."
The Blues played an intrasquad scrimmage at Enterprise Center during training camp to get the feel of the old place back. Other than that, they barely have been in the building since last season was put on hold three days after that Florida game.
"I can't even remember the last time we were in here," captain Ryan O'Reilly said after the scrimmage. "Just being in our building, seeing certain things, being in this locker room, we're comfortable here. It's nice. It's a comfortable environment."
The crowd is destined to be the smallest in franchise history — the previous small crowd was 4,115 in The Arena on Dec. 19, 1973, during an ice storm — and it's the hope of the Blues, and all the NHL, that bit by bit COVID-19 numbers will come down and attendance figures will go up. But for now, there's no indication that's going to happen any time soon.
The Blues, of course, would like this game to be different from their most recent one, a colossal 8-0 loss to Colorado. Coach Craig Berube predictably put his team through a lively practice session on Sunday at Centene Community Ice Center and, even more predictably, redid 75% of his lines. He had steadfastly stuck with those combinations throughout camp, but an 8-0 loss changes things.
Brayden Schenn went from being the left winger on O'Reilly's line to being center on a line with Jaden Schwartz and Jordan Kyrou. Zach Sanford moved back into the spot on O'Reilly's left wing he was in at the end of last season and Robert Thomas, staying at center, now has Tyler Bozak on his wing along with Mike Hoffman. The fourth line stays the same.
In the first two games, the O'Reilly line didn't score.
"Sanny's really coming into his own," Perron said. "I think he brings a familiar face for me and O'Ry, we know what we're going to deal with. It's almost like we don't think any more when the three of us are together. We just kind of go out and play and that goes into our mentality of playing deep in the O-zone. We need to get O'Ry the puck as much as we can. As a line, if you don't score in the first couple like we have, maybe you start pressing, you saw a couple times, the puck got away from our line for basically no reason. So the moment we get the first one out of the way we hopefully take off."
"It makes us a little bit more balanced," Berube said. "I'm still tinkering with getting chemistry going. We like to use four lines, we like them all to be producing and doing good things. That's all. I think there's been tinkering going on for a bit, who knows?
"Getting Schenn in the middle, he can get moving better when he's in the middle. I think the look we have … it's a deeper lineup that way."
A team with Hoffman on the third line does seem deep. Berube also tweaked his power play, which went 0 for four in the loss. Schwartz moved to the first unit, swapping spots with Hoffman, while Thomas joined the second unit, replacing Colton Parayko.
Sans fans, the Blues home opener might not carry the buzz it normally would, but it may be the most normal thing they find in a weird season.
"It will be nice to be in front of some fans, for sure," Berube said. "It will be nice to be at home playing at Enterprise Center. It's been a long time. I think our guys are looking forward to it."